Still sort of in between things. Uni started about a month ago now. We have to take all ten major courses (photography, film/animation, graphic design, typography, cast [like in podcast], space design, interaction, cgi, illustration and verbal communication) this semester and were doing more and more real projects which is very cool. Kind of the complete opposite to engineering classes at tech uni a couple of years ago. We are only about 50 people that are curiously getting to know each other. Very cool people i have to say. And since the only condition for the qualifying test was to be creative in any way (photo/film/animation/illustration/whatever), it is quite a challenge to figure out what anybodies talents are. However, theres also a lot going on besides uni, so heres another mix of everything.
[audiotube id="O2VqJZlcmJQ" time="no"]
There was this weekend back in summer when we installed a small irrigation plant in Olgas family garden. I caught some moments on film on the side. Here, the whole team is getting some instructions. I shot a roll of trix with the Leica M2. Just so you know.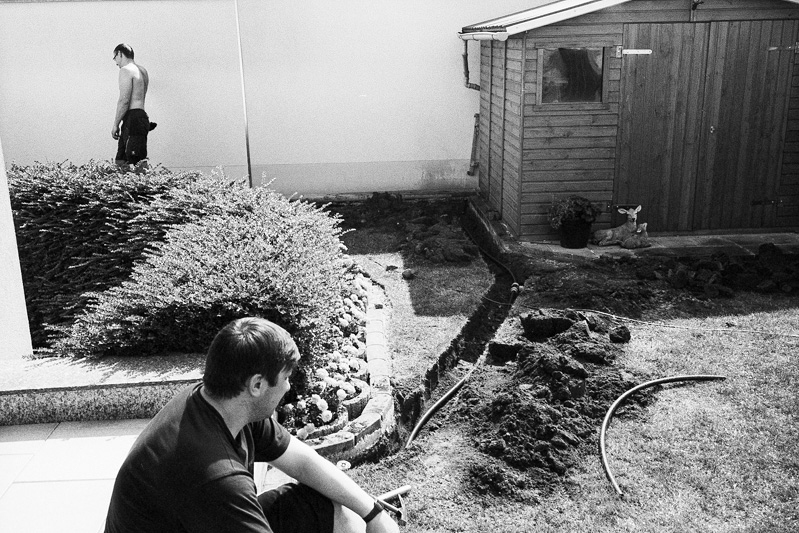 We spent almost half of the day digging those ditches through the garden, then laying all the small pipelines and connecting spray heads and valves.
After we had finally filled up again all ditches and ran some performance checks, we enjoyed the rest of the day and had some great barbecue. Eugen recovering from all the work and all the food here.
I ran into Waldi while going for another walk in the Südstadt district the other day. These are some frames from a roll of Kentmere 400 in HC-110, which i really start to appreciate. It has a kind of trix-ish tonality but lacks some of its tones imo. But for the price (3€ vs. 4,40€ trix) its a very serious option for me. Well see how it pushes in the coming winter months.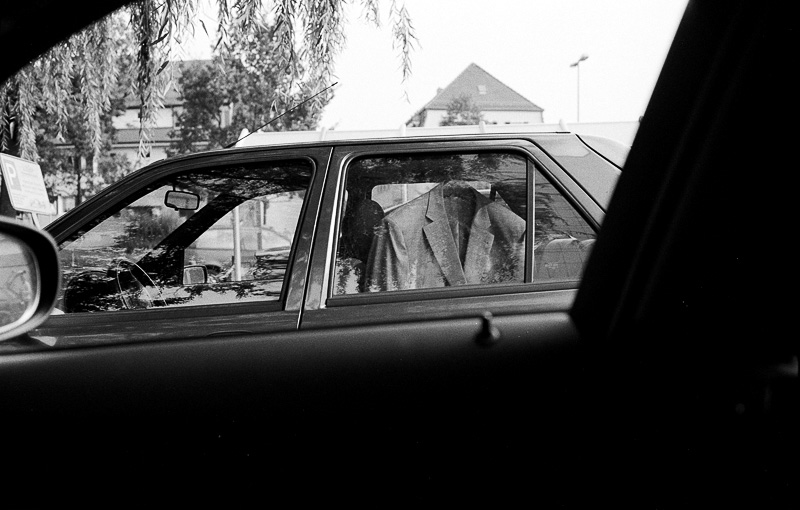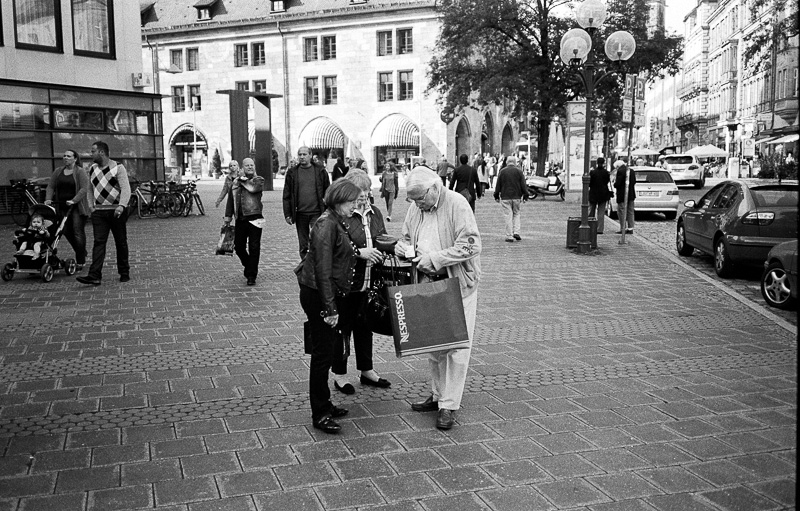 Another random people-shopping-frame.
This is a little craft shop of the Handwerkerhof that sells all kinds of leather goods. I had a little talk with this lady, discussing pros and cons of several materials that i could use as a strap for my M2. However, some days later i found some old leather band in my random-old-camera-accessoire-drawer (where you keep all the case and filter and cap and battery stuff) and had her rivet the ends with some small metal rings. The M2 is now equipped with a perfect matching (= fucked up 🙂 ) leather strap that only did cost me 5€! So if youre around and you need some leather goods such as straps, keyholders, wallets, messenger bags or whatever or some custom made leather stuff you make sure to check out this nice little shop!
Guy reading a newspaper. So heres another thing: I've been fighting for several years with the Canoscan 9000f + the Silverfast SE that came with it to get some acceptable scans out of my negatives. I should note that "acceptable" in this context just means "to my own taste". Im not into that zonal system stuff and i dont like my negs to be flat and "classic" looking. I dont have an what you would call recognizable style yet, i just keep experimenting with different dev+post procedures to create a variety of different looks in contrast and tonality. However, me fiddeling around with dev temps and stuff is just one thing. The main point here is the scanner itself: I am just not satisfied with the scans the Canoscan produces. Well, 35mm at least, mf works great imo.
So i spent some time to compensate the scans lack of crispyness in post, and i mean i really did dig into things. I developed several workflows for lightroom+photoshop to get as much as possible out of my scans. But somehow, this final little bit of image quality i was unable to reproduce. So once more, i kept looking on ebay until i once again made a pretty good deal on a Nikon Coolscan IV. Yep, no V. I also switched from Silverfast to Vuescan. Silverfast might be pretty ok to work with, but the SE version that came with the Canoscan is just a joke as it only gives you 8bit bw images. I know, thats a lot of geeky technical stuff, but i think it might be useful to some at this point.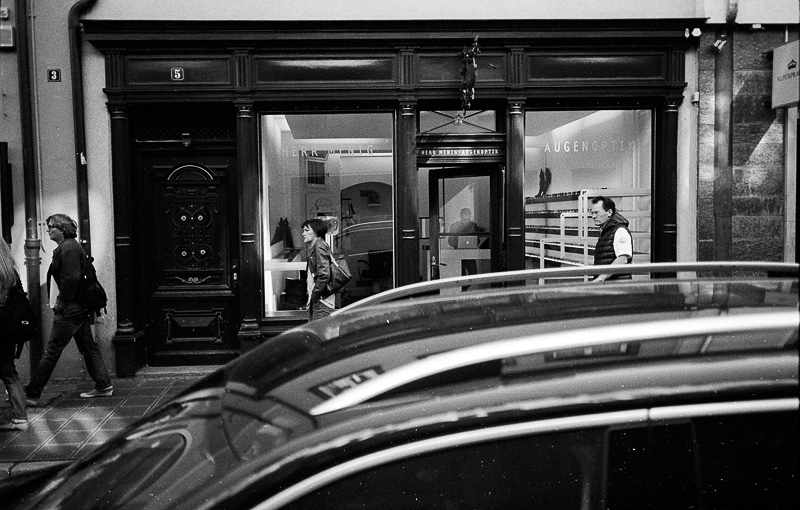 So i ran some quick test scans with the Coolscan and did a 1on1 comparison. The results were even more devastating than i thought. And still, this is just a IV version. Drop me a note if youre interested in a full size comparison. So, end of the story is that with the Coolscan (+Vuescan is pretty awesome also) im finally getting this sharpness and detail i want.
I know i know, its always (or say 99%) the subject or story or moment or feeling + a good composition that make the picture, not the technical stuff like a good tonal range, good sharpness or perfect development. But i guess sometimes, knowing your tech stuff well just helps the image. And sometimes it doesn't. However, your images are always just as good or bad as the weakest part in your system. So if you're out with your asph. Summicron, scanning the negs with a flatbed might not be what you wanna go for. Also if your just having fun with a small disposable 35mm: no need to set up the Coolscan 9000. Excuse this little technical excursion, back to the actual images.
Cute older couple.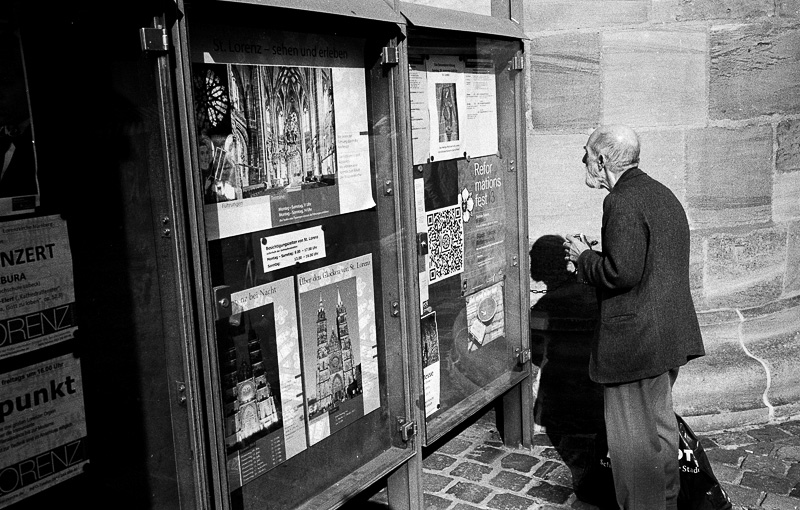 A man reading some postings at the church. I passed him by and took a quick shot because it looked like a nice scene. When i passed this spot again as i walked back to the bus 20 minutes later, he was still standing there, reading those notes.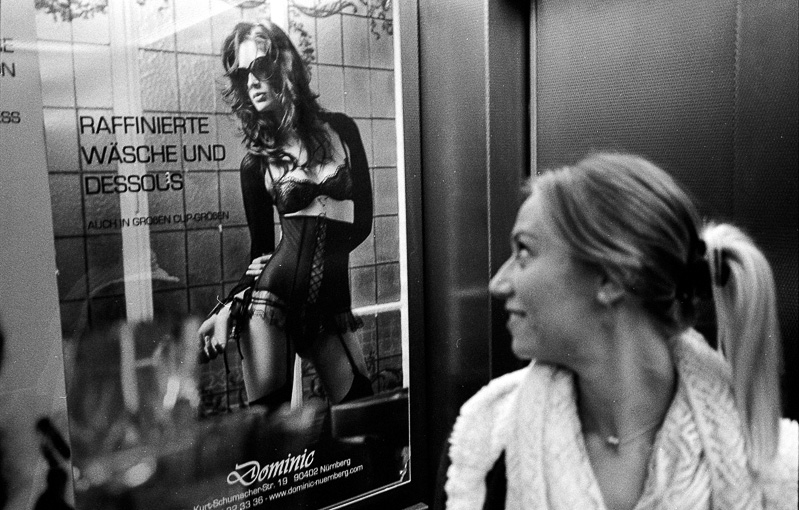 A roll of trix.
Im planning on doing some more underground and train station shots this winter. I had some of those in my portfolio which was approved at uni back in the summer.

And speaking of uni, there we are. This was the very first introduction course at the auditorium for all design students in october. There was a power outage the whole time so some students lit the scene with their smartphones, hence those shadows. This was 1/4s at 2.8.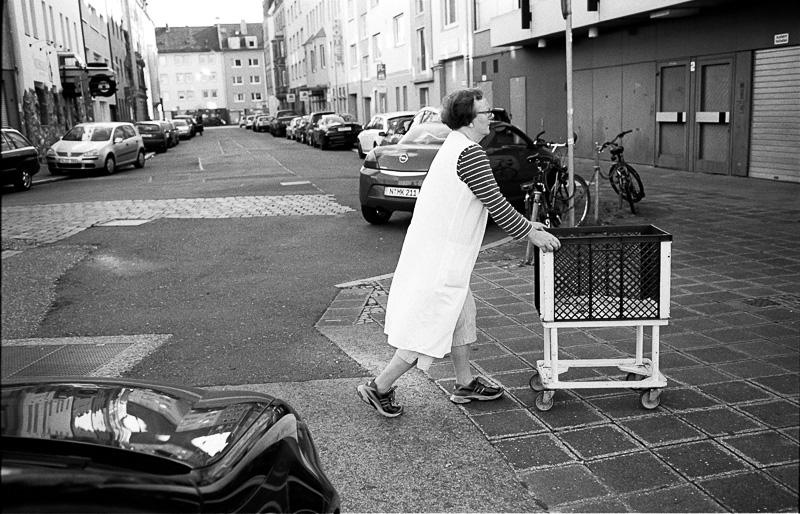 The famous Maronimann.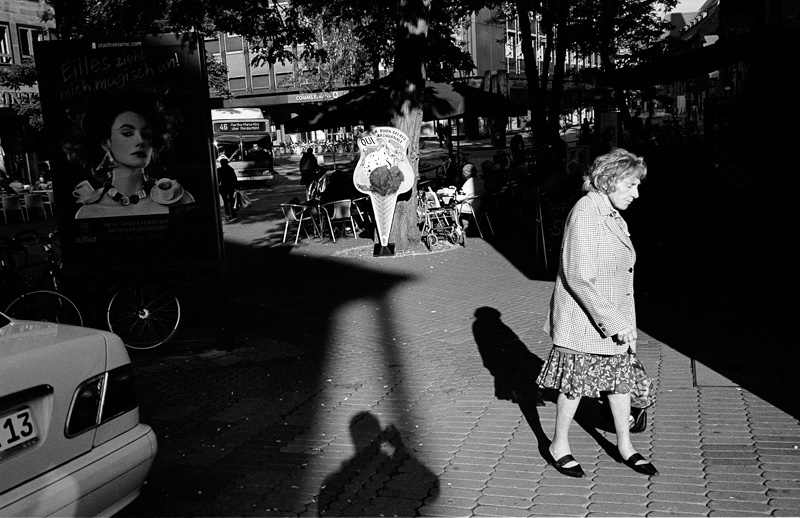 Ah i miss the sun…
Another couple.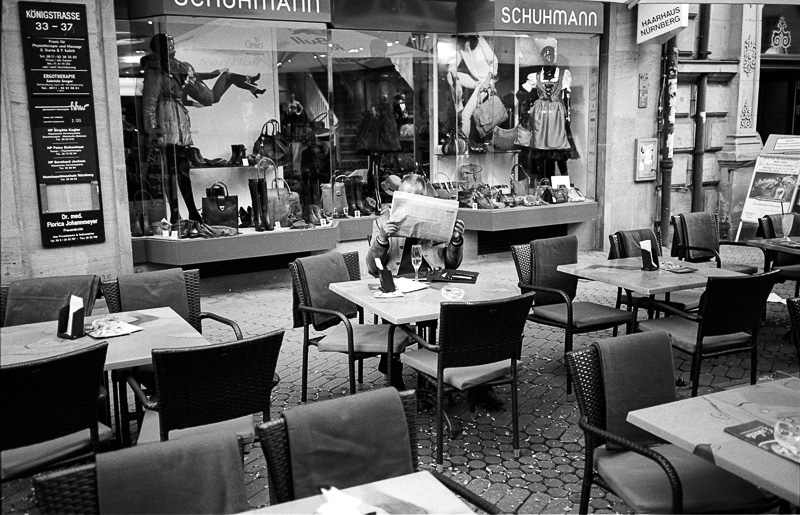 Some images are just timeless.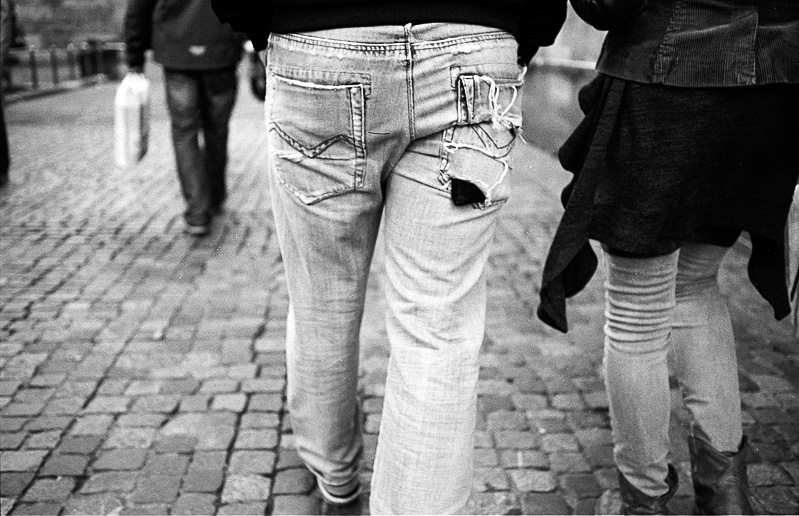 This Cellist (Alban Gerhardt) was playing some classical pieces in the middle of the train station.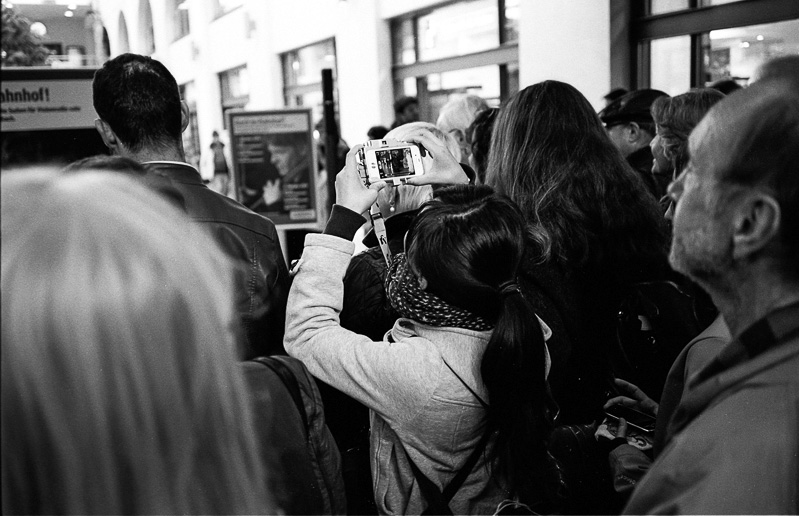 People stopped and started listening, this girl took a shot with her rangefinder-covered! iphone.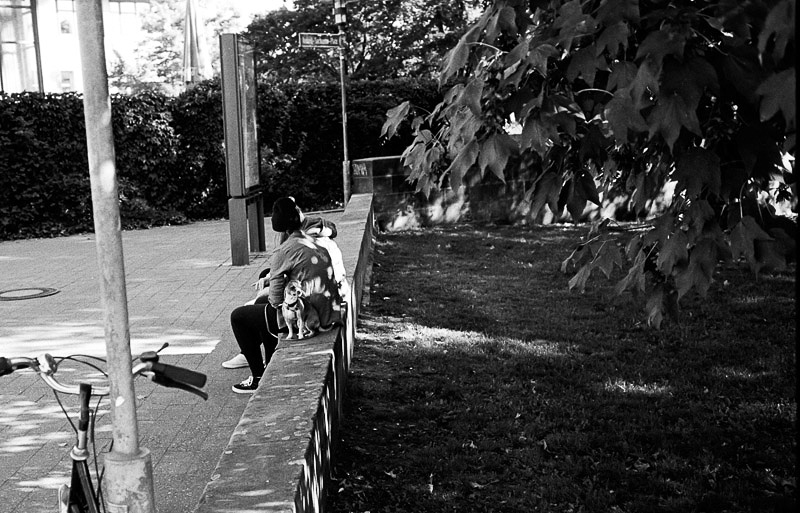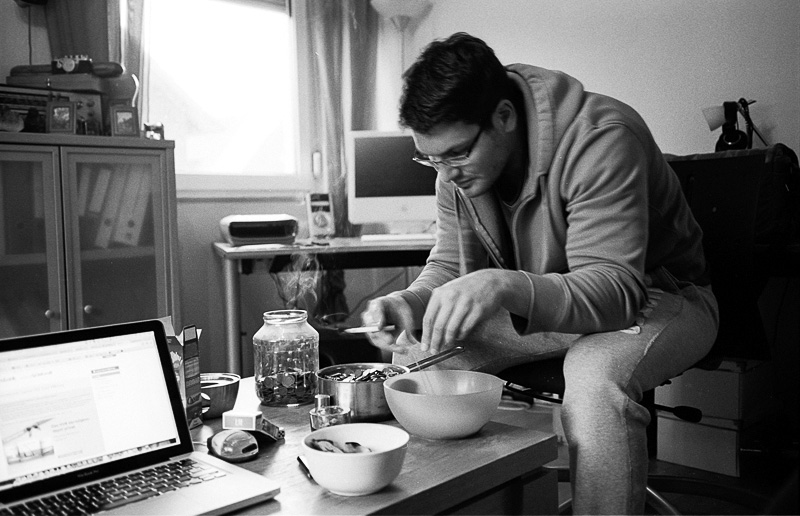 Alex stopped by and started to sort the change i keep in a big jar. We loved to do this and then run to the bank to get some bills in return when we were kids.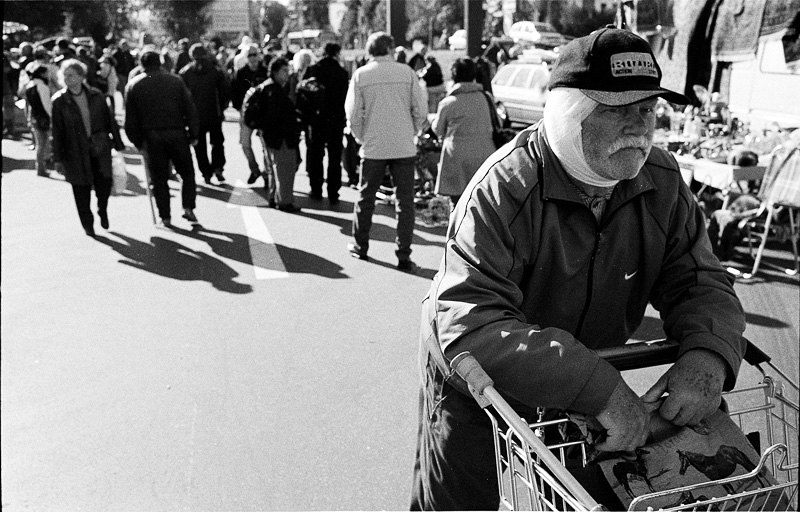 Flea market with a roll of HP5+.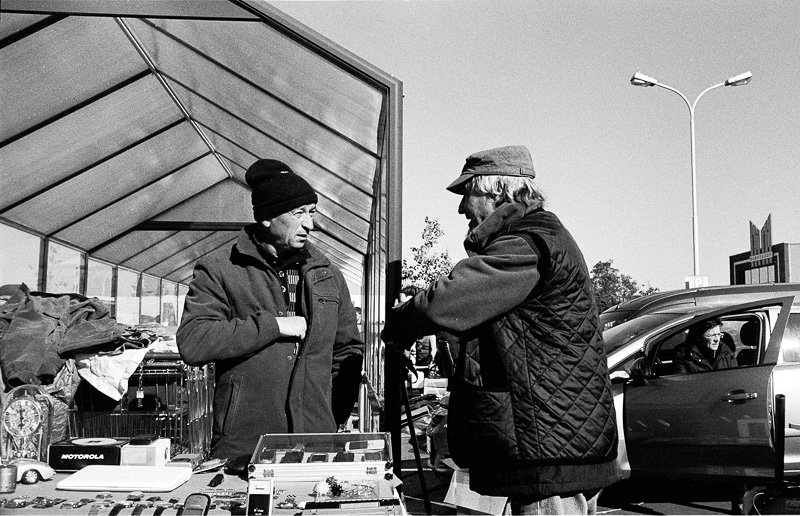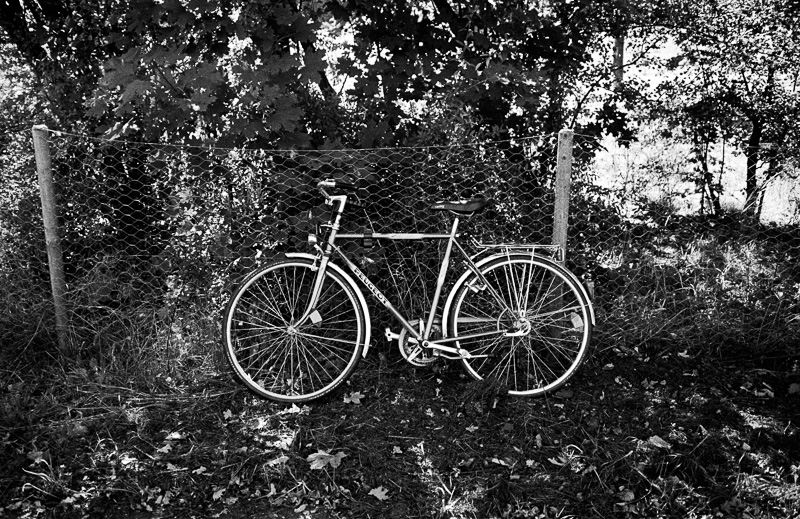 I still needed a bike for uni so i got curious and checked out all bikes that were for sale. Most dealers sold theirs for about 80-150€ and an hour later i was pretty disappointed and about to give up when i spotted a friendly-looking family that was selling all kinds of lovely, used stuff and also this beautiful Peugeot bike. We talked a bit and they told me that they had had it serviced just a couple of days ago. I told them i would need some cheap but good bike for riding to college and back and so they sold it to me for 30€. Yay!
Some people just like to attract attention, while others prefer to stay unobtrusive.

As a walked around i came across this beautiful installation of urban art and took a shot.

I took a step forward to frame the pigeon in flight when suddenly a second one came out of nowhere.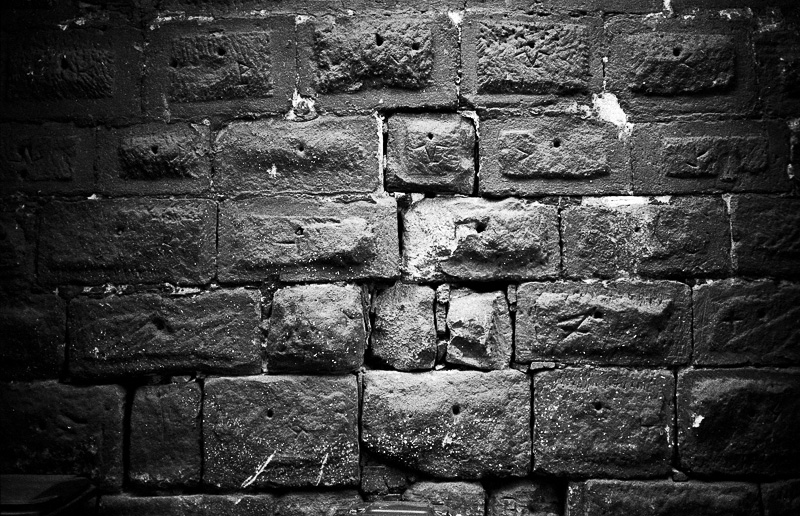 A sandstone wall.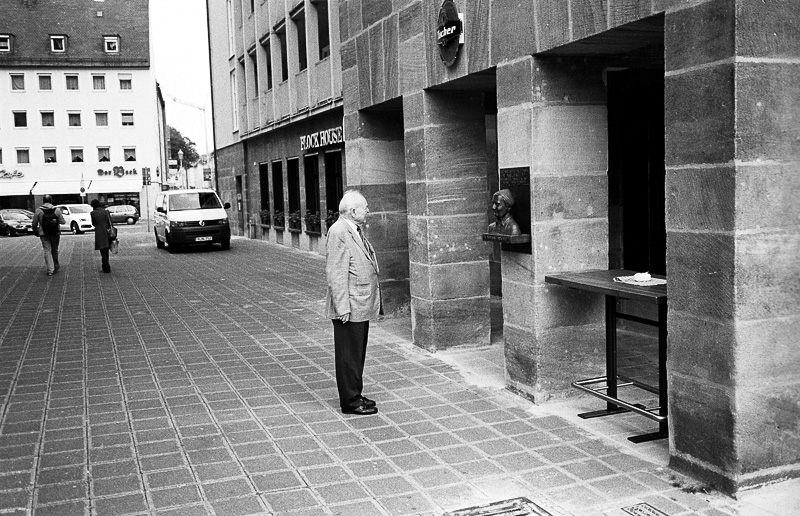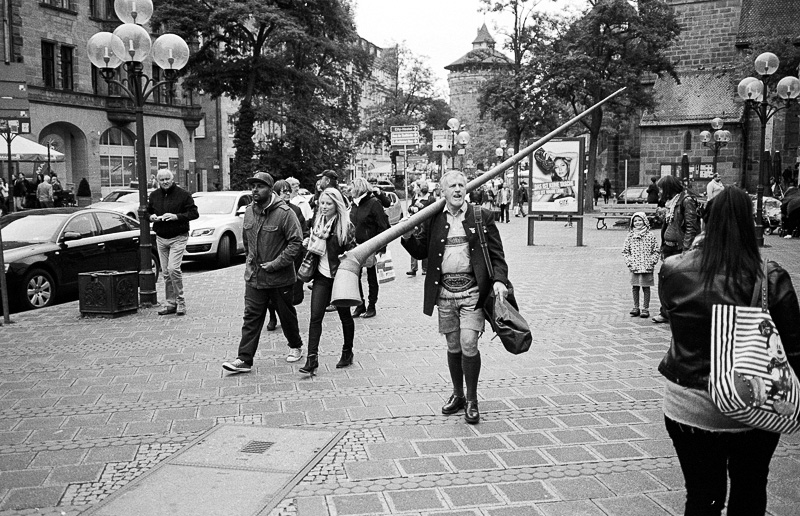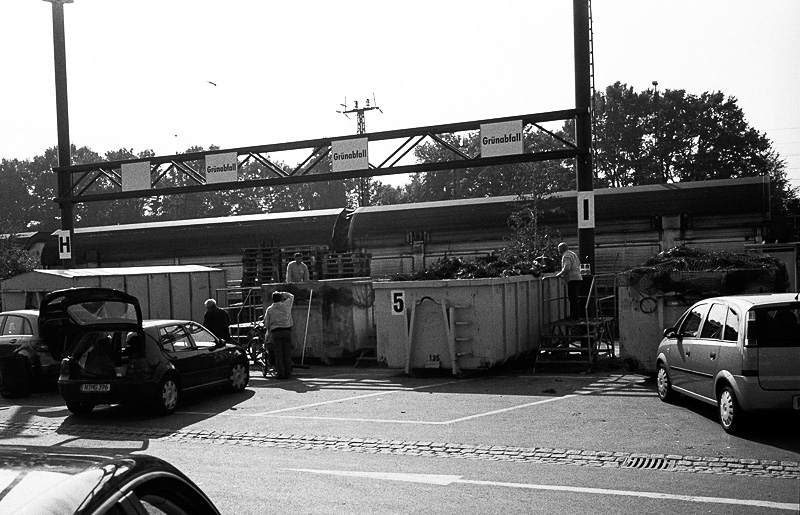 Dumping some stuff at the recycling depot.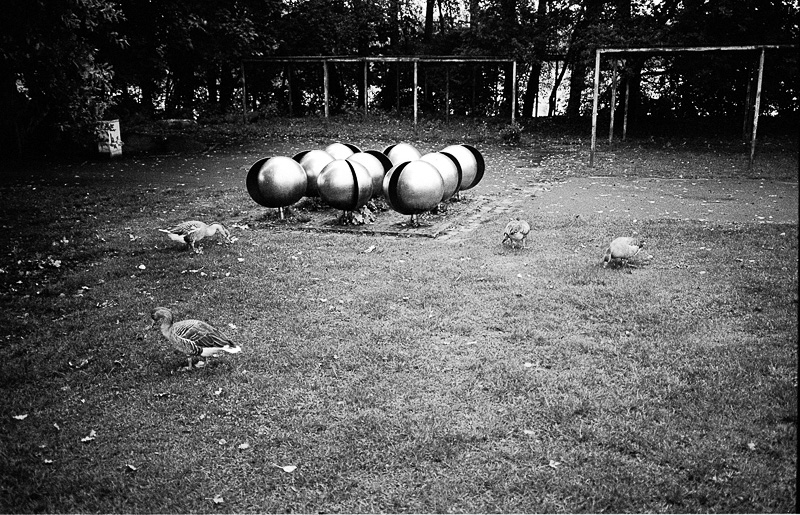 Cool hair. And check out that happy dog!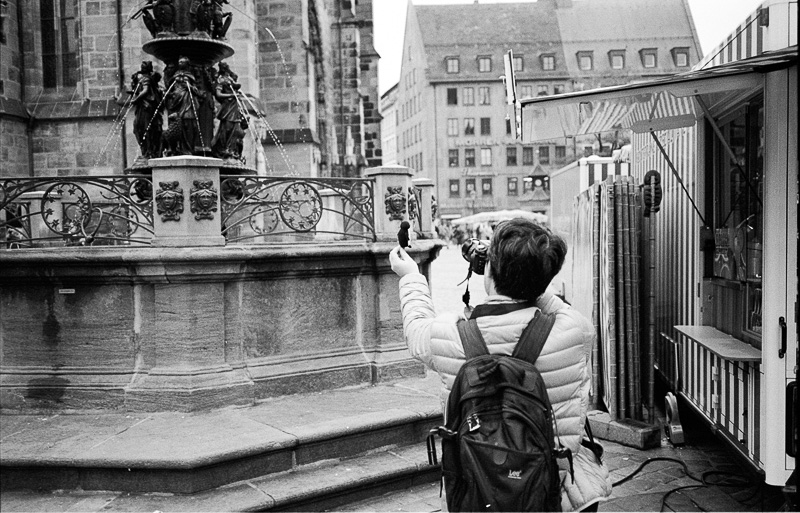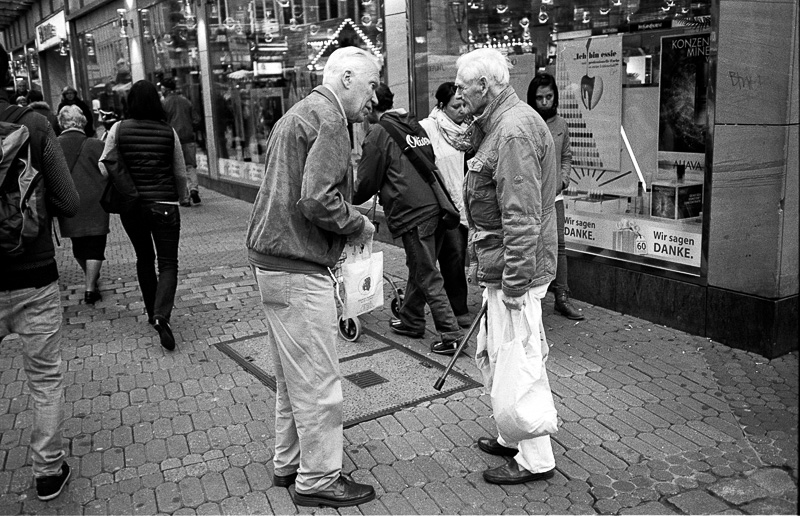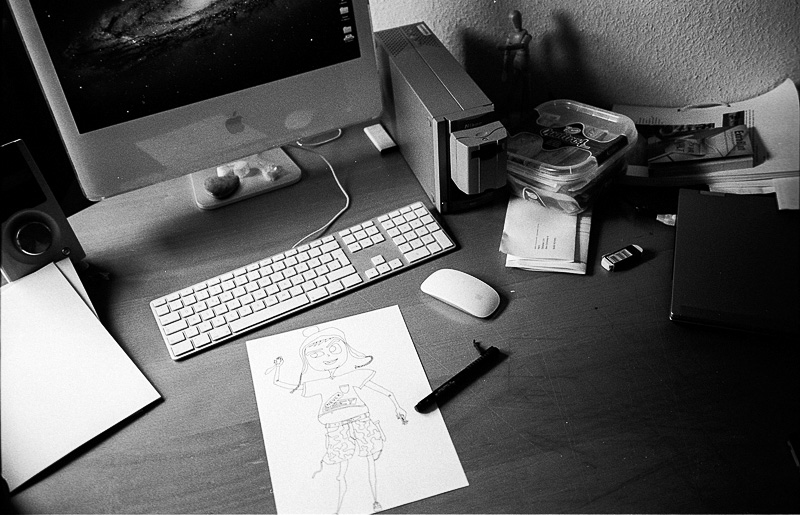 In the first semester, we have to take all the 10 courses that you can major in, just to get an impression of what each course is about and to get to know the wide range of "design". Well, guess im not gonna be an illustrator.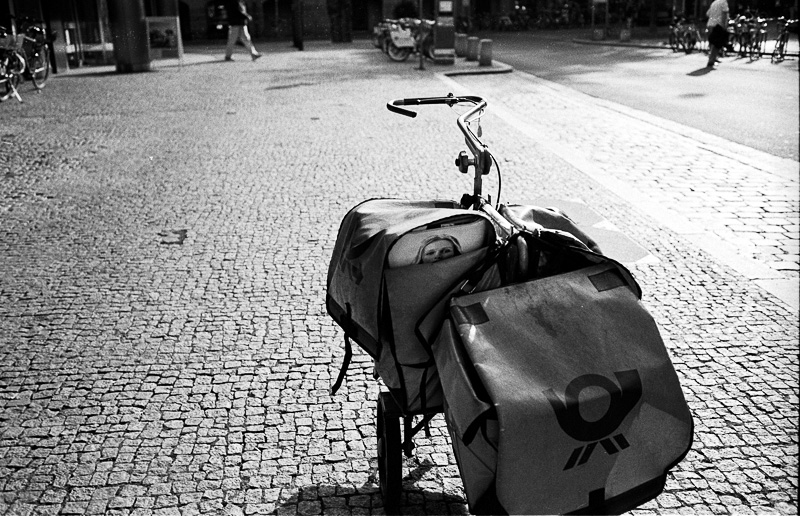 Didn't know we have that here now.
By the time im writing this post, summers all gone and all that it left is a layer of depressing grey shit.
Check out my beautiful bathroom tiles! This is a roll of kodak ektar shot with the Konica Hexar.
Nothing special about this frame, im just really really happy that im starting to get a grip on scanning the shit out of color negative film, now that im using the coolscan+vuescan combo. Finally, the colors seem to match each other and the images just start to look "right", with no weird color shifts or so.
Another shooting with Olga.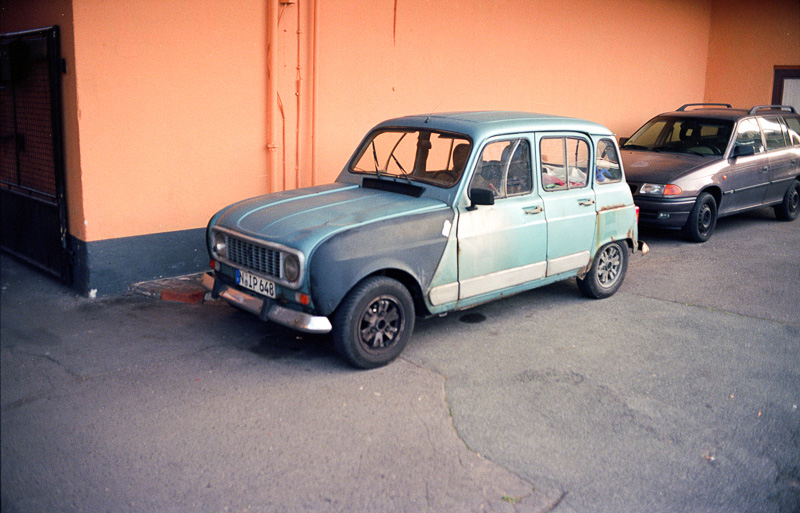 Evening sun.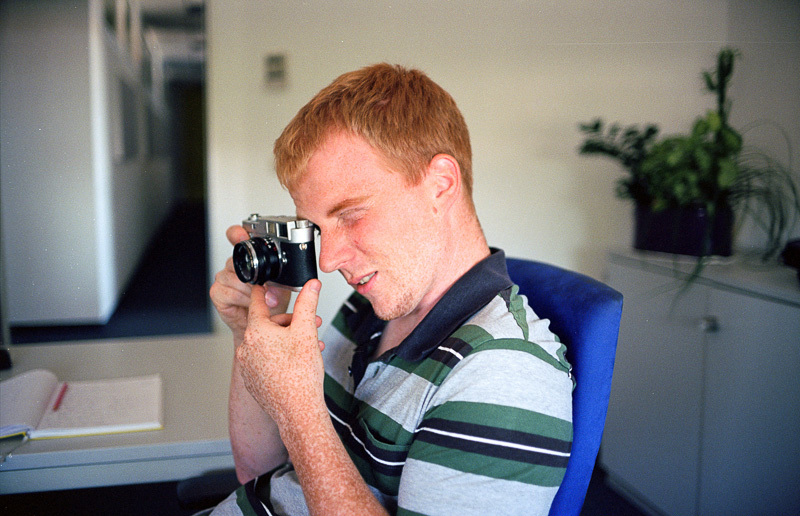 Stopped by at the former office. Chris joined and checked out the Zeiss.
This is the garage above the soon-to-come darkroom at my uncles place. Were going to turn this place into a complete workshop. First things first, making sure that people feel comfortable.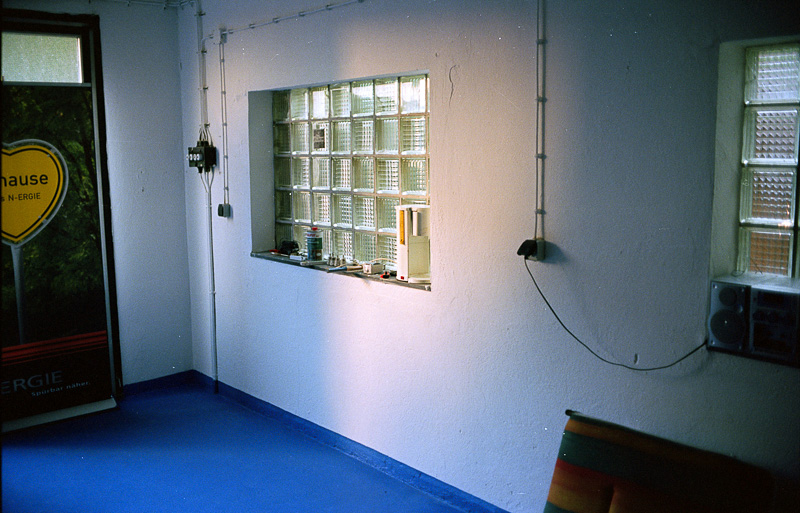 Just some nice colors.
Even salad looks great in warm sunlight.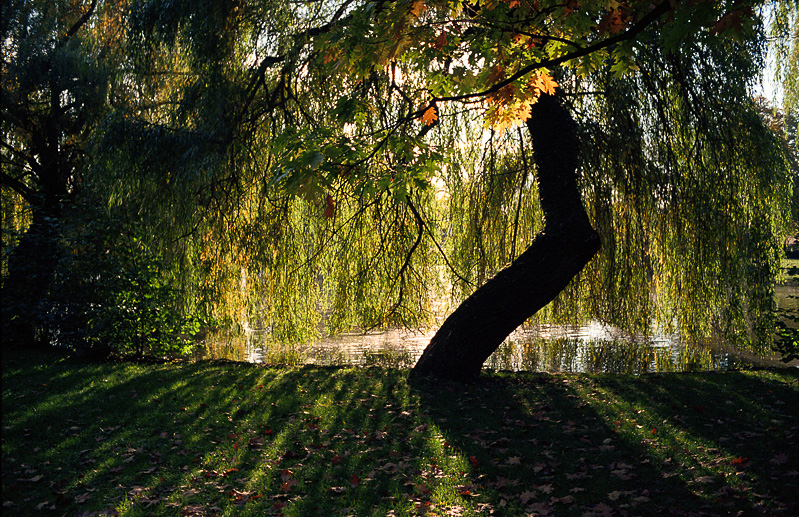 Neustadt Bleichweiher.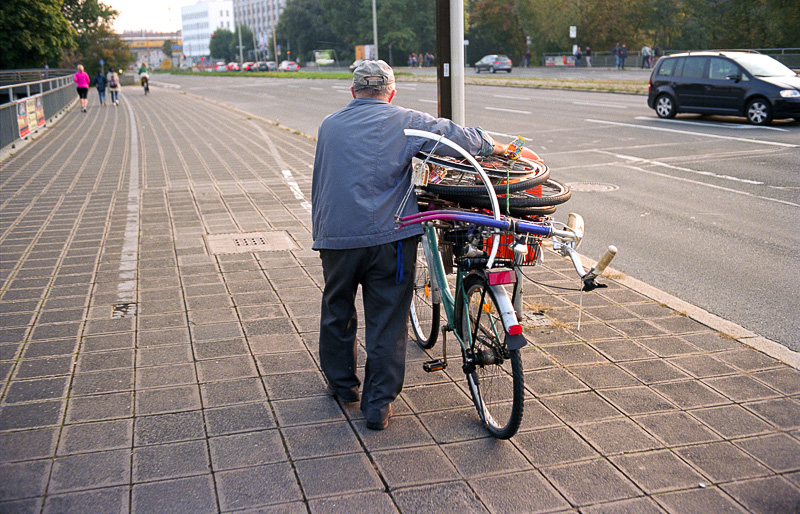 On my way home from uni.
Wednesdays illustration course. We do all kinds of drawing exercises and projects and hang them on the wall to discuss afterwards.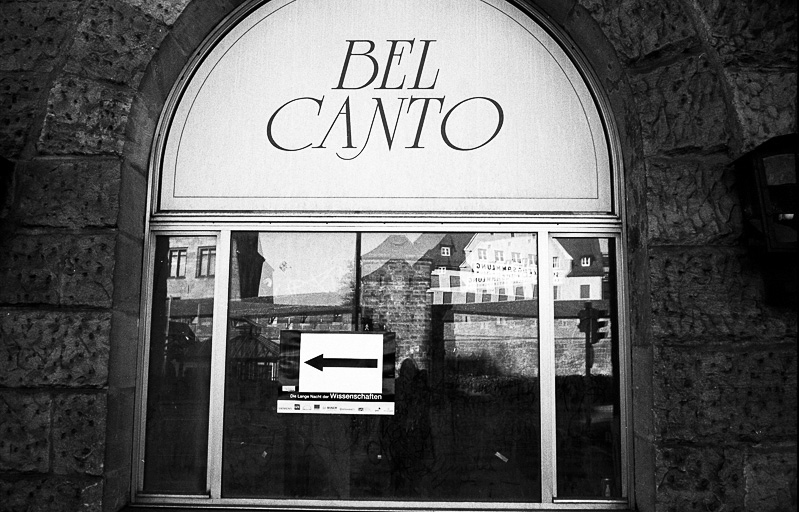 Starting to note typography in public.
Free beer: tomorrow.

Circles and rectangles and lines.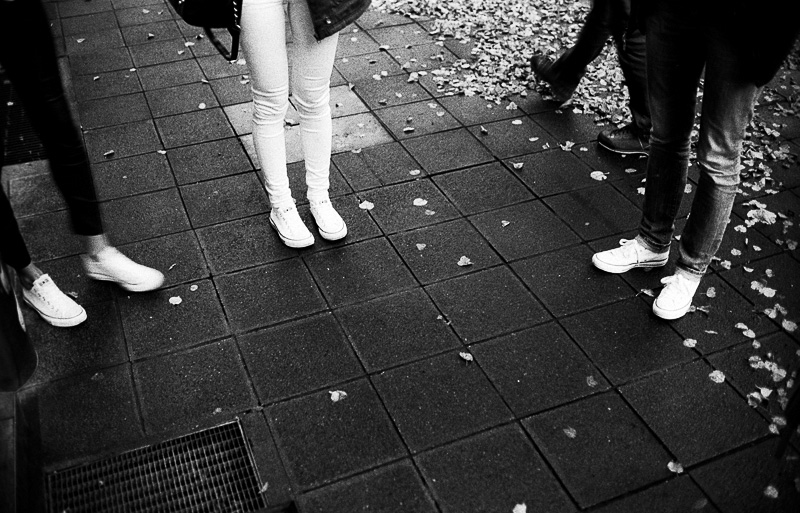 Lunch with the family. Olga and my sisters wearing all the same sneakers by chance.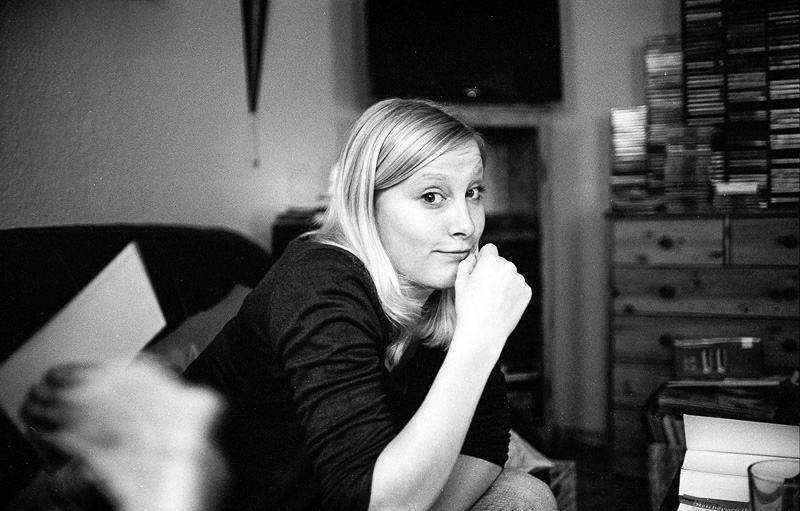 Andrea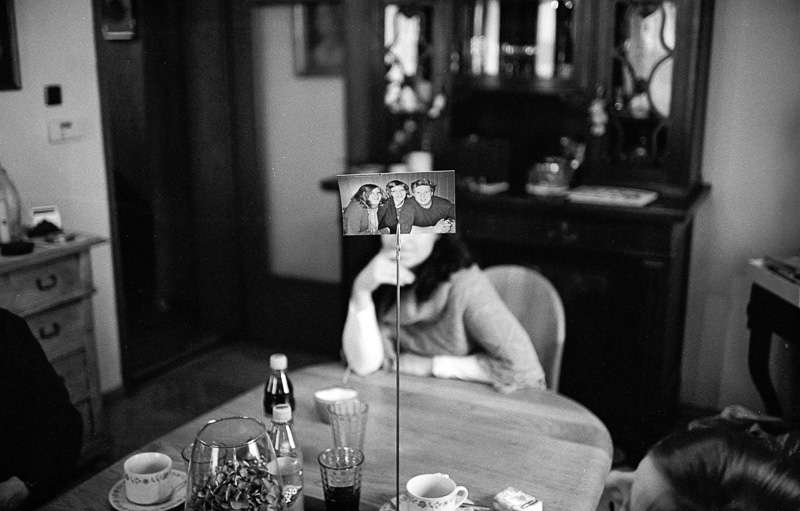 At the lab.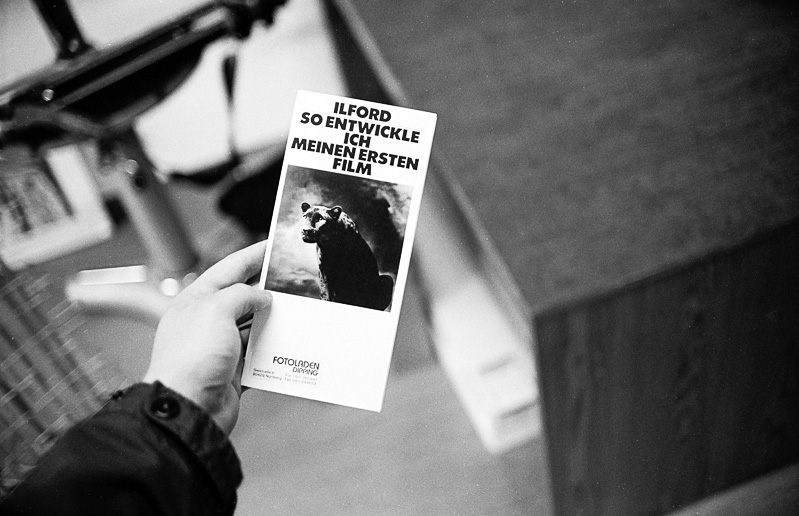 For a walk with the beast, the Fuji GSW and a roll of Fuji pro 160NS (an older roll from summer).
Back in Nuremberg at the Steintribüne, part of the former nazi party rally grounds. People enjoying the weather and the space. Hexar + Ilford Delta 400.

Sunday lunch.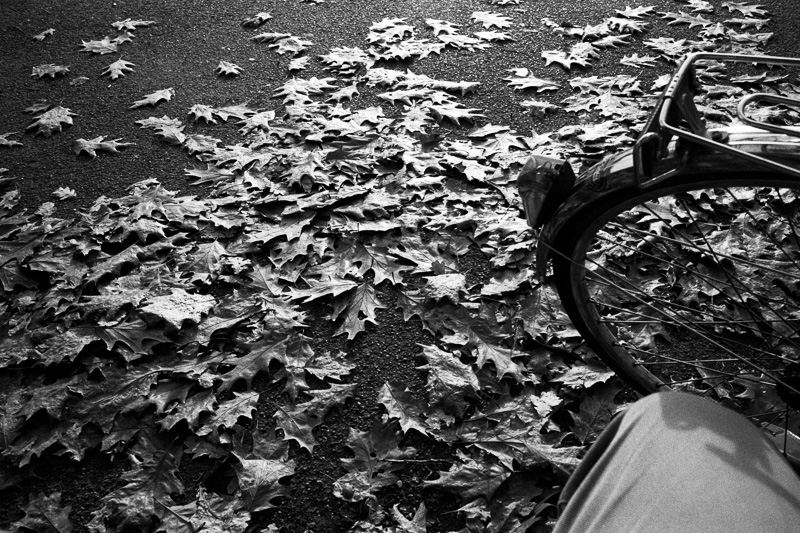 Sunday walk.
No comment needed here.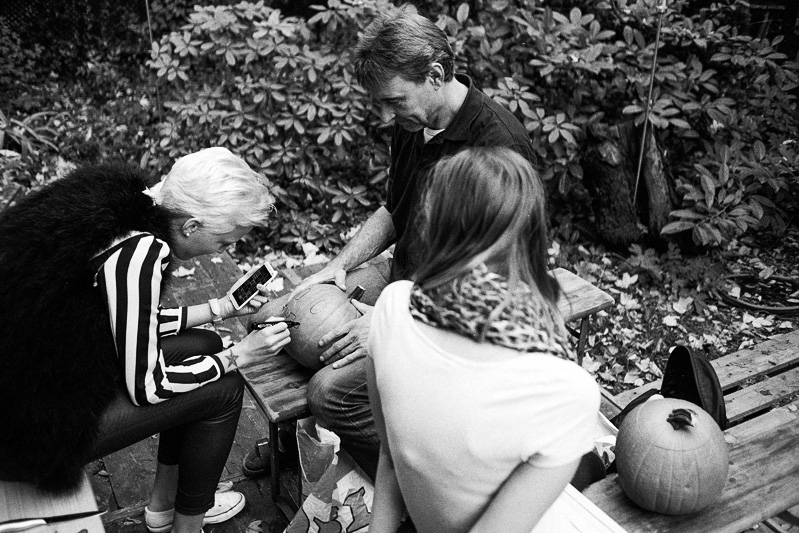 Since it was a few days before Halloween, we decided to carve some pumpkins in the garden. Step 1: drawing.

Step 2: carving.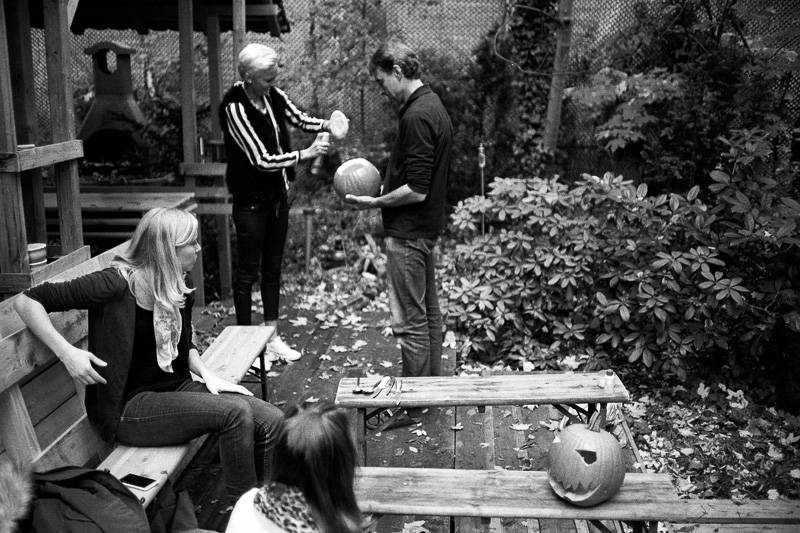 Step 3: making it durable.
Father and son.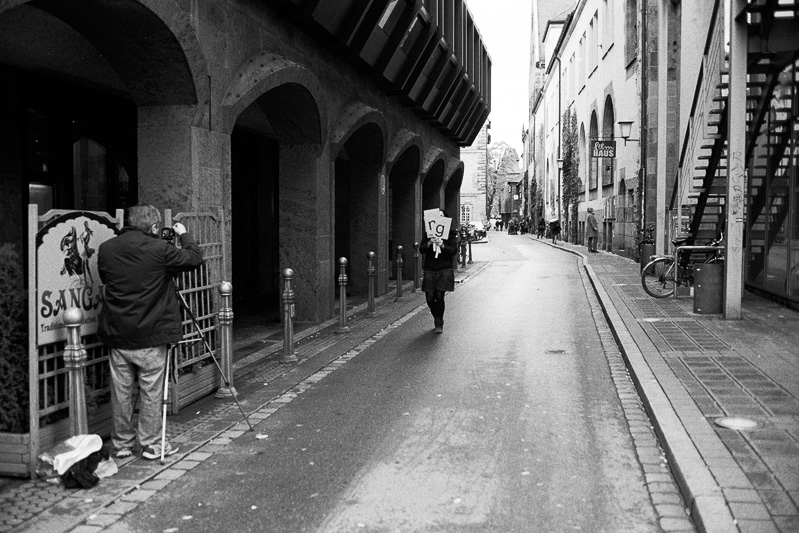 Thy did some shooting stuff, probably for a website.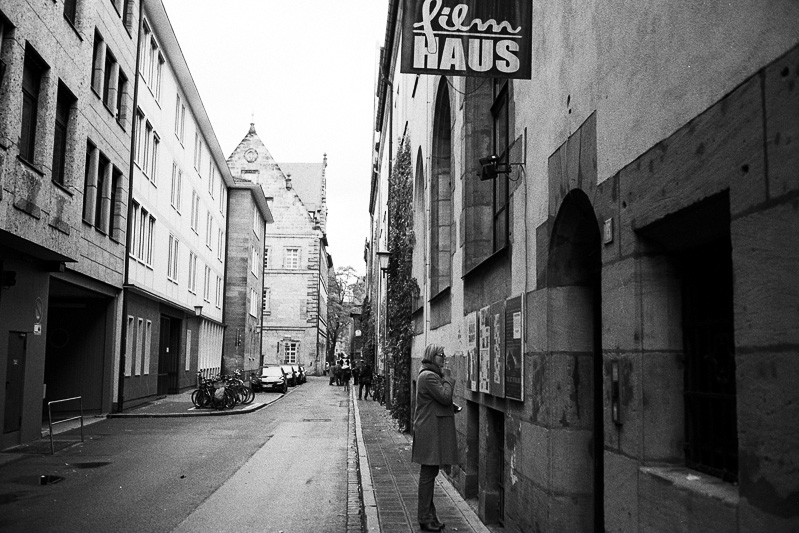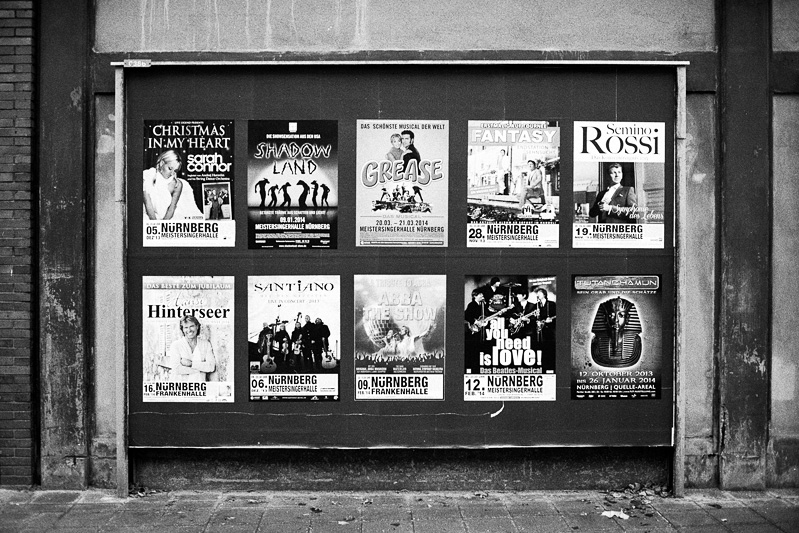 Well-arranged posters, german style.

Shot some Tmax 400 for a change, negatives turned out quite underdeveloped (Tmax negs tend to be slightly thinner than trix which is normal, but mine were really too weak this time).
For a walk somewhere.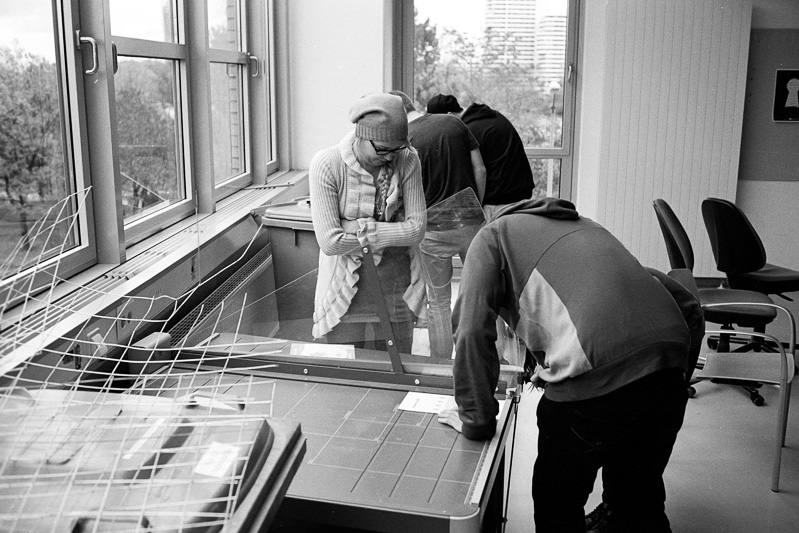 Julian and Sandra cutting some advert stuff last minute we had design for typography course. Turns out those cutting machines are horrible!
Tanja looking fascinated while Nico is doing some card tricks
Hes a professional magician actually, how cool is that! We were all watching him doing several tricks in the afternoon break. Thats our professor for illustration in the back.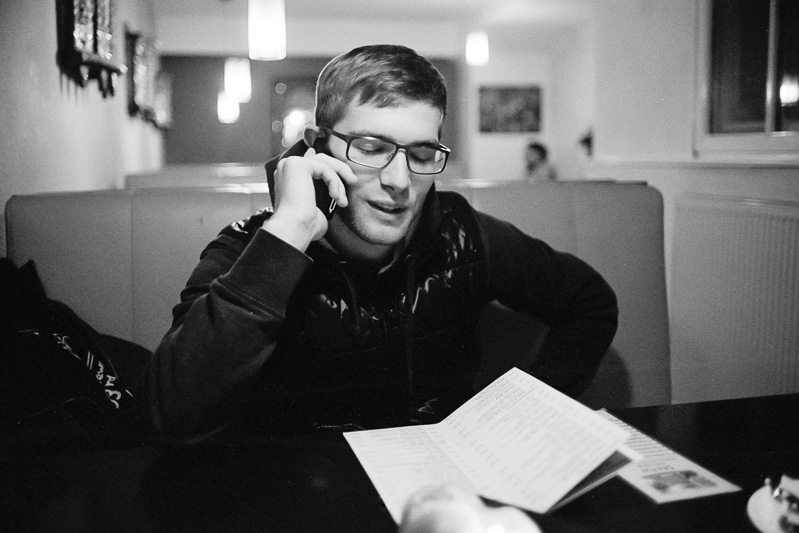 Dinner with Chris and Stephan, who just came back from Bangkok.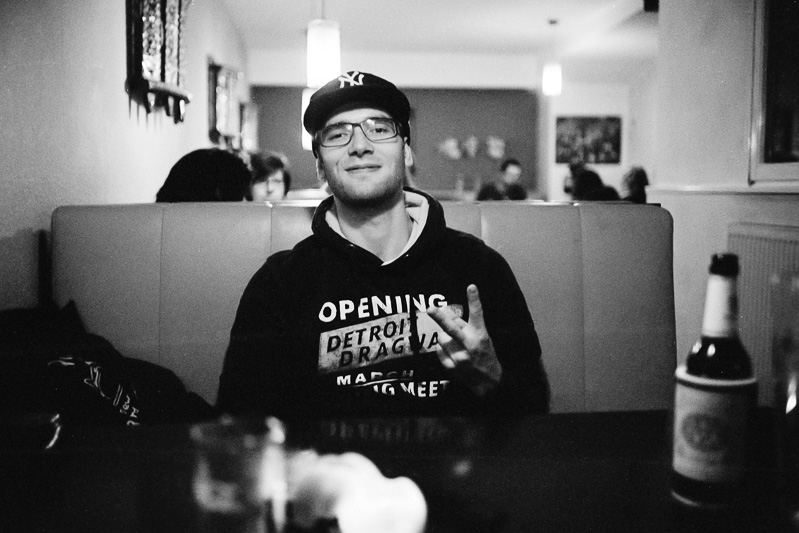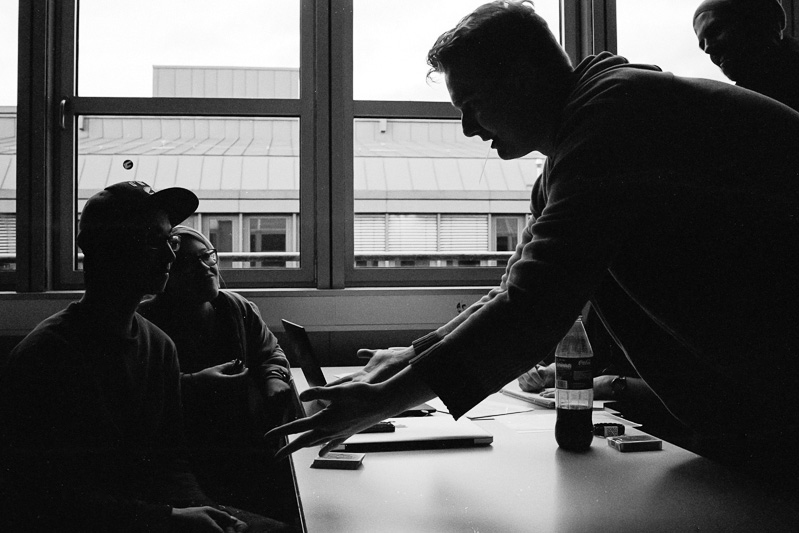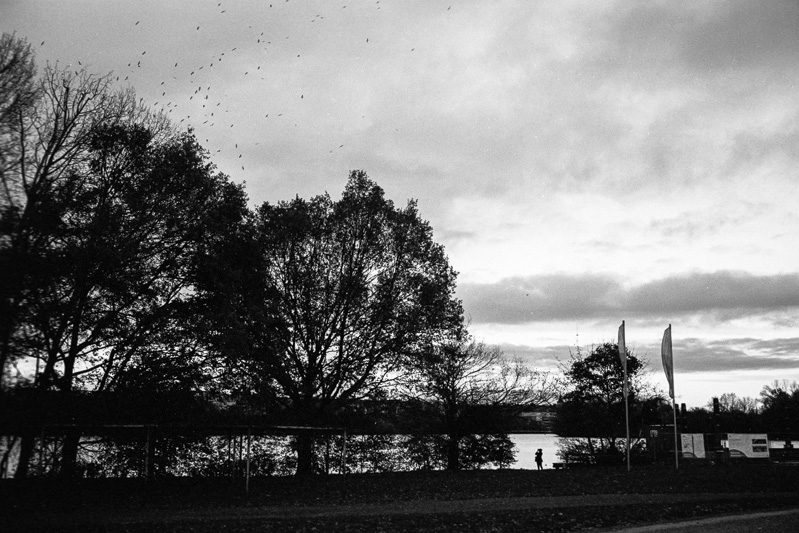 People kept asking why i always carry a camera with me. This is on my way home from uni in the evening. She was taking photos of the birds.

Friday morning, introduction course at the sound studio.
Whats left from my office.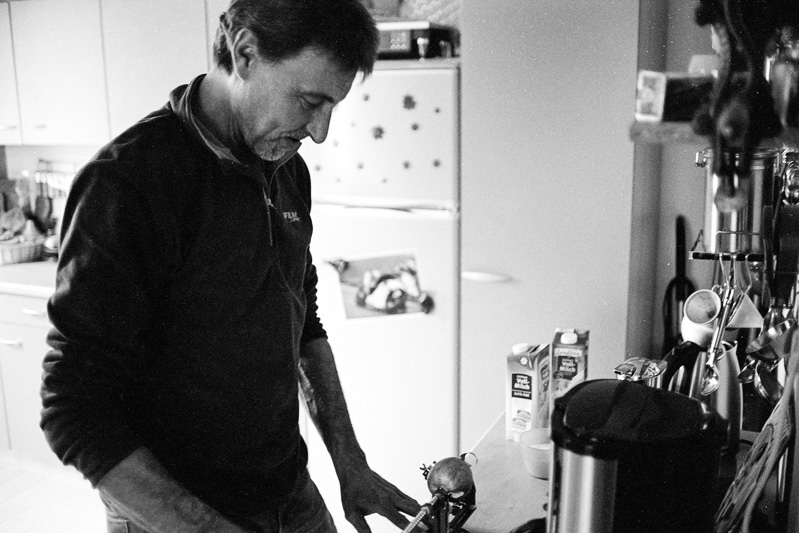 Günter proudly demonstrating his new apple slicer.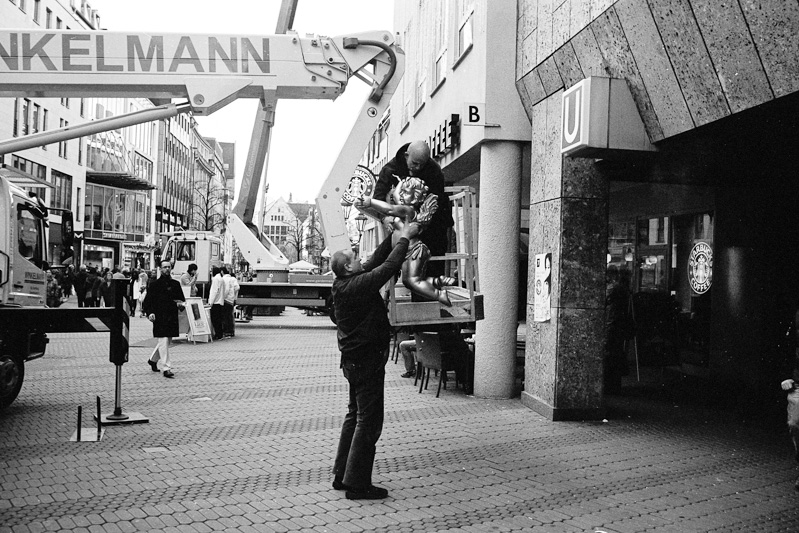 Winter is here.