I haven't had much time for the blog lately, so this post was queuing for quite a while now, several months actually. In case you notice something weird in some frames, thats actual snow, which dates the image back to last winter. I'm currently right in the middles of semester 4 of Design study and as always working on several projects at the same time. Quick overview: New CI for "Türkisch-Deutsches Filmfestival Nürnberg" in typo class, a book about fonts in graphic class and several small photo projects to topics such as "home" and "rituals" for photo class.
Some of the photo projects will soon be on the website which im currently updating with new images. Also im working on several portfolios for application stuff. This post also contains some of these soon to be published works, as well as some commission stuff and of course lots of private stuff and uni stuff. Since there are some hundreds of pics waiting for the next post, its about time this on gets released, so have fun scrolling through some pics.
[audiotube id="wepAxJ6BN30″ time="no"]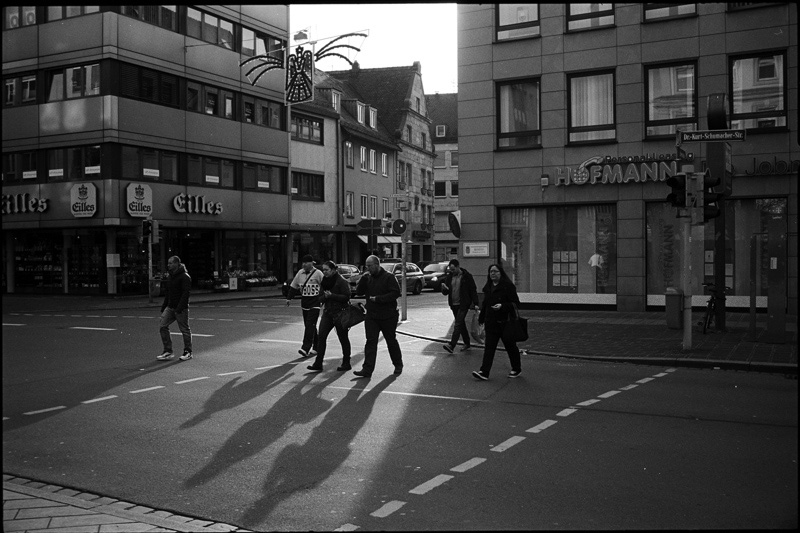 Good morning.
sad days.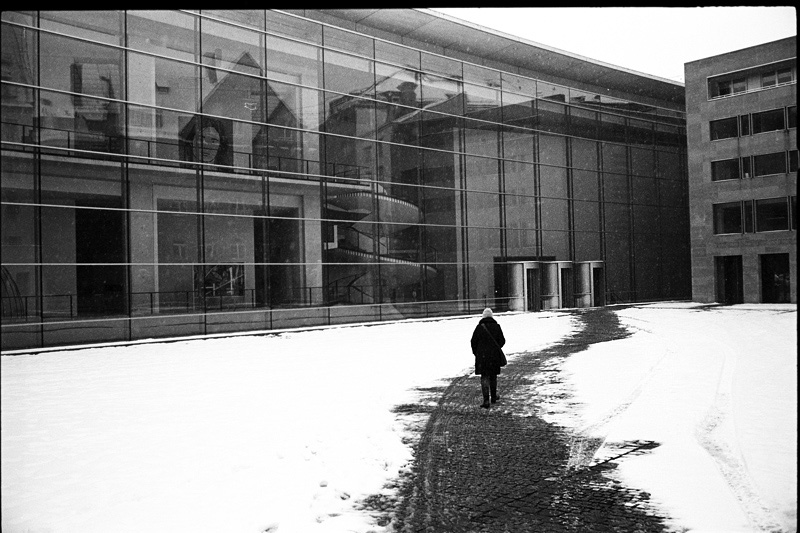 At the museum.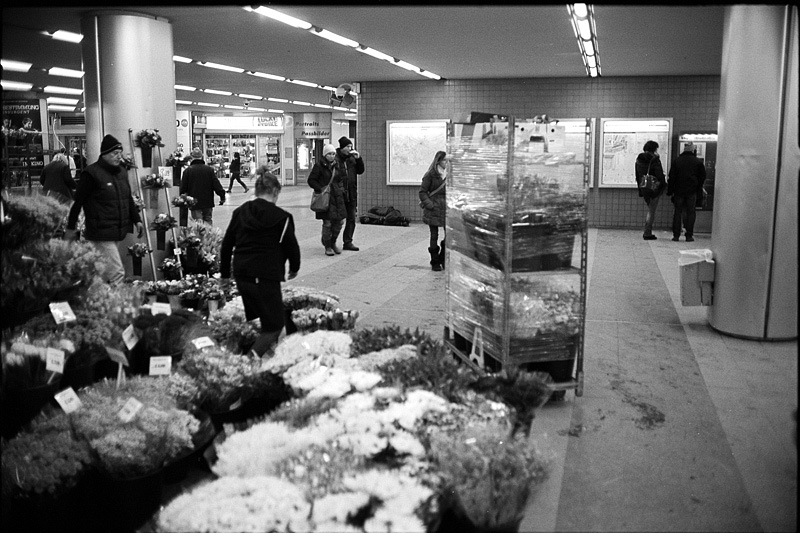 Im not a friend of exploiting the homeless or poor but i like to analyse public life in its entirety. Notice all those people rushing to work or doing shopping or getting home to their loved ones while this homeless man is sleeping on the ground. This is a very common scene in every big city i guess, still sad.
Taking a break.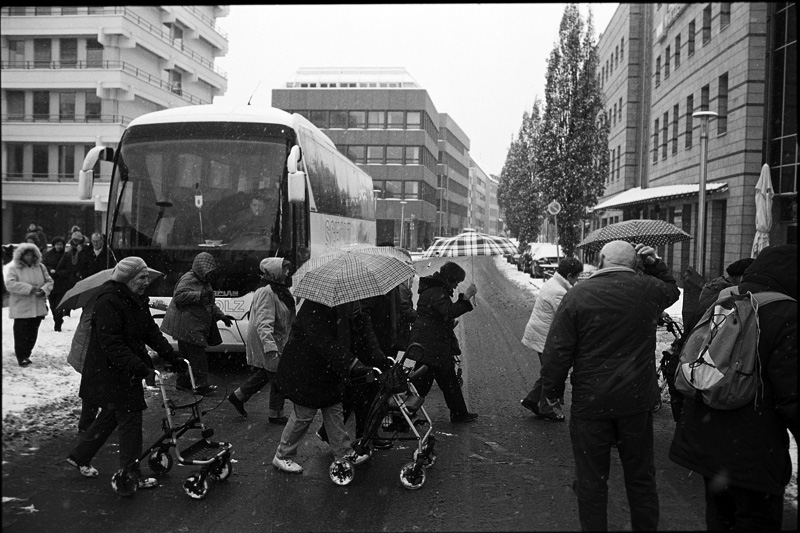 This seems like a very fun trip.
Baking stuff.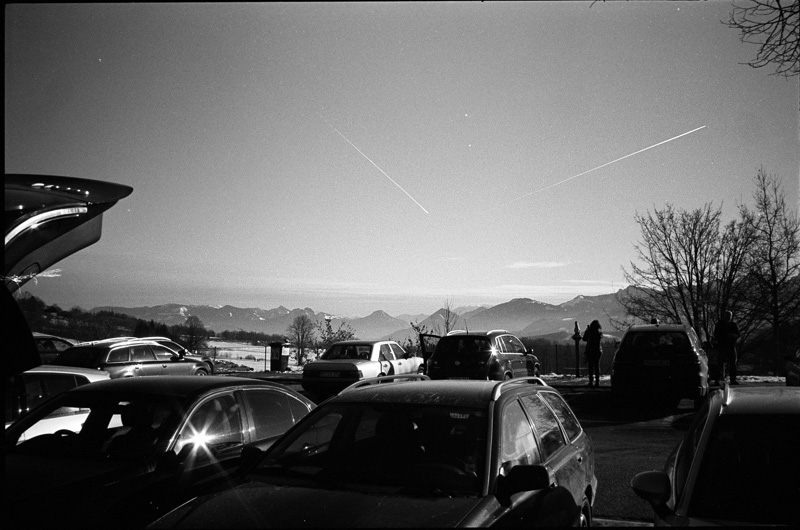 We took some days off and went to the Alps.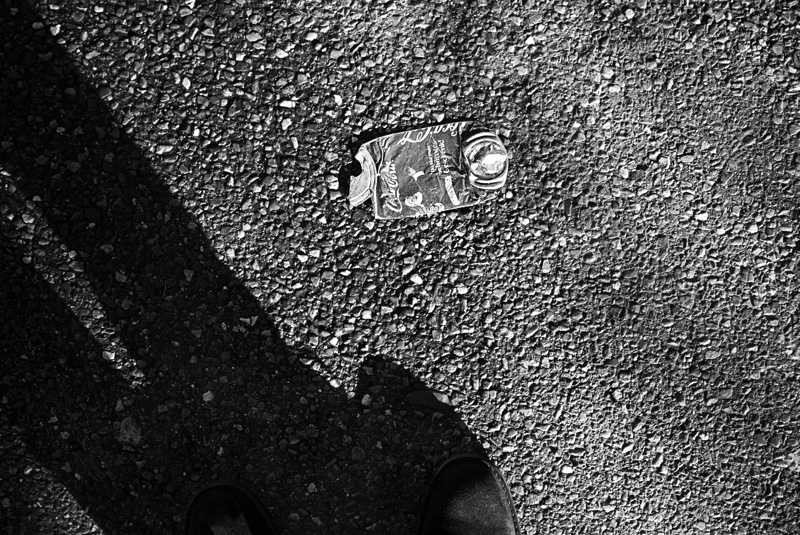 Lazy way to the summit.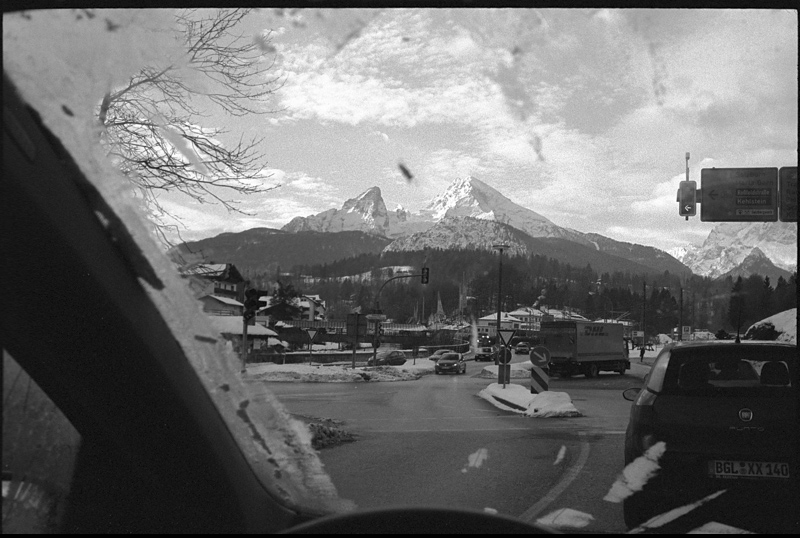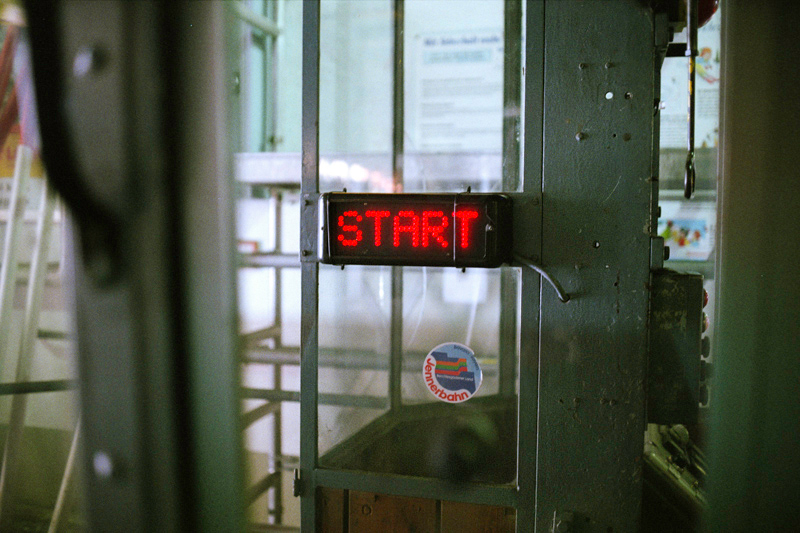 Some color frames.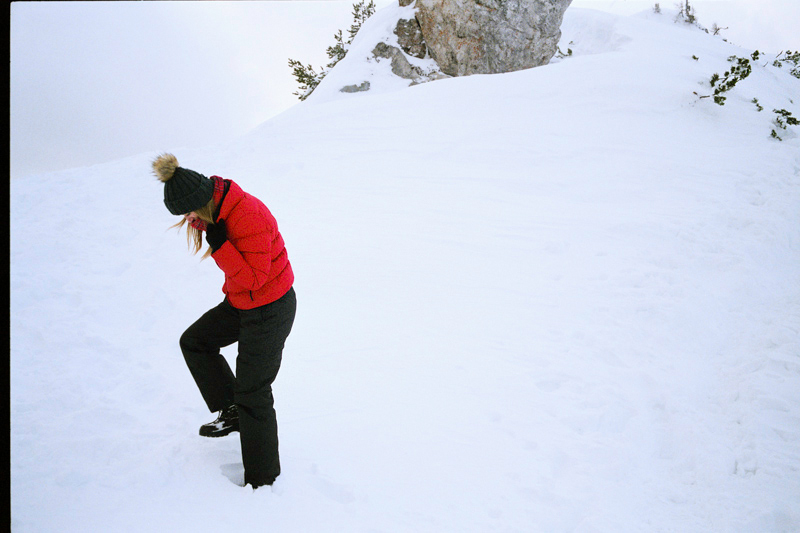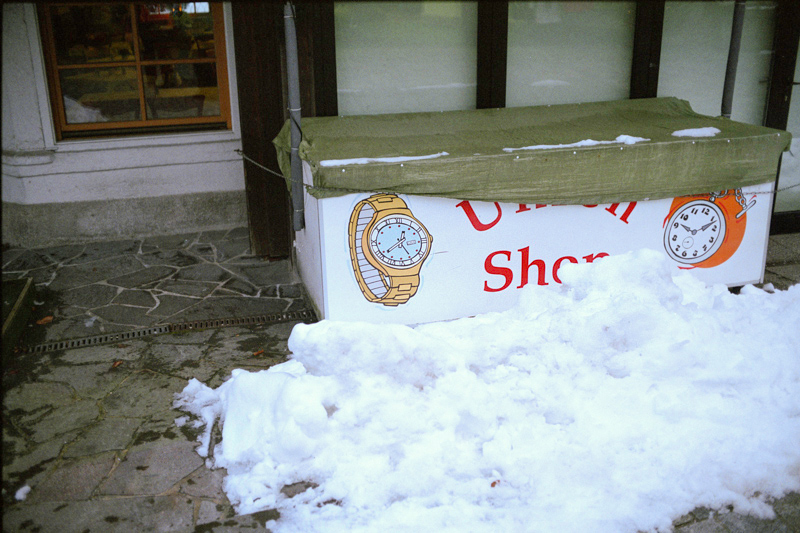 We visited Salzburg on our way back.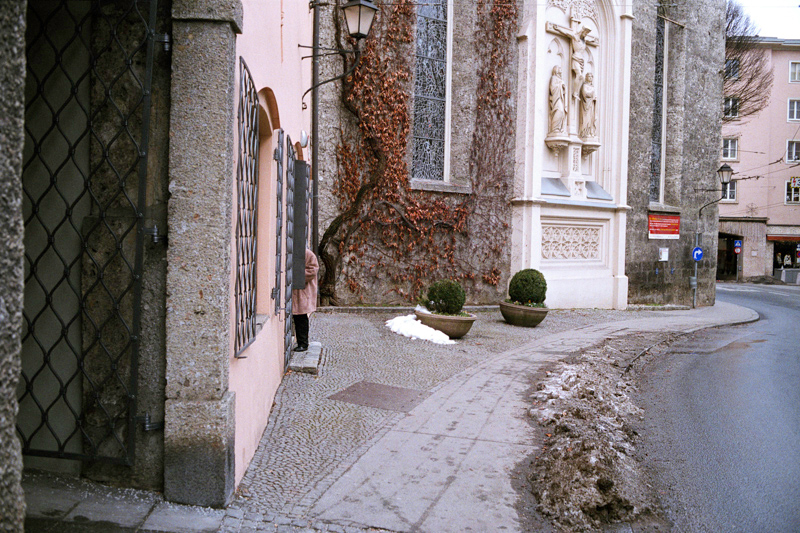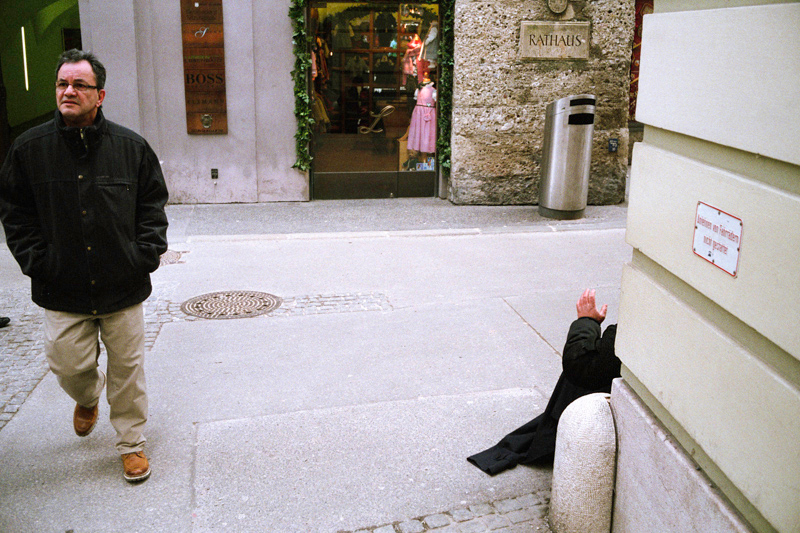 H&M
Pillow dog.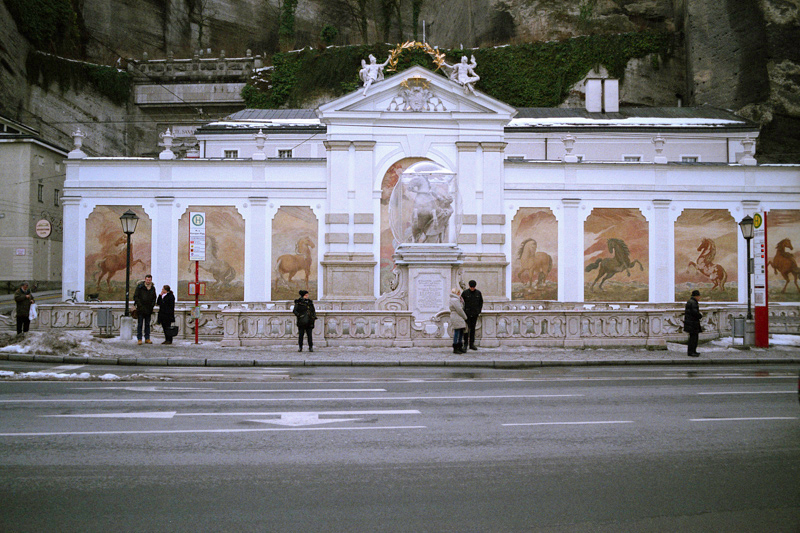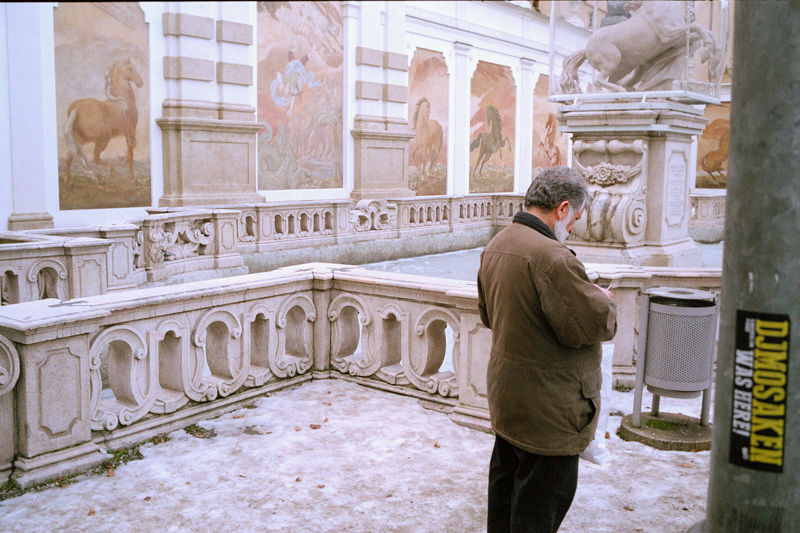 About curves.
About color.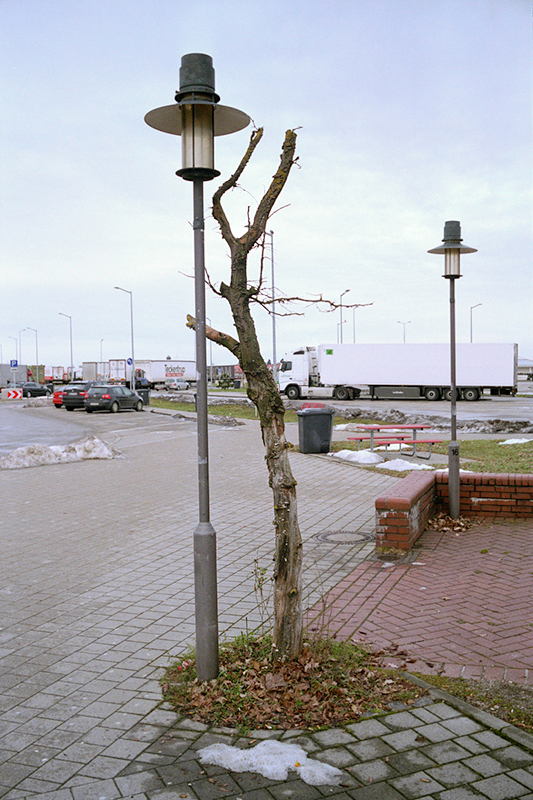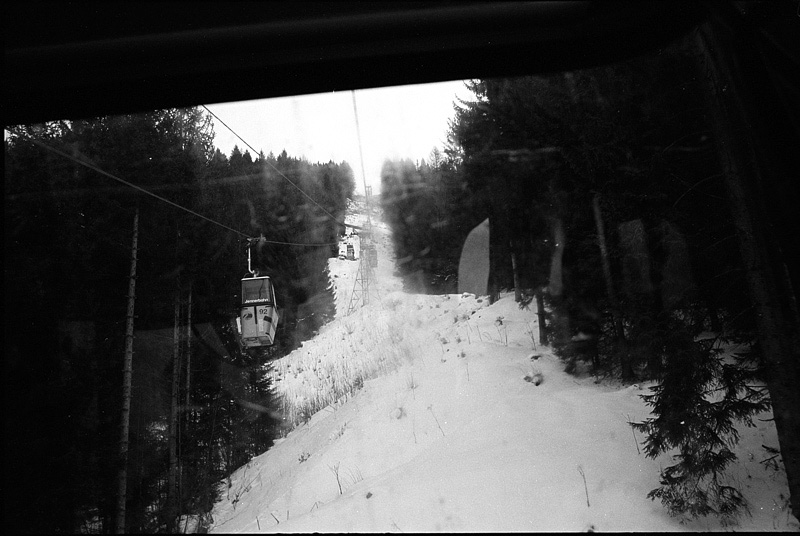 This was a roll of TMY in Xtol btw, pretty straightforward stuff.
No to some Tri-X, pushed to about ISO 2000 with the Leica M6 (That is gone by now *badumm tsss*) I tried a different scanning method here: Since pushed negatives tend to get very contrasty the scanned bw .tifs (out of vuescan) come out rather poor looking for my taste, so i did a pure raw scan, inverted and desaturated it in PS and added a curve to get back the contrast and a "natural" tonality. So it turns out that even in film pushed 2-3 stops there is plenty of tonality left, you just have to digitalize it in a proper way.
The raw itself is pretty flat looking but holds every bit of information in the highlights and the shadows, so the first thing you wanna do is add some clipping and the add a curve for contrast. Thats about it.
Ney years eve.
First long walk in 2015.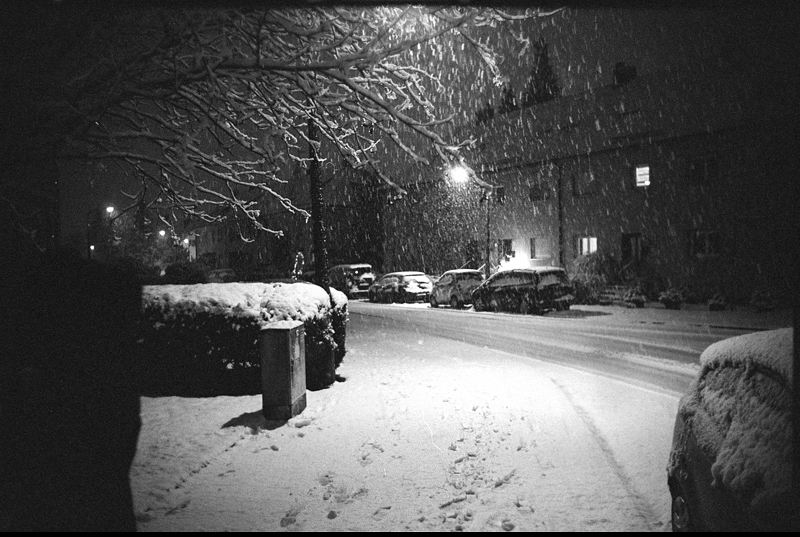 Back home there was this one night when it suddenly started snowing like crazy for several hours. We went outside at night to walk around in the silence.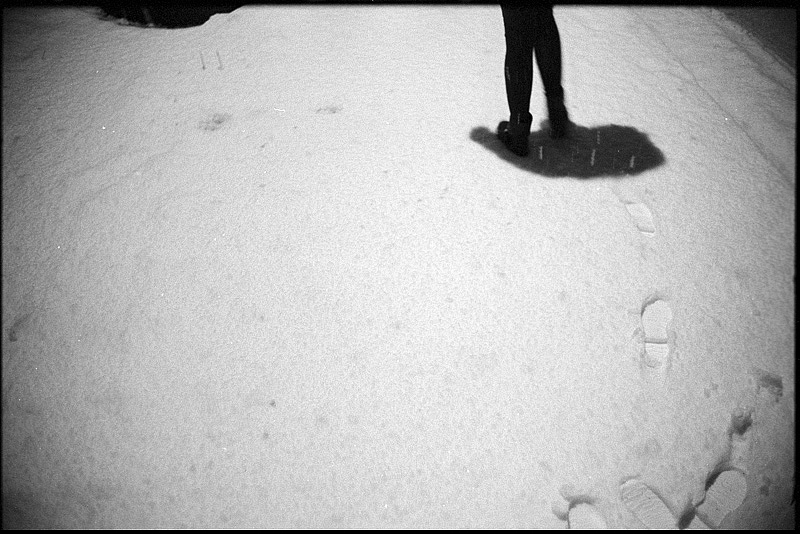 Suddenly ISO 200 aint so bad at daytime.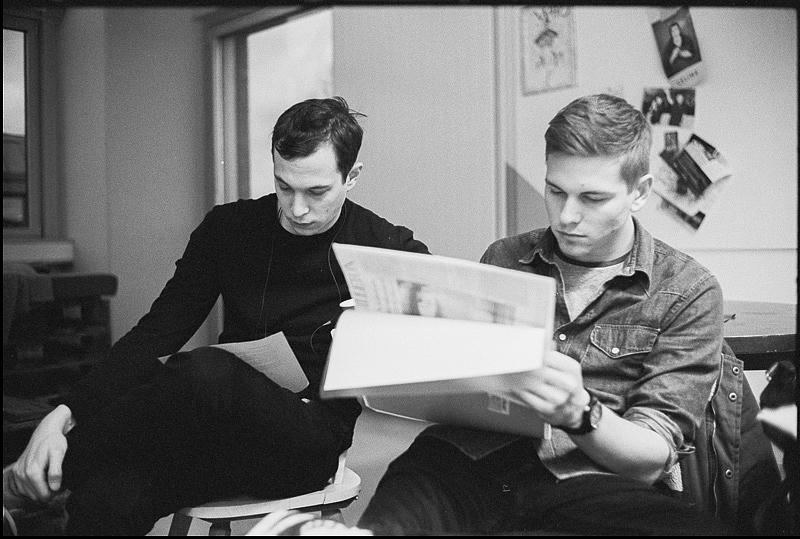 Chris and Anselm preparing for some exam.
Walked thome after the exam, mad rain setting in. Perfect for a leica.
I somehow like this.
Stephan dropped by to play some SNES!
Family dinner.
Olga at night.
Saw this nun on my way to campus.
Time for some fresh air! Stephan, Olga and i decided to check out other art schools and tooke the car to HGB Leipzig.
Man they got a nice darkroom.
And a nice print workshop.
Having some tea and delicious lunch at X, wonderful place.
Leipzig is one strange city.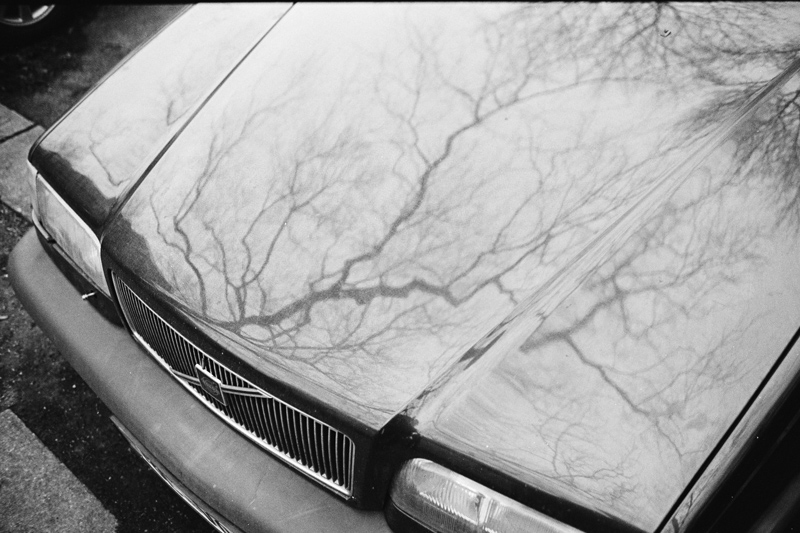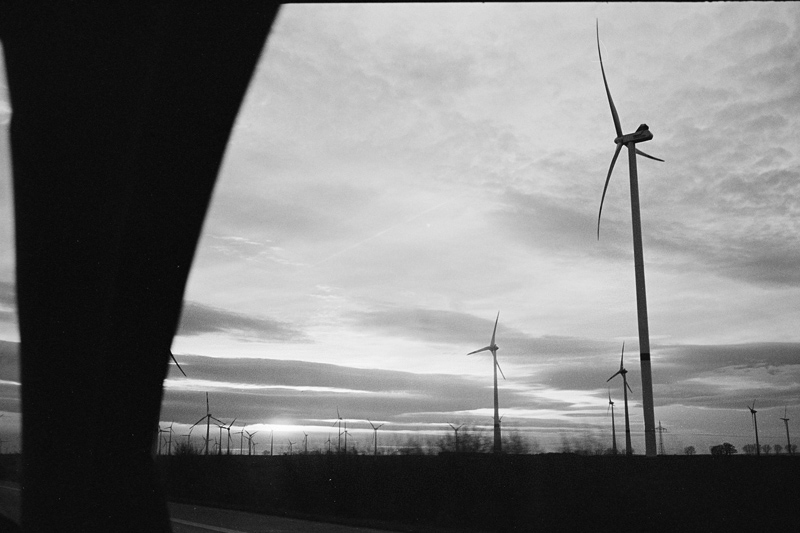 Going back.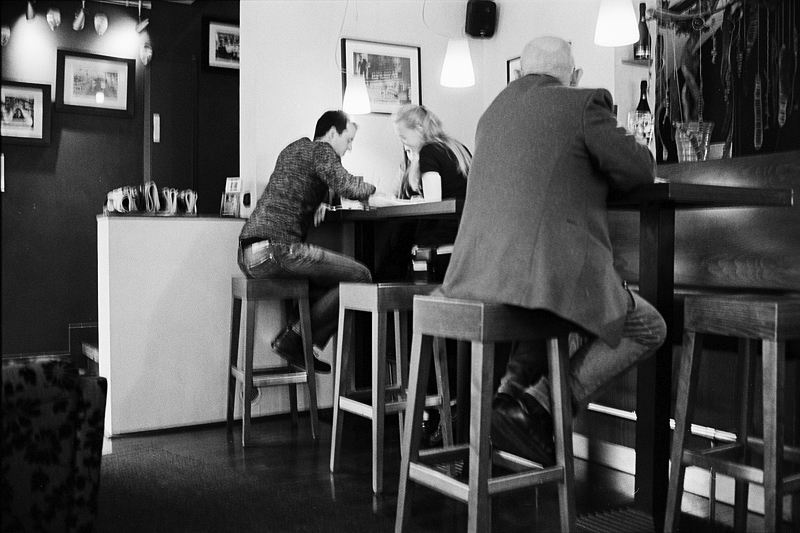 In a café.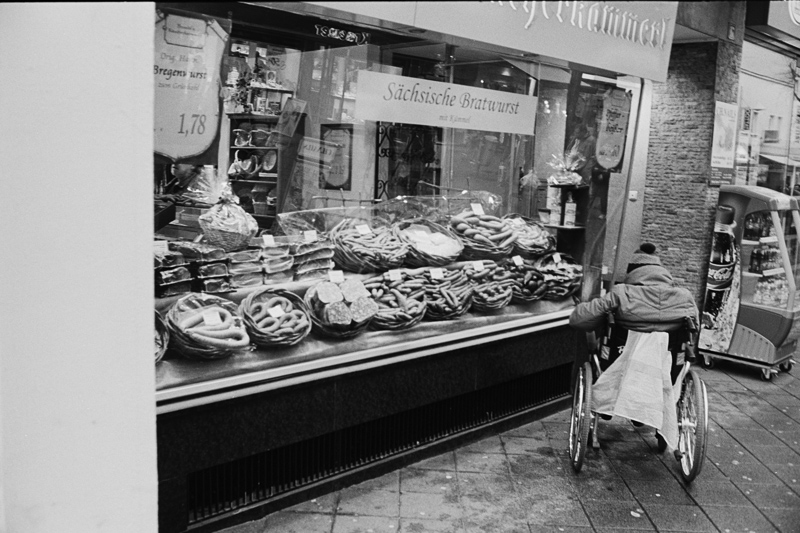 Welcome to the blog! Anika came over to do some interview for her book project.
We had a huge exhibition.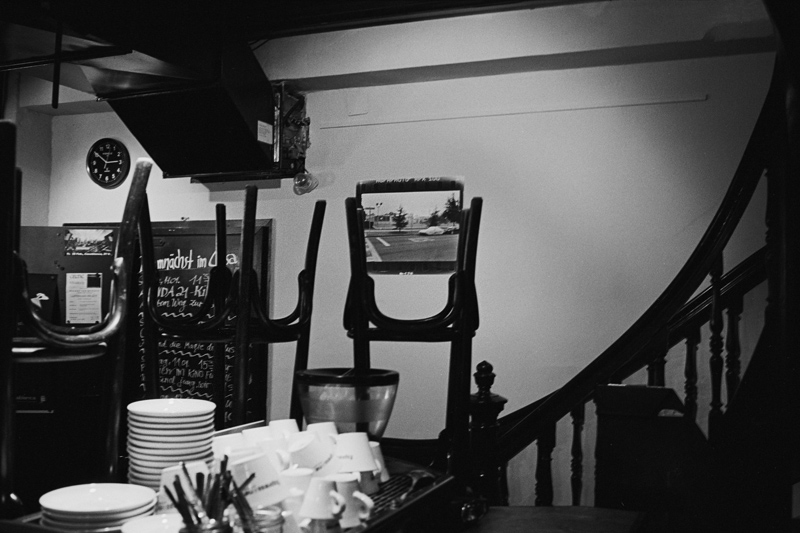 Emma and Mena working on their Inverview project i guess.
Some shots from a roll of Arista, also pusehd to 2k but somehow fucked up in development at the uni lab (the water is pretty bad there). Also the film (Stephan brought some rolls from his trip to LA) wasnt stored cold probably. This was one night at the design department, exhibition of typo class.
Once againt we fulfilled our duty at the graduates exhibition checkout.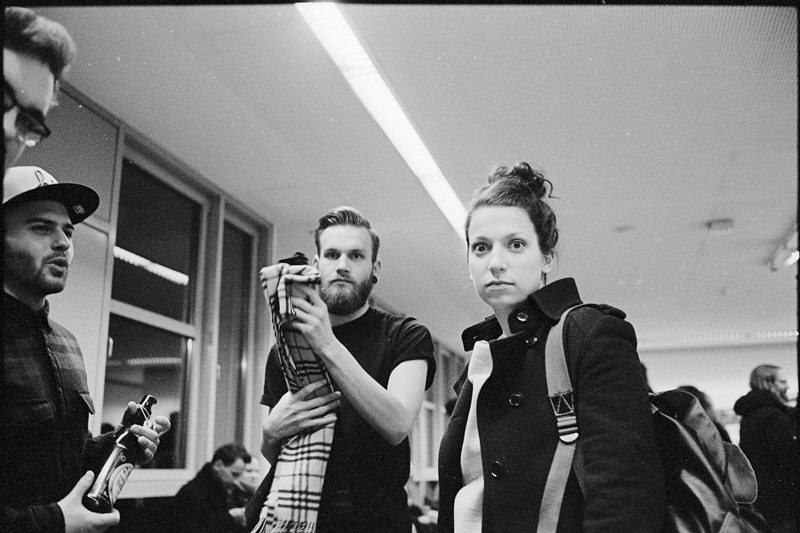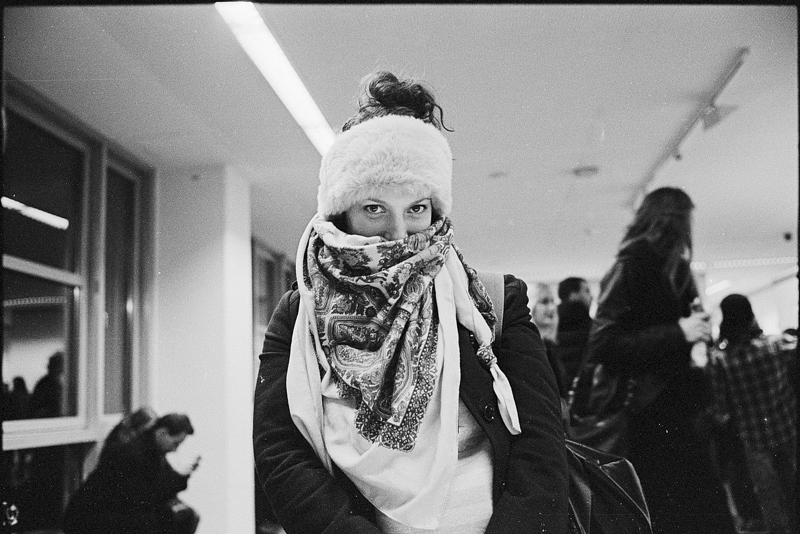 Preparation for the photoclass exhibition.
At the Vernissage.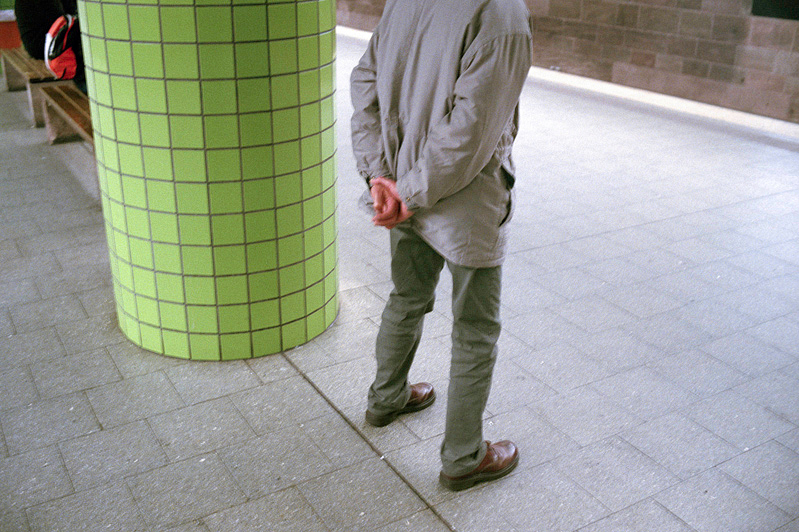 A random roll of DM paradies 400 (which probably is relabeled fuji superia).
Mik got this wideangle converter for his Fuji, i just put it in front of the Hexars lens and well, it works!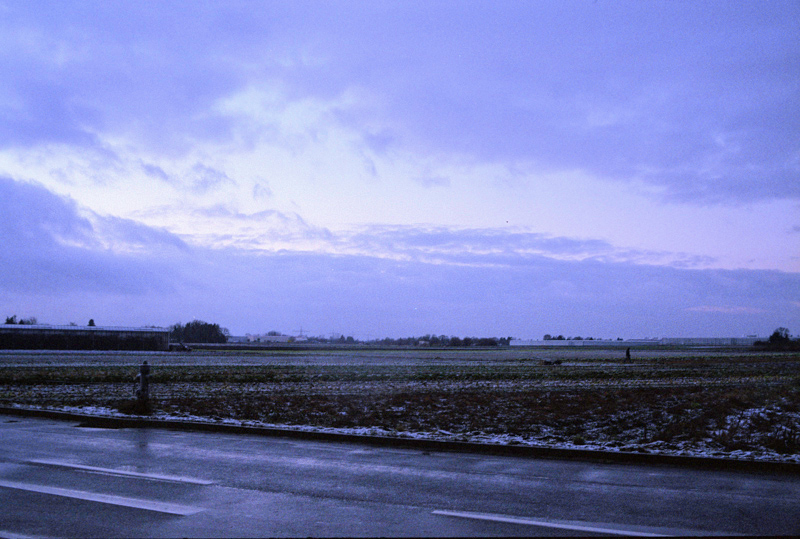 Knoblauchsland nights.
[audiotube id="mJxYGp4NANE" time="no"]
Grocery shopping.
Had a commission in Erlangen.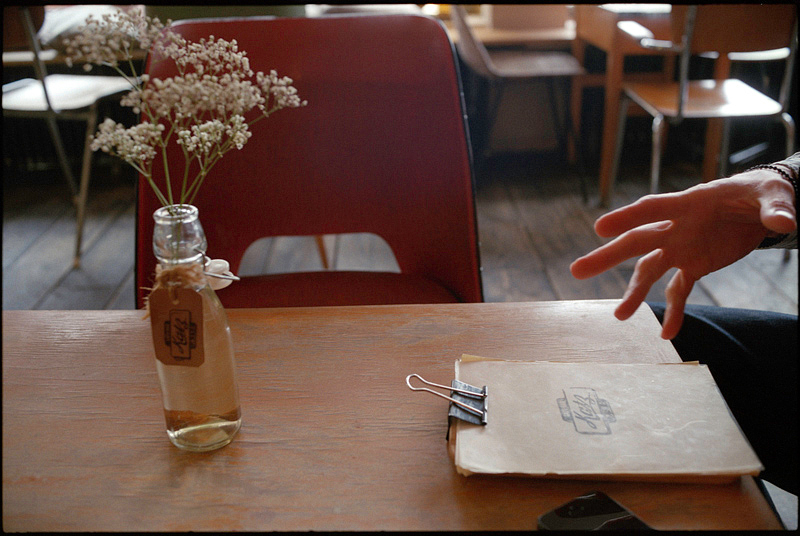 Lunch with Stephan at café Katz.
Gotta love that film tonality.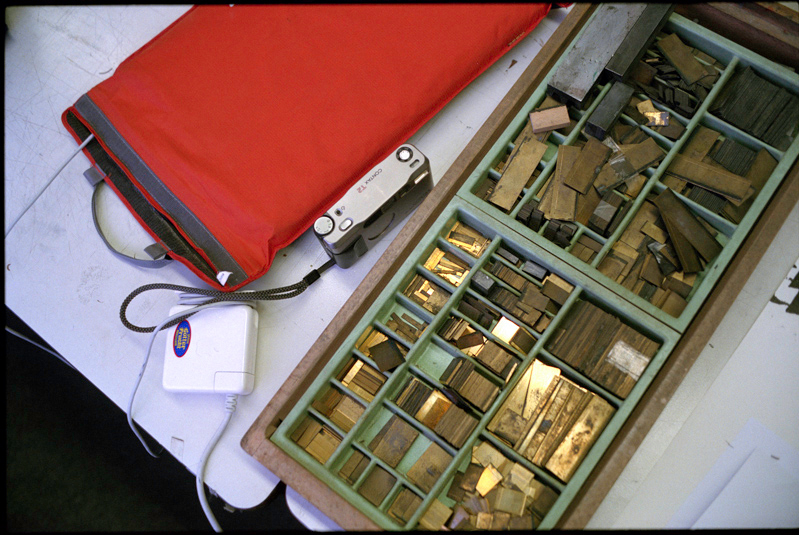 Stephans T2 in the print workshop.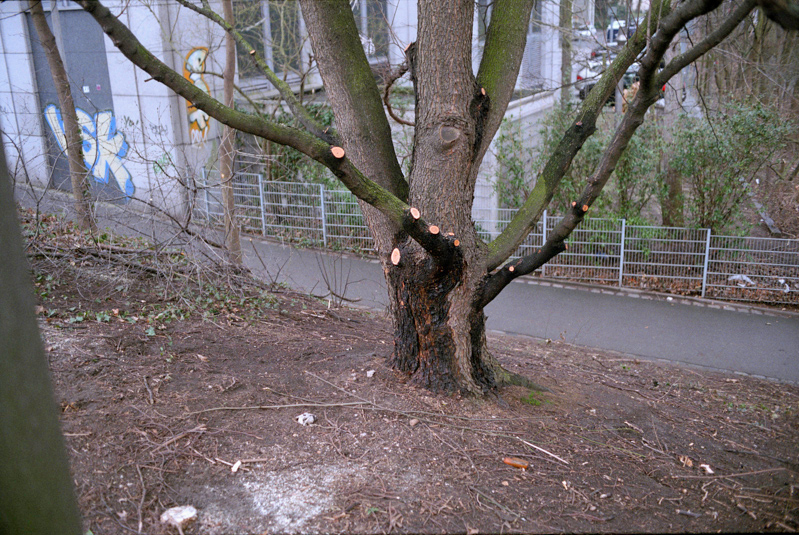 Trimmed tree.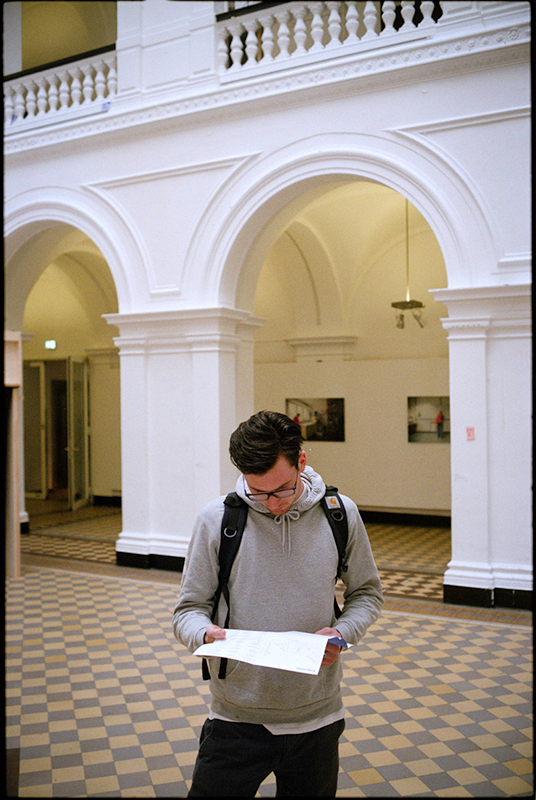 One more trip to HGB.
Very nice exhibition works at the annual "Rundgang".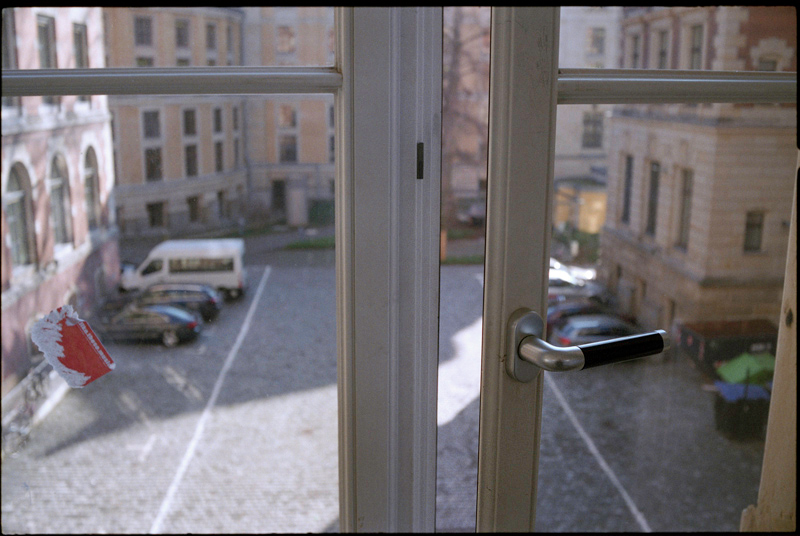 A leftover roll of Delta 100 from my tiny Olympus XA. If i remember correctly this was in last fall when Mik just got his Fuji.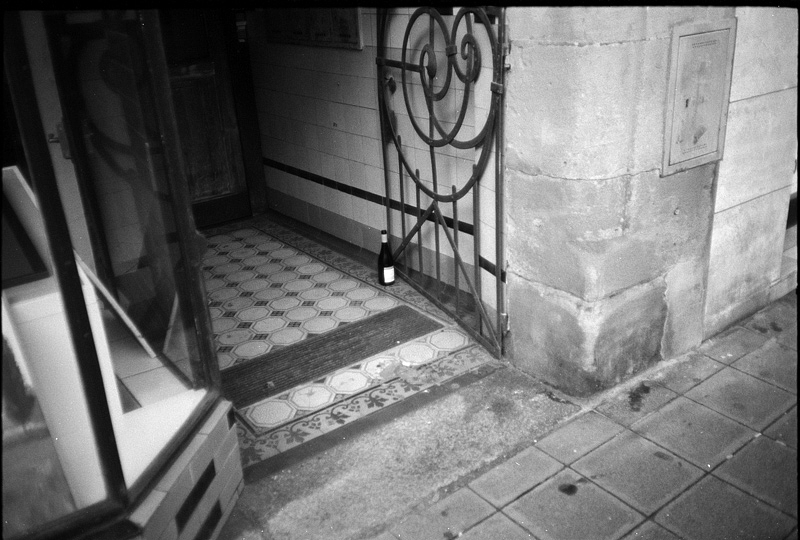 I just love Delta for its smooth tones.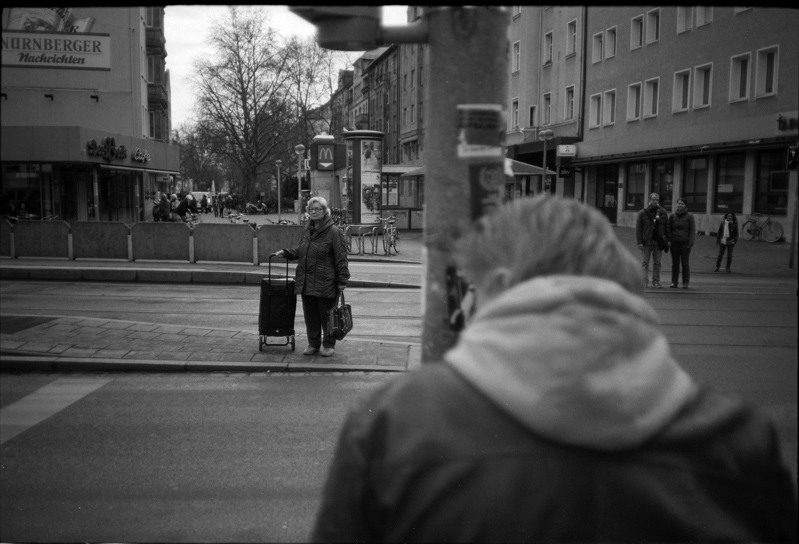 I wonder who did this, like, "oh yeah i know, lets arrange the fence as a triangle!"
Smudgy lens makes a HDR-like look here.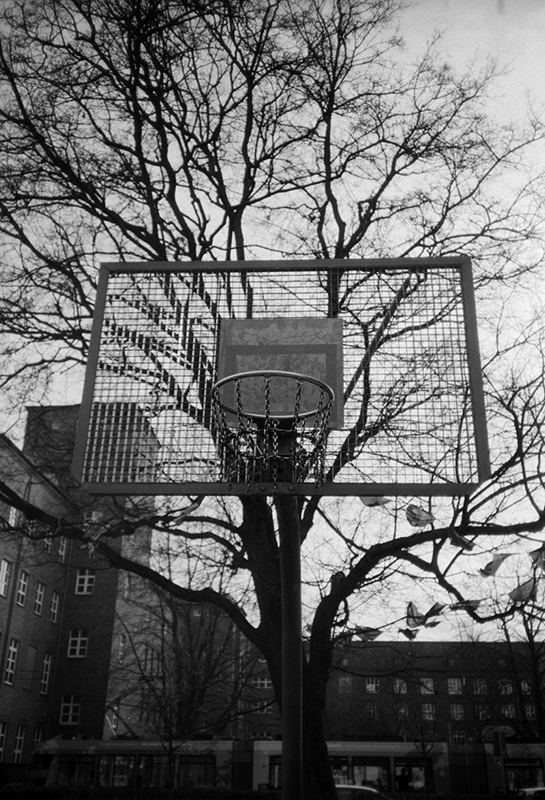 Shooting some street stuff with Anselm.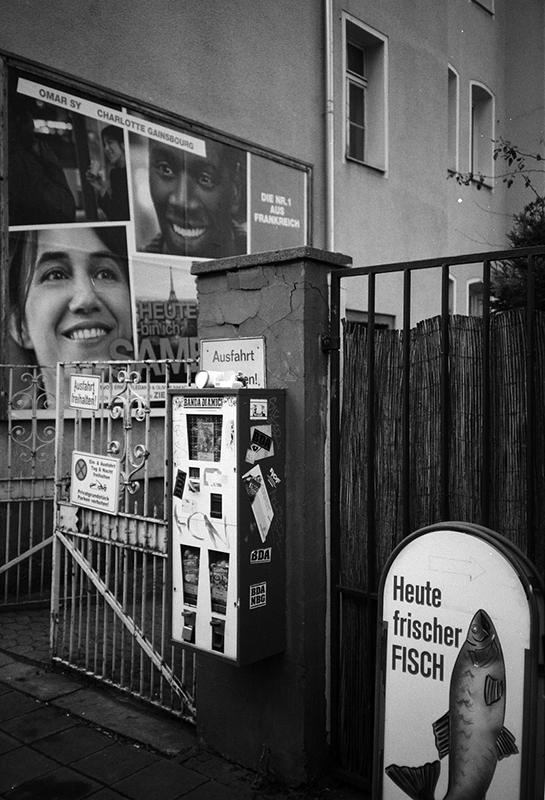 Pigeons in love?
Started a new project about designers and artists and their work/living space. I shot some rolls with the Rolleiflex that turned our great, but i dont have the time to do C41 dev, so i give the rolls to the lab.
Lilit and her Rolleiflex. Its the same as mine i guess, a 3.5F.
Visiting lovely Helena.
Malena in the lift.
Linda.
Nico, who is a filmmaker and a magician.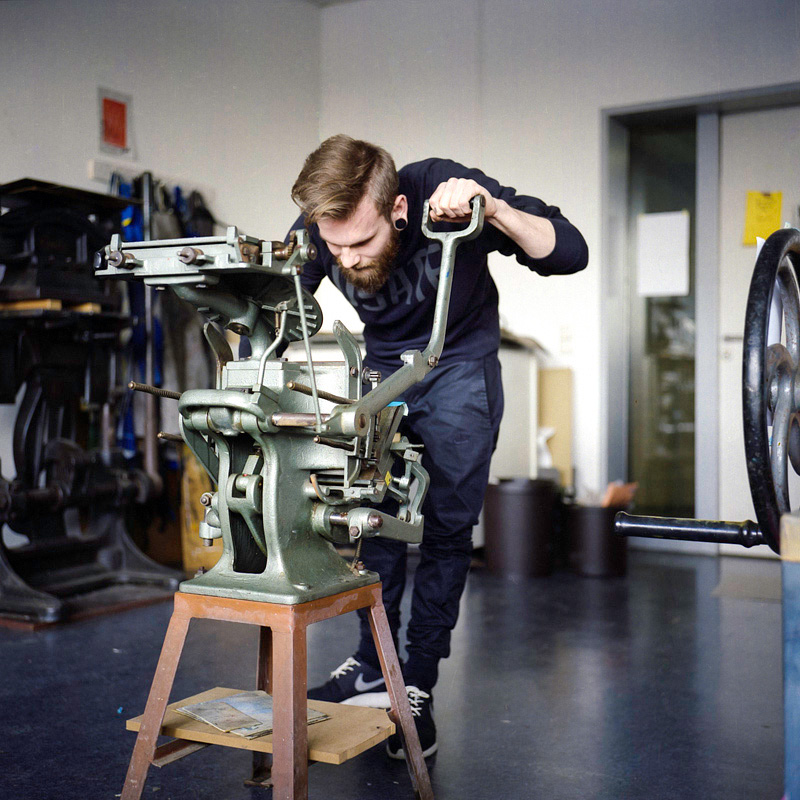 Tobi printing stuff at the workshop.
Malena in her small studio at Quelle Areal.
All these color frames are Portra 400 which is just perfect for this.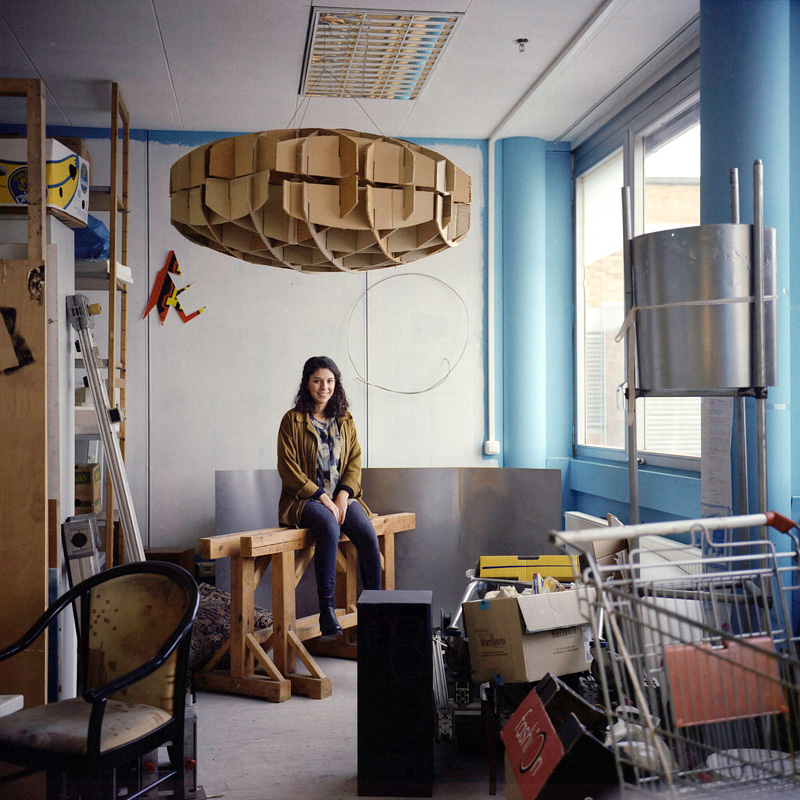 Rebecca in her flat.
Sibylle.
The other day, Stephan and i checked out this abandoned factory place.
Getting a better view.
Pretty much everything was wrecked like this.
Nature taking over.
Some digitals from the first months of 2015.
At a demonstration.
Preparing for a photo shoot.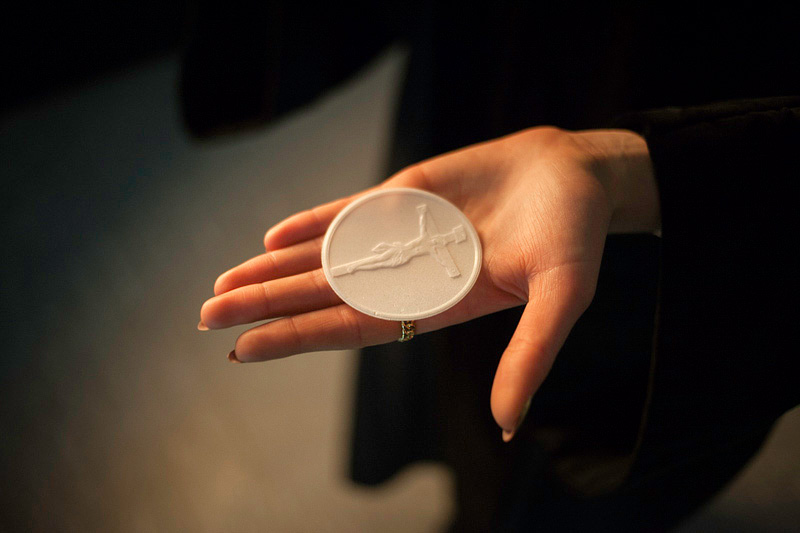 Chris even got some altar bread with a crucifix on it lol.
We got some huge Ilford paper do do some prints.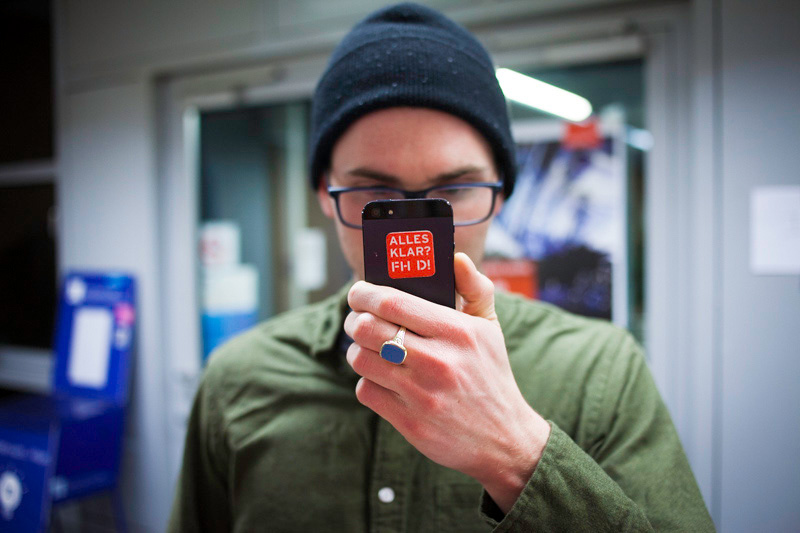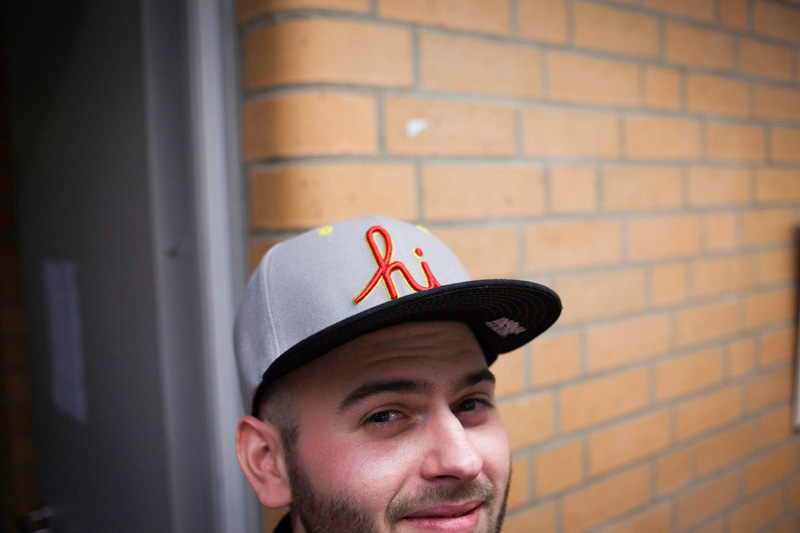 Beppo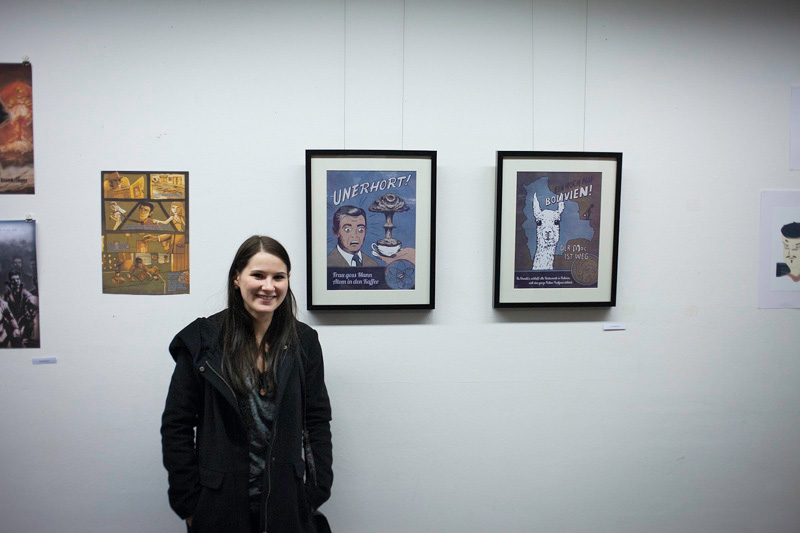 Illustration exhibition, Jenny and her artworks.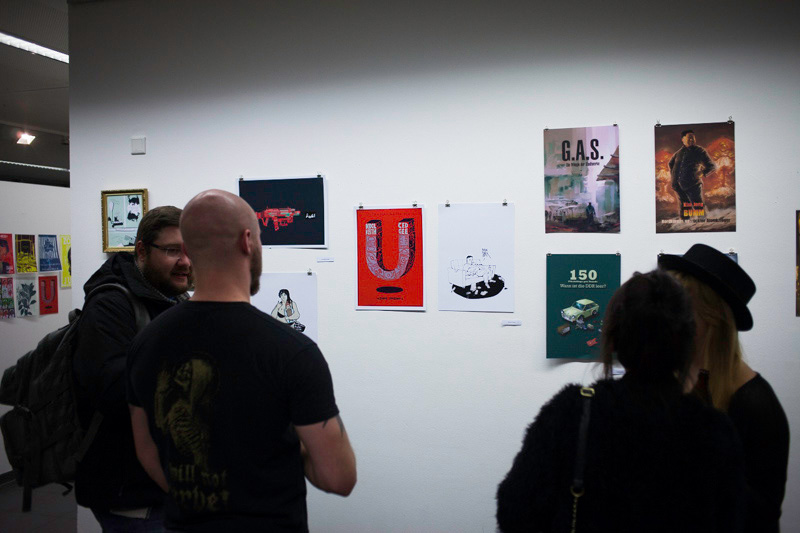 Anselms stuff, silk-screen printed.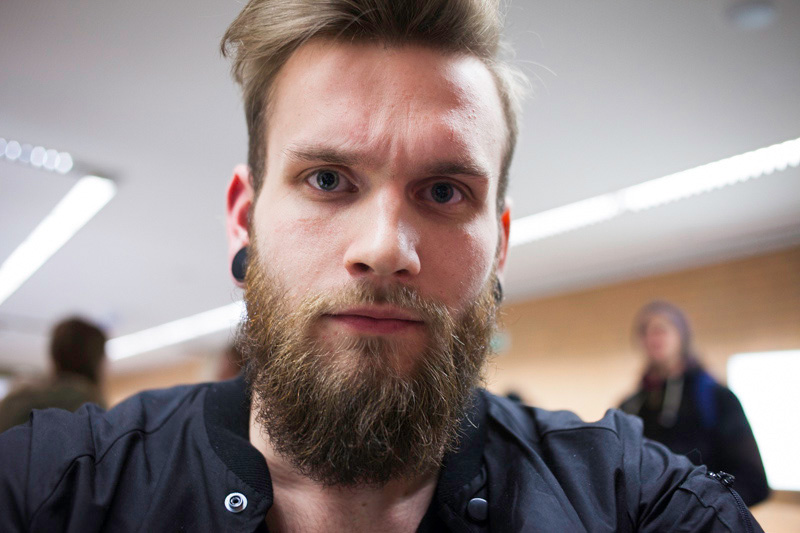 Tobi
Basti got a new sweater!
Some typo exhib stuff.
And that was that.
I dont know why but the other day, Duzy showed up at the computer lab with a Geiger counter… Probably for a movie shoot.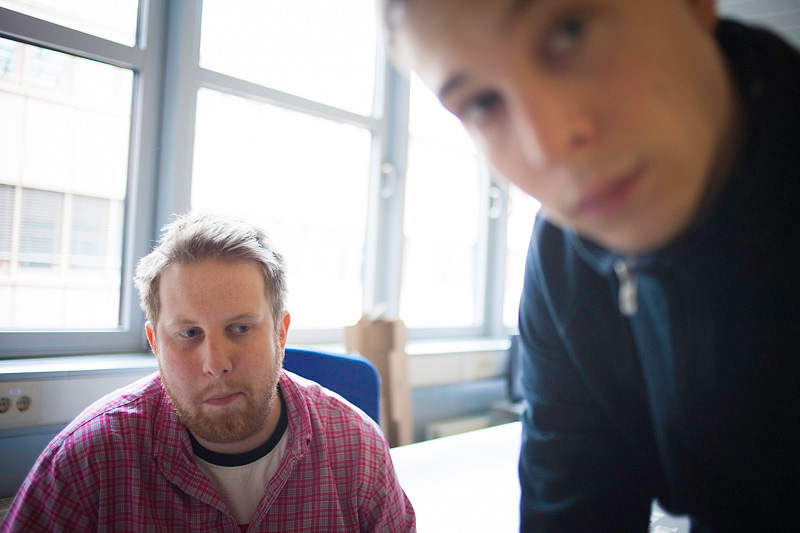 Some more stuff from march.
I decided to work on some new projects, less street, more conceptual, architectural, focussing on the human presence within its surroundings and less on the candid close-up street shot. As you may know i already shot with a Fuji GSW690III before. The negatives were stunning but the camera itself was so clunky and heavy, it was really a pain in the ass to carry it around all day. So i checked out several options, amonong which the 645 rangefinders like Bronica or several Fujis, Mamiya 6 or 7, Plaubel Makina or Fuji/Bessa III 6×7 folders. That meant, another camera had to go. In the end, i sold the Leica M6 (for the second time) and kept the M2.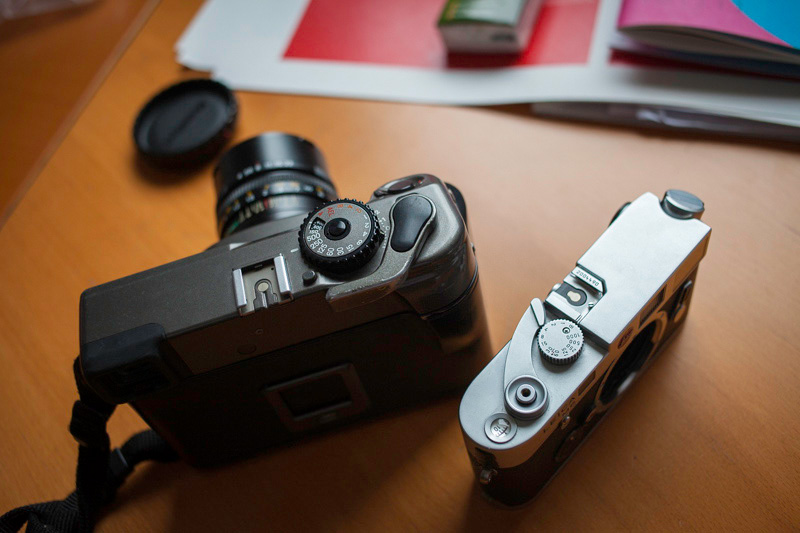 I landed a good deal on a Mamiya 7 right before sending our the Leica. Heres a pic of both of them together, you know, for nostalgic reasons.
Got a 65mm lens for the Mamiya. Negatives are beyond anything in terms of sharpness. From a technical perspective, this may be the most perfect and advanced camera i have ever used (compared to Leicas, Hasselblad, Rolleiflex, Fuji etc.) Of course, the feeling and the character of a camera is a whole other thing.
Back to actual stuff. Here are some pics from an editorial shoot i did for a photoclass project about shoes.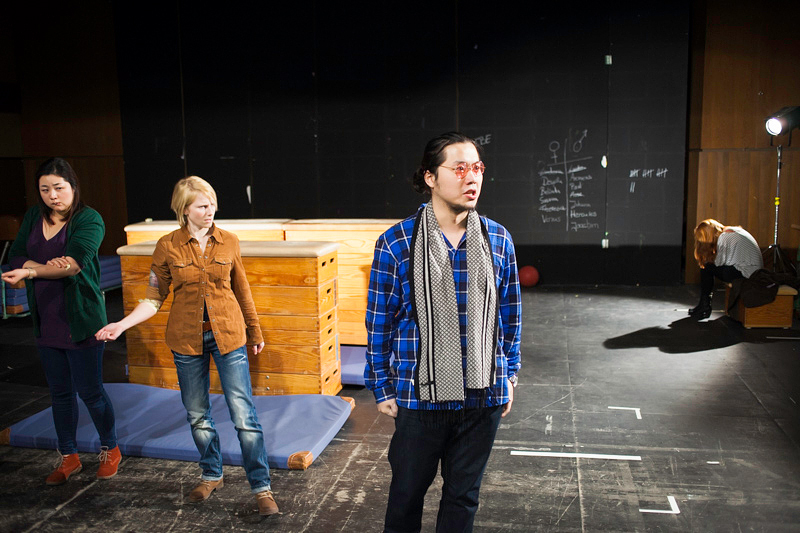 And some commission stuff i did for music academy and Erlangen theater.