Oh boy its another template again! I cant help it. To be honest im not even sorry. I just  love to play with css. Whatever. This post will be rather personal than other ones, for reasons. Lots of pictures about family stuff of course. But also some stories about my work life or profession or whatever you may call it. You know that feeling when you go to work everyday and it feels ok? Not great, just ok. You do it because you can, because you get paid for it, because its comfortable. You just function and do stuff and you tell yourself "well it may not be what i dreamt of but a time will come. Be realistic. Whats to grumble about? Just be patient and wait" You know that feeling? Well i do. And there came a point where i asked myself "Wait? wait for what?" And for some reason i could not answer that question. That was back when i made the decision to apply to college again. People i told about this noticed "oh nice, so youre going to get your engineering masters degree?" and i answered "well, not exactly."
[audiotube id="JtKQZLbdEzw" time="no"]
More on that in the post itself. This one contains much text, dont freak out. You can of course skip my confession writing ego trip stuff and just look at the pictures.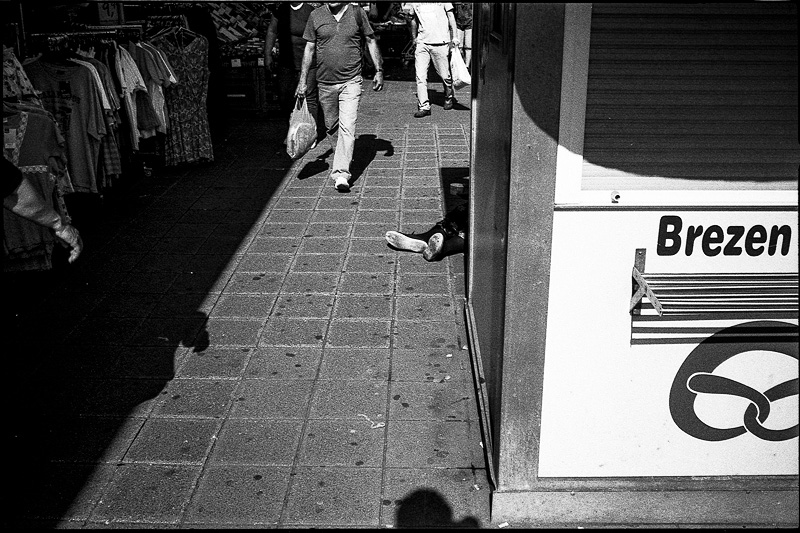 Starting with some casual Südstadt frames. This is the Hexar, loaded with Ilford Delta 400. Mid-speed films shot in bright sunlight tend to give hard contrasts anyway, so i decided to push it a little more and souped the roll in Rodinal 1+25.
As expected, contrast is dominating. However the tones are really nice in most frames.
This was in mid-June. People demonstrating for Taksim. If youre not that familiar with the topic you might wanna check out this documentary from Simon Becker, who was right there in Istanbul and captured some intensive moments when things started to escalate.
Cigarette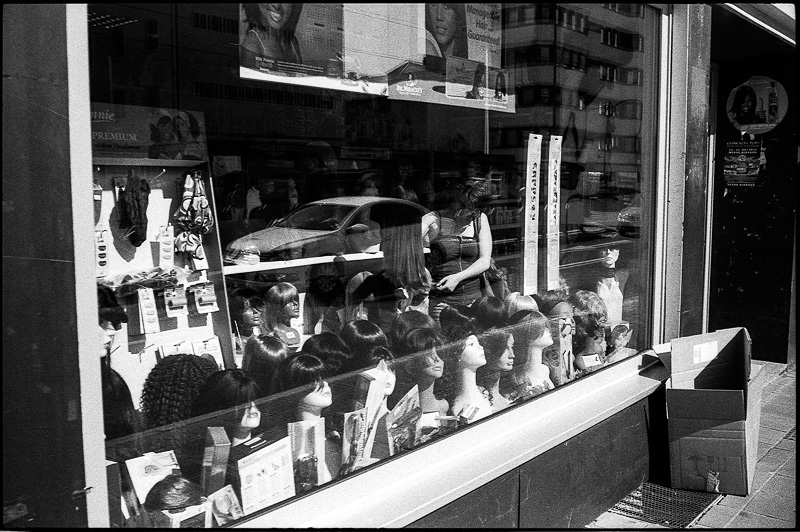 I know its boring but i just like these kinds of structures and patterns, plus the grain is really nice. Only two years to get a clean, even negative.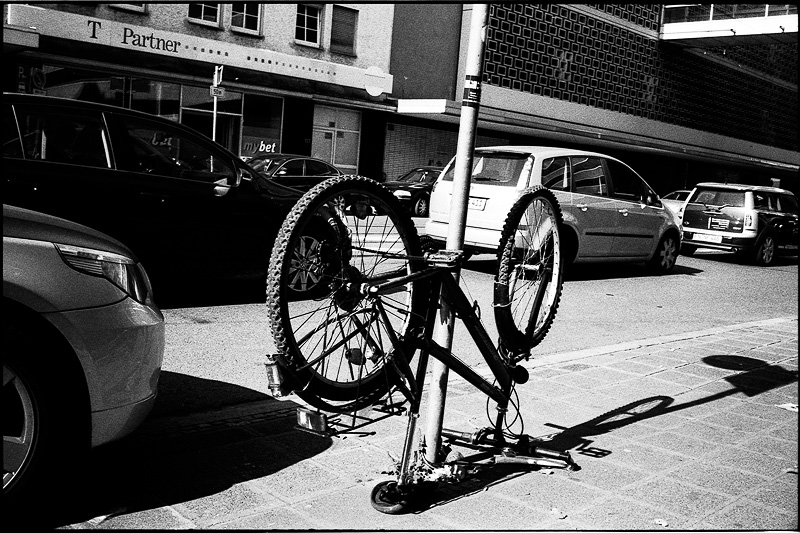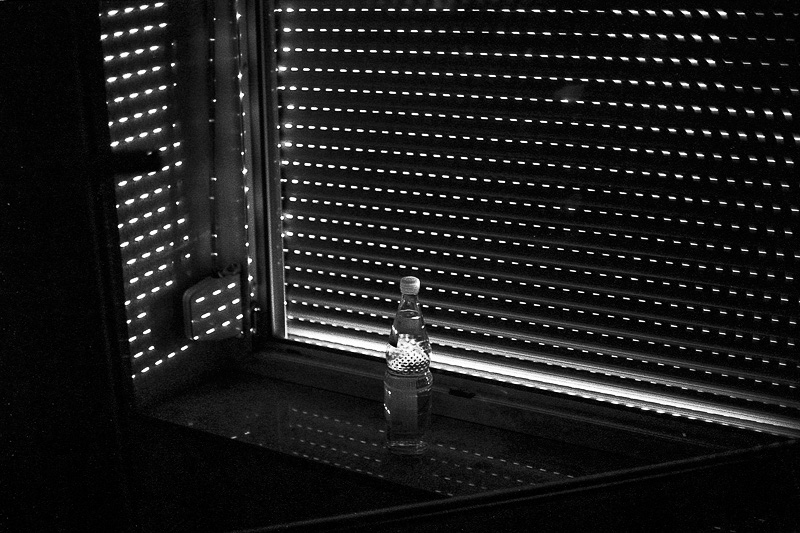 So after weeks of rain and depressive dark days the weather got better again. Finally.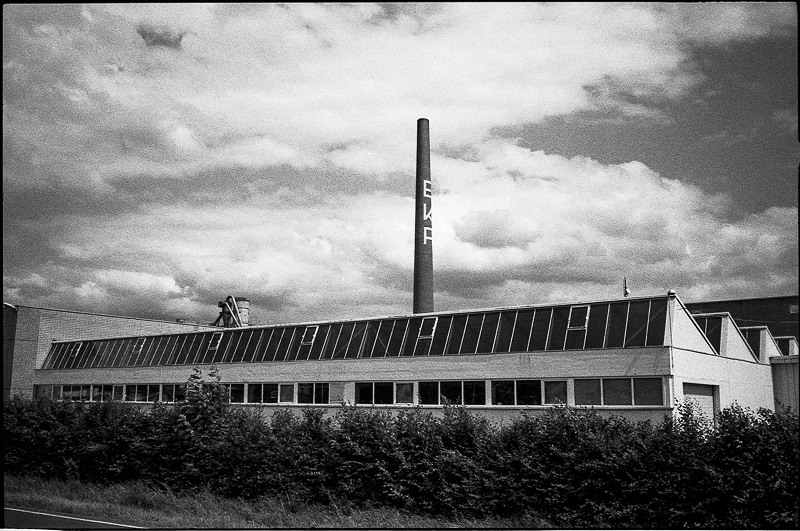 Some factory building outside Neustadt.
What remains.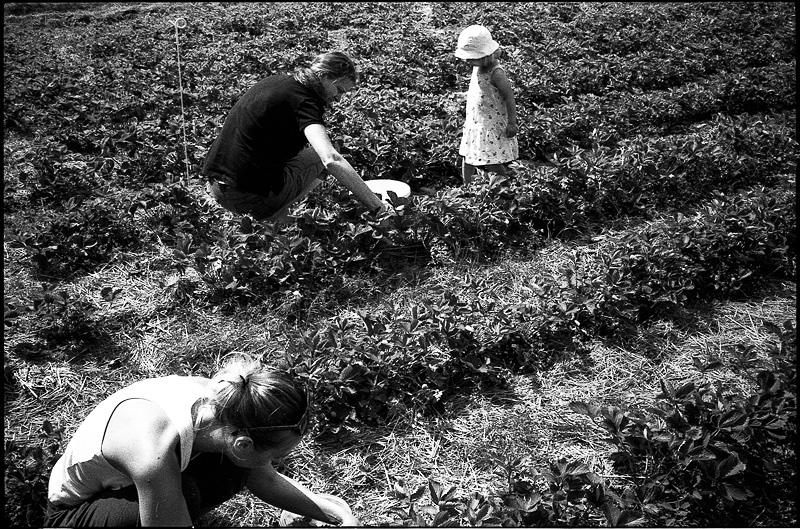 Since it was midseason, we decided to pick some strawberries. "Some" somehow became 3 kilograms.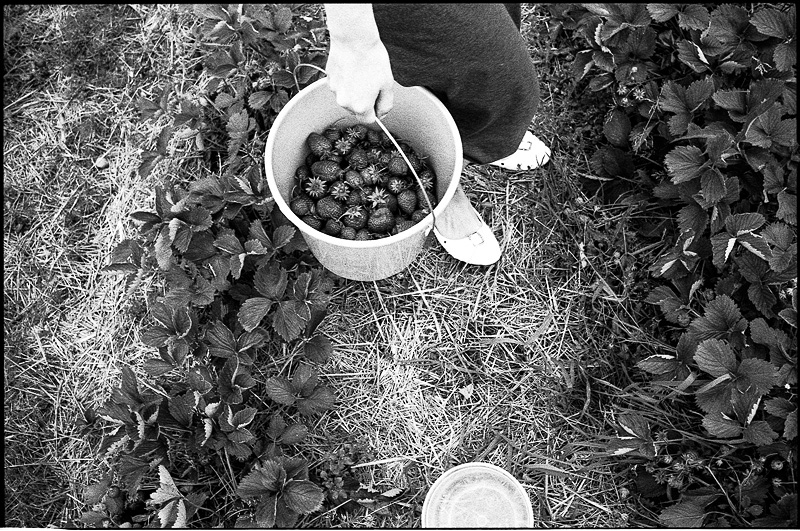 So each of us got a bucket with about 1,5kg of strawberries. That was literally all i ate the entire weekend.
Some pickers in the background.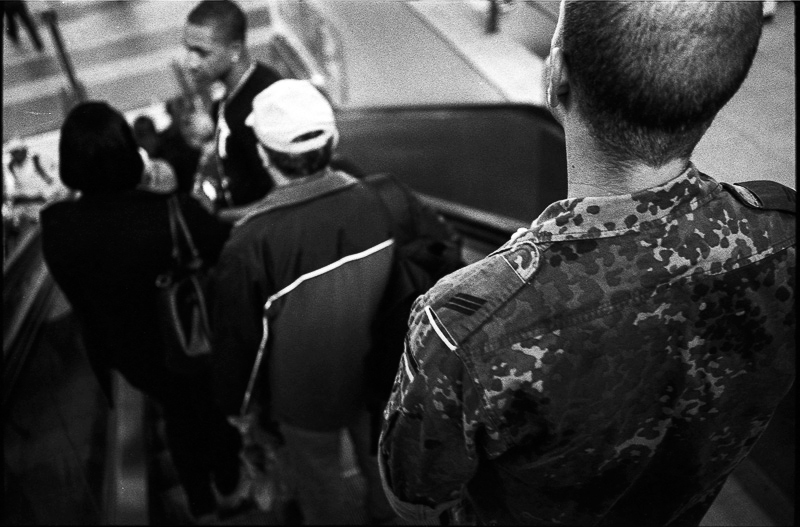 Remember?
This is Fuji Neopan 400 in Rodinal 1+50.
So we had some fun time shopping. Except that i didnt.
As soon as it started to rain, people start running for cover, which i always find kind of amusing. This guy didnt seem to care about this wuzz at all.
Opposites.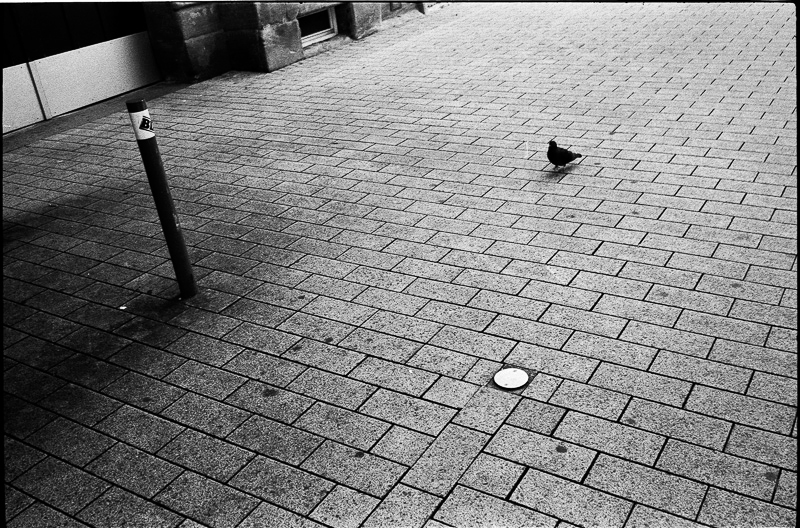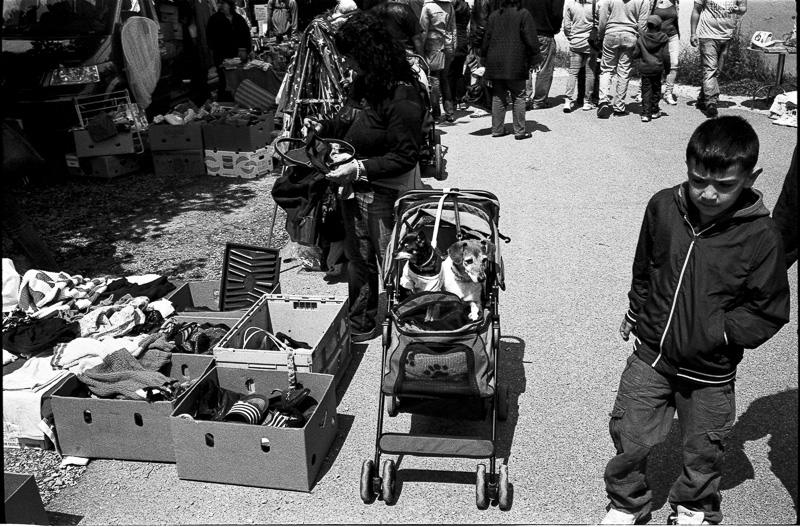 Another sunday morning flea market with cute puppies!
Later that weekend, lunch at my uncles place. Checking out the pictures of our boat trip some weeks ago.
Coburg. Next roll. Kentmere 400 in Xtol.
Sign on the left says "Frankonia! Apprentice stabs cousin to death at party!" So thats whats going down here. Were pretty mad people. Well, not really.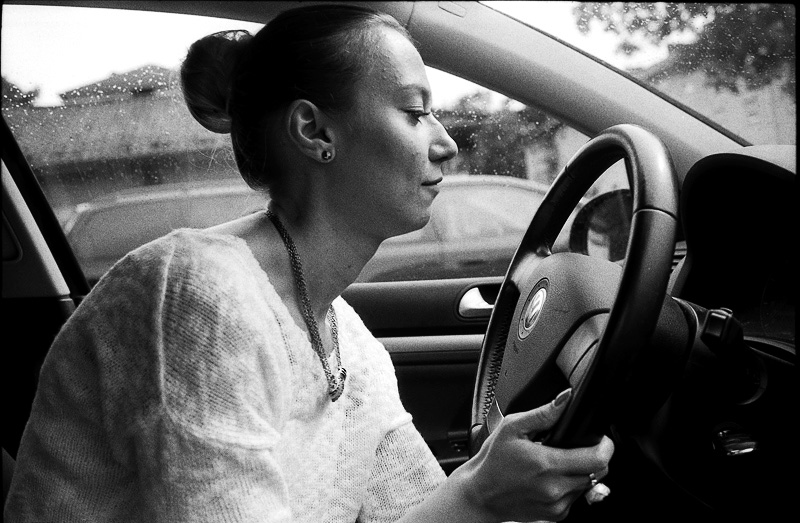 What an adventure!
Random
My mother in the studio. Thinking of stuff.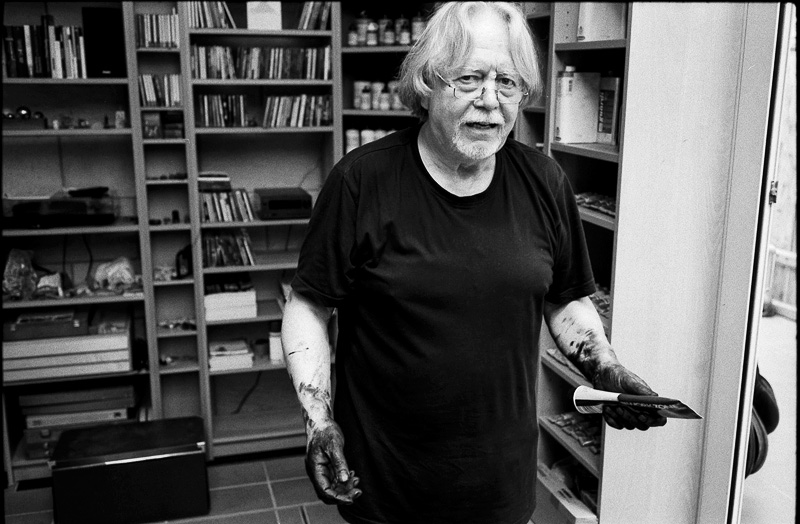 Gerhard was busy with some car repair stuff.
Guys taking some snaps of two parked Audi R8.
Brake fluid, pants and shirts, thrown away like regular waste. People suck sometimes.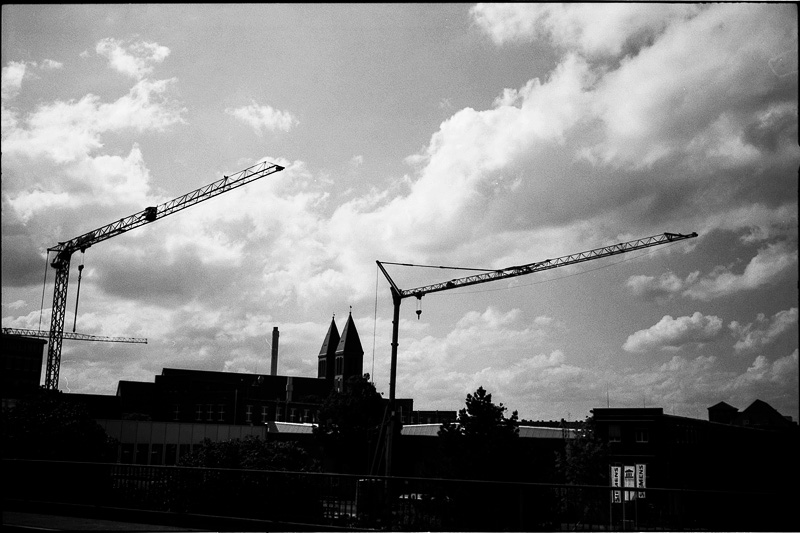 Yeah, you guessed right. Acros 100, Xtol, Hexar AF.
Wondering what they are looking at…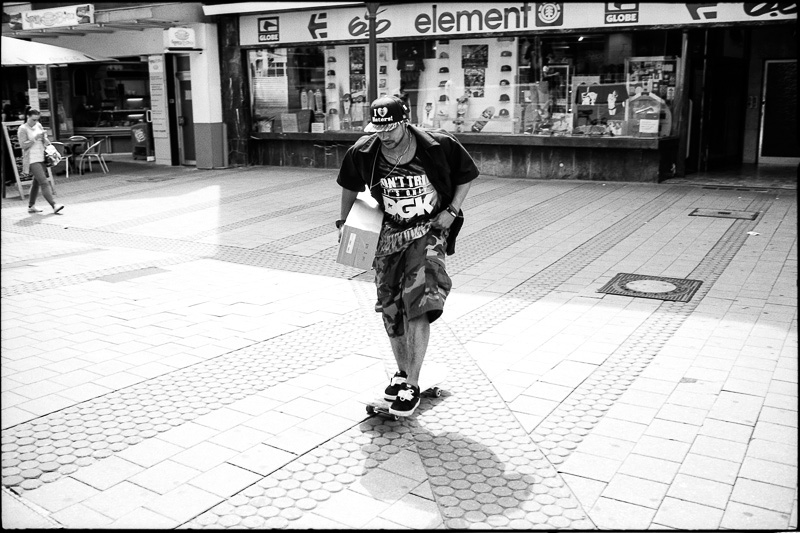 Skater guy with sweet skater scars.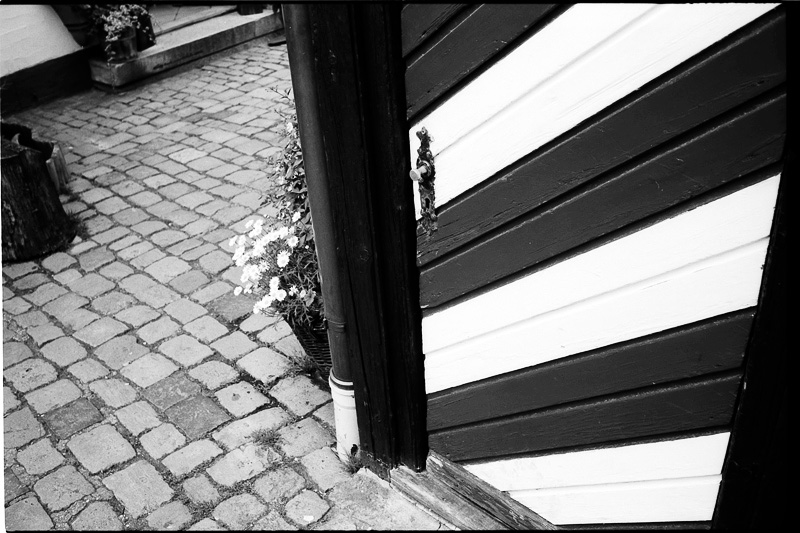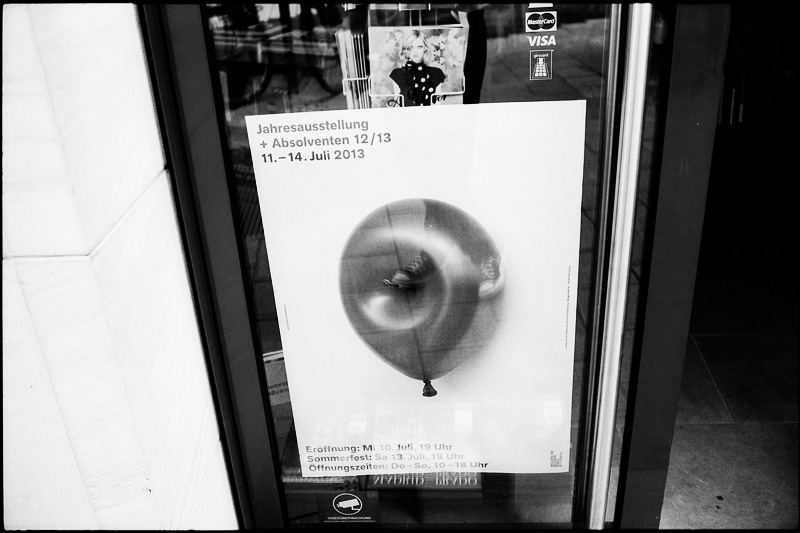 A poster for the annual academy of fine arts students exhibition. This was actually just a reminder because i was way to lazy to use my phone.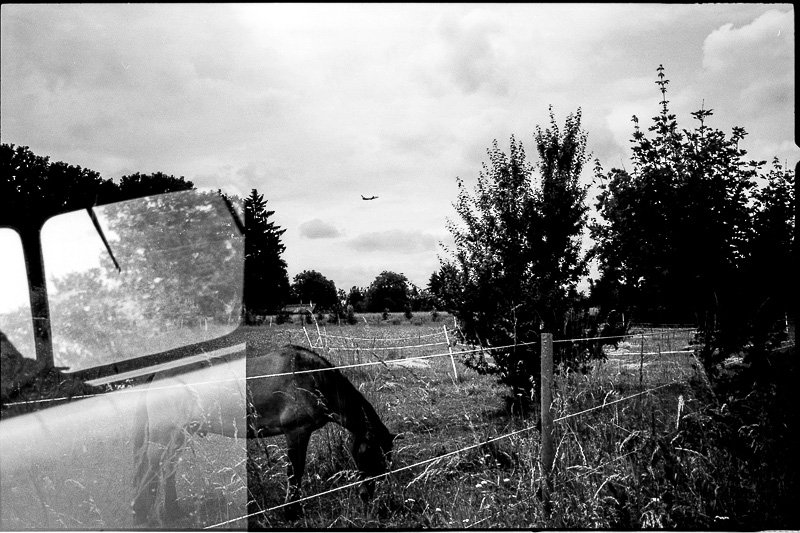 This roll of film has seen the inside of a camera before.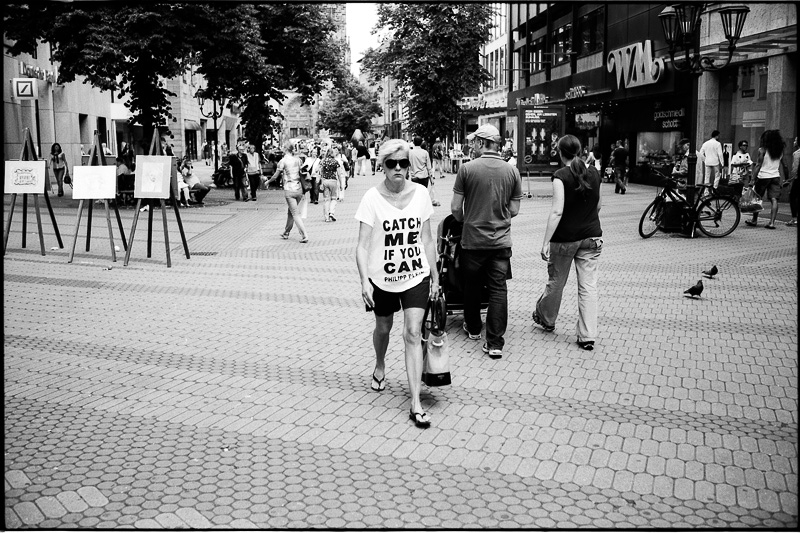 Challenge accepted!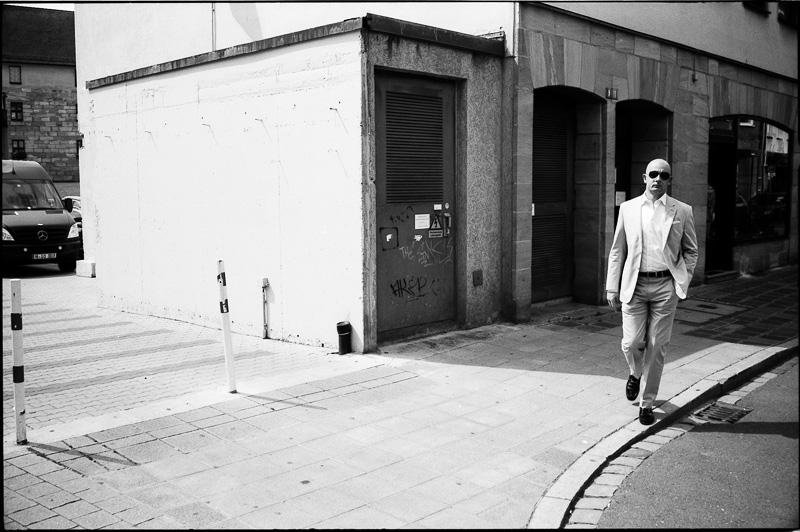 Stopped by at fotomax for some camera strap, all they got are these sun-sniper kind of things. Pretty usable for your big DSLR, but damn ugly. This guy is testing some equipment right outside the store.
Südstadt, my favorite greengrocer.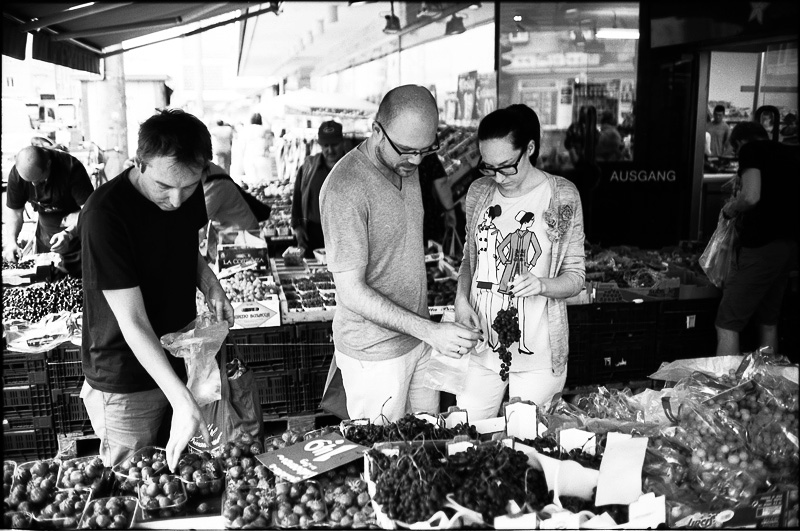 I wonder what i looks like from inside.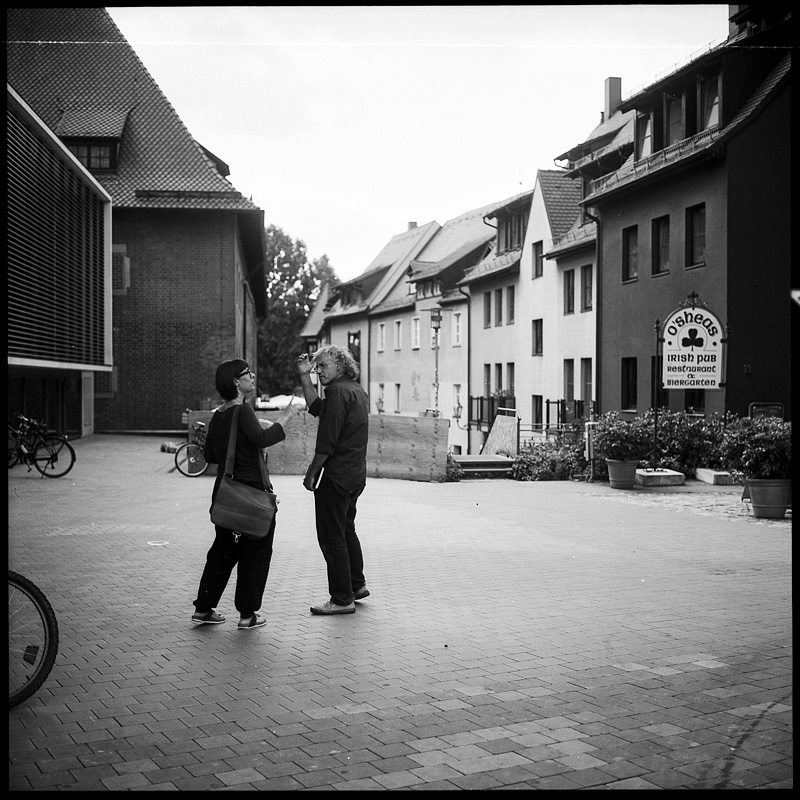 So the other day i felt like shooting some street with the Rolleiflex. Since i recently bought some rolls of Efke 25 i loaded the little gem and went for a walk. Sry about the border across the frame in the top area, that is from an obviously misaligned glass i put on top of the negatives. Helps a lot with flatness though.
25ASA shoots surprisingly well hand-held.
Ok, not so street-ish, but wow at those tones the efke produces!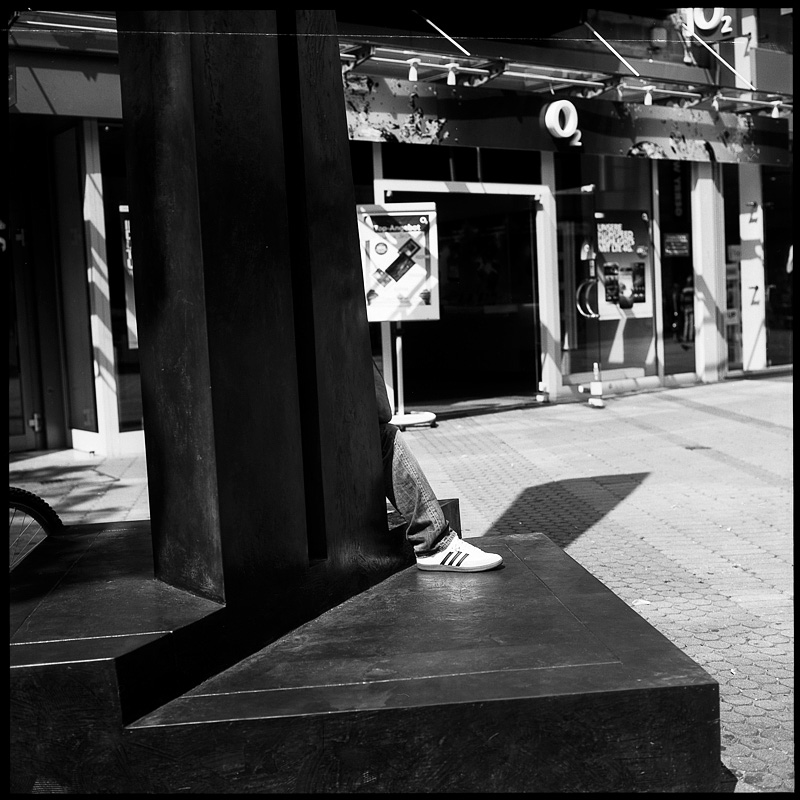 Back to 35mm. Back to Leica. Except that it is not the M6. Actually it was a rather impulsive decision, but the other day i spotted a really good deal for a recently CLA'd M2 with a superb black Zeiss C-Biogon. I immediately thought to myself "this is the real thing!" and just went for it. Since i got the Hexar i dont use the M6 as frequently as i used to, so i thought, why not give it a try. (Plus the deal was really really good. The body is a real user but with fresh service, the lens is new)
Oh yeah and another thing: Since i ran out of Xtol i was in the mood of playing around with something new, so i bought a bottle of Kodak HC-110 which here in Europe comes as very highly concentrated syrup in a 1l bottle. It is recommended to make a 1+3 stock solution for better handling. That means, it is way easier to measure and pour correctly from A to B. Plus your bottles and scales will be easier to clean because the stock does not stick to it like the syrup does (it really does, feels like maple syrup or honey so make sure to clean all your stuff really good to get rid of possible residues from the developer.)
So these are some frames from the M2 with C-Biogon, Fuji Acros in HC-110. People dancing for some reason.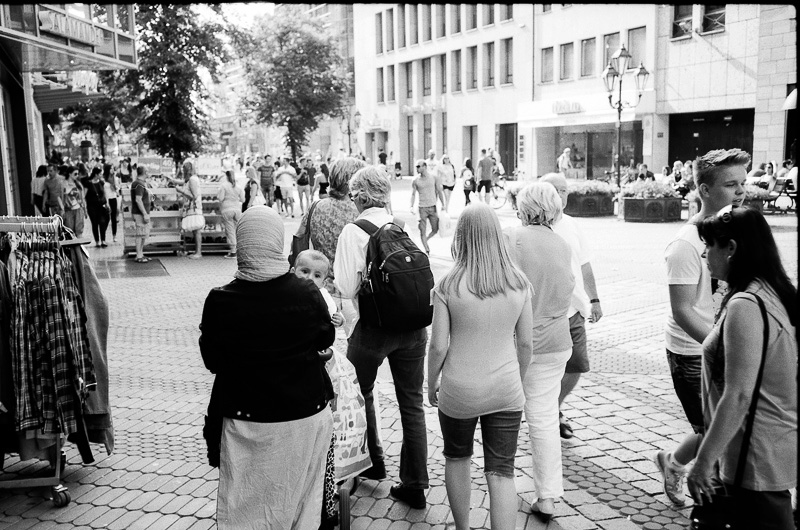 Cute little fellow.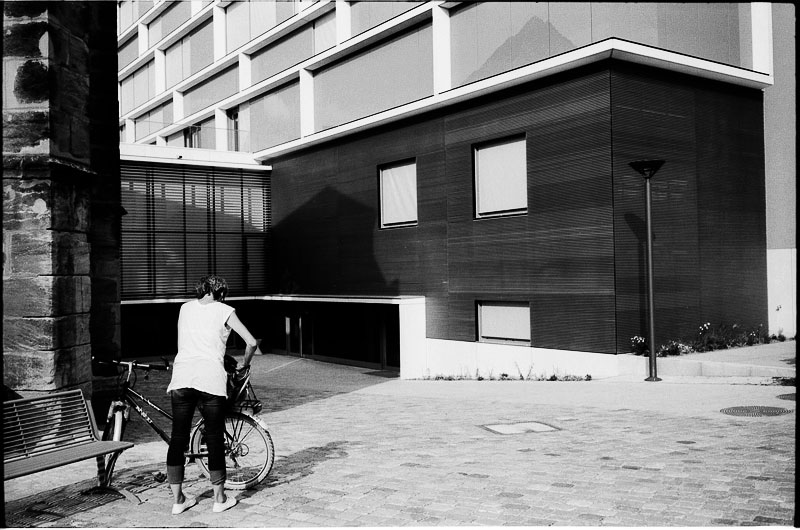 Made me think of this. Nice tattoos though!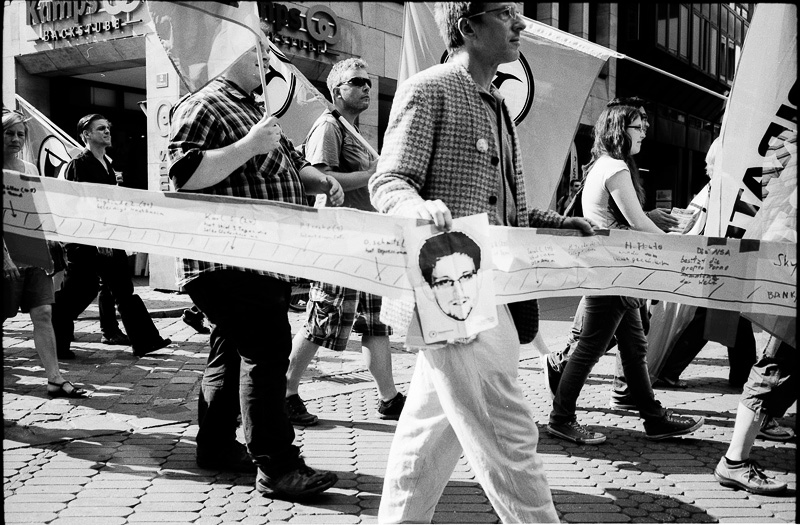 So we had some lunch when these guys passed by.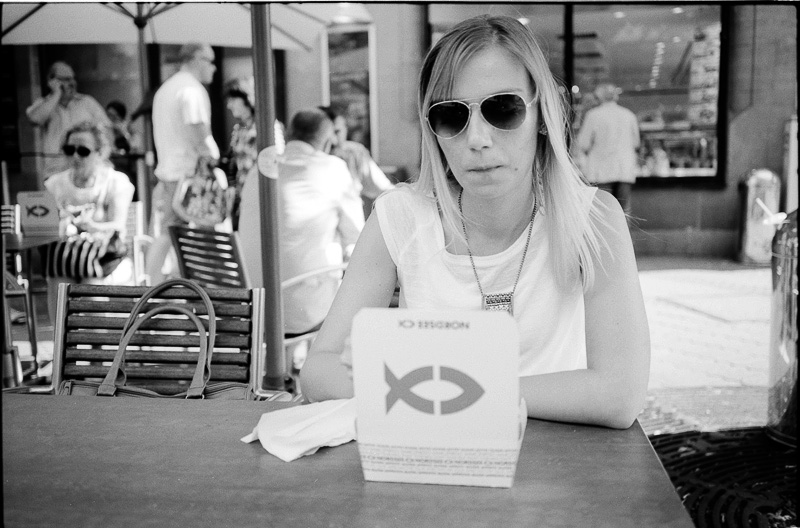 HC-100: great tones. C-Biogon: great rendering and smoooooth bokeh.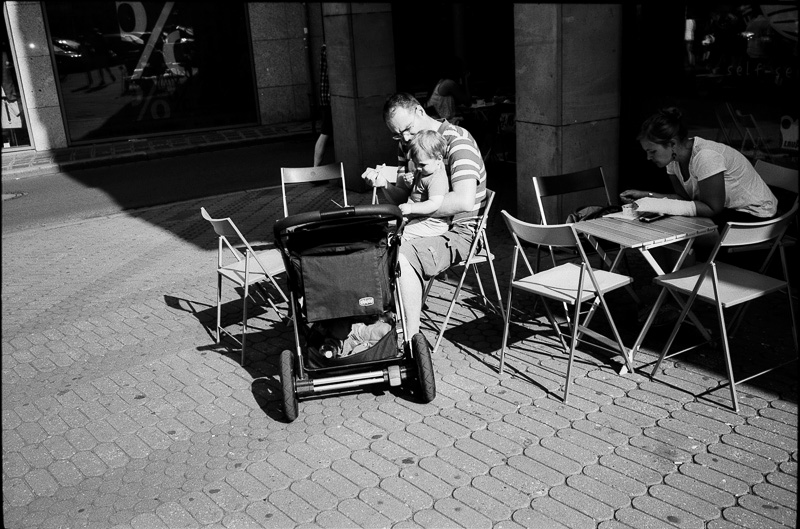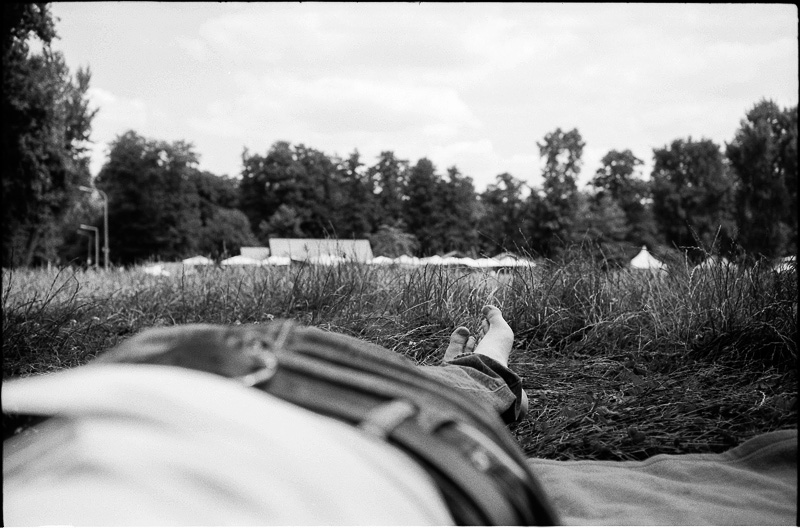 Well heres another story: as mentioned above, i applied at Nuremberg University. Not for Engineering but for Design (with photography being a major subject ofc). I have had this crazy idea in my mind about becoming a designer/photographer/writer/whatever creative stuff since a long time, but somewhere along the way it got lost. Until now. So as i said, at some point, i told myself "just go and try it, you have nothing to lose. They could turn you down, thats all. PS: Youre a pussy if you dont do it!" It was back in march when i took this decision and so i had some time to select some pieces, write some documentation stuff and design my portfolio (which i never did before). I handed in the folder in may.
Since im not necessarily an award-winning drawer, i put together a collection of small series of both analog and digital pictures i took in the last years. This here is a cycle of 4 abstract water stills i took about a year ago.
More abstract stuff from another series.
All the analog stuff i handed in is featured in previous blog posts: some street shots from Nuremberg train station and from Paris as well as some stills from Prien am Chiemsee and from a walk in the woods. So im not gonna show that again.
About a month later i recieved a letter from the college saying that my portfolio was approved and that i was invited to the qualifying examinations in july. That was when i slowly started getting nervous. So july came and i took the tests, here is some of the stuff we had to do. Day 1: written exam, designing a bookcover and drawing a storyboard.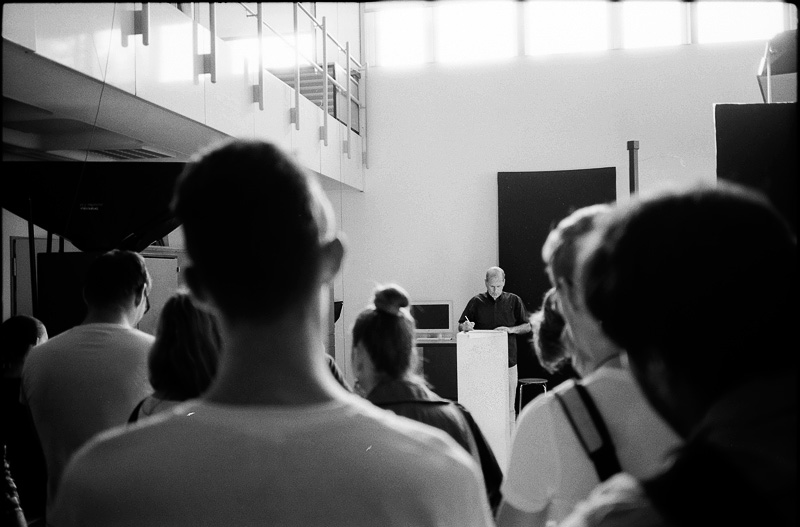 Day 2: Photography (actually we had to choose between drawing, photography and filming. Not so hard choice for me). Prof Jostmeier gave us a quick early morning briefing on the topic and the time schedule in the photo studio. I was torn between throwing up from anxiety and the urge to document this. We were all just nervous as hell but somehow i still wanted to capture this moment, knowing that it would be very intense and unique. Well, for me at least. Its always personal after all.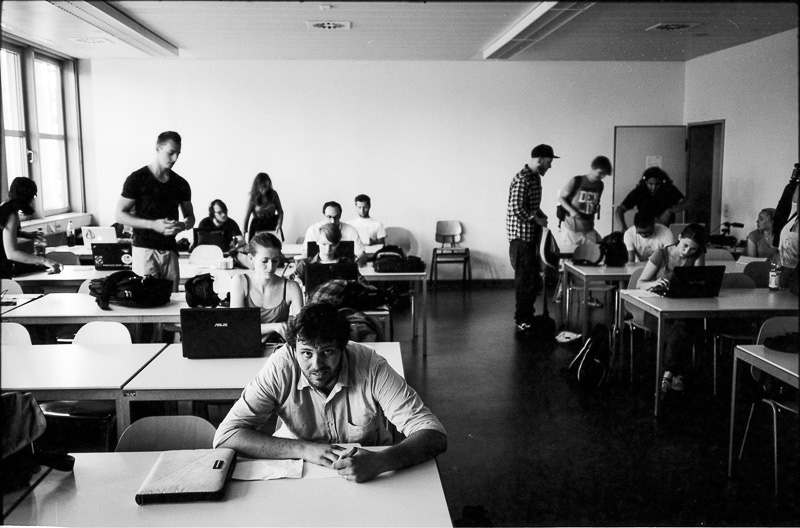 So after several hours of shooting we returned to the college and had some time for selecting, post production and for writing a down some lines about our approach on the topic.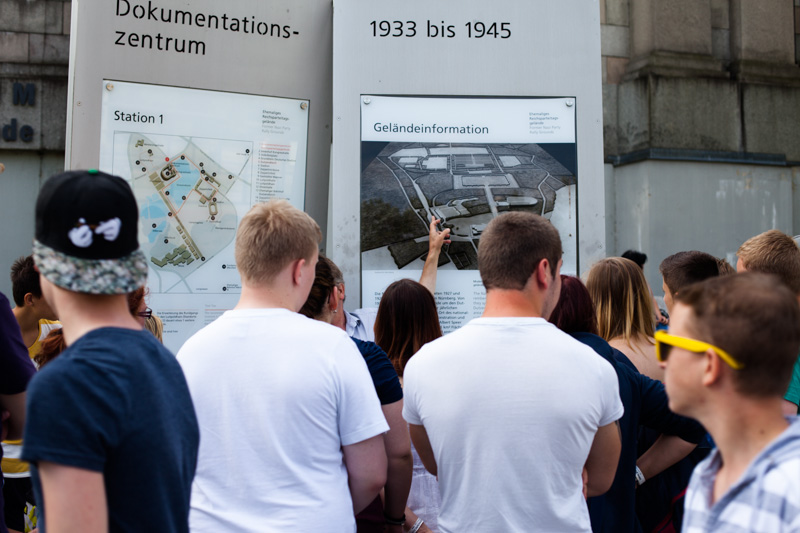 The topic for photographers was "Zeitspiegel//Spiegelzeit" which means something like "time//reflection". These are three of the images i submitted.
Girls viewing their portfolios. i5000 btw. Way to go. After we had finished the drawing/picture taking/filming part, we got back our folders and waited for an individual talk with one of the professors. In the end, those two days went pretty good and its again time to wait for a response. If you have questions about the whole process of application or about specific tasks, feel free to drop me a note.
Ok, back to normal life. Later that day, i had a look at the annual student exhib i mentioned before. As always, very interesting stuff and great people.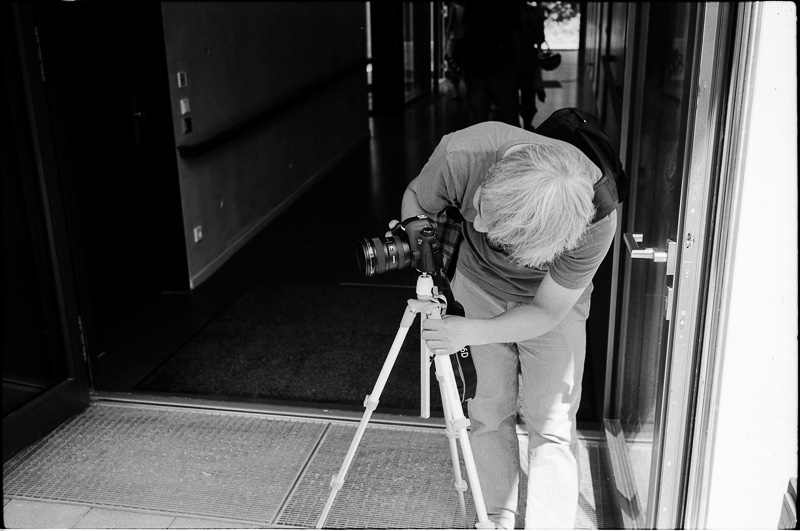 Guy taking pictures of some of the installations.
Time to lay back and just relax. Finally!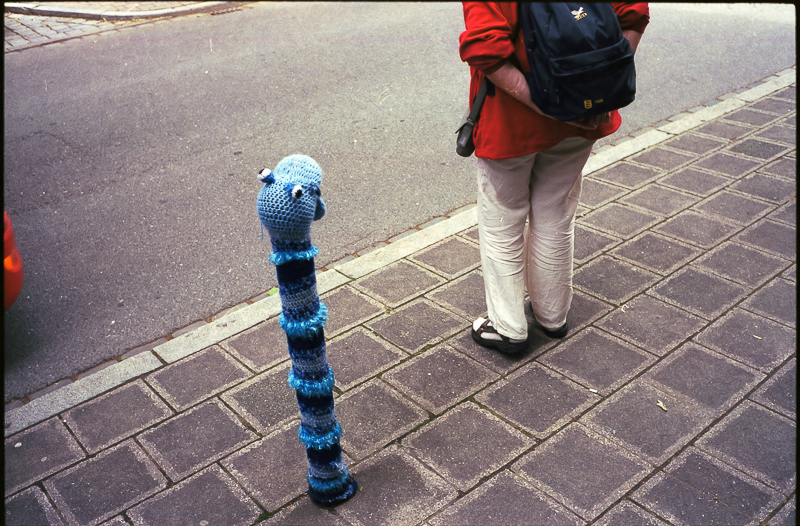 Last roll with the M6. Ektar, labdev. Its like in the wild nature.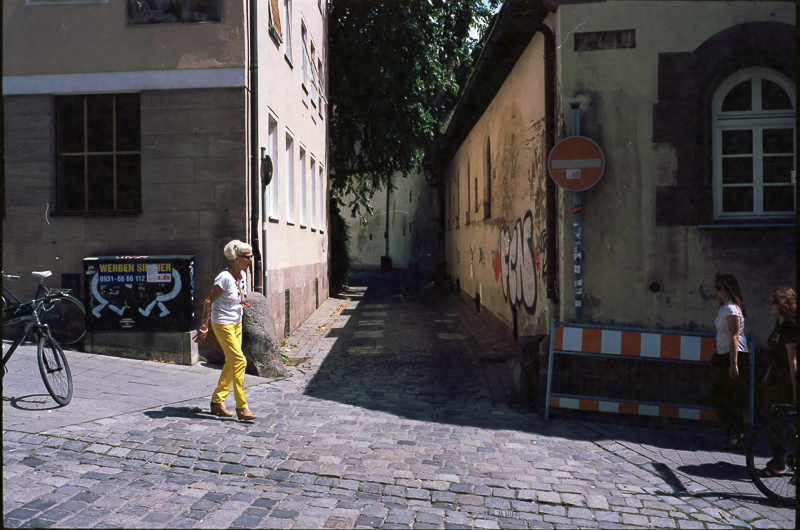 Some stuff going on at Nuremberg castle.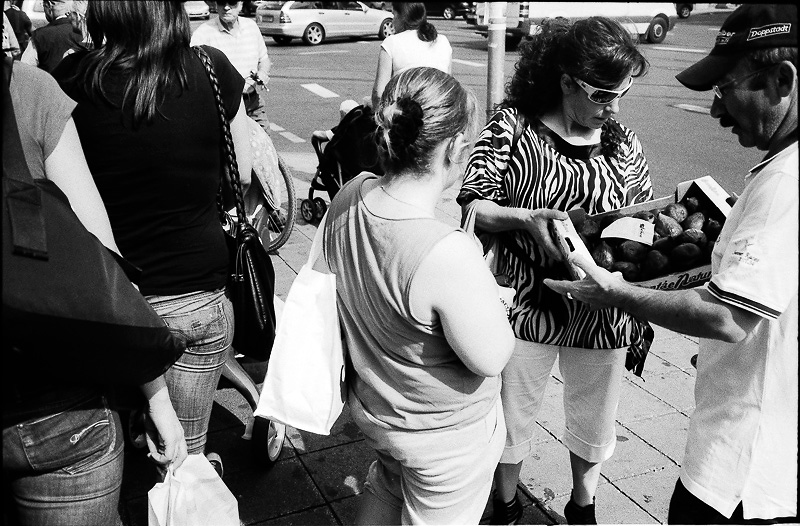 Some regular bw again. M2, Kentmere 100 in Rodinal.
[audiotube id="jDqRN9RbzIc" time="no"]
These papers looked kind of scientific, weird deja-vu.
We decided to have a small barbecue. Dont mind the very blown-out highlights here, still fighting with crappy Silverfast SE.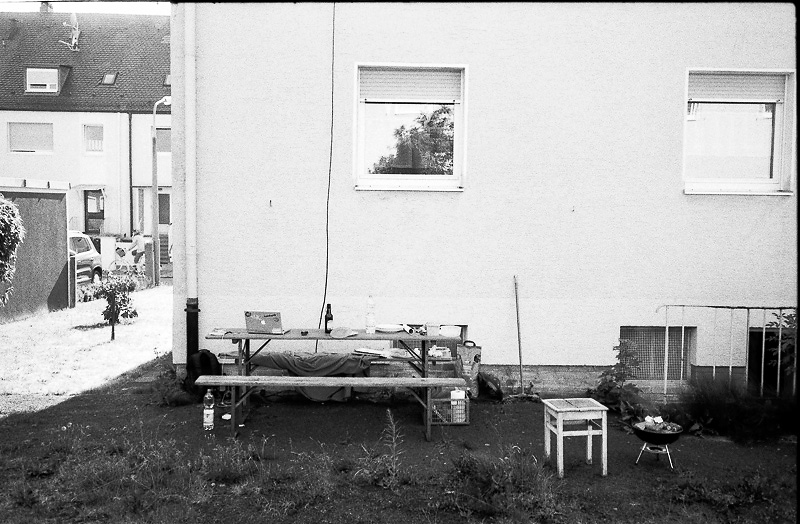 I live on the 2nd floor, so i just dropped a cable out of the living room window to power my macbook (old Simpsons episodes!) Well, its just a very dull backyard…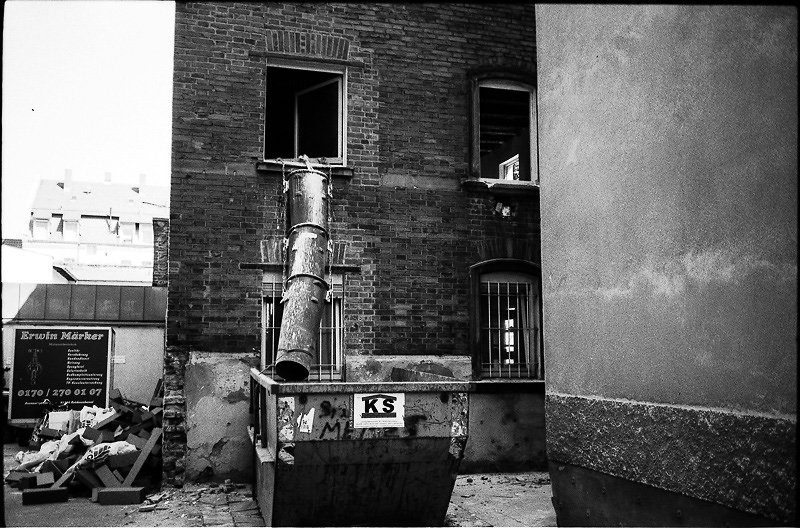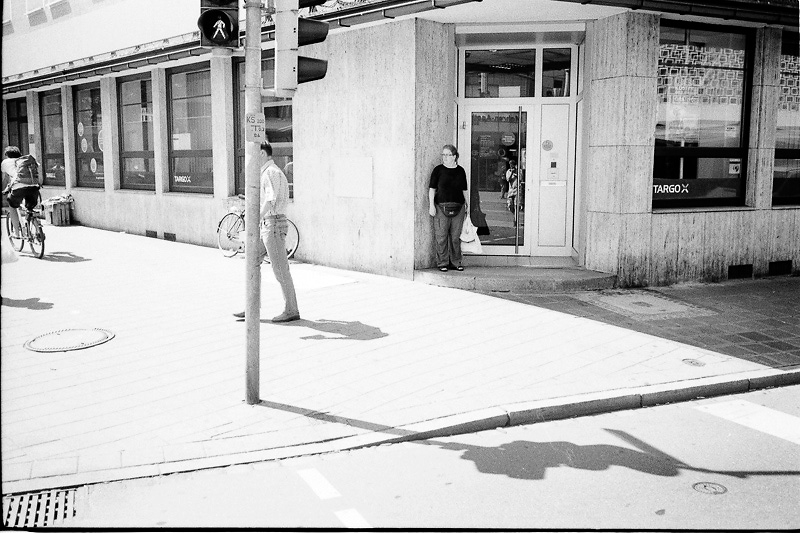 I remember that on this day, it was incredibly hot outside, like 35°C. I walked around for half an hour in the sun and was completely exhausted. She probably felt the same.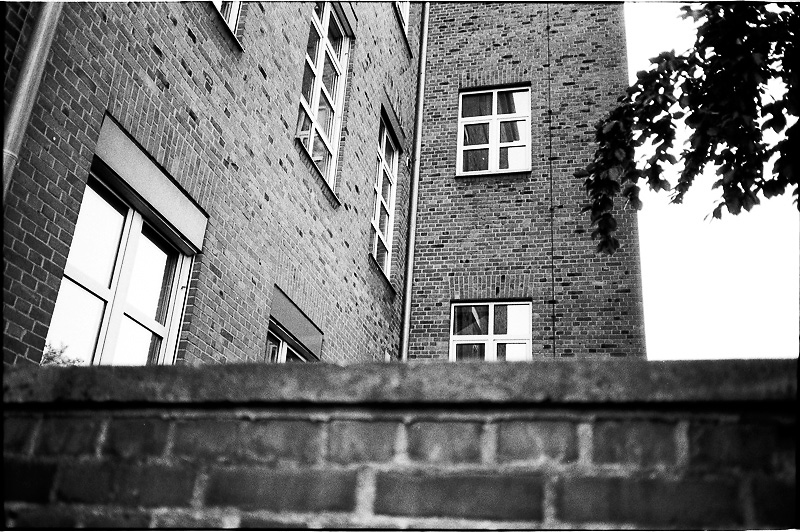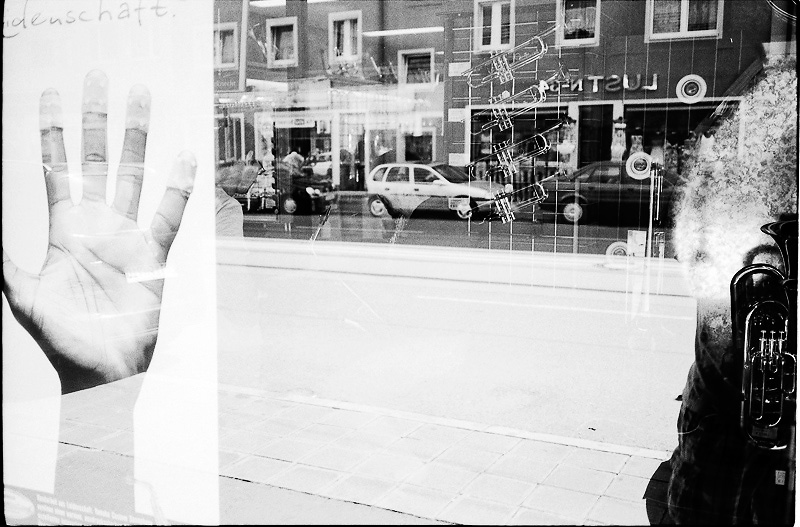 This was about those 2 guys inside the store checking out some instruments. Worked out great. Yeah.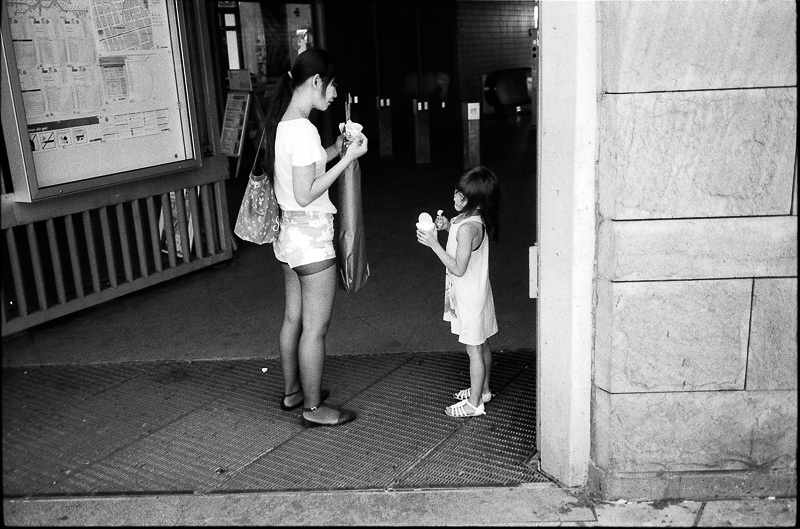 Probably the best thing to do on this day.
Some more Acros stuff.
So the summer came and it came like a punch in the face! We decided to spend that sunday at the lake.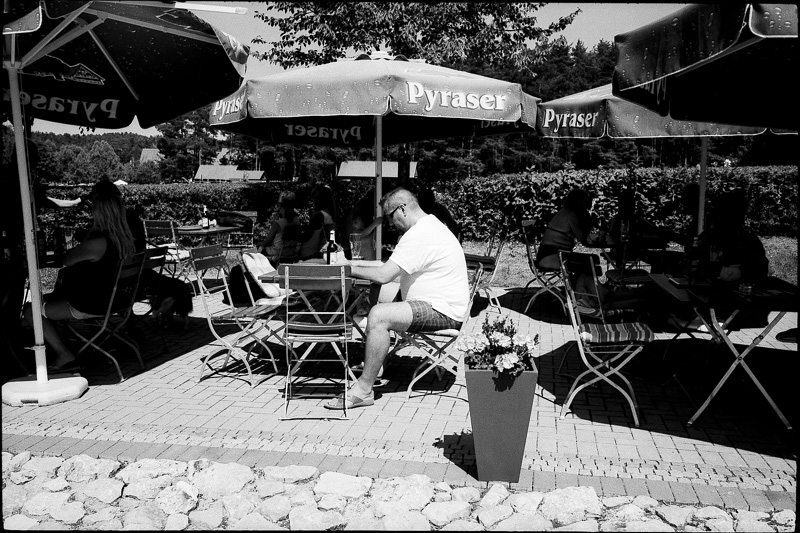 Still funny that some people didnt seem to care about the outside temps at all.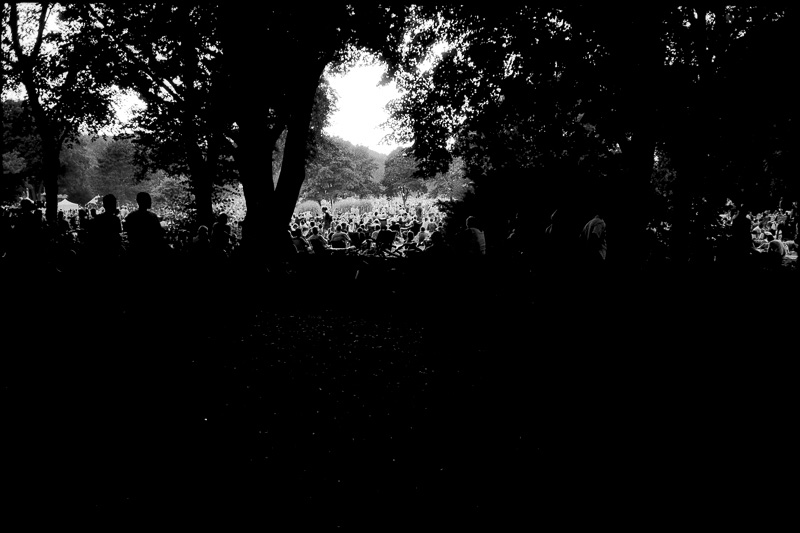 At the annual Classical Open Air, which takes place in the nice spacious Luitpoldhain park here in Nuremberg. Sun was already gone and there i stood with my 100 ISO film.
That was around 8pm, most people had occupied the place hours ago. Acros rules here.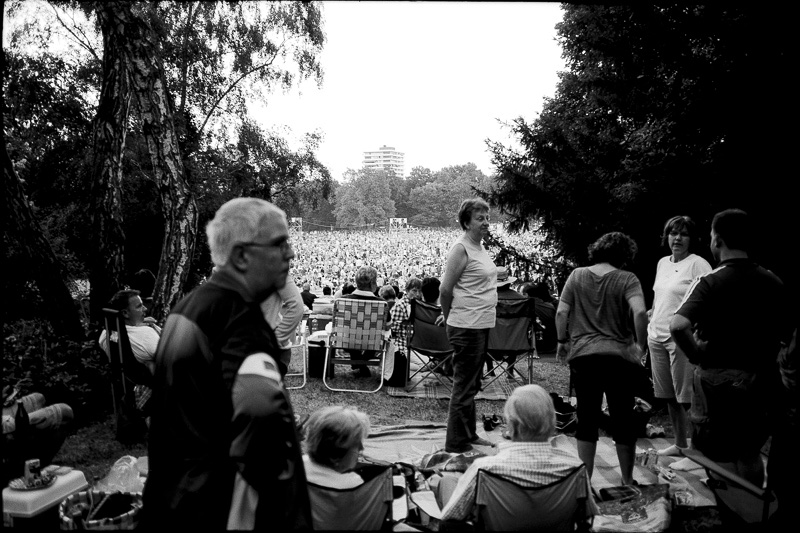 I remember when i was at the Open Air some years ago with my girflfriend at the time, it was not that crowded and we could easily find a comfy place for our blanket an hour before the start. Here, everything you see from the foreground to the trees in the very background is actually people listening to the concert. Ridiculously overrun. The week after i read in the paper that there were some 75k people in the audience that night.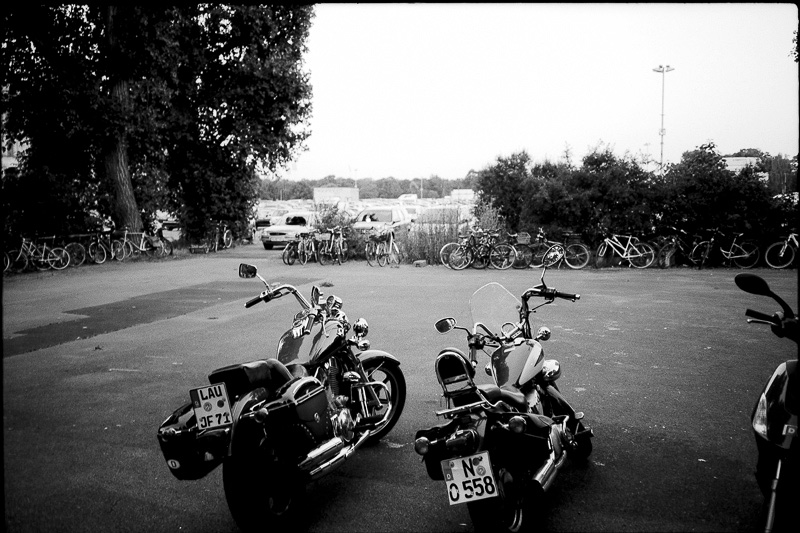 1/8th.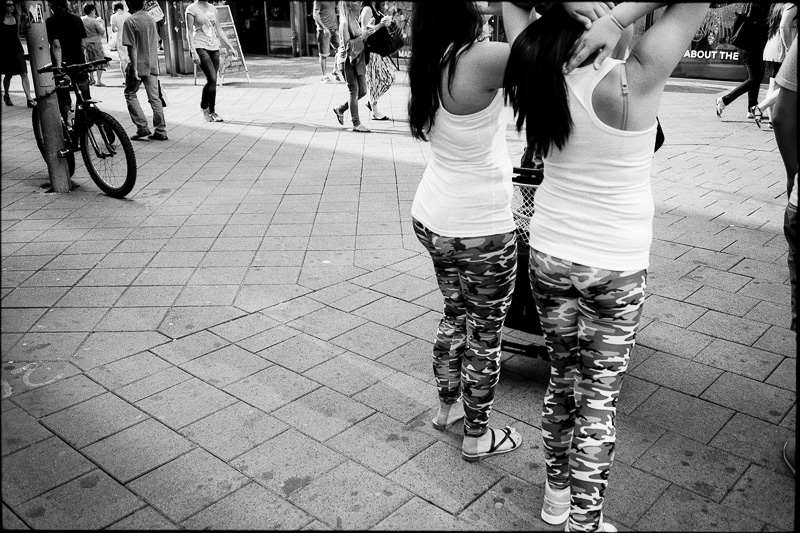 There was a glitch in the matrix.
Some weird stuff again at the train station.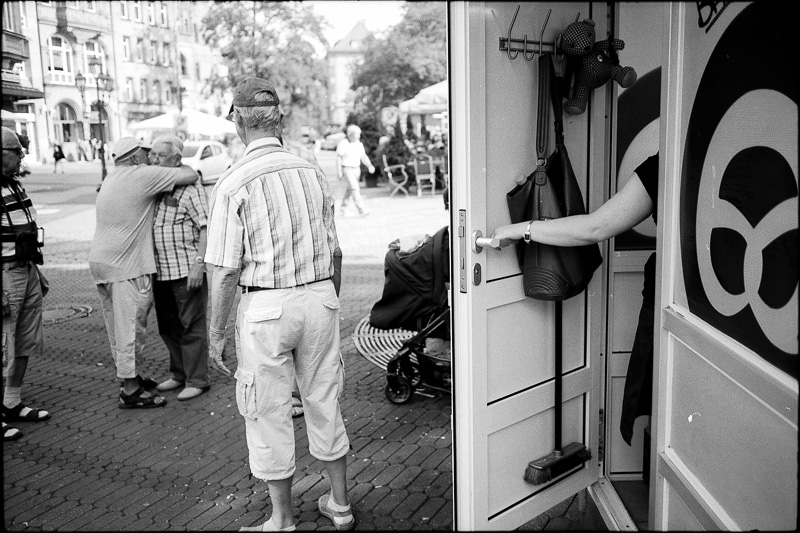 This one is about nothing specific i think.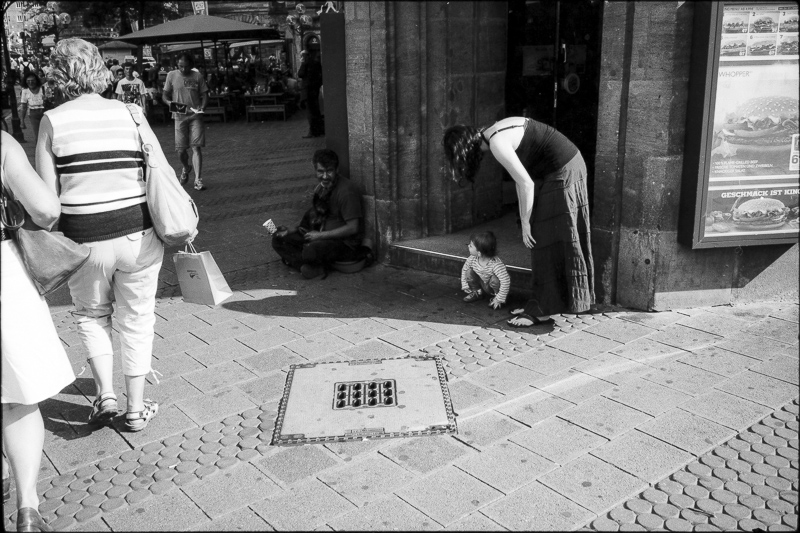 Curious kid.
The next weekend, Chris joined our little hangout behind the building. This is the smoothest roll of Delta 100 i shot since ever. M2/Zeiss again.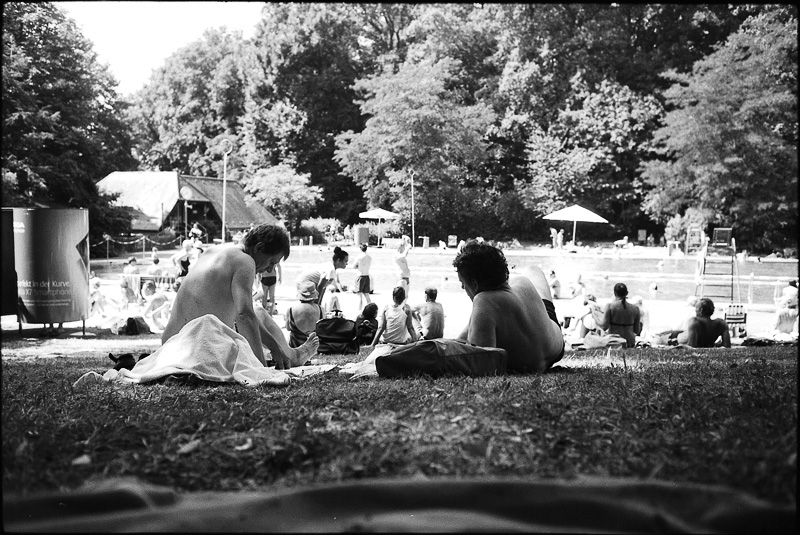 Spent the day at the outdoor bath. I really love Delta in HC-100 at the moment, it just gives some exceptional tones imo.
Later that day, i went to this years showman/singer/songwriter festival, called "Bardentreffen". That means hundreds of musicians and artists, music, shows and food all over the place.
So after one more day at the pool, i went to the festival again to take some more snapshots. when i later looked at the negatives i noticed that the lens (actually the filter in front of it, came with the M2), had gotten very smudgy from sun lotion or something, which added a nice summilux-like glowing look to about 12 frames of that roll.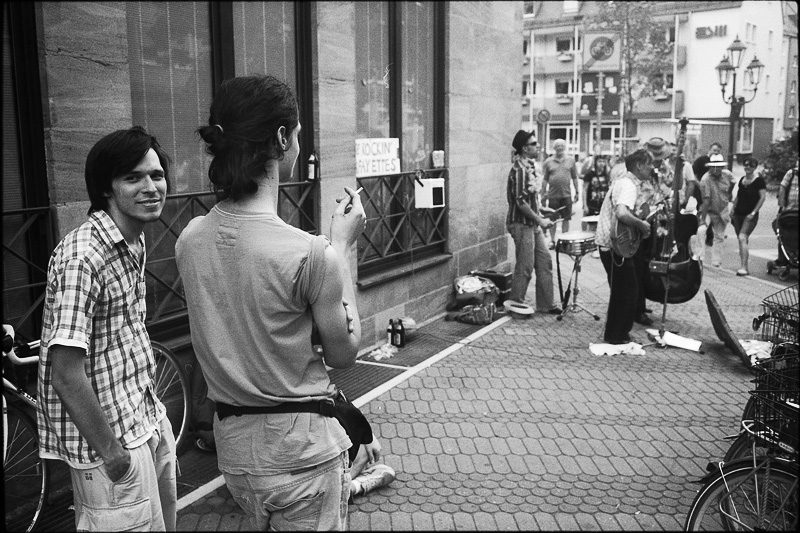 Kid playing the violin + glowing highlights from the dirty lens.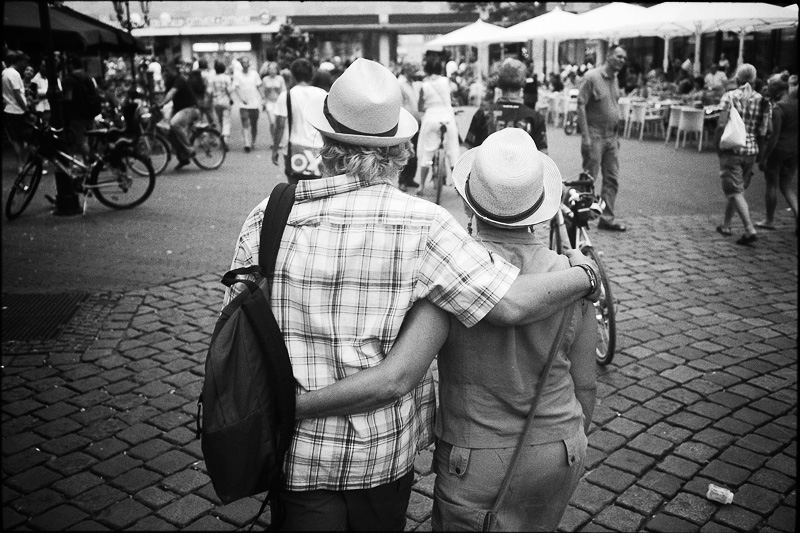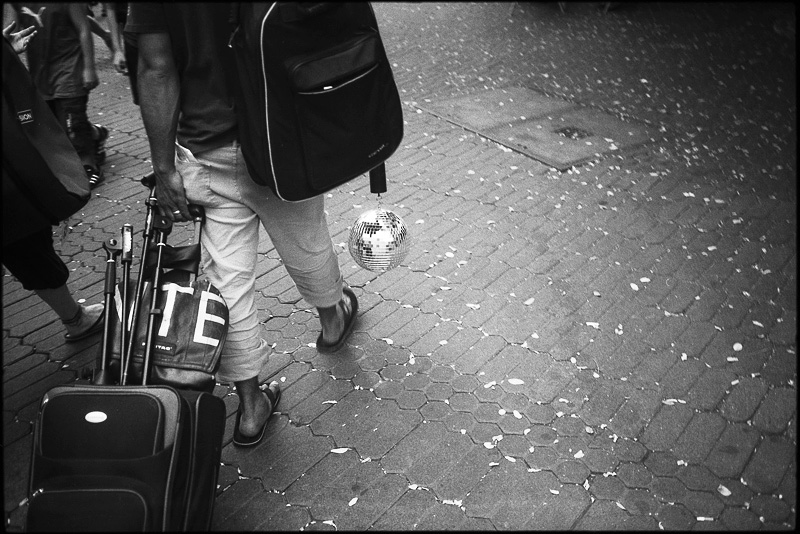 Some musicians passed by. I wonder what they needed that for. Probably to party hard.
The only acceptable Mini. End of glowing frames here.
Some small pieces of art my mother sold recently.
Police freshmen getting in touch with the people.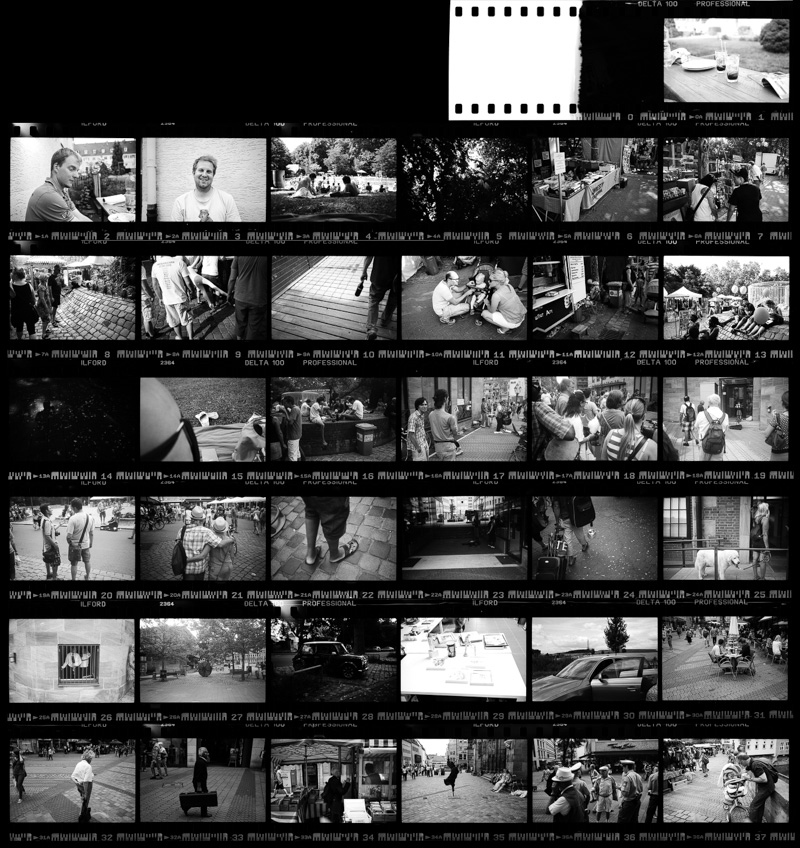 I did some adjustments on my hybrid workflow as well, meaning that i changed my scanning method and got rid of those toyish plastic canon film strip holders. I cut some cardboard masks to be able to place the strips correctly and directly on the ground glass. Then i put a plate of glass on top which i got from some picture framing. The results are decent and also slightly sharper then with the film holder. Plus i can do this: digital contact prints of the entire roll (PS stitched of course). This is pretty neat to learn something about your metering and your general style of shooting. So here is the contact sheet of aboves Delta frames. You can clearly see that frames 14, 28 and 33 are underexposed, 1 and 29 are overexposed. Frames like 4, 11, 13, 15 already show a great tonal range (this is a completely untouched scan). Dirty lens from frames 16 to 27. Since i also did a little more experimenting with the process in Silverfast and the post production in LR and PS, i will probably set up a separate post on this topic the discuss all this stuff in detail. Let me know if youre interested. So whats important here: contact sheets -> great tool to review your work.
Ill make a cut here and push the next 5 rolls to the next post since this one is getting longer and longer.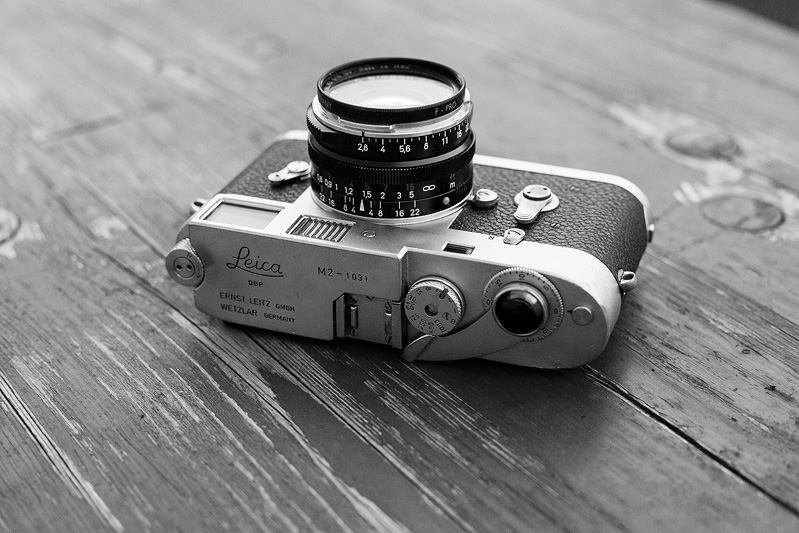 To conclude this post, a quick still of the new old workhorse.
Oh yeah, the college story. So after another month i finally recieved a letter from the university in august. It said that i made it through the qualification tests and that i have been approved. Some day later i went to the college office and handed in my matriculation files. About a week ago (mid august) i got the universities final confirmation. Wow. This autumn, im going back to college. Not for what is reasonable and appropriate, but for what i love to do.