Here are some new frames. Still almost all 35mm. Since i've been busy with uni stuff, work and also moving to a new place, i did not feel much like taking well-composed mf shots, but rather like documenting all kinds of things quick and dirty with the rangefinder family.
[audiotube id="vWbFdICIpJE" time="no"]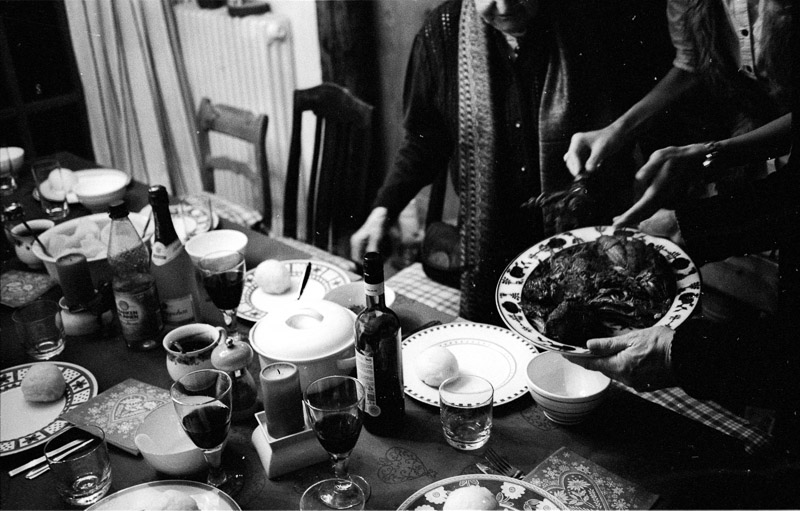 Christmas 2013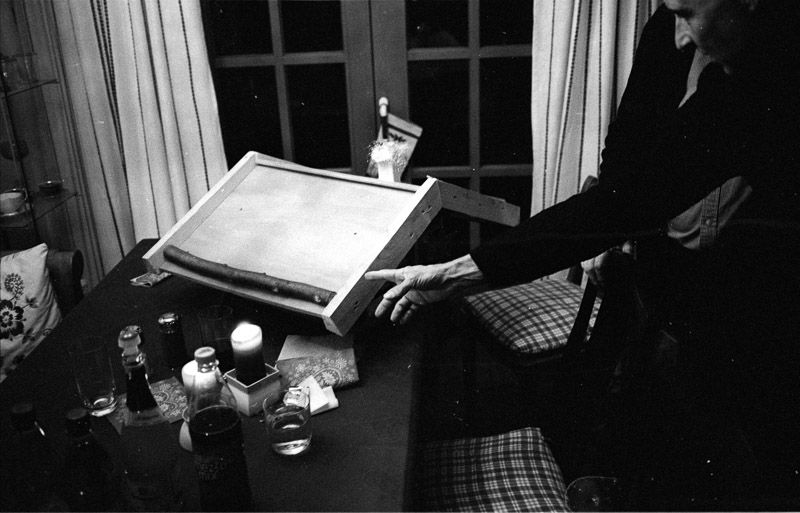 A bird house for my mothers garden.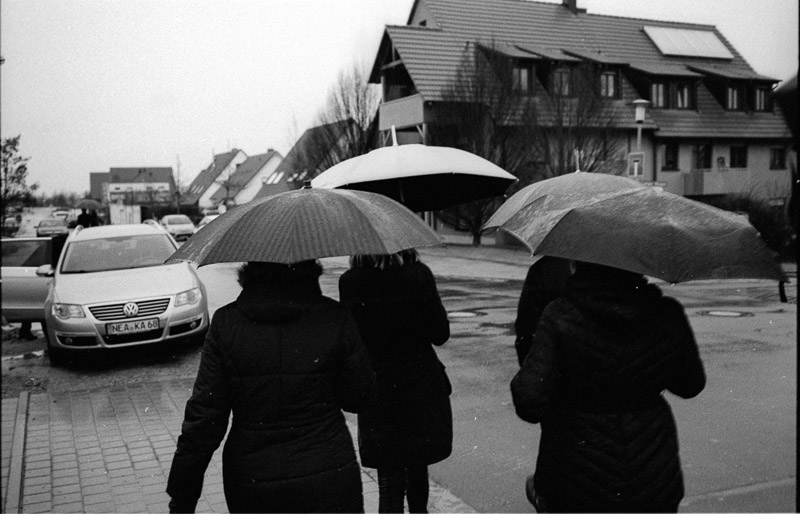 Christmas weather.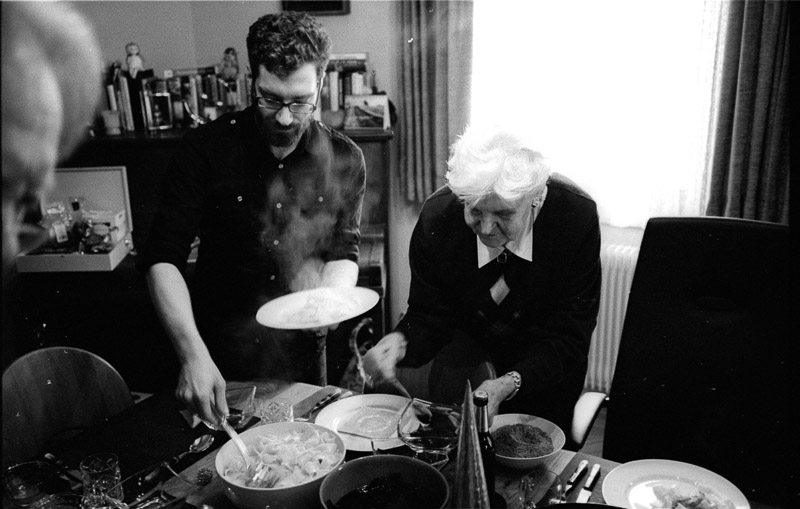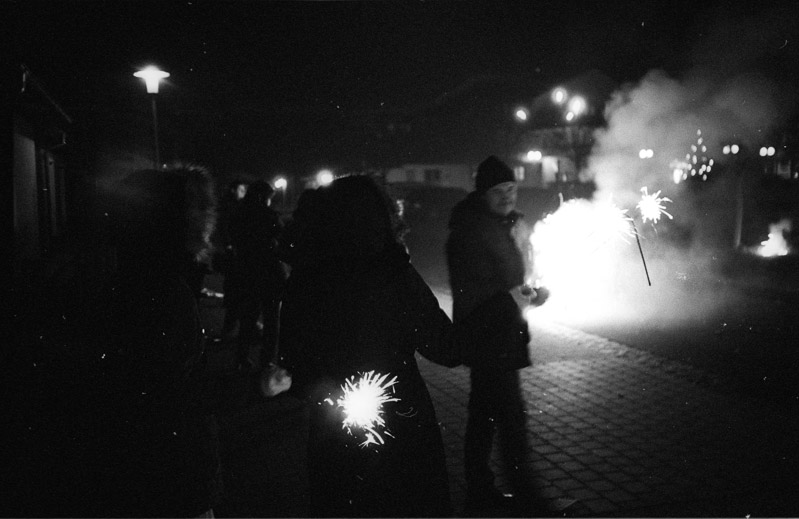 New years.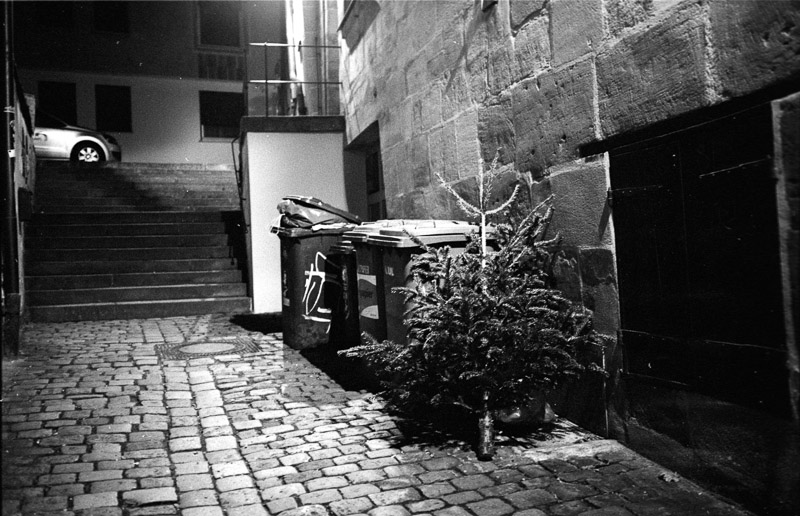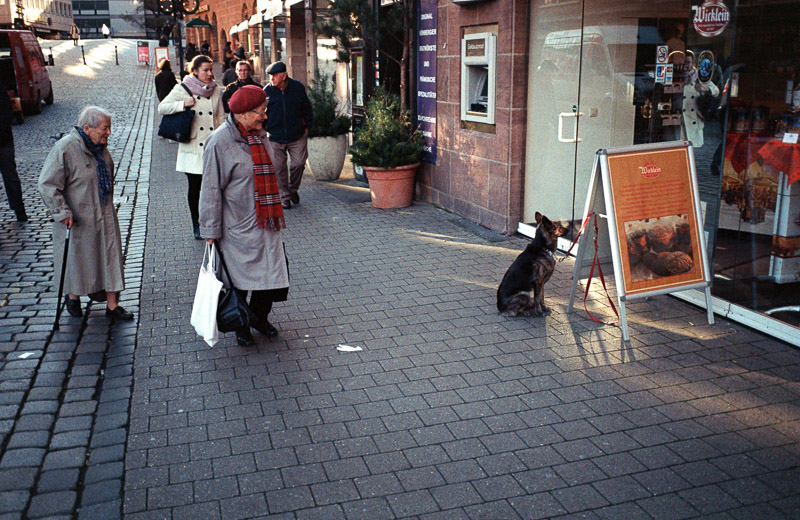 I shot some C-41 again with the Hexar. This is from a roll of Porst Color X 200 which is actually re-labeled Fuji 200 or something.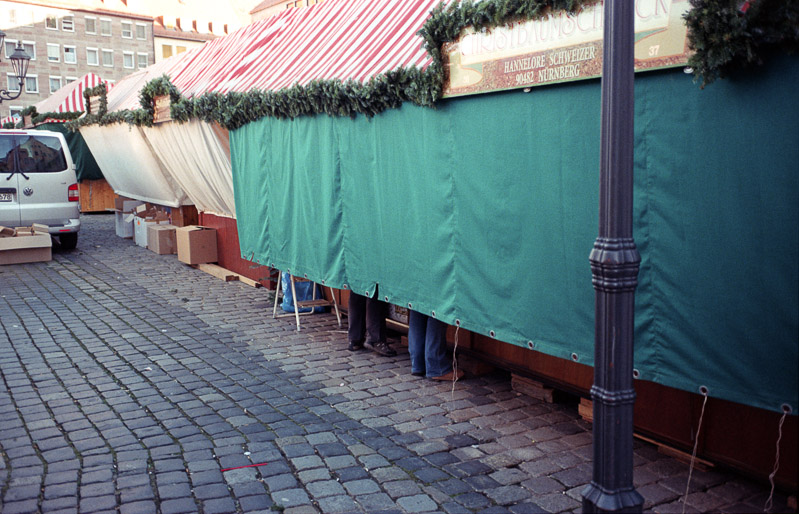 Since i still had some C-41 chemicals left, i developed some rolls in the kitchen. The Tetenal Kit was first opened in July 2012 which means it is about 18 months! old (not stored cold also). Strong orange mask on the negatives but pretty decent results over all.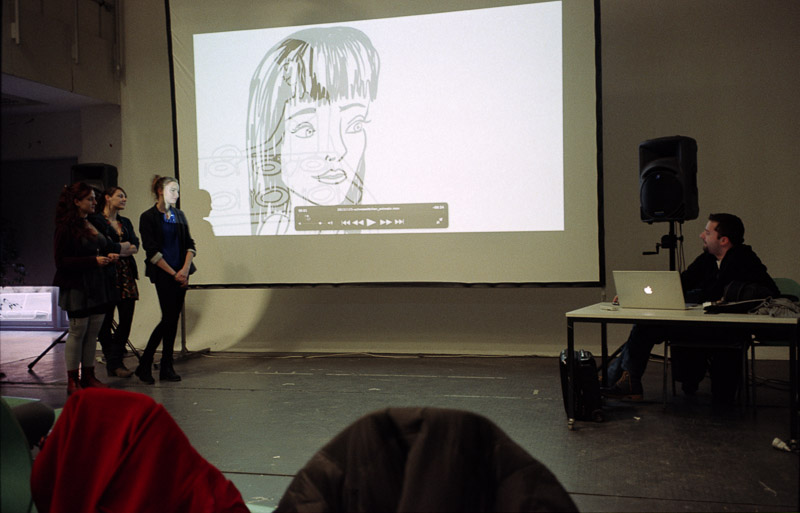 Film tools & techniques class.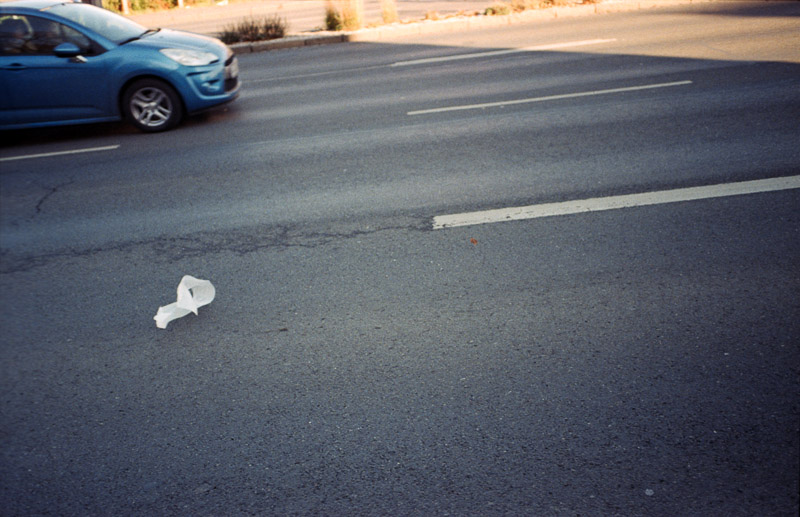 I accidentally realeased the shutter here while i went for a walk.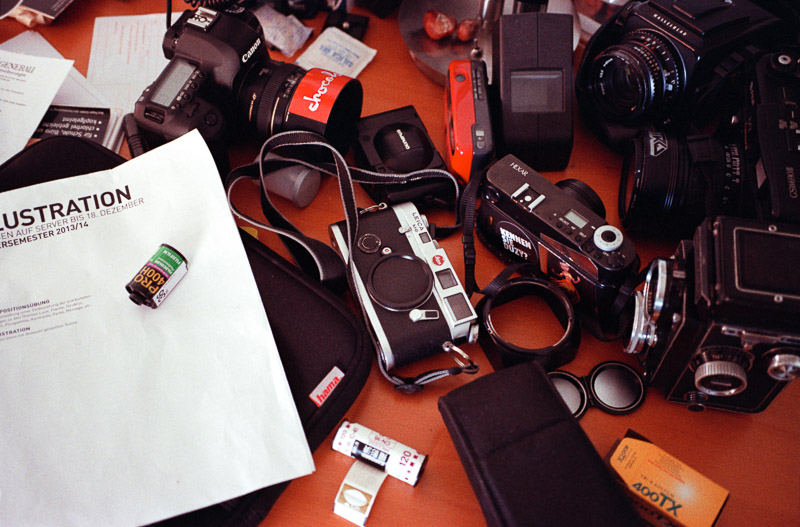 New Leica M6. Already sold the Rolleiflex.
My old kitchen before moving.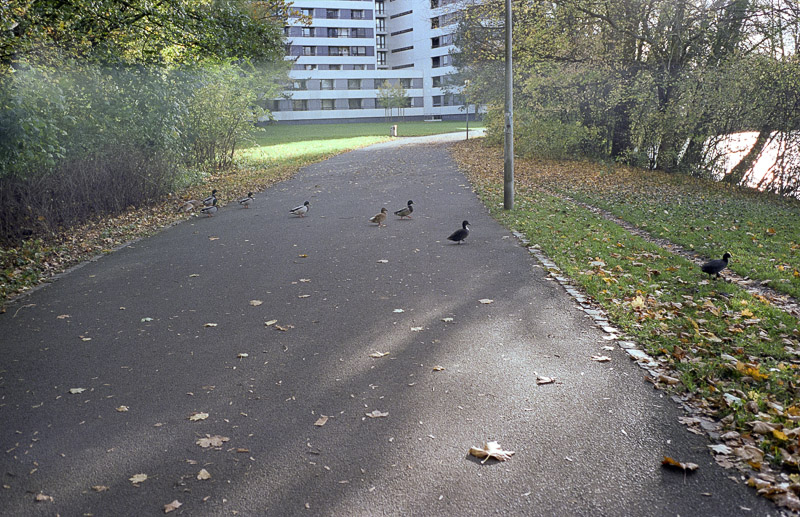 Some ducks crossing at my way to uni. Fuji Pro400h in the great great Olympus XA.
Max and Stephan.
X marks the spot.
Currently my preferred way of transportation.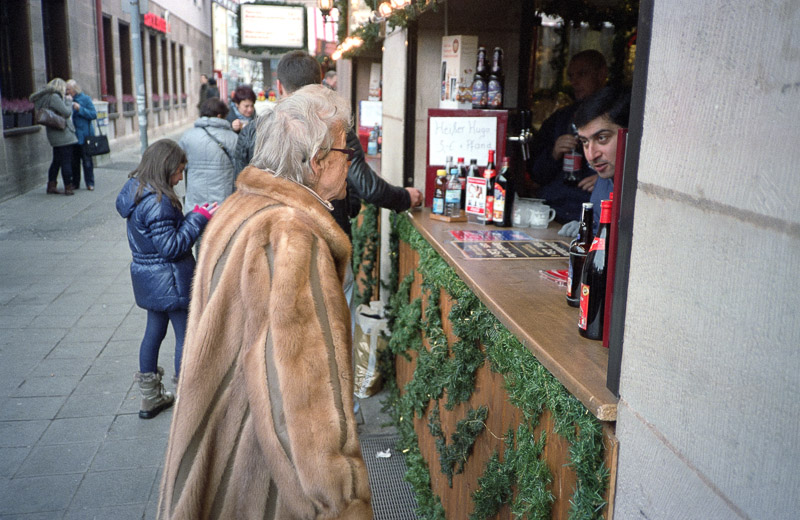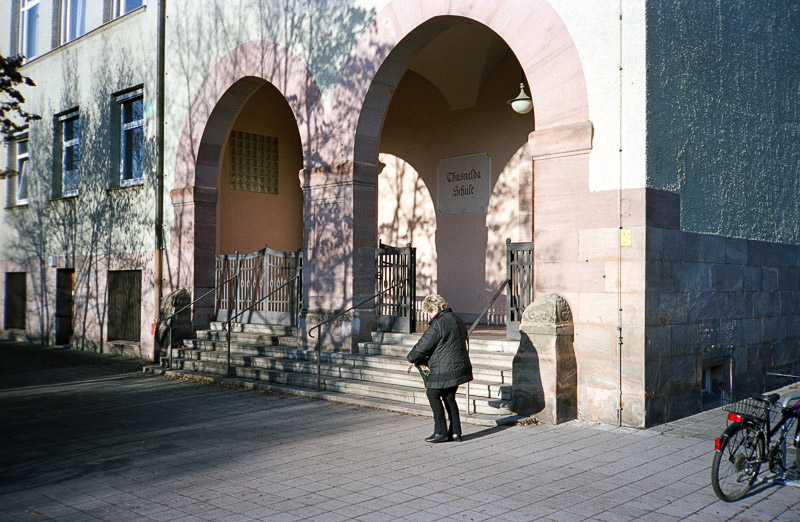 Aboves schools "parking lots".
A project we had to do during the semester, "typography and space". I documented my work mainly with the 5D but also took some frames with the Hexar.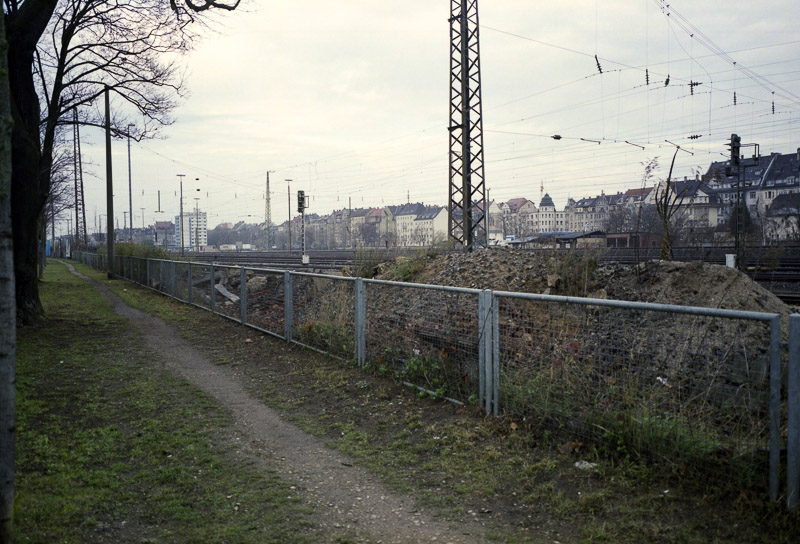 Somewhere in Fürth. 4 shots from the Fuji GSW690III. Again the ancient Tetenal Kit which i developed a bunch of films with before i finally disposed it.
Railroad scrap.
Archways of the Dokumentationszentrum.
The weather pretty much sucked for a couple of weeks and since we did not go skiing or hiking or something this season, there was not much to do these days. Most uni projects came to and end and so i just kept shooting random stuff. M6, trix @ 1600, HC-110 B.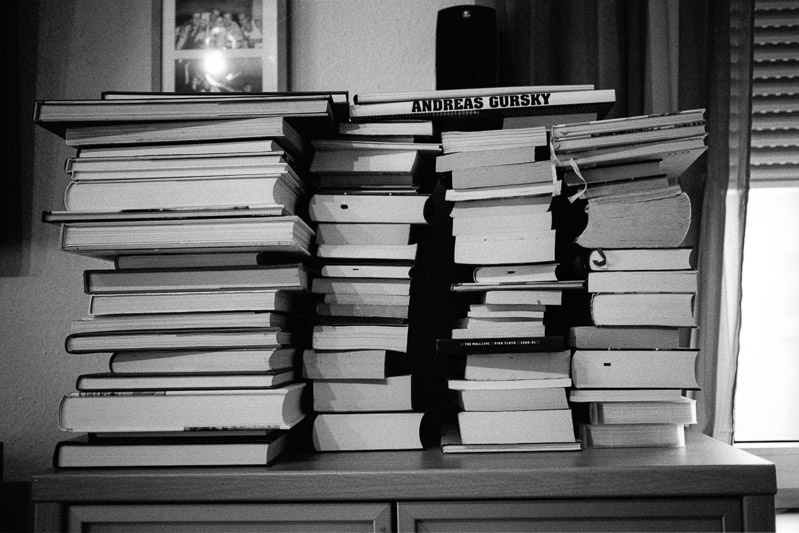 Sorting some books.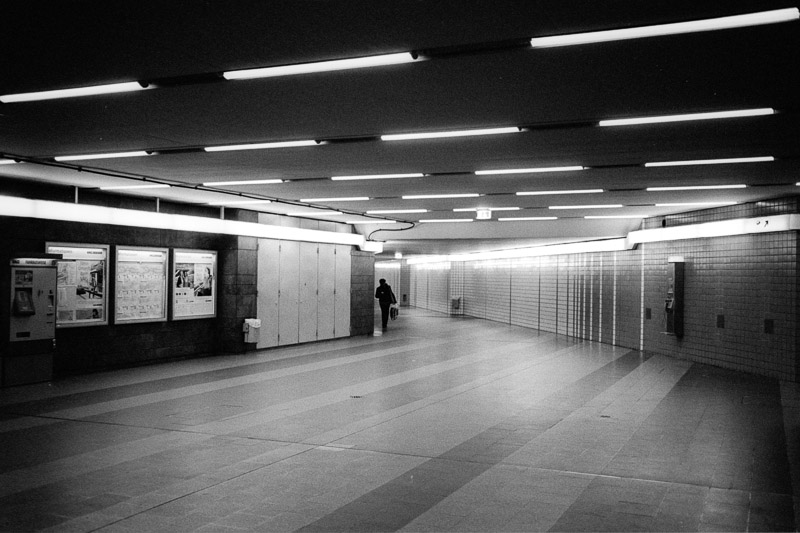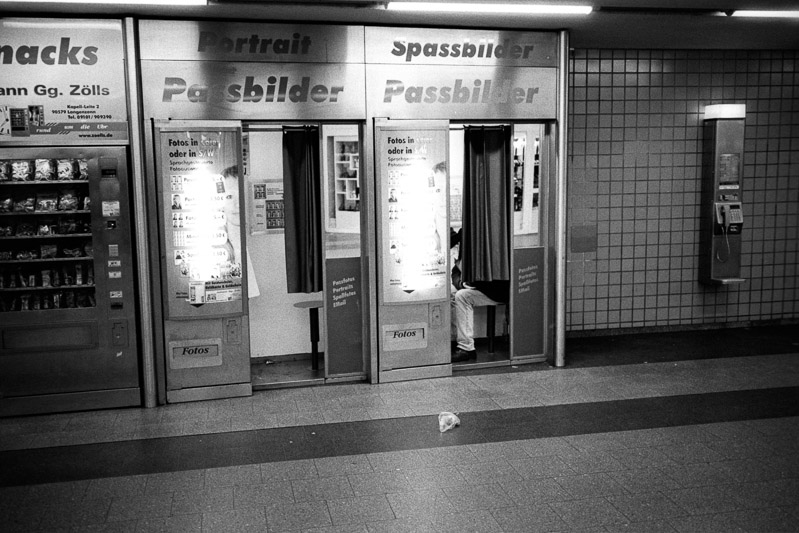 Man sleeping in a photo booth.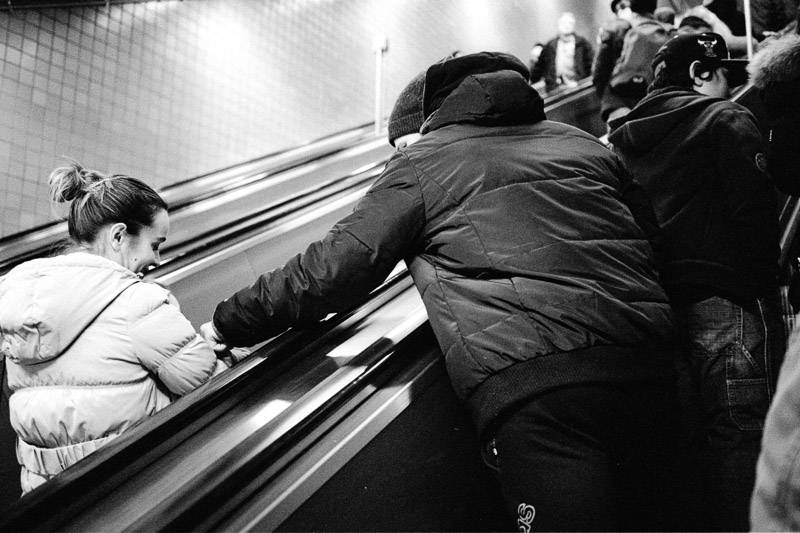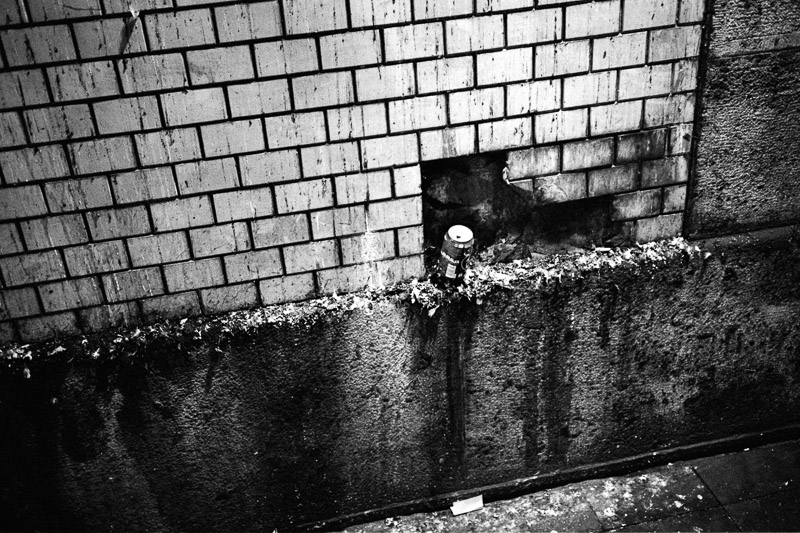 For a walk in Neustadt.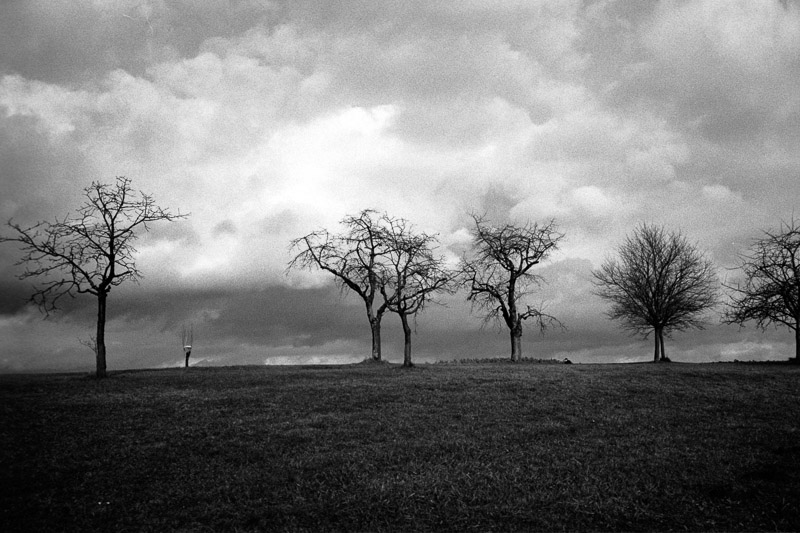 Beautyful heavy clouds over the plains outside the city. Didnt expect this one to look so nice in 1600 ISO.
We passed some small nearby town. Town of cats apparently, theres another one right in the back, hardly visible. Quite tricky to frame this one since every time i took a few steps back the cat would start running at me for more cuddles.
In the subway.
In case you need some new tumblrs to follow.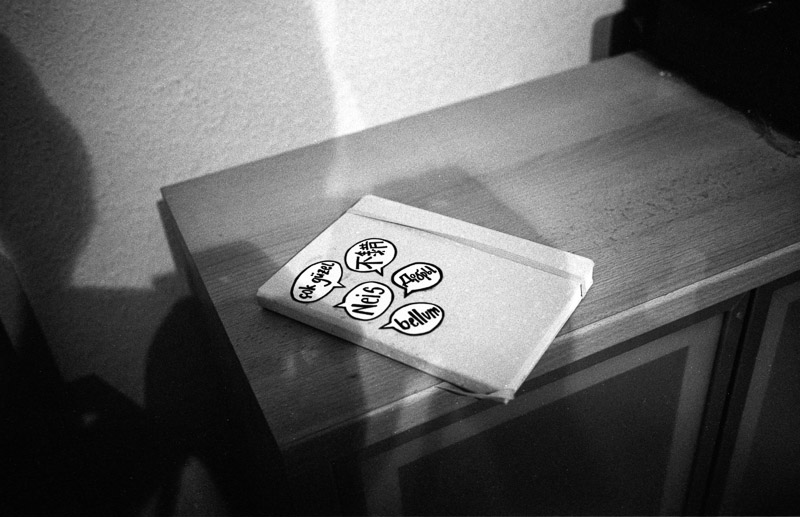 My new sketchbook. Thanks to whoever made this, i love it.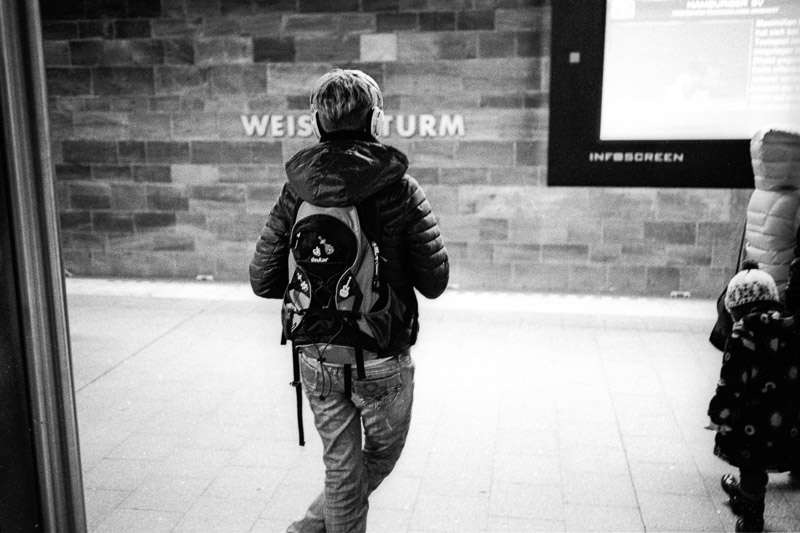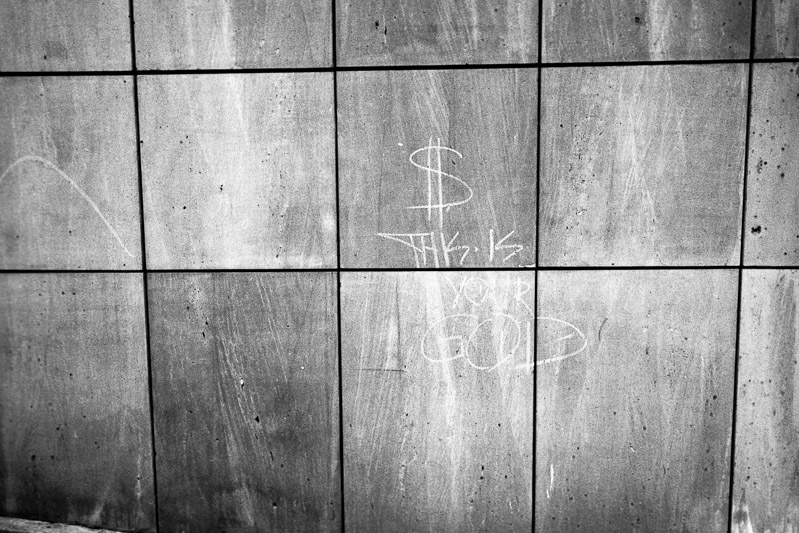 or is it?
A random romatic scene.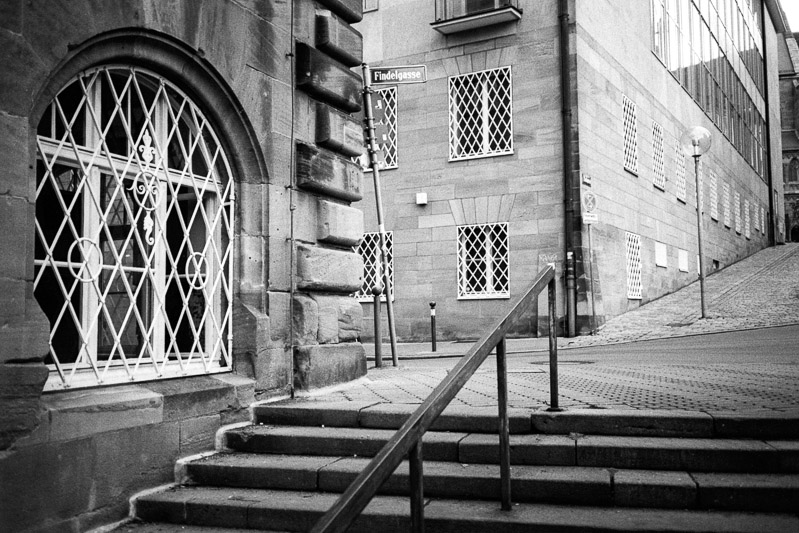 Simona, a fellow student, had an exhibition at Studio eins. Some of us met to check out her great illustrations and to hang out.
Smooth beats, too.
Simona and Stephan.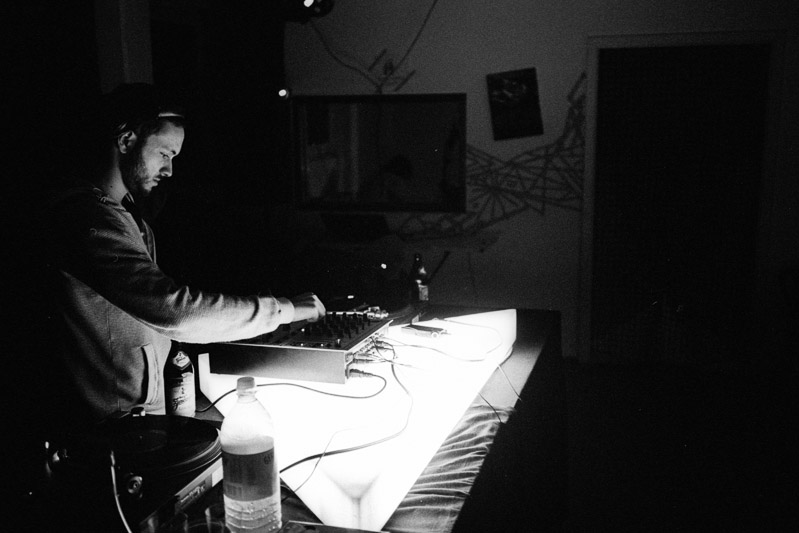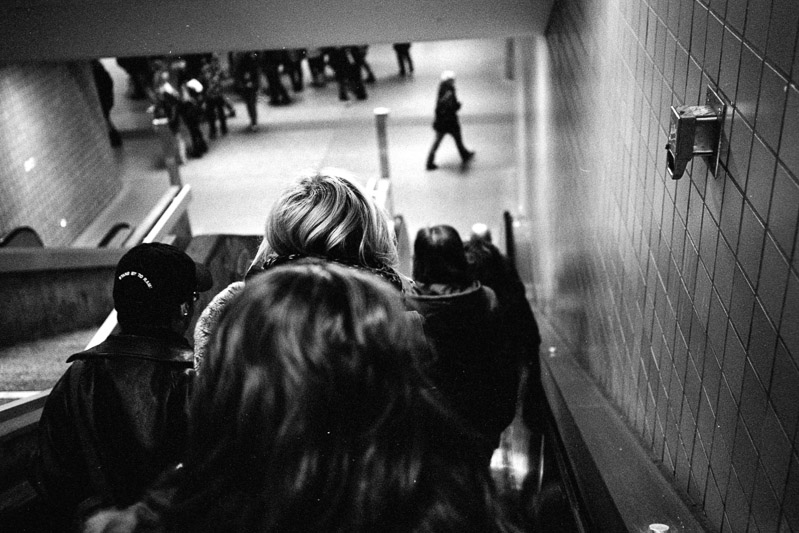 Back in the underground.
I stopped on my way to class for taking this frame. It was a very foggy morning.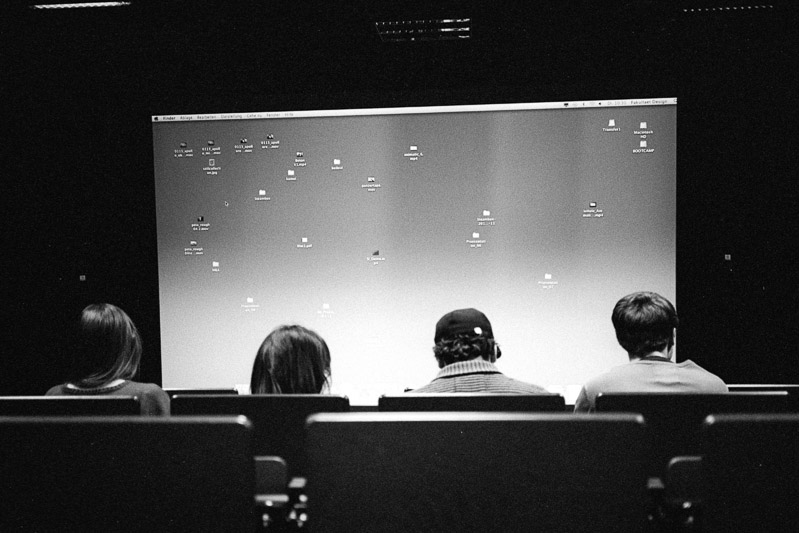 In the facultys little cinema room.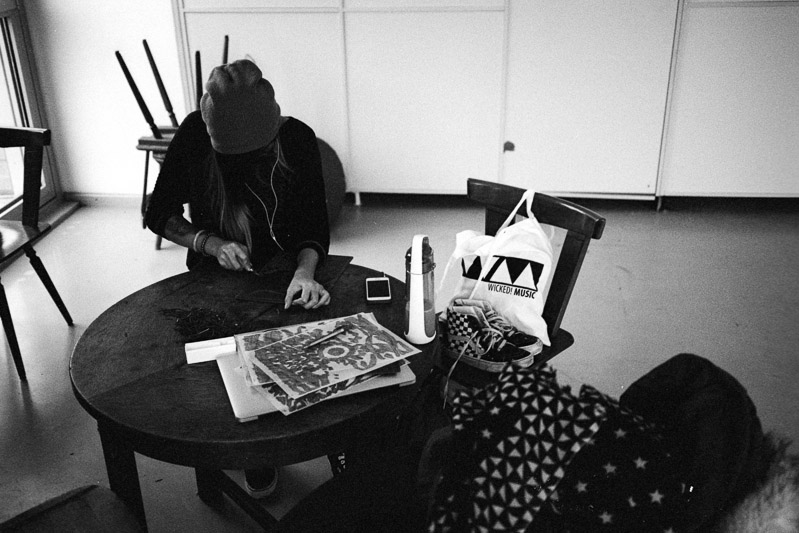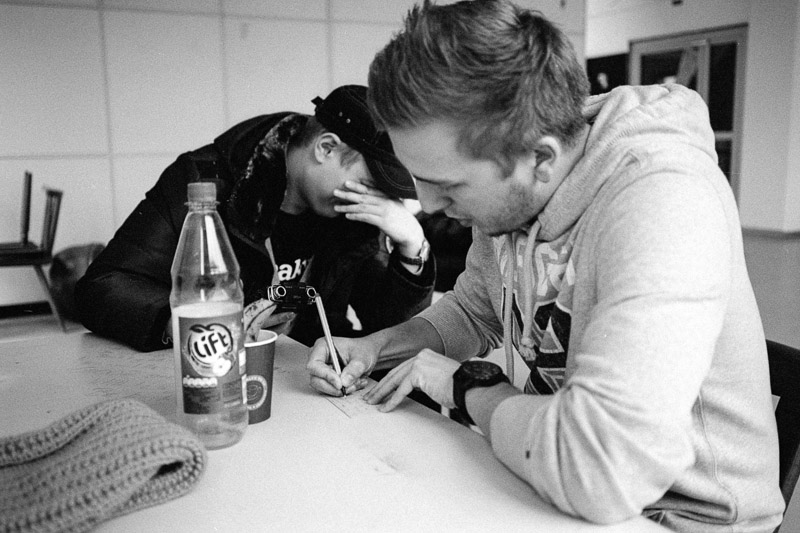 We recorded some footage for our podcast. Max wrote down his text he had to recite with a bavarian accent.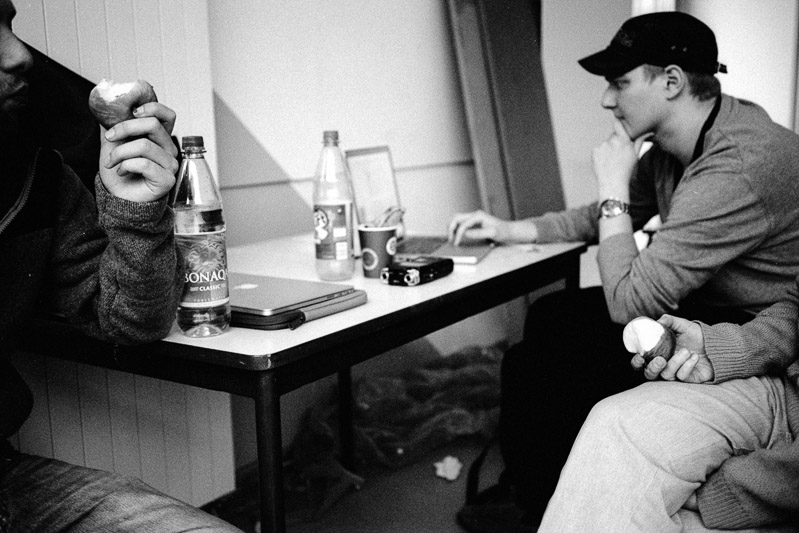 Snack time.
The guys from advanced semesters space & event design class were redesigning our common room and some of us new students joined the party to help grinding chairs, painting walls and arranging euro-pallets.
Mc-D stop.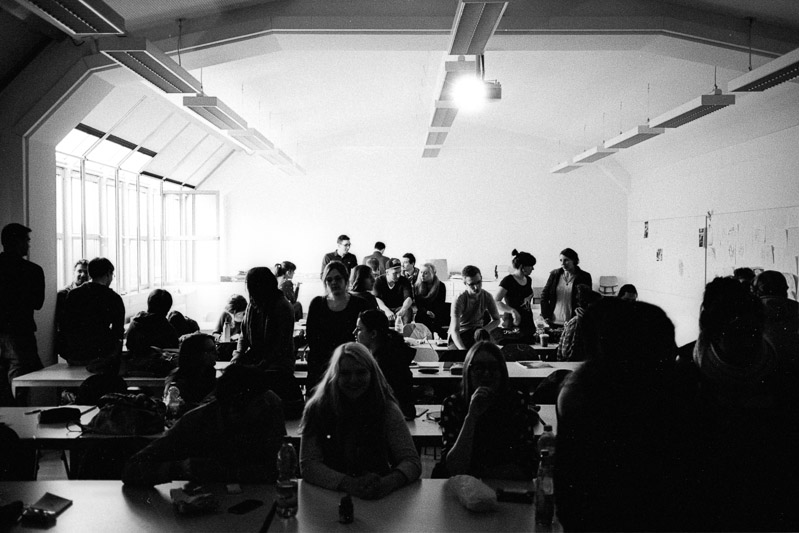 Course selection D-Day.
David in front of one of our exhibition rooms.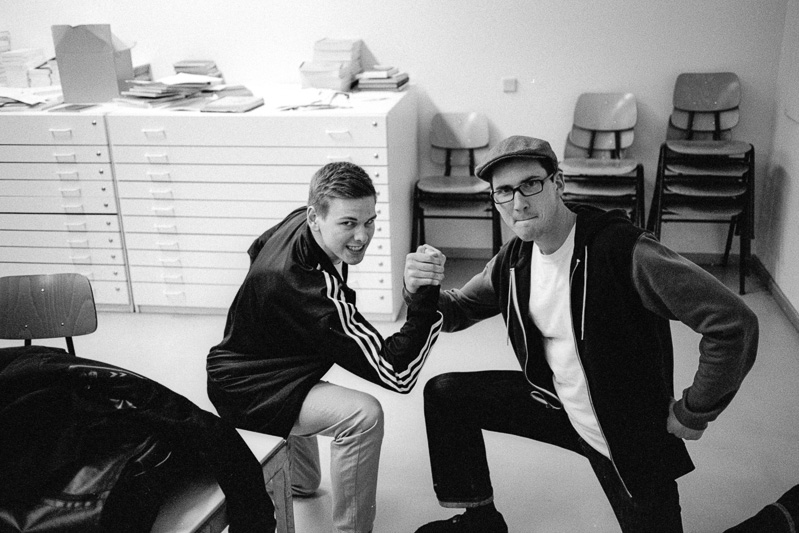 Two music nerds.
For graphic design class, our task for the semester was to design a fictional or real corporate identity including a letterhead, an envelope and a business card. Here we exhibited and discussed our work.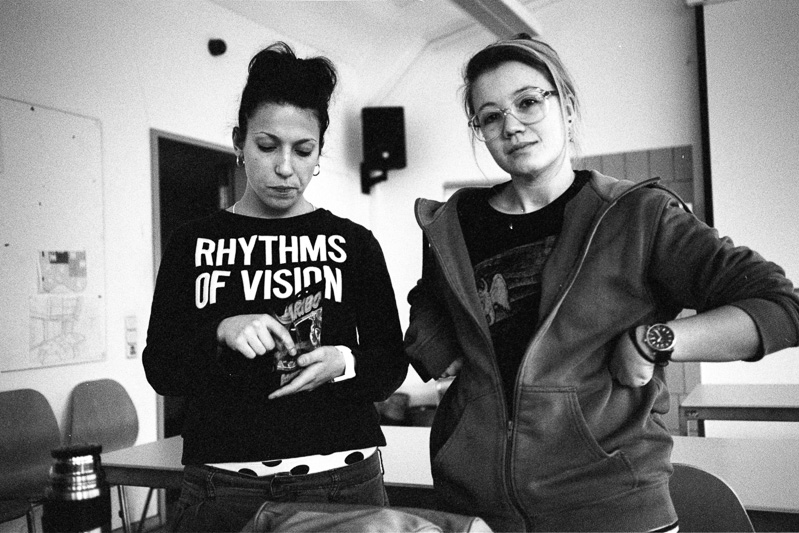 Simona and Tanja.
Time flies, the first semester was nearly over and the next design applicants came to complete their qualifying exams. Most of us were also there for doing catering and supporting the new soon-to-be students and for getting to know some new faces.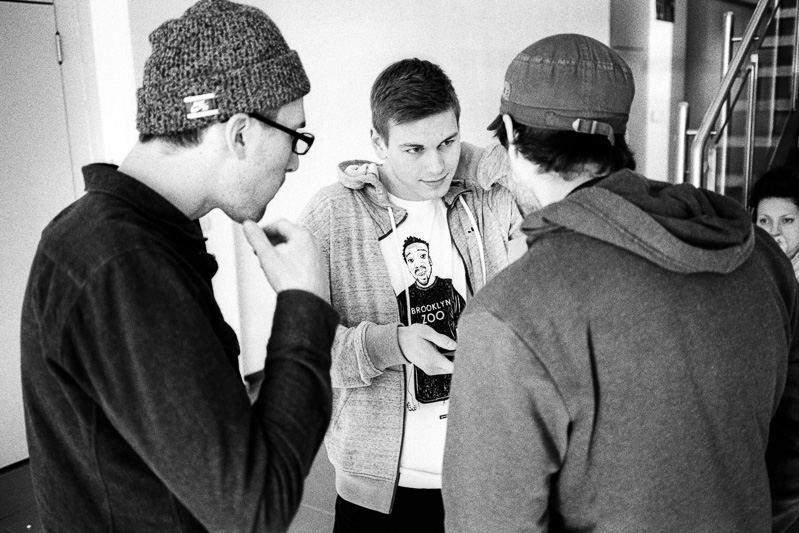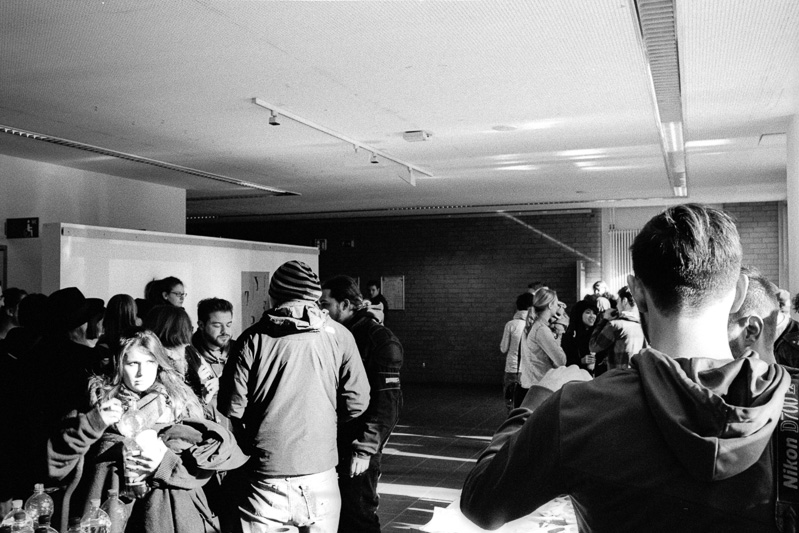 Michi examining Julians camera. I excited to see some shots!
It was a great, relaxed day. Well, at least for us 🙂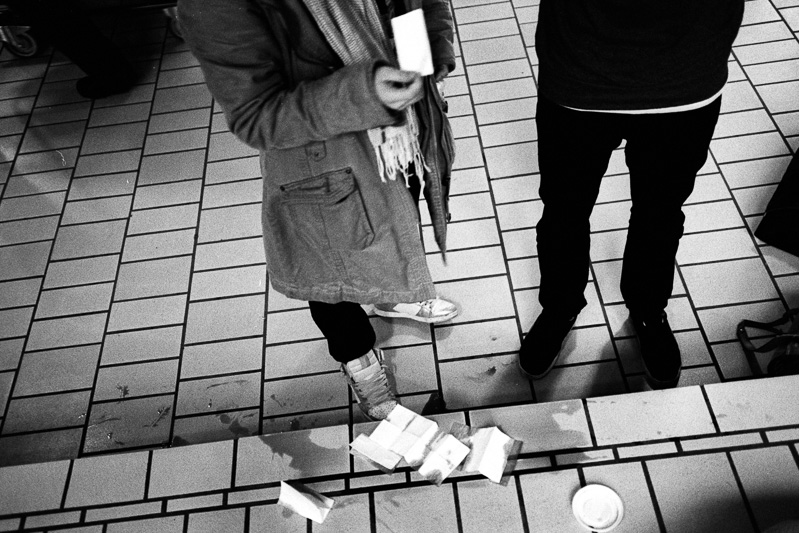 Cofee break.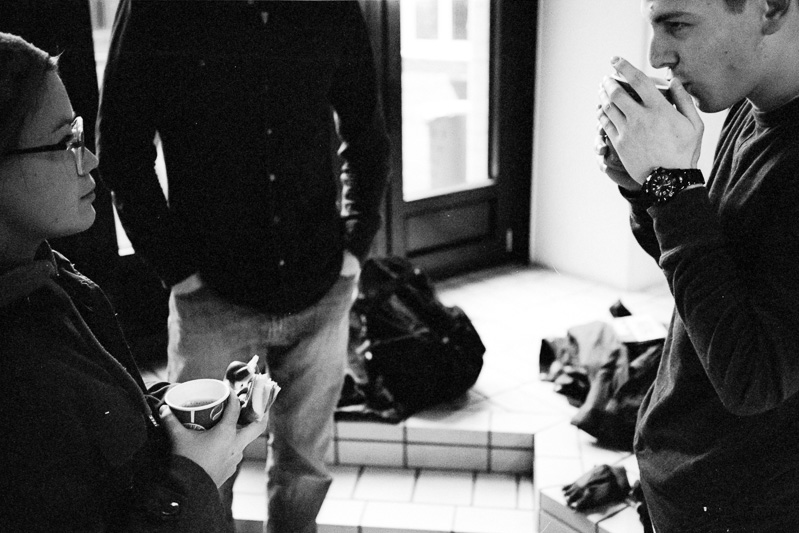 Tanjas motto.
Another exhibition. Illustration class "Klasse Fleck" of the academy of fine arts.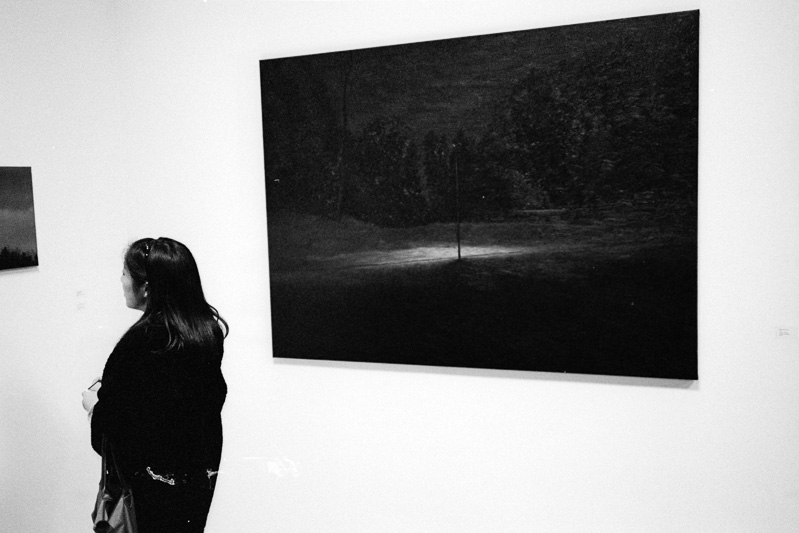 Stunning work.
Helena and Sebastian.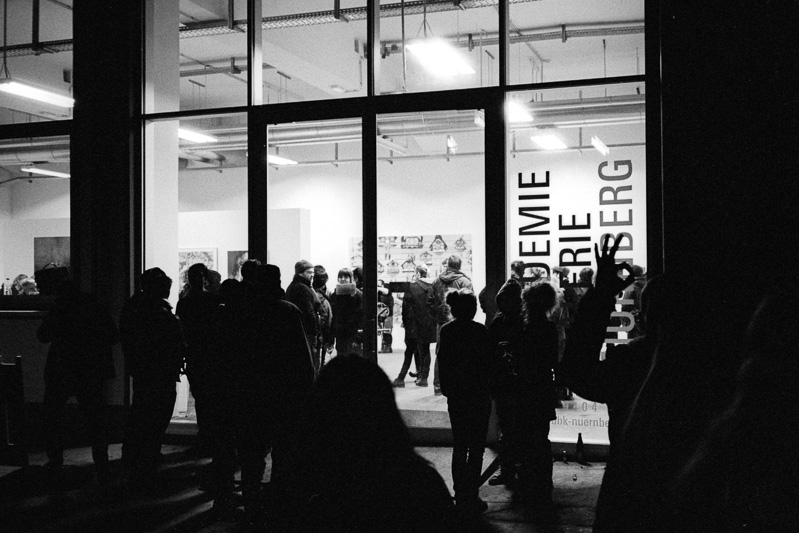 Sorry about this, shitty GEMA won't let me get this via youtube.
Olga and i decided to move in together. So after looking for places for several weeks we found a very nice apartment near my old place. Moving day, we had lots of helping hands like Stephan and Anselm. Shot a roll of trix with the M6 because, you know…
Olgas dad and cousin installed the kitchen.
The guest room.
In my old apartment, disposing some stuff and used chemicals.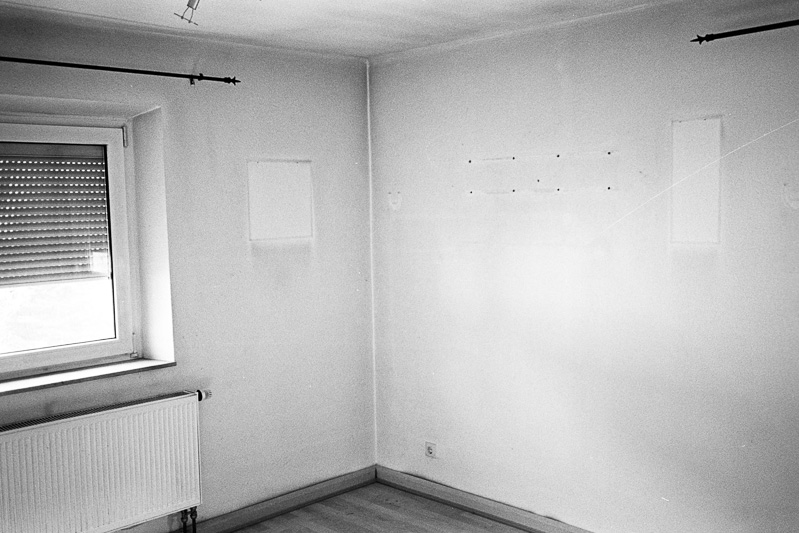 Thats 5 years of smoking.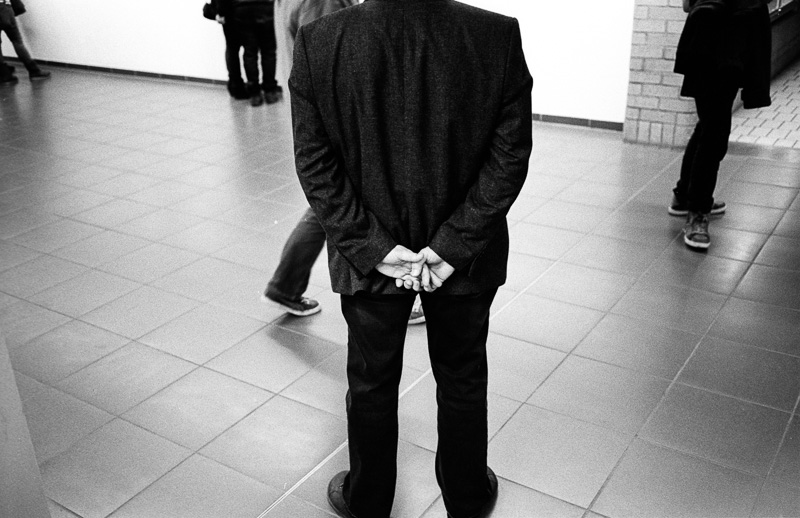 I've been using HC-110 as my main developer for about a year now. I cant help it but to be honest i do not like it that much. Especially for pushing. It gives me very contrasty negatives with very little shadow or highlight detail. That might be due to its relatively upswept curve or due to my developing and scanning habits or probably both.I tried different temps and different steps in scanning and post but i was not really satisfied. I began thinking, maybe it is just a hardware/software thing that came with my switch from the Canoscan + Silverfast to the Coolscan + Vuescan. I happened to get a very cheap pack of Xtol and developed this first roll of Kodak Tri-x pushed to 1600. The negatives came out exactly how i remembered and loved them last year. So for now, Xtol is on the table again! I will try HC-110 with slower speed films such as Kentmere 100 and Fuji Acros. I guess it's all a matter of taste, but for me, nothing beats Tri-X with Xtol. Oh yeah, this is at the facultys annual exhibition of the graduates work. Leica M2 with the C-Biogon, trix +2 in good ol Xtol.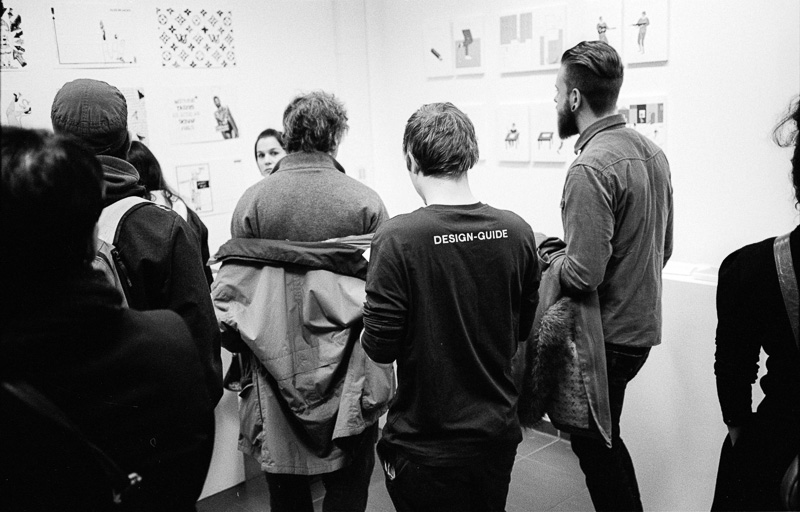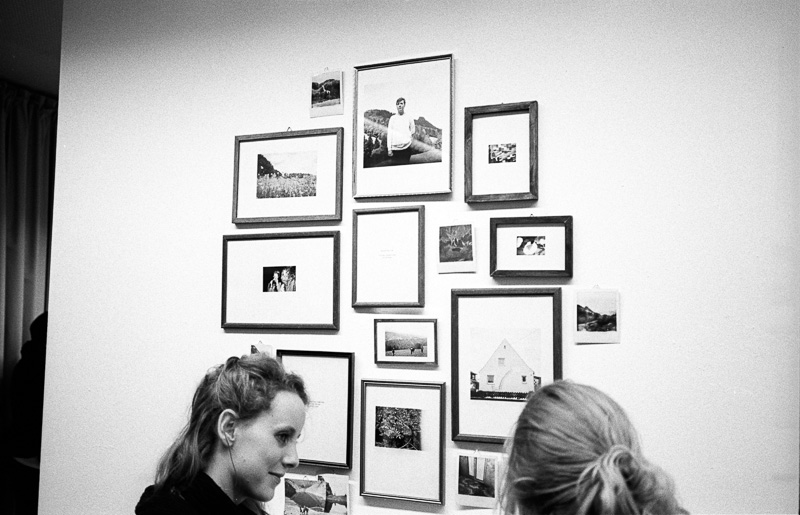 Cool arrangement and some great photographs.
More great photographs.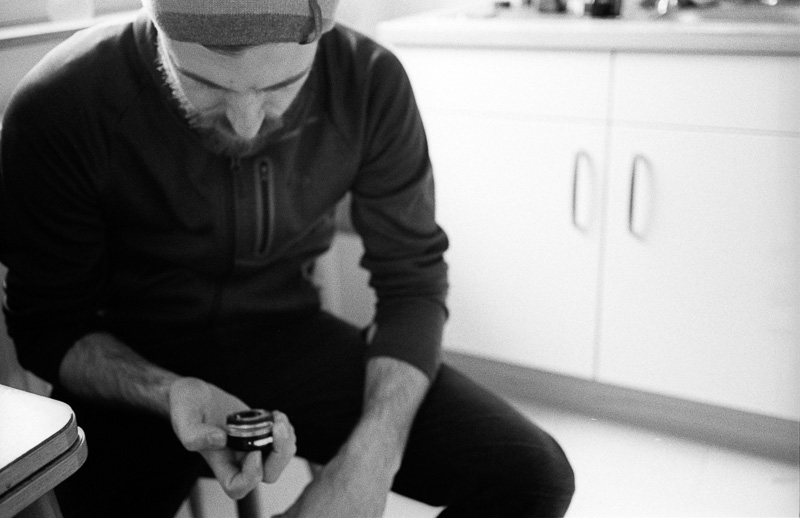 The other day, Michi came over to check out our new place and of course to develop some film!
Olga looking proud.
Dad and i visited my aunt near Cologne.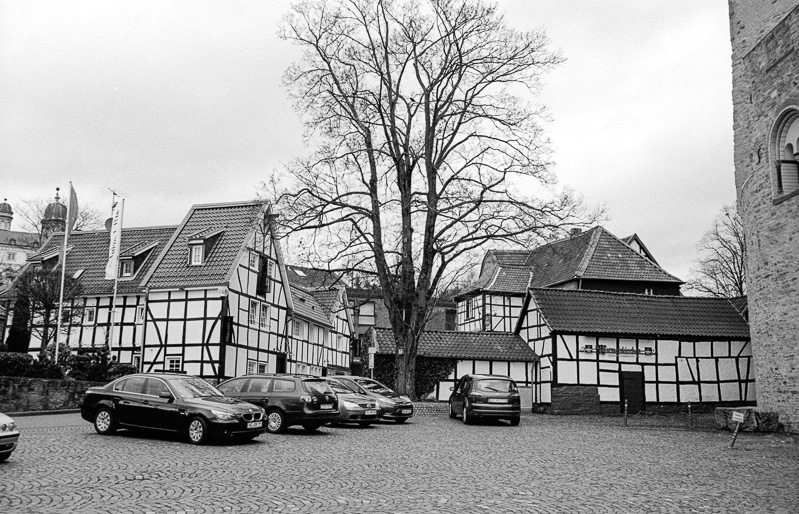 This is where we stayed for the night, a very nice little classy hotel.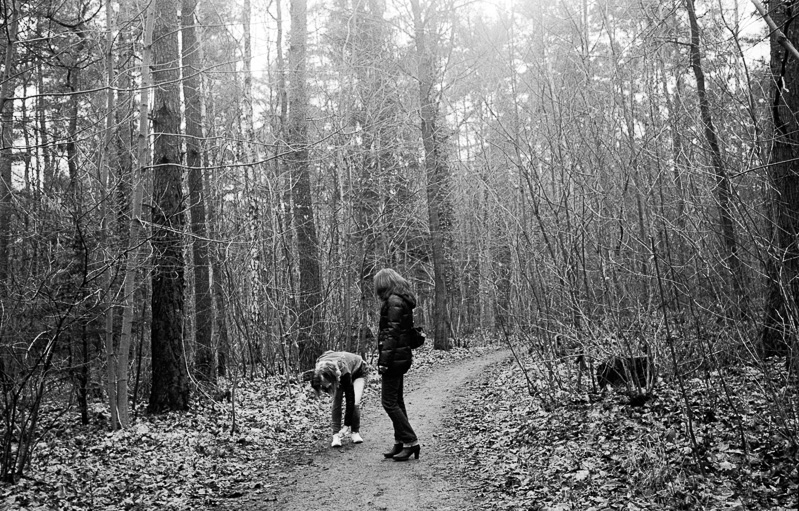 We drove back the next day. Lena, a friend of Olga, came for a visit.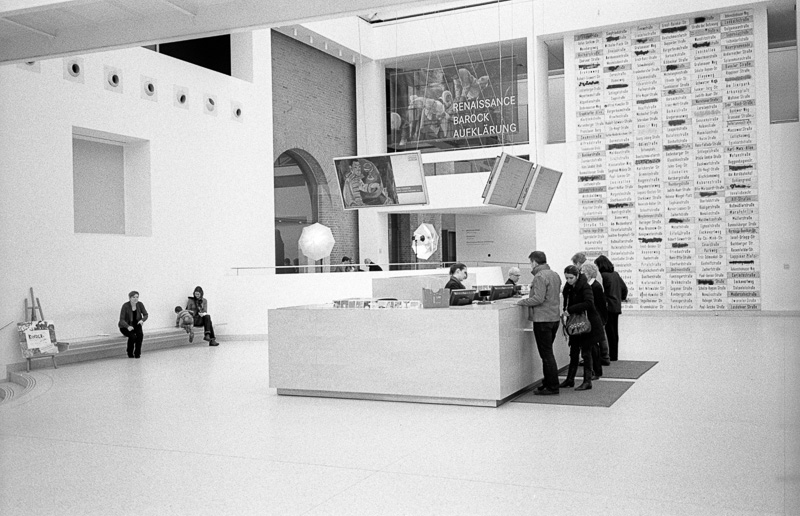 So we visited the Germanic National Museum.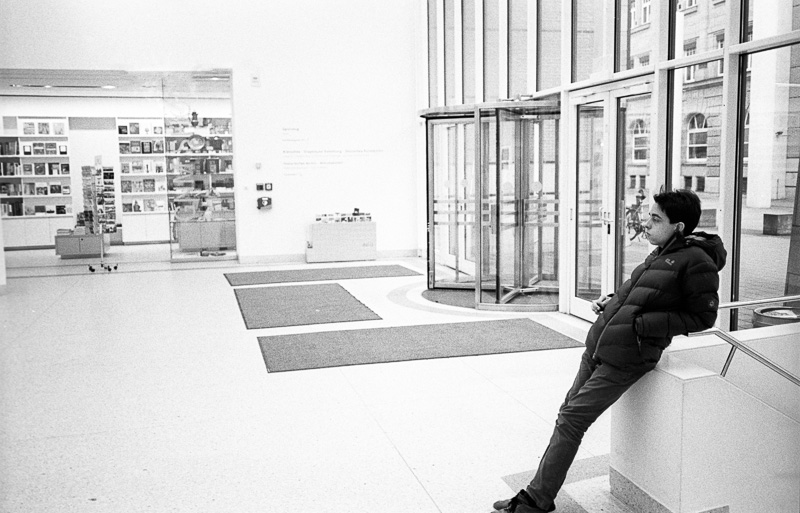 He seemed pretty excited about his visit.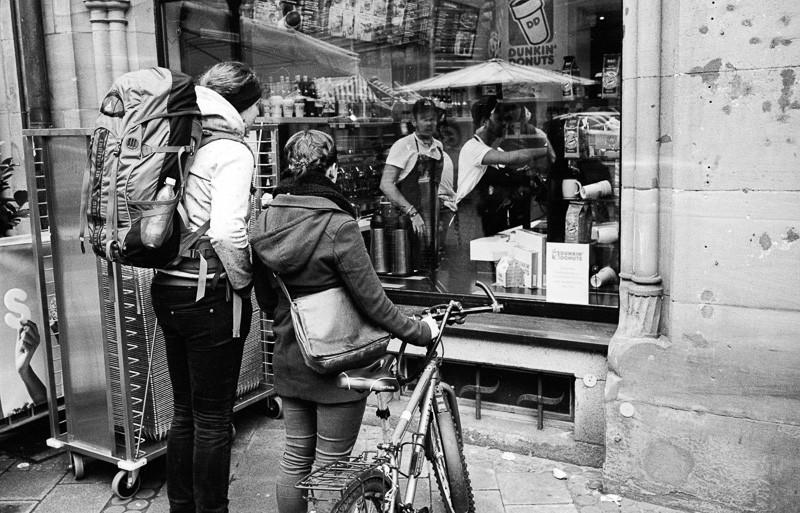 A dunkin donuts store opened in Nuremberg.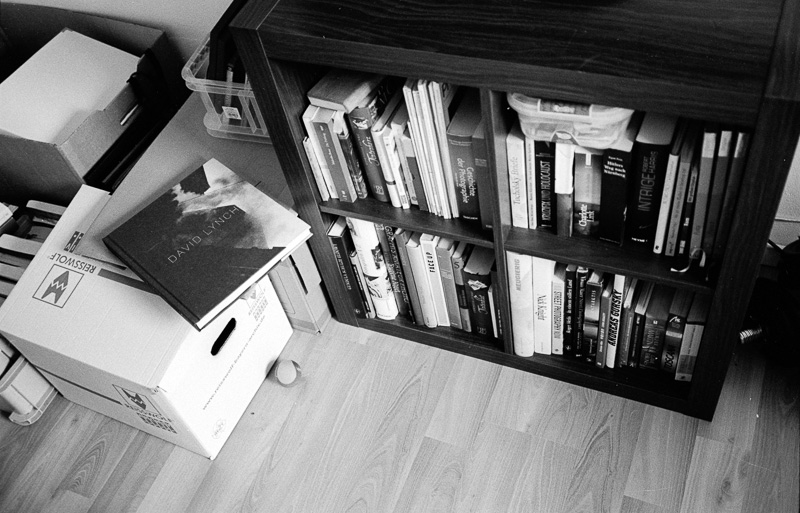 A gift from my father. m6 tx xtol
Regular Tri-X again. Shots from single rolls and cams are a little mixed in posts like this one. I shoot the M6, M2 and also the Hexar regularly and for some stories here i prefer to sort most images in chronological order. But hey, i rediscovered the naming system i used some years ago and combined it with my current numbering system. So you just have to hover over a frame for the cam+film+dev combo.
Construction site at my work.
Michis roll of film drying in the bathroom.
All white. I like that.
Lunch.
I like the ordinary things.
Scratched frame #31.
:/ See you next time!