The semester is over, projects are finished, exhibitions closed, equipment cleaned up and stored. We are not traveling much this summer except for a trip up to the Baltic Sea in September. We both work several days a week and do much work on the apartment. Theres a lot of family and friends and chillout time. Holiday season stuff. Im shooting all kinds of stuff with 35mm and medium format, b/w and color, and develop a lot of films at home.
Also i hope to finish work on the darkroom an my uncles place this summer. Its actually ready for use except for the tap water supply and waste water disposal. Were gonna have to split cut the pipe and install a water faucet with proper fittings. Also im planning to install a small submersible pump inside a big tank right under the sink and connect it to the sewage water pipe. We'll see if i can show some documentation of the progress in the next entry. This one right now contains a lot of street and family pics and some exhib stuff from the semester and also some of my work for 2nd semesters photoclass portfolio.
[audiotube id="eD6MeGYG7Ok" time="no"]
Starting with some random street frames. Leica M6 + Kodak Tri-X in Xtol.
I almost always take this shot of people. I find it kind of interesting.
Walking around with Stephan.
Stephan taking a shot, maybe for our double exposure series for photoclass?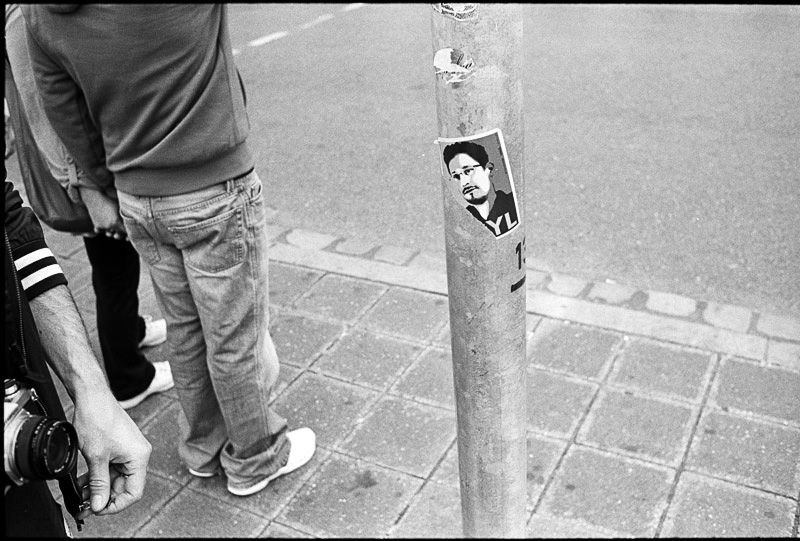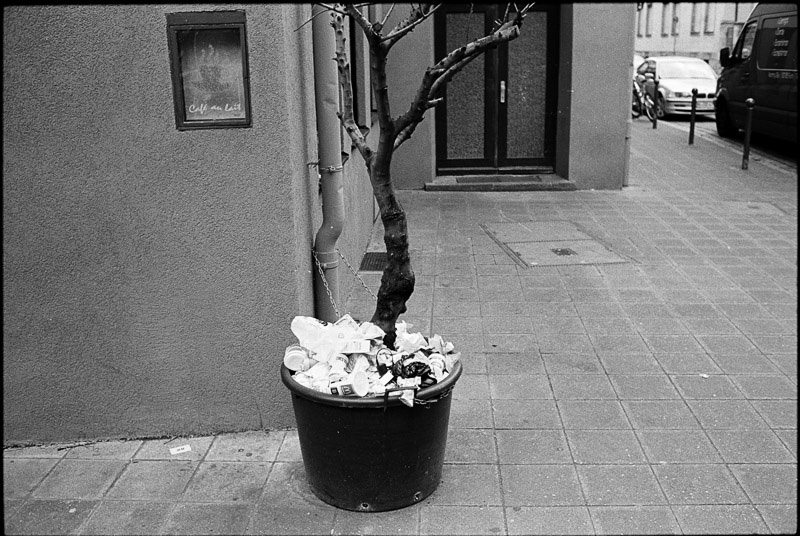 A small tree abused as a trashcan and also chained up in Gostenhof.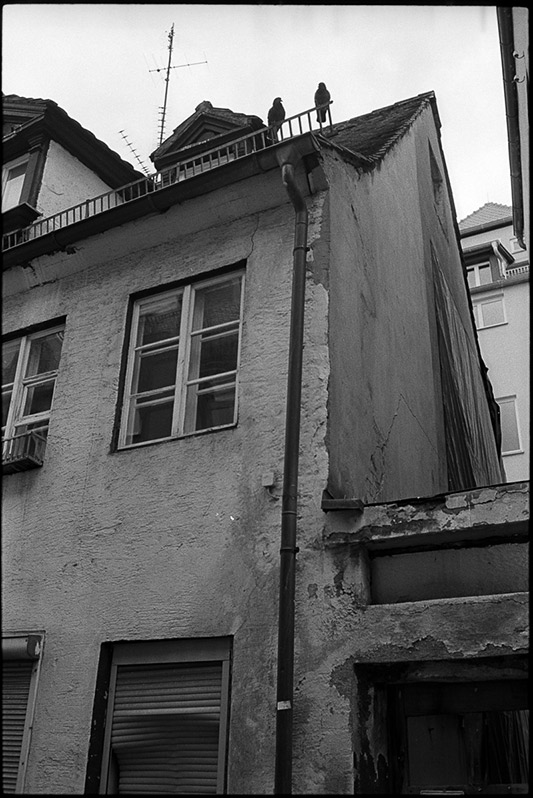 And suddenly i started taking portrait format frames again.
A test print of my poster for our typography "Type 2″ exhibition of few weeks ago. The grey is pure red actually.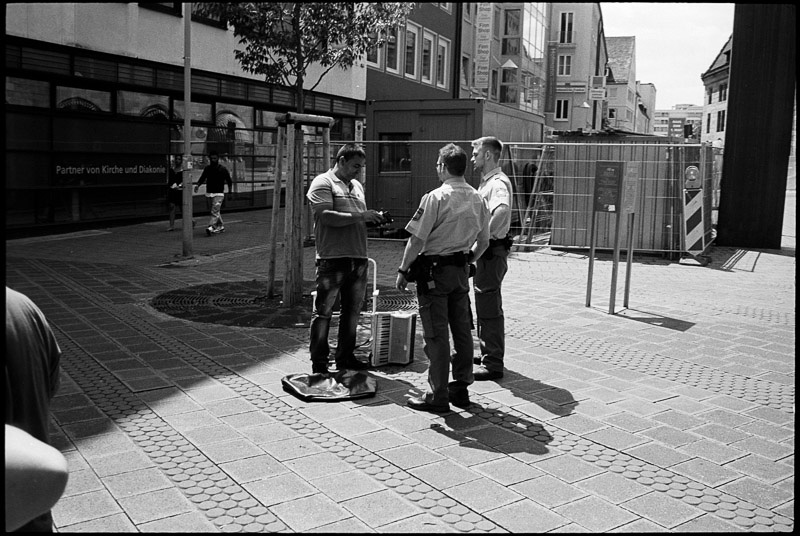 Policemen checking the ID of some guy.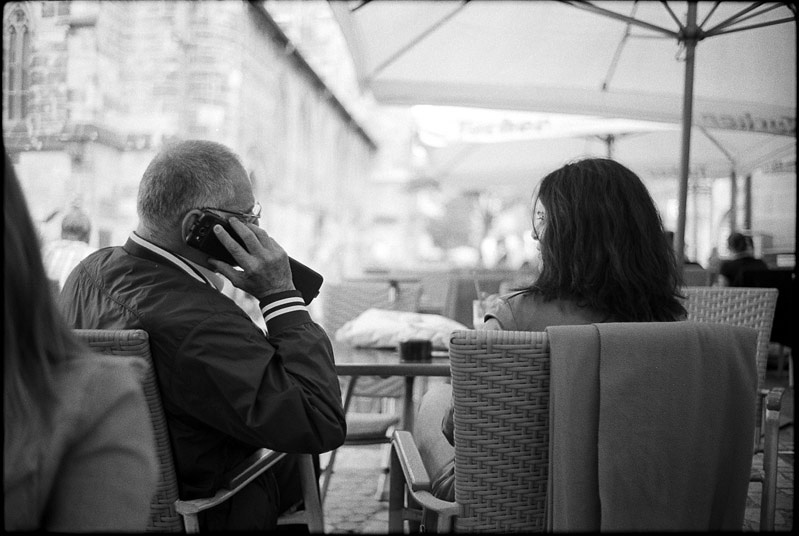 We were having some drinks at this place when i noticed these two behind us, brother an sister i guessed. Seemed like he just stepped into her life after a lot of years and so they had a lot to talk. Later, they started calling other family members like their mother (i suppose). Now thats quite a nice story for such an average picture right? Anyway, i did not want to get too close and disturb them since it looked like kind of a intimate moment for them.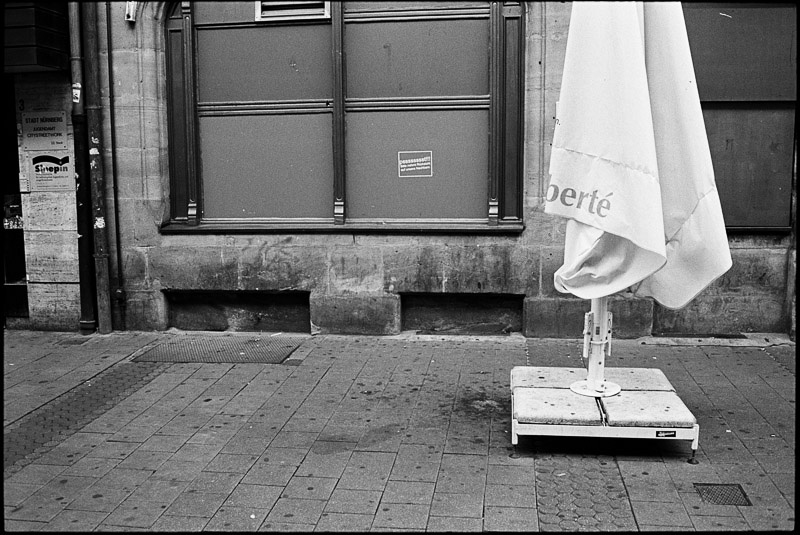 Some puke on the street.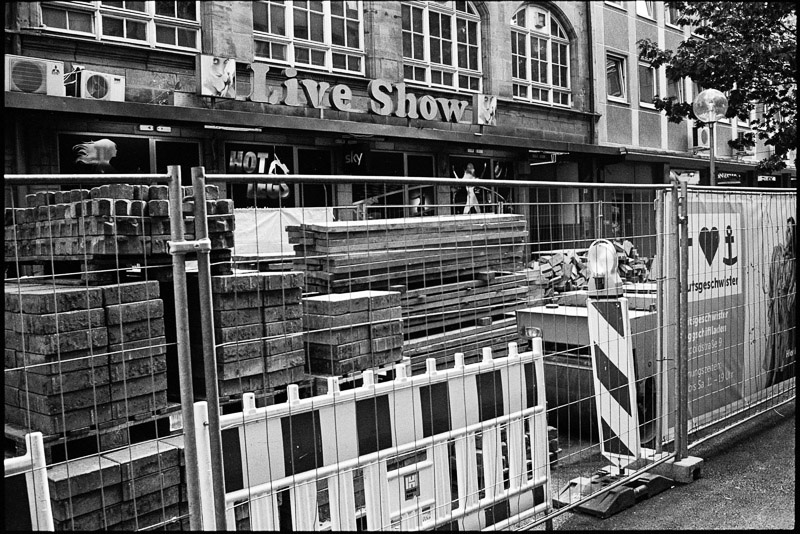 Construction site at the red light district (more like a softcore version of the actual red light district).
We were back at the train station when i saw this guy. I speeded up to him to take a shot, although i wasnt sure if the negative would hold all the detail. In scenes like these there is no time to hold on, fiddle around with your cam and starting to compose a nice image. You just make your best guess for toh lighting and shoot. Luckily the timing was good (decent light situation) and theres all the detail in the picture that i wanted to capture. I did a 24x30cm print and it looks very good with plenty of structure.
Since the weather was so sweet that evening, we went for a walk at the "Steintribüne", which is part of the former nazi party rally grounds. Today, the area is used for big events like "Rock im Park" or the DTM (German Touring Car Championship). This was days before the start of the DTM, so most of the track barriers and audience stands were already set up. I took some shots with the leica and also some Polaroids with the Hasselblad 500CM.
More barriers.
Back in the city. Thank god for this beautiful weather these days.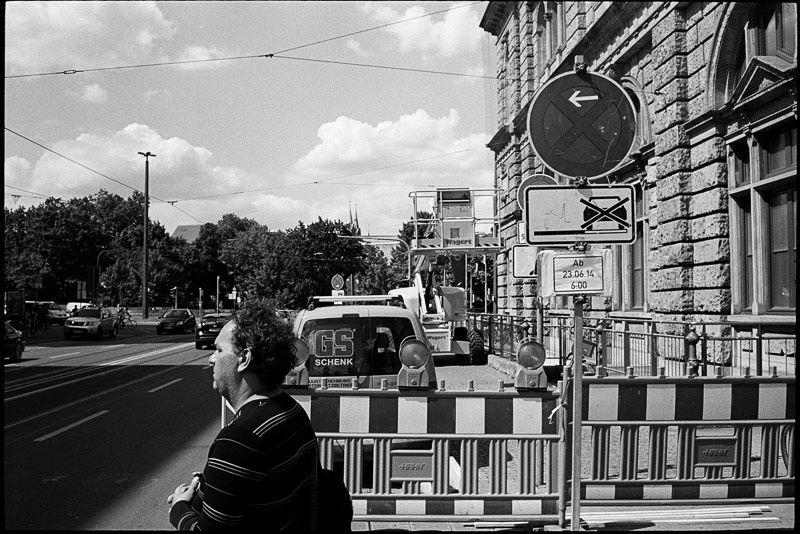 Guys playing on their phones.
So there was a big public transportation strike in the city and the place got more and more crowded with people waiting for one of the few buses that were still running. Those bus lines often headed to places like the airport or the outer districts, but it seemed like people just gave up and took a ride on those buses, just to get ANYWHERE away from the main station and to keep moving. I took the bike.
I almost felt a little ashamed, taking pics of frustrated and trapped people and after that just hoppin on my bike, casually riding away.
Some service workes tried to calm down some people or to give adivce for the best alternative routes to take.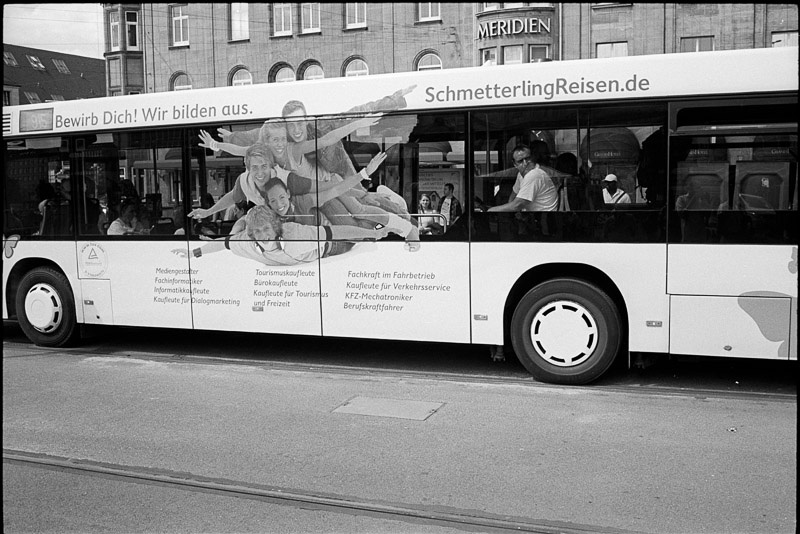 He got lucky.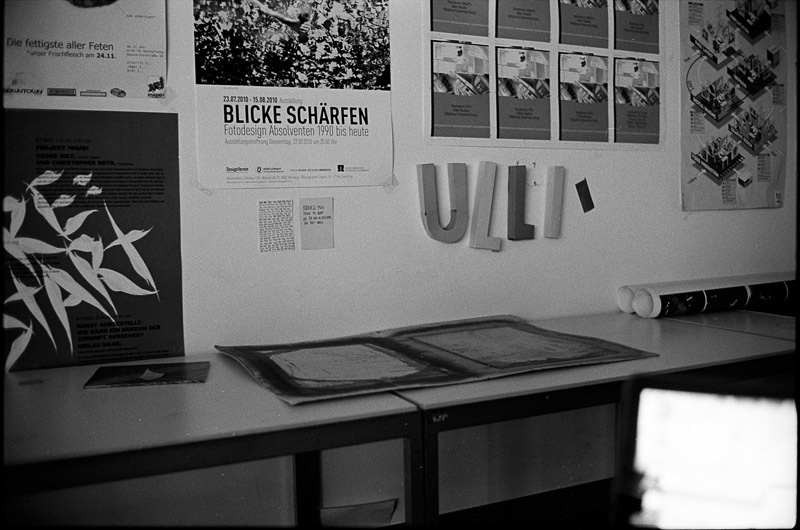 Random frame in on of the labs.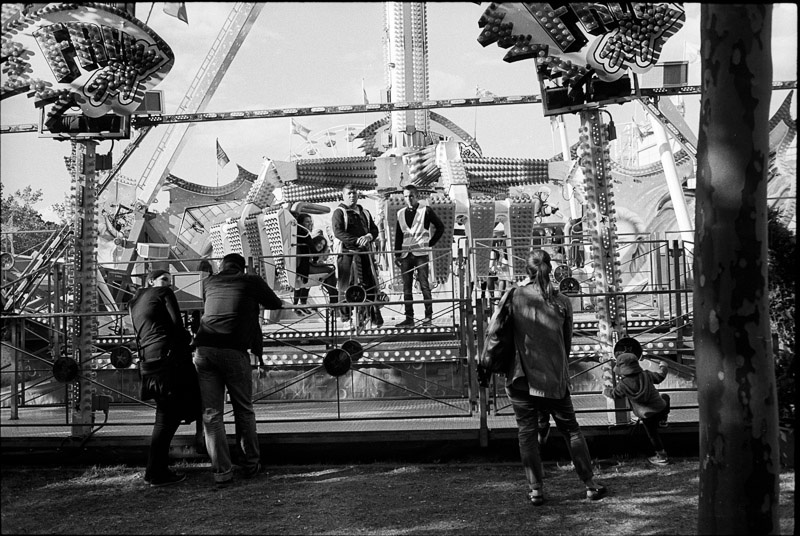 Neustadt Kirchweih time. Carnival rides is a serious business.
Im afraid there is no proper way of translating this sign…but its from 5pm to 9pm fyi

Think. About what?
People watching the fireworks. An OK shot i think, regarding that it was pretty much completely dark (focusing fun!) and i had like 1/8th at 1.4. Printed it, looks nice. More tonal range than you'd get from the scanned version here.
At campus. Kerim being happy. We're ALL HAPPY STUDENTS HERE so lets put it on big banners to show how cool IT IS TO STUDY HERE. YAY!!! LETS PARTY!!!1
Some film and room+space design class people were shooting a Hundreds music video the other day. First things first, catering.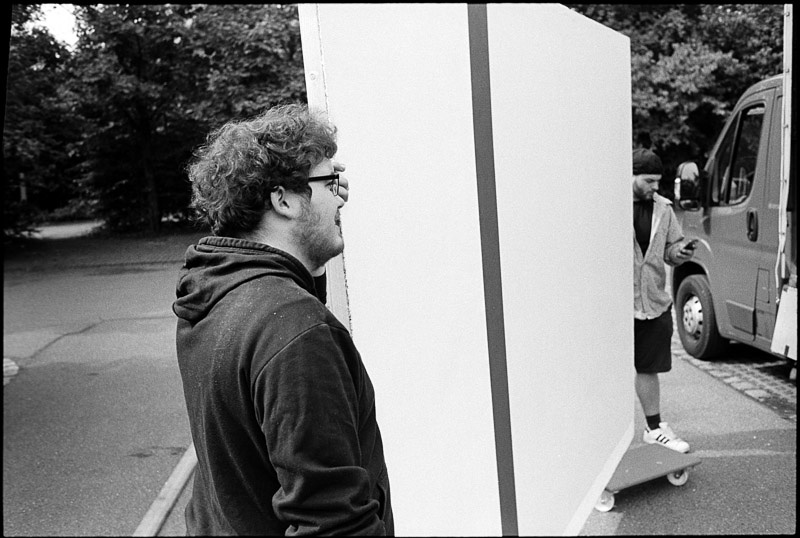 Basti holding some wall thing.
It was Saturday, and while the film guys prepared their shooting, the photoclass had some fun in the studio.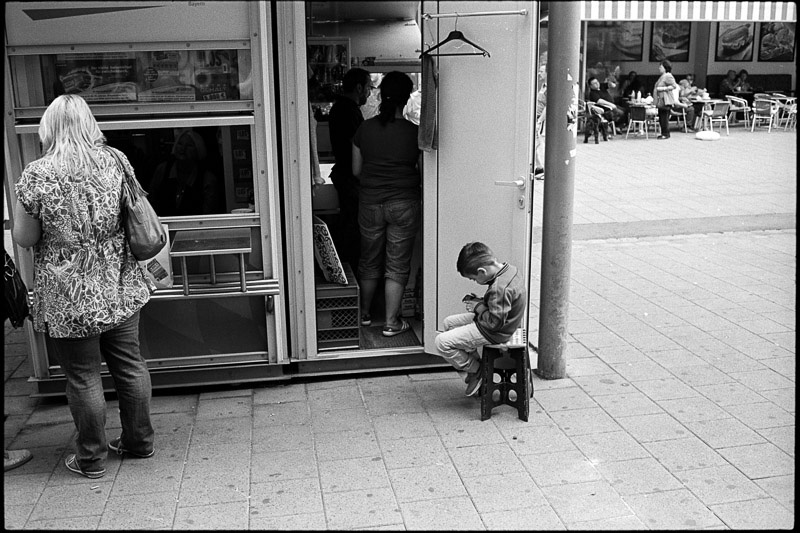 Another one.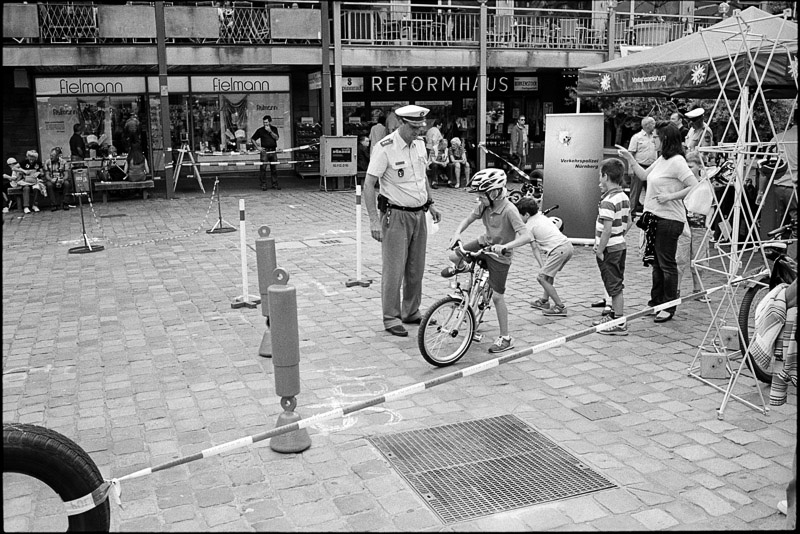 Police set up a little bike parcour course for the kids at the marketplace.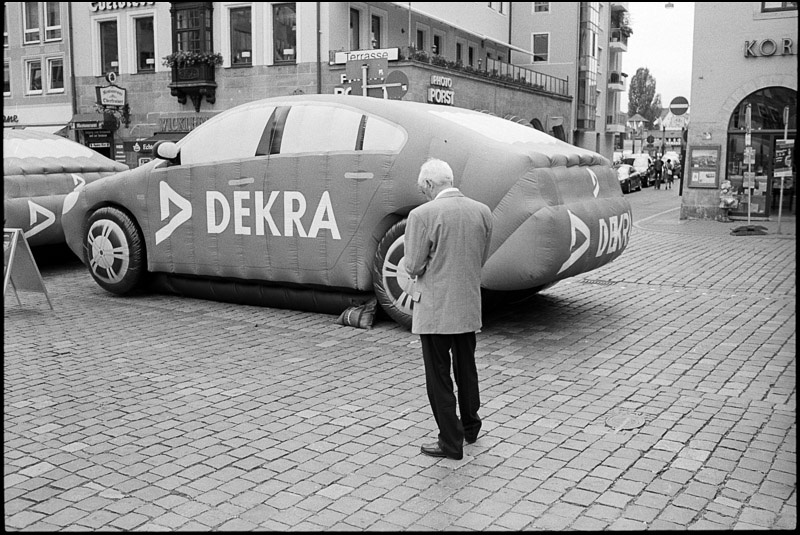 Lots of mid-grey tones i thought.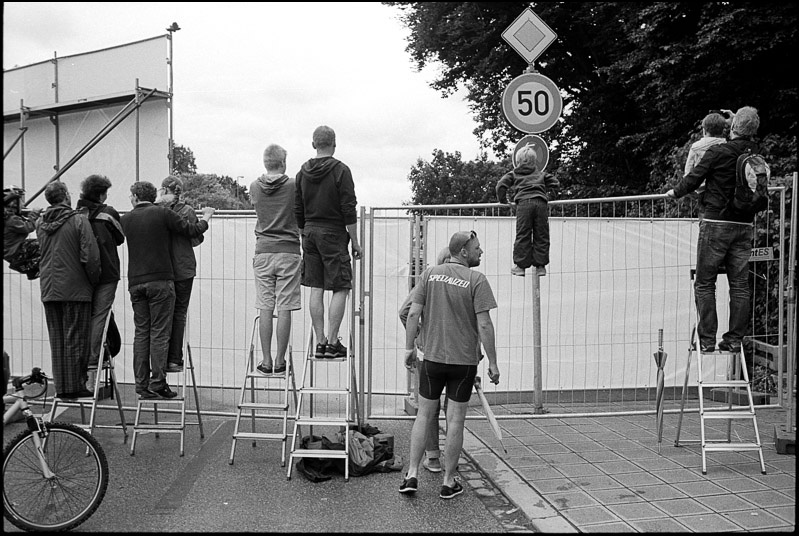 So the DTM was here and i felt like checking out what was going on around the place. The event area itself is pretty secured, people like to be amongst themselves (pretty expensive tickets also). So at some points of the track, people were standing outside and trying to catch a look at the touring cars. Great scene for a print. I should – oh wait thats right, iv'e already done a print of this since we got this super cool automatic dev machine at the uni lab. Actually its about 30 years old and close to its total breakdown. But before going back to conventional handmade dev, we keep using this monster until it literally falls apart. Well see if Stephan and i will be able to organize some new equipment for the lab, but its all about the money in the end, which is sad. The darkroom process is so so so beautiful and full of things you need to know about "making" images, i for once would love to do some color printing or fiber or toning or or…This so has to happen, ill keep you informed.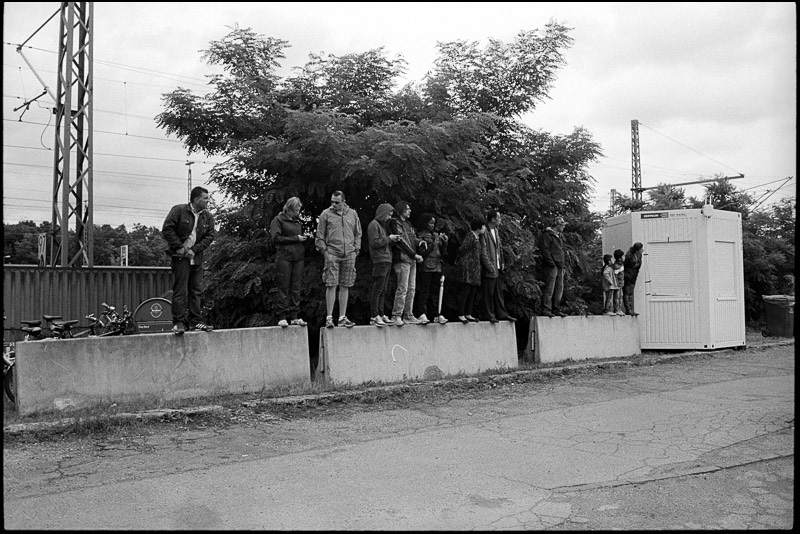 So, back to some pics. Another one of the "audience".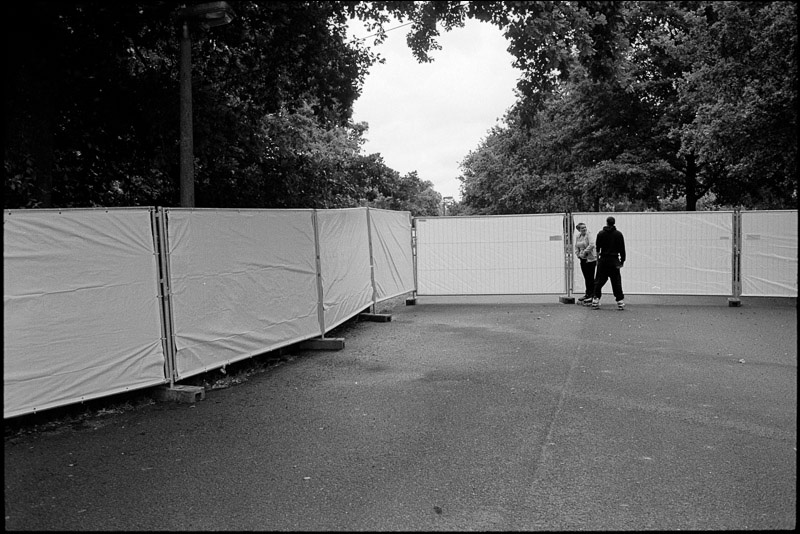 At another edge of the track, also blocked for pedestrians. These two checked out what was going on, then turned back around. I kind of like the frame, those barriers give it a very graphic touch. I was also very lucky with the arrangement of the trees above. Printed.
I think somebody died here.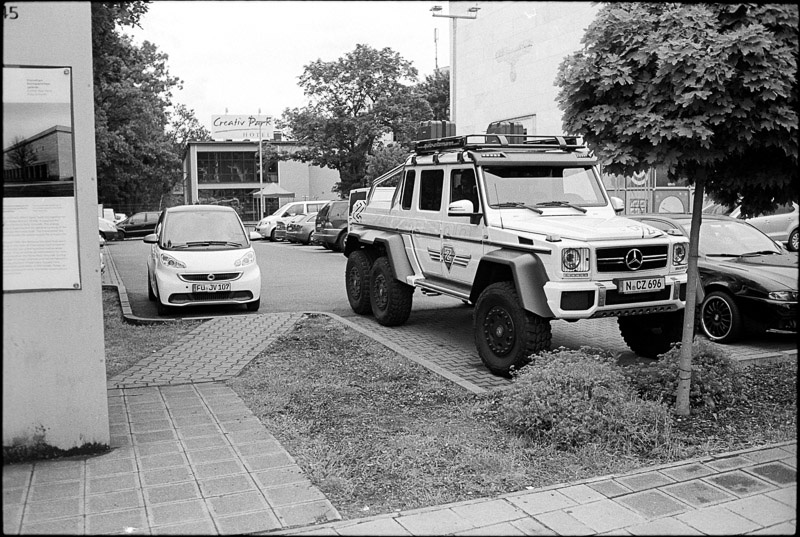 Came across this scene later.
Went to grab some things at the groceries store when all of a sudden it started raining LIKE REALLY. People were totally surprised and started running for cover.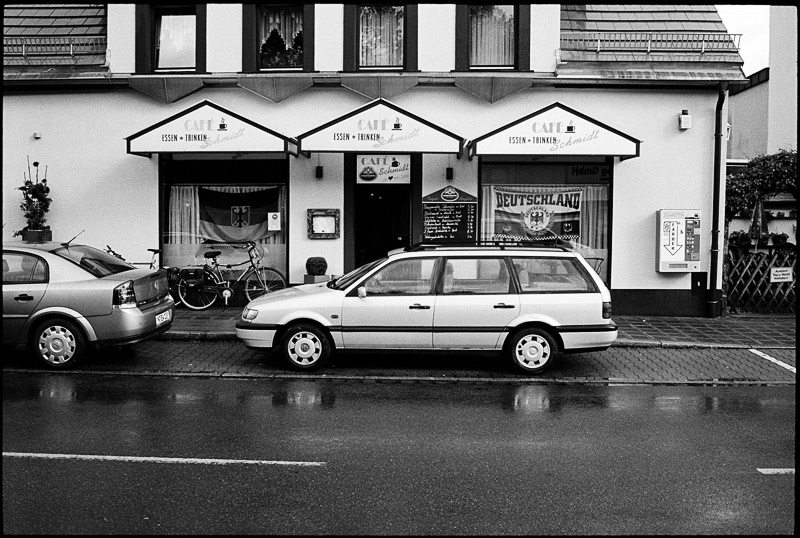 CHECK IT OUT, how much GERMANY can you spot in this frame?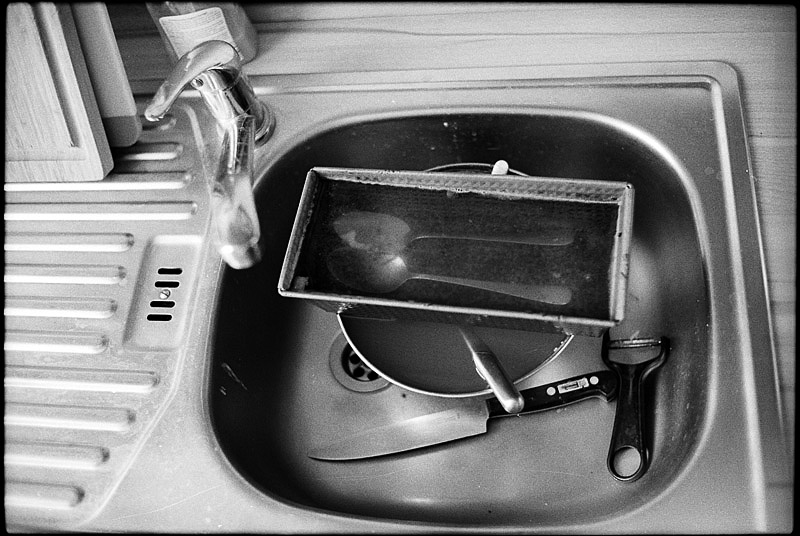 Finished the roll with some water-buried spoons.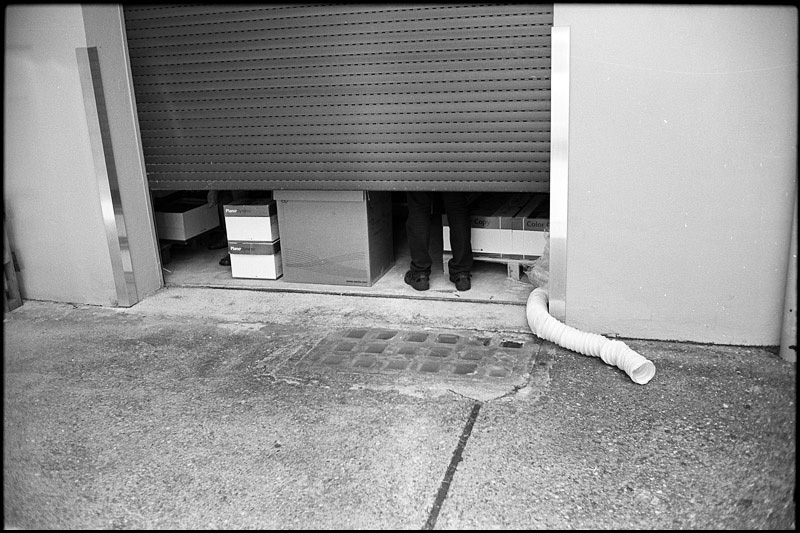 Next day, next roll. Switching to TMY (TMax 100 = TMX, TMax 400 = TMY, TMax 3200P = TMZ) for fun. As i mentioned in a previous entry, i find TMY to show not as much of a "film" character as Trix or Efke, but damn this film is good. Grain: What grain? Tonality: Kicks ass.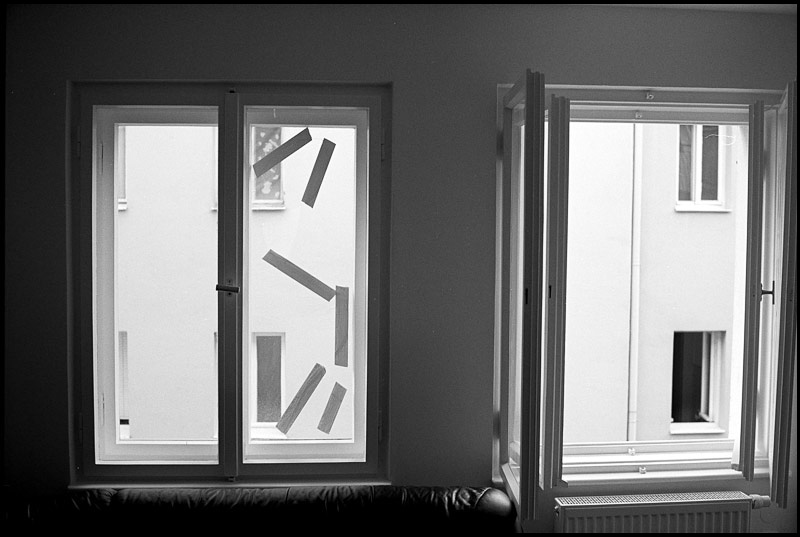 Look who professionally fixed her window 🙂
Michis ROCKWALL for our typography exhibition. The letters are freaking huge actually, we barely managed to fit all of them in my car to get them to the campus.
Olgas bike got blocked, lol.
There was a nice festival in the Südstadt district so Stephan Tanja and i met to check it out (=to grab as much food as we could and lurk around with our Hipster cameras).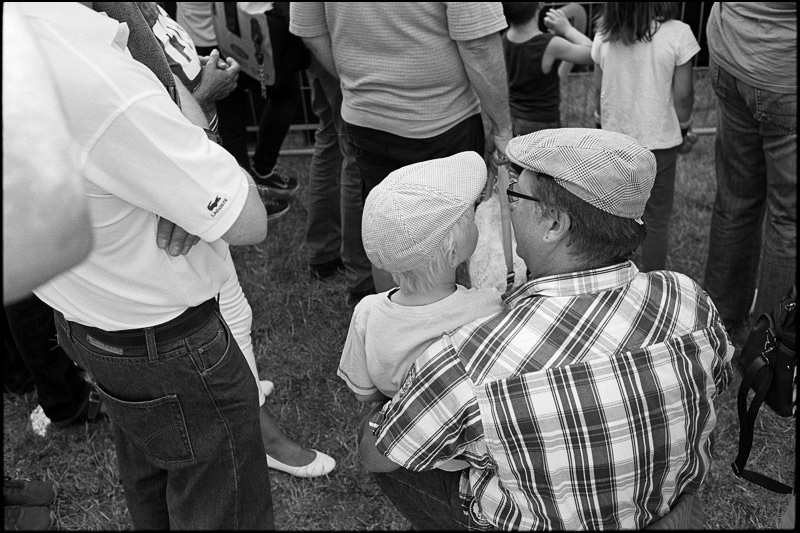 Changes are these are father and son.
Stephan with his Nikon.
Funny dudes.
All kinds of different cultures, bonding and living peaceful side by side. How can that be such a hard thing to do in so many places?
Tanja fiddling around with some film.
People selling some stuff.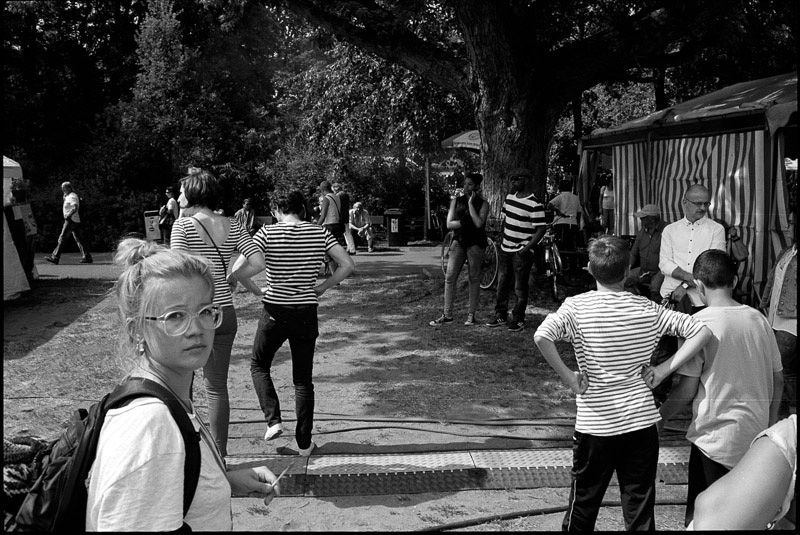 I told Tanja that i found it fascinating to get that much stripes in a single frame. But also Tanja herself and the guy in white on the right and the one on the left in the very back of the scene somehow complete this one i guess. Well its just a snapshot after all.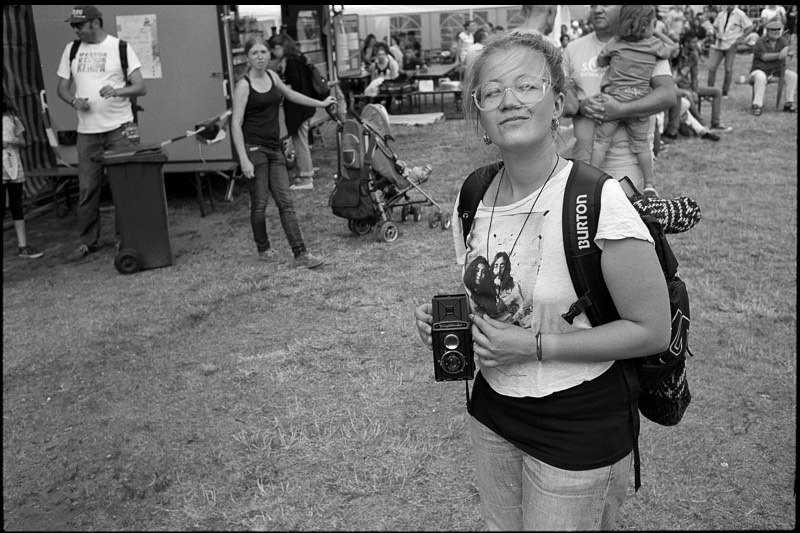 Tanja proudly presenting her Voigtländer TLR, very VERY old model.
I keep thinking about how people percieve me when i photograph them. I dont know, i do not try to hide or to be invisible like some sort of stalker. I just am there and do what i do. Of course, i try not to distract people since i want to document, but i am still there and whatever happens, happens. I like those little eye contacts, smiles, talkes, gestures, even rejections, conflicts and so. Its a very humanistic approach i think. On the other side, some people like to shoot people with tele lenses which i find kinda weird. Or maybe its just me? Time to think some more.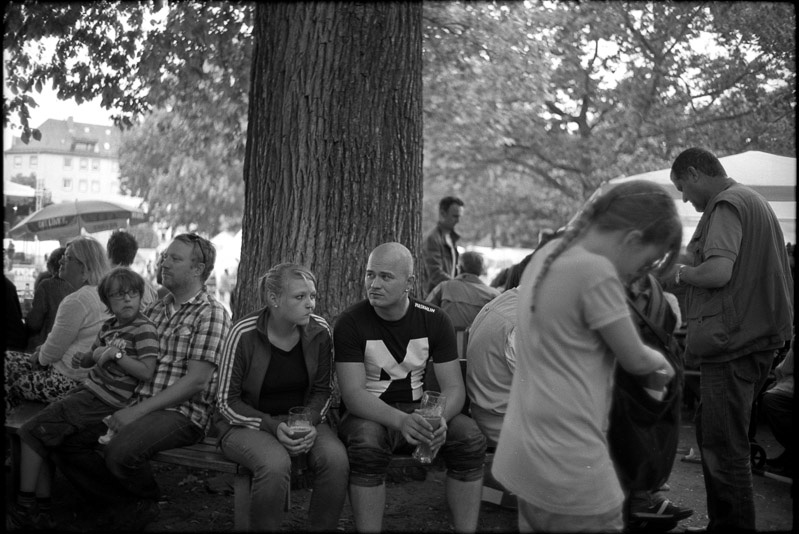 Chris joined us later and we decided to have a beer. Tanja making her cute face.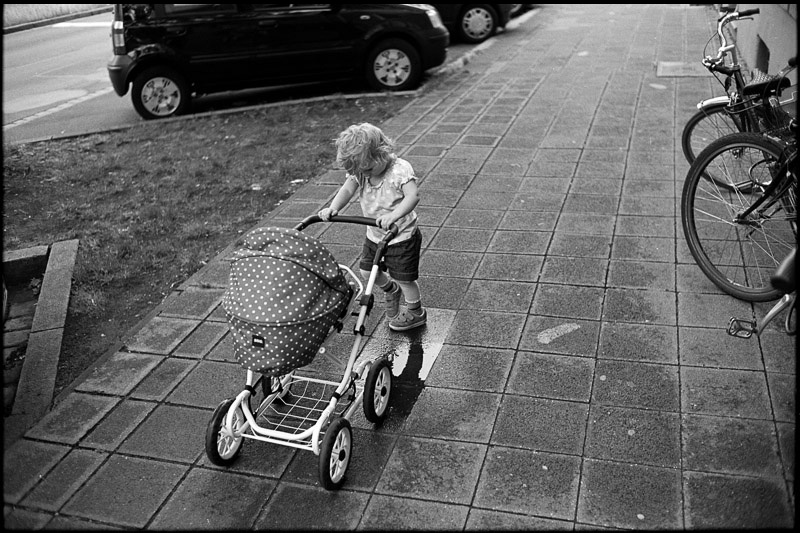 Walking back home.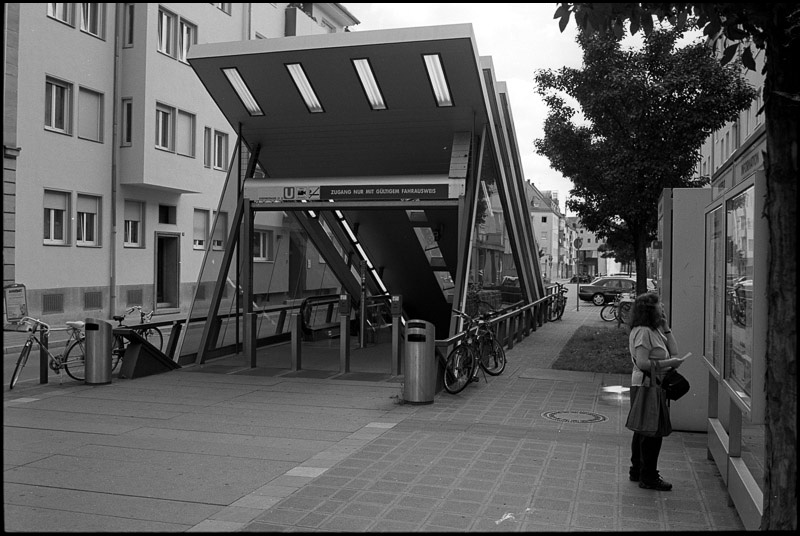 Subway station near Anselms place.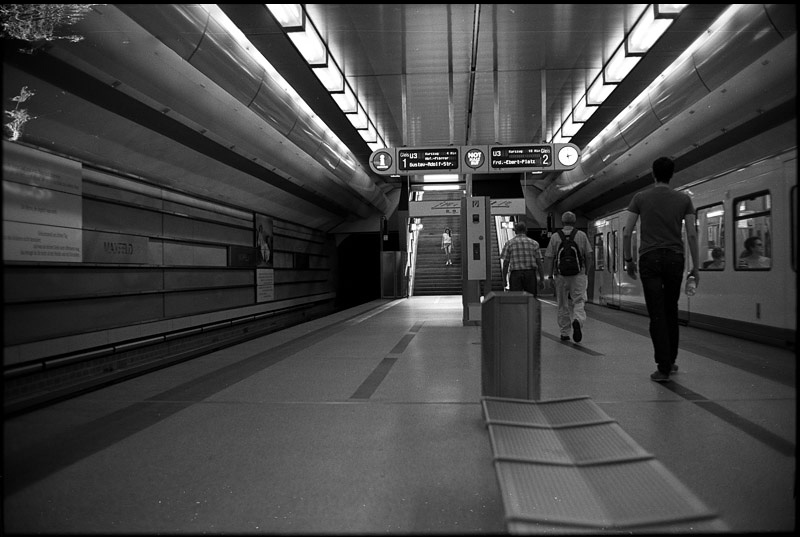 The next day we met again at the festival for some more snacks and pics. Good times.
Yeah not an interesting frame. Just letting you know, i happend to get me a ND 0.6 filter for the Nokton (= -2EV so ISO400 -> ISO100) from ebay for 1€ lol (and its a quality one). That means shooting Trix and TMX with even less DOF (depth of field) in bright daylight. Works perfectly.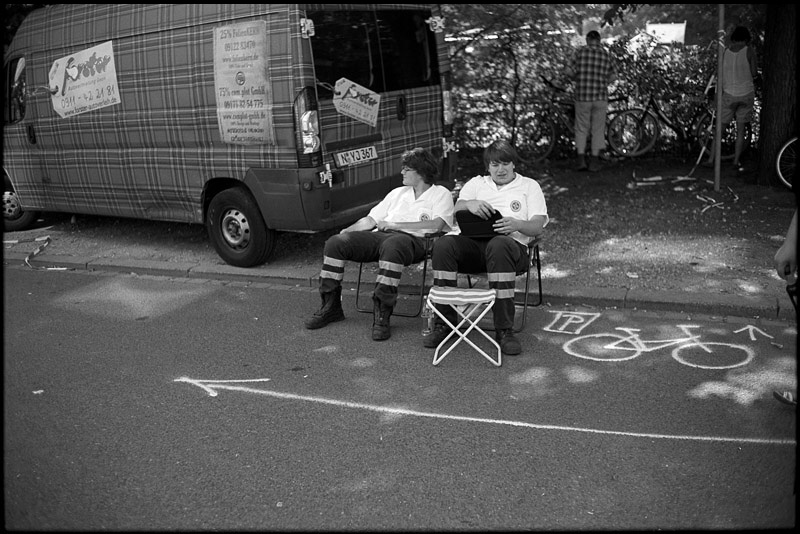 Paramedics hanging out.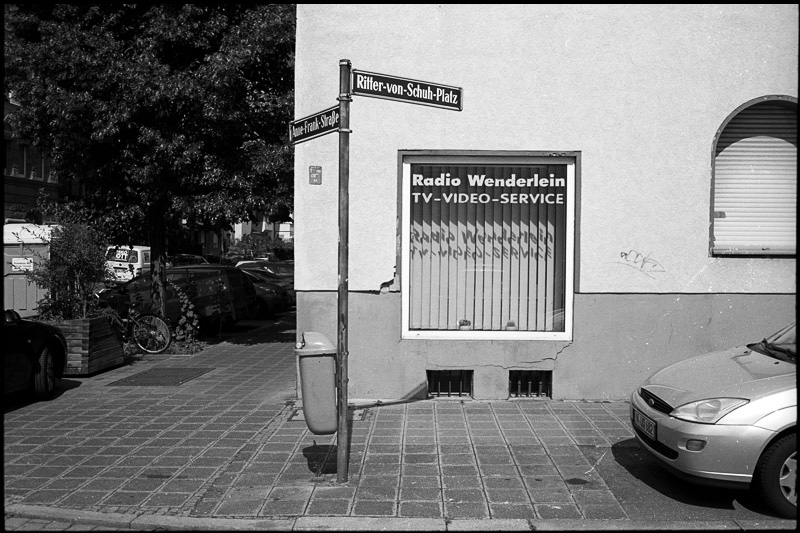 Some type and shadow stuff.
Switching tu Fuji Acros 100 and the Konica Hexar AF.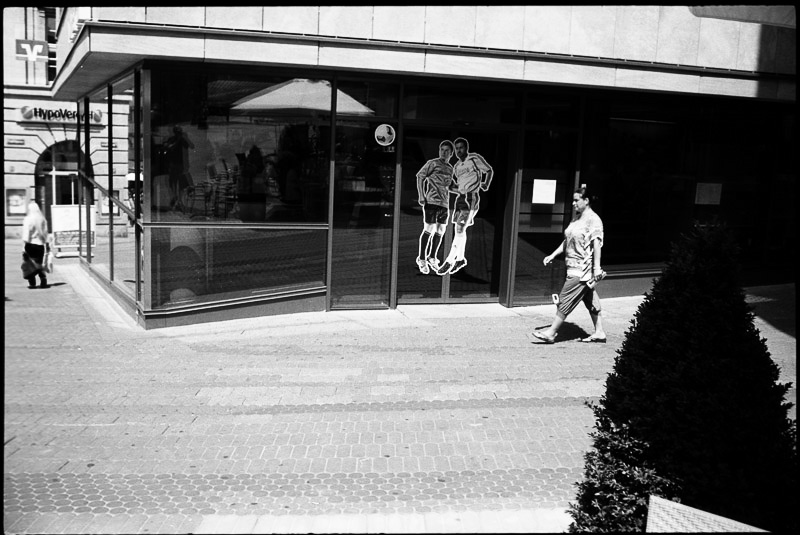 Taking an family portrait.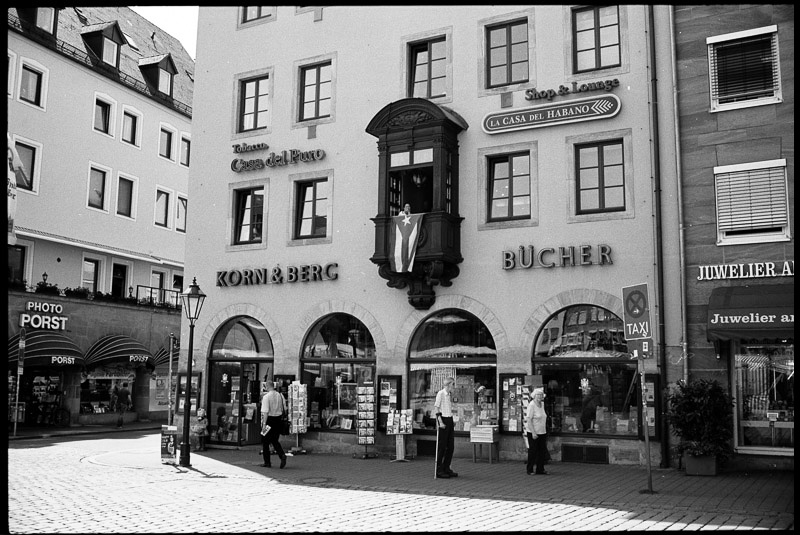 Walking around with Franzi and Stephan and some random guy, taking some pics.
Businessman with a german-flag-colored tie.
Flag-style berries.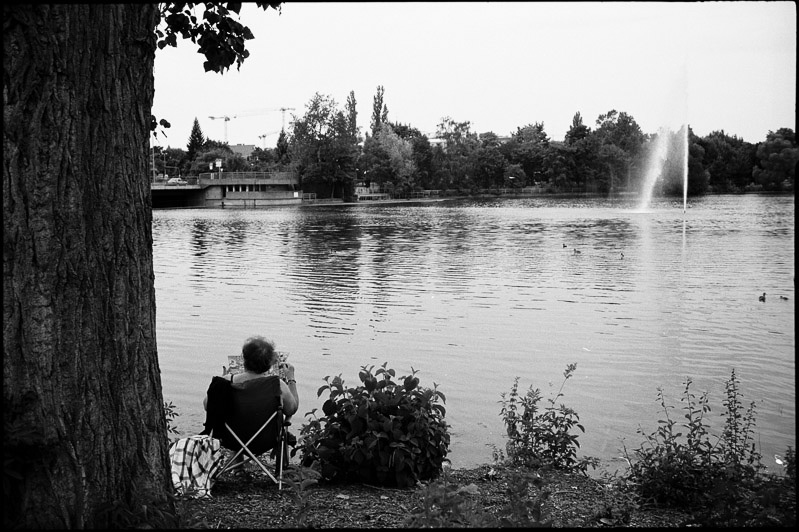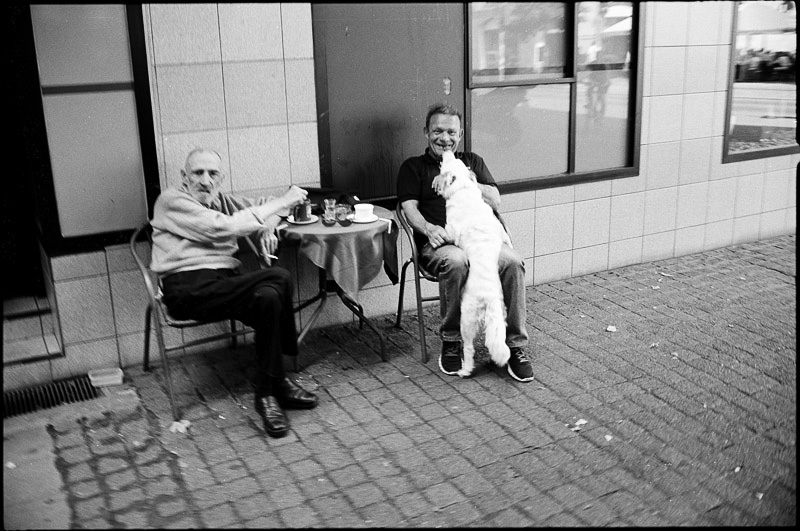 Funny dog.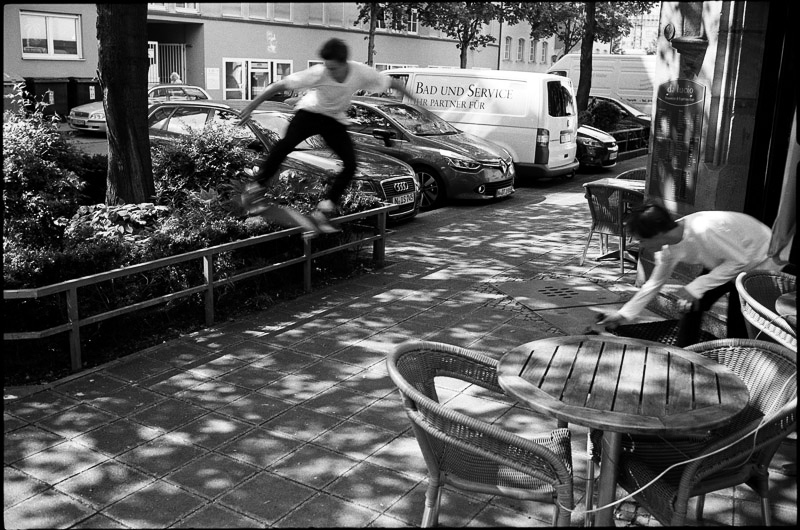 We met two friends of Stephan by chance. The recorded some footage for a skate vid.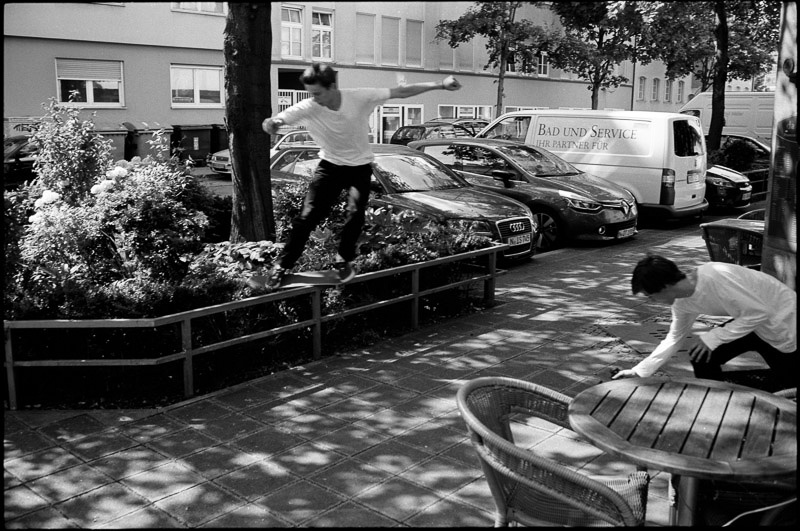 At the trainsation. Tanja was taking portraits for photoclass. Its always challenging to ask people for one or two portraits, you never know how they react. Tanja was turned down a couple of times at first but she did the right thing and kept going, so kudos for that.
From the hip.
It was that time of year again, i cant believe how time flies. Academy of fine arts annual exhibiton.
What an inspiring place. The academy is located right beside the zoo, lots of green, lots af trees, lots of white and lots of glass. We live about 500m from there, across a small woodland.
Some exhibs at the gallery of AdbK photoclass.
Sunlight and some framings.
If you understood all of it, it would not be art.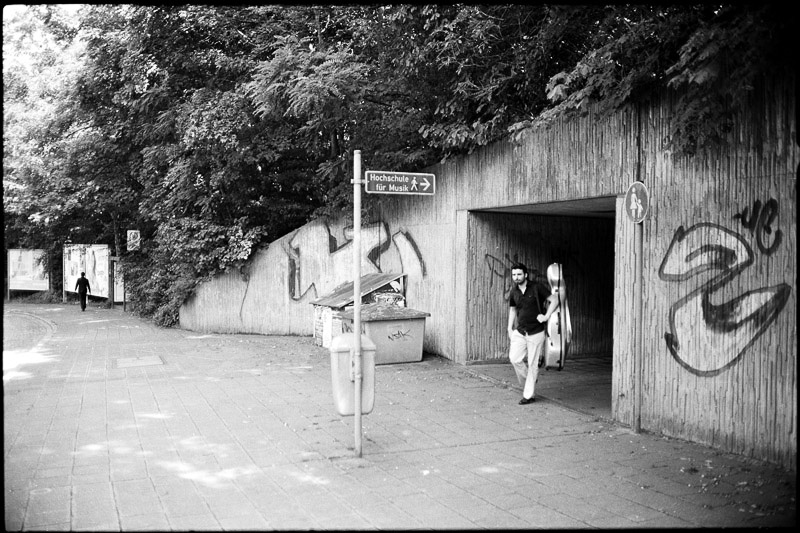 At the Academy of Music.
As i walked around i found this "smoking area" that i found hilarious. Its located at the very edge of the place. Then i realised that place is the colleges informatics faculty.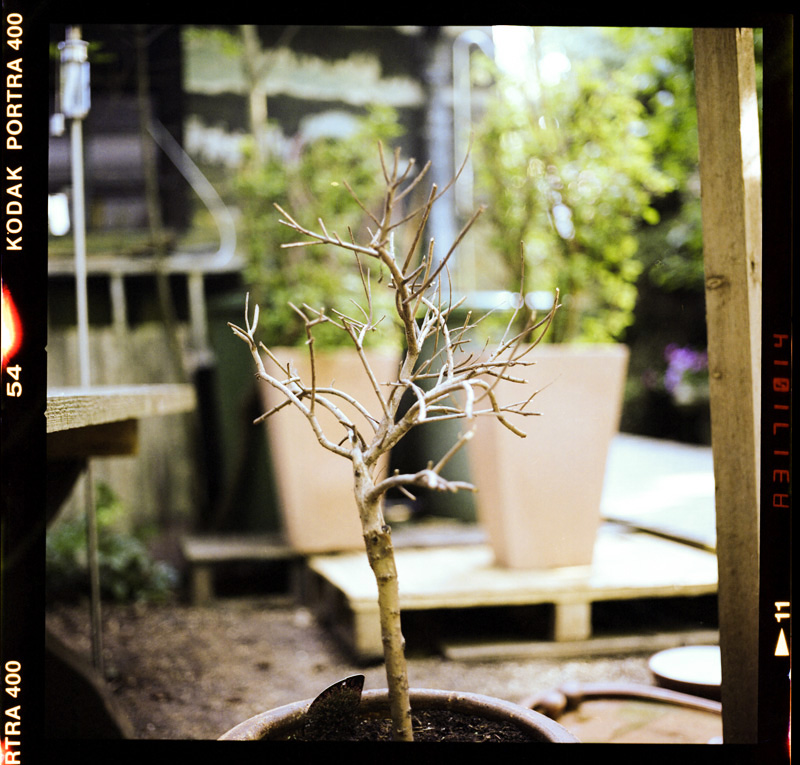 A random still life from the 500CM.
THIS is the shit.
And THAT is the shit.
Some pieces of Jennys "Typomania" project for the type exhibition. Laser cut letters ararnged as viruses. Definitifely the shit.
Sonja took this one.
Stephan looking at some contacts. I find it interesting how people tend to develop their own processes in terms of darkroom safety and handling films and equipment. Those are not our films but i find it funny how some people just dont give a shit.
I did some prints for the semesters portfolio, double exposures and "abused" medium format. I included some scans of the prints further down this post.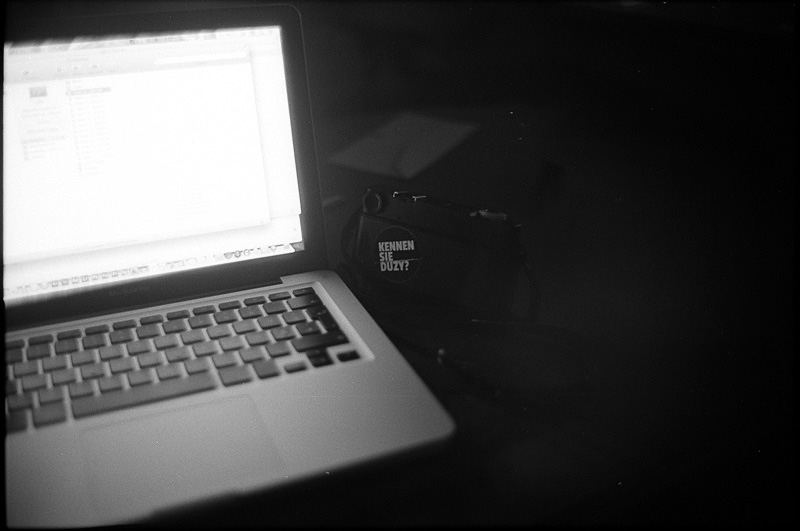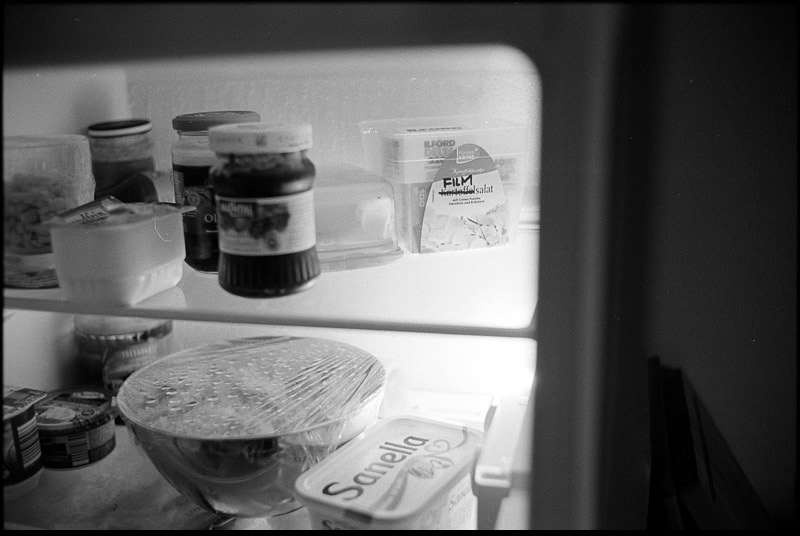 Family visit.
That night, Germany won the world cup. We went to the city center to check out the madness.
People came from all directions.
Then the Autokorso started and there was no more way out.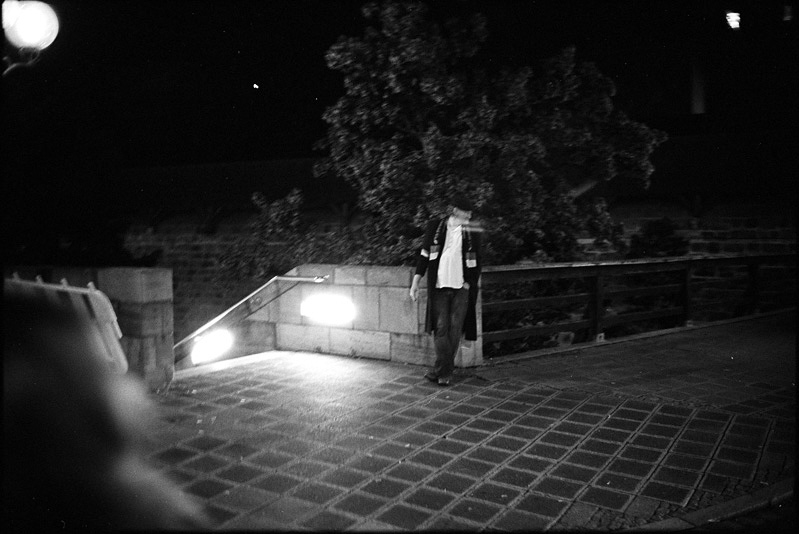 This man mounted some flowers or something on his wiper blades. Whatever.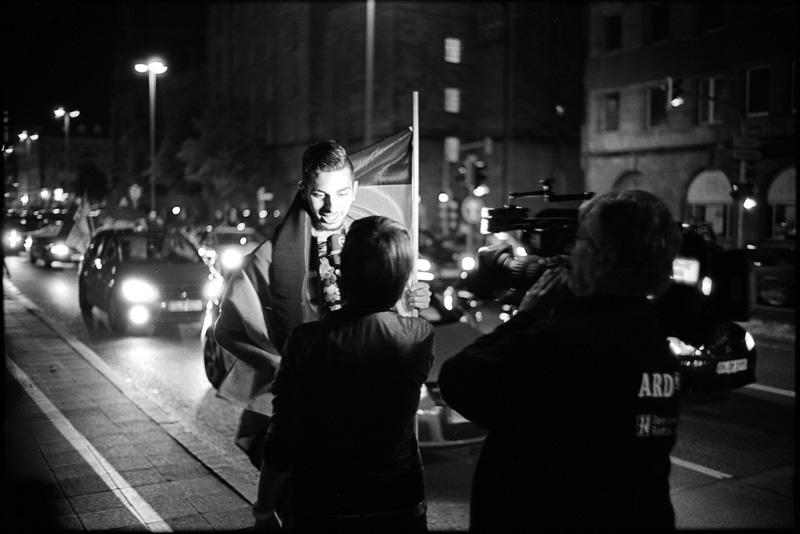 Television interviewing some fans.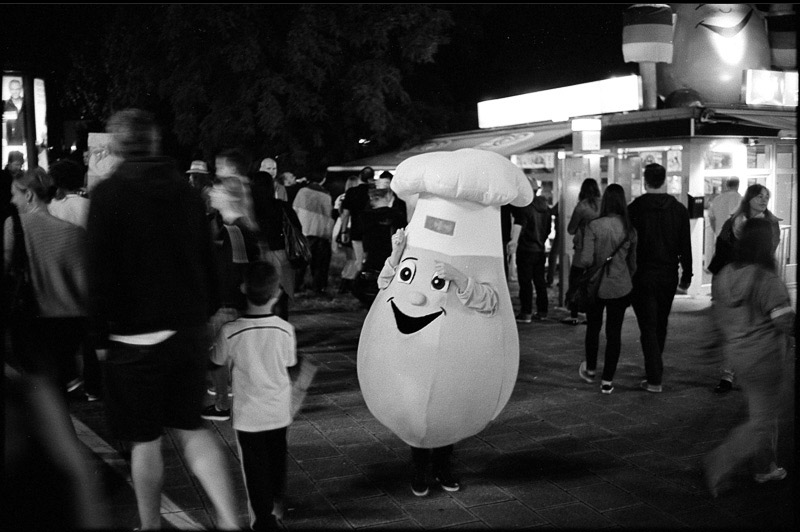 They probably got a lot of hugs that night.
The place got more and more crowded with happy peoply.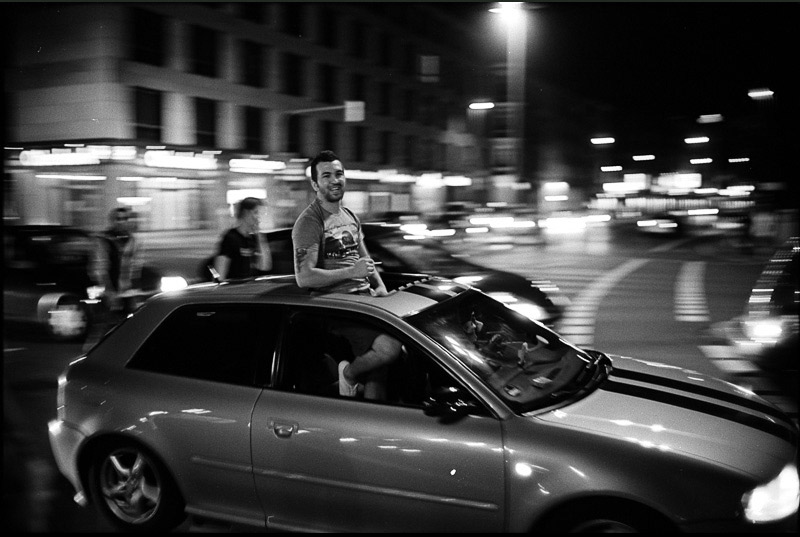 Party madness! We met with Stephan later and took some more pics (i ran out of film and shot some stuff with Stephans cheapo digicam). Stephan mentioned that it is kinda sad that people would occupy the streets for some stupid "game" that is mostly about advertising pure capitalism but not for important things like anti-war, politics failures, total surveillance of citizens, human rights and so on…
So after some years, i just sold this gem. It is a beautiful beautiful workhorse with a fine lens. But to me it always felt like a studio or tripod camera and so i got rid of it. Never thought i'd sell a Hasselblad though 🙂 Awesome thing, every photographer should use one of these at least once.
And so, after trying MF SLR und RF (the big Fuji GSW690III) i got back to the system that i personally like best: TLR. I got this one at a local camera store. Its a Rolleiflex 3.5F late planar version with coupled meter (working perfectly!) and its close to mint. Just that much, it did cost me the exact price i sold the 500CM for, so its a fair trade in the end i think. By now i already shot some with it and the results are just awesome.
Here are some digitals from our Typography exhibiton.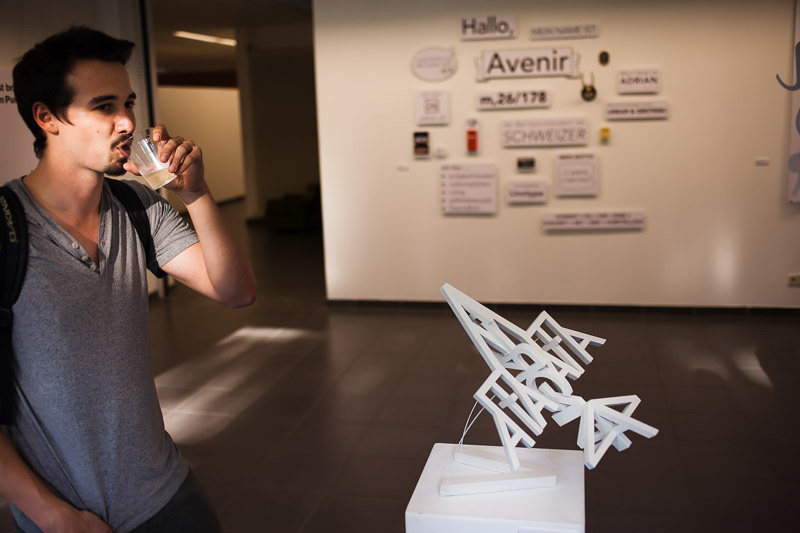 Simon and his Avant Garde airplane.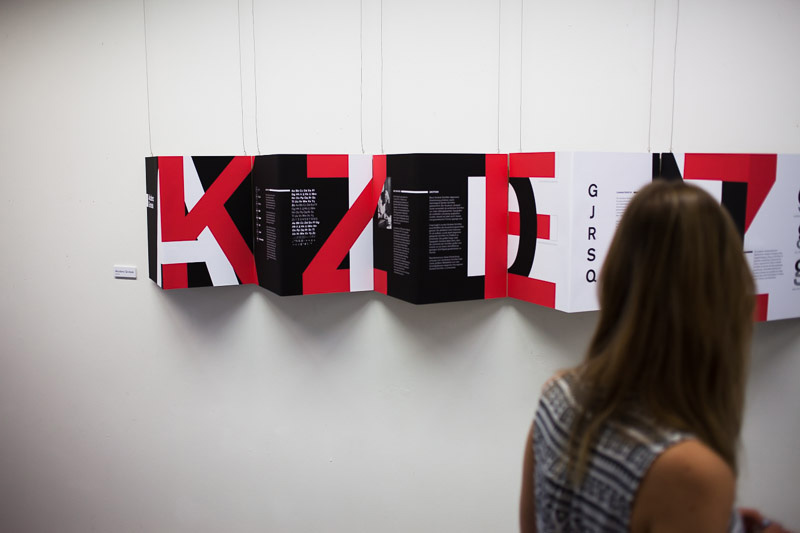 Michis Rockwall with nice background ambient lighting.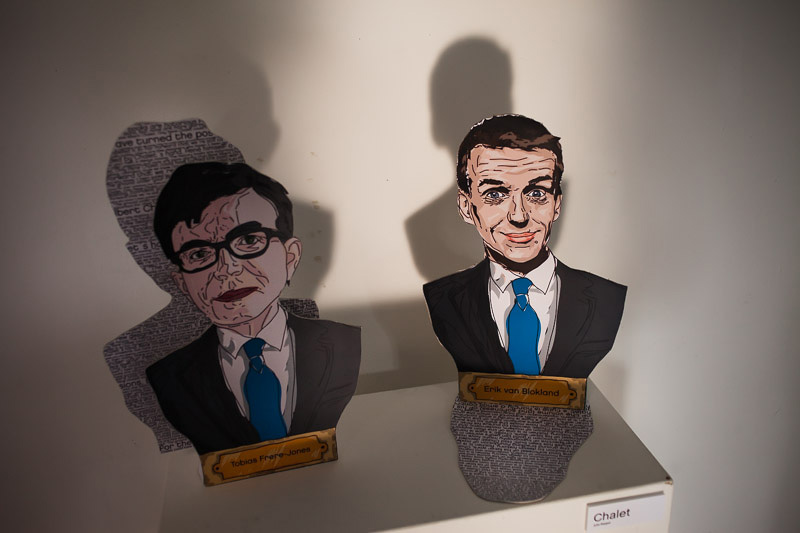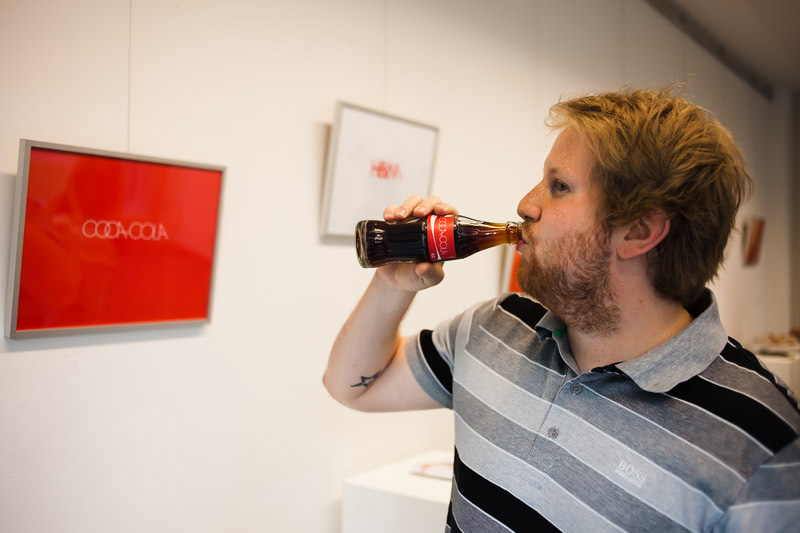 Katharinas Kabel-Table.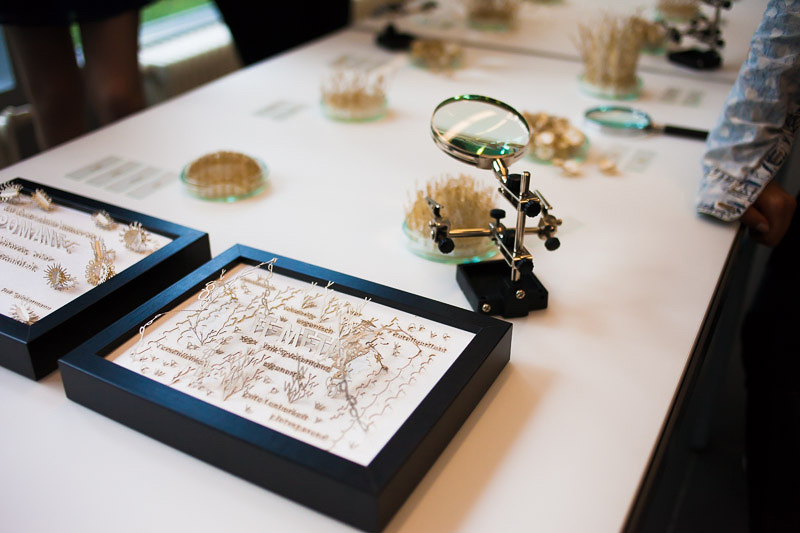 Jennys Typomania stuff.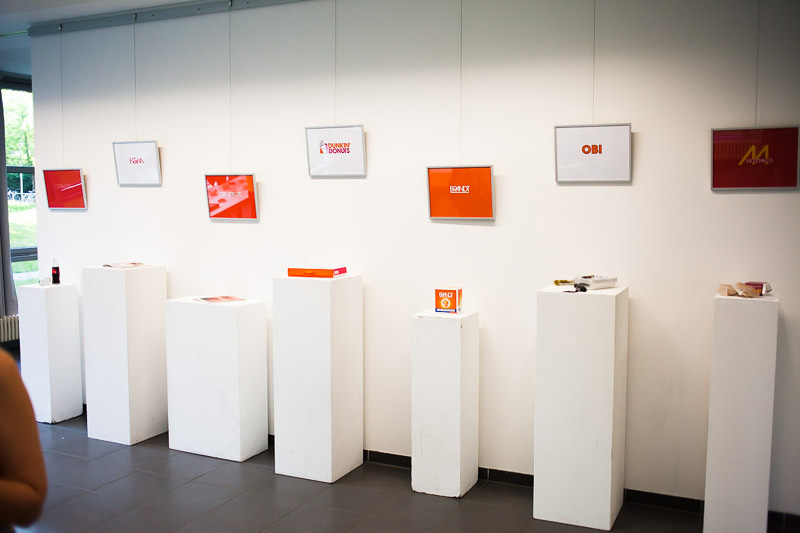 My Avant-Garde-rebranded consumer goods with posters and exhib pieces.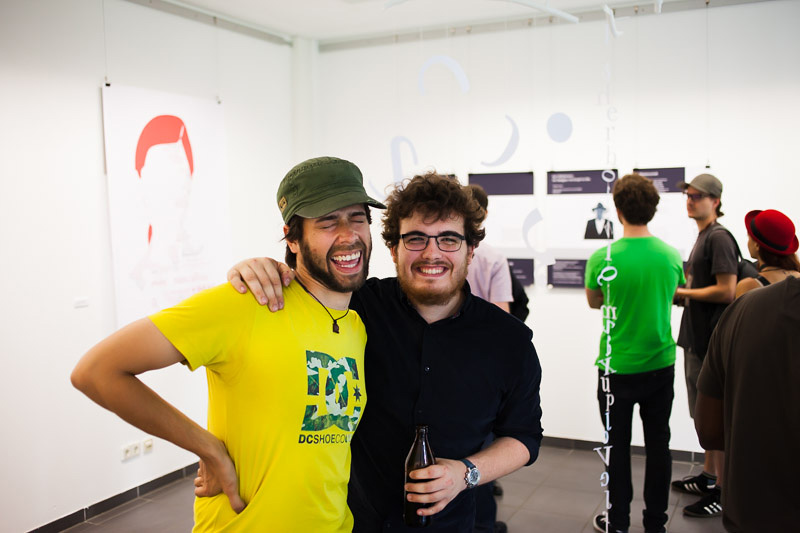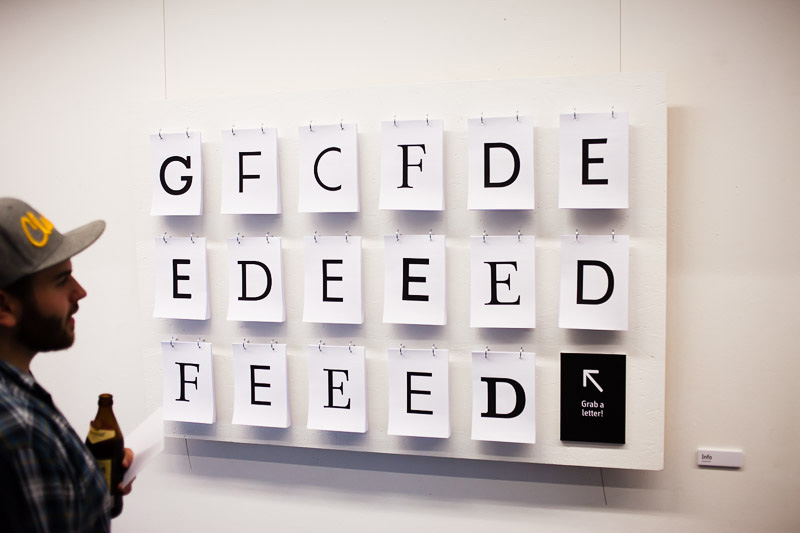 Lennys FF Info information wall with letters from all of our fonts and some background information about each one, arranged as takeaway notes.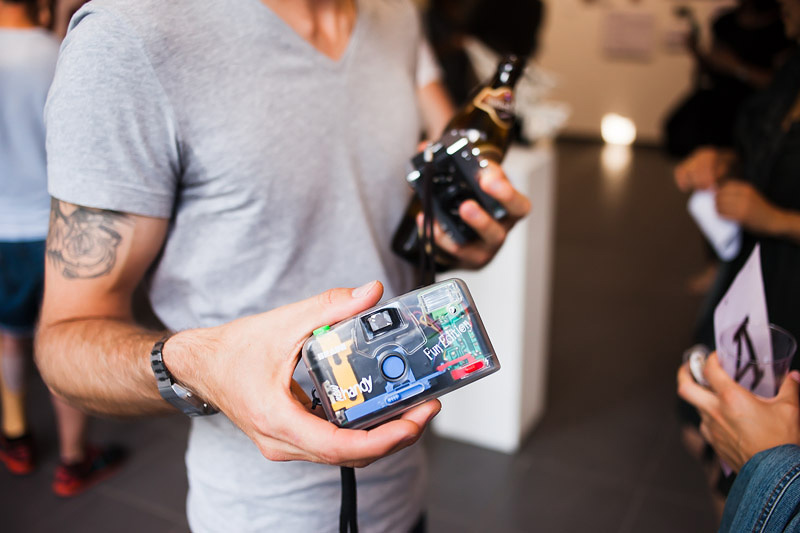 Oh yeah, Michi got anoter professional film camera from a serious camera store called "flea market". Its the FUN ENDITION!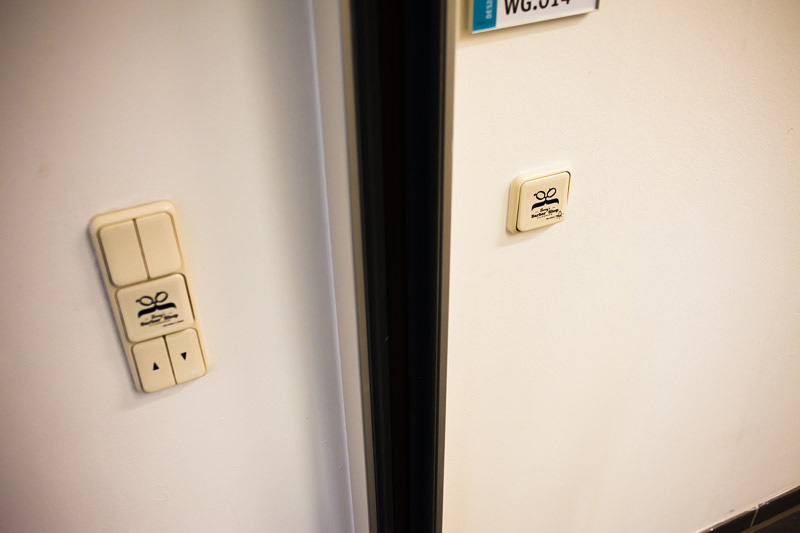 The place got tagged with stickers from Max' installation.
Everybody taking pictures.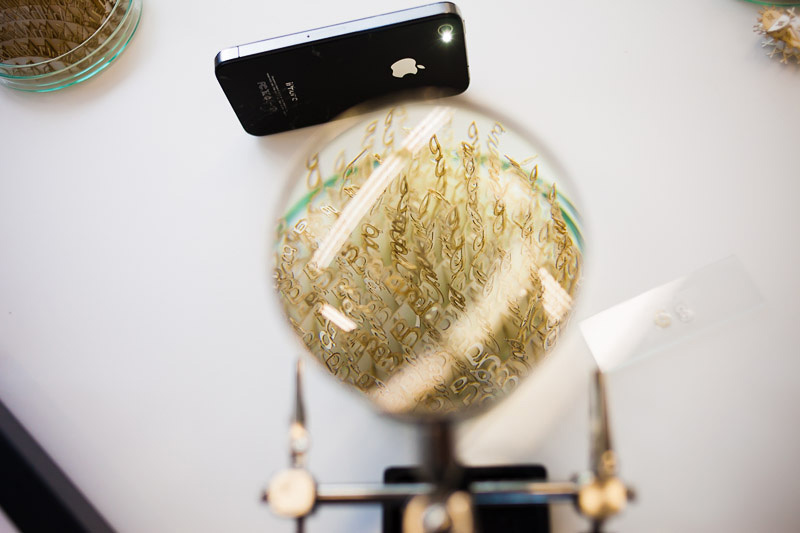 Closeup of the lasercut letters.
Chris. So here are some images i made for 2. semester photoclass, starting with some double exposures Stephan and i did (We had to each expose a roll of film, then wind it back, switch rolls and expose them again. So its pretty much pure luck what you get, but thats the challenge and fun part about it. Film was some Ilford FP4+ and we went for about -1 or -2EV for the single shots so that the exposure was pretty good in the double-exposed frames.
Human // Nature. We were also pretty lucky with the perfect overlapping alignment of the frames. I did some prints on my 30+yo Tetenal Speed grade 3 and 4 paper (24x30cm) and later scanned the prints on some huge epson flatbed (holds A3 at least, forgot the model no.) at uni. The quality is actually very good, way better than id expect. Of course, with every step you get more and more dust on the image wich is a problem (neg front and back -> neg holder double glass sides so 2x top 2x bottom side -> enlarger lens front and back -> the paper itself -> scanner). But since we had to hand in a paper portfolio and i had to do prints anyway, i decided to digitalize them instead of doing neg scans, you know, for the fun.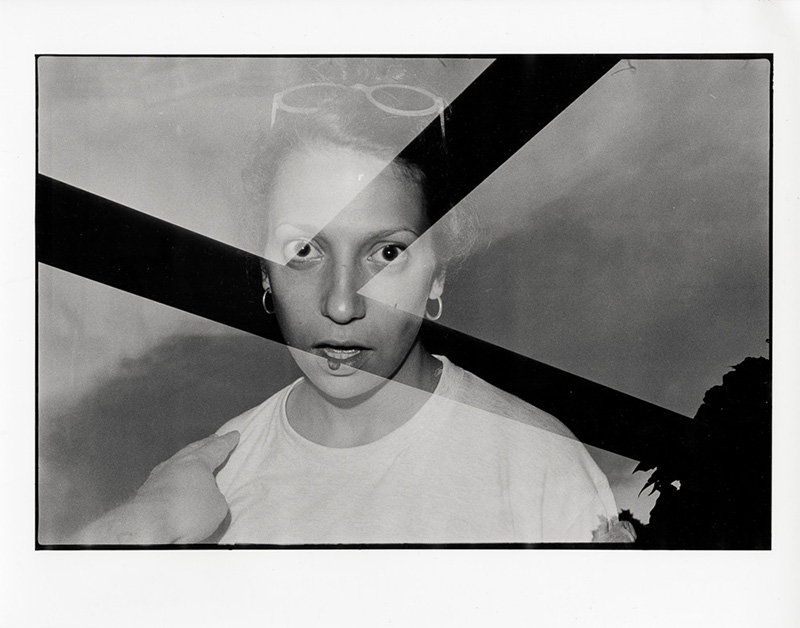 Simona
Stephan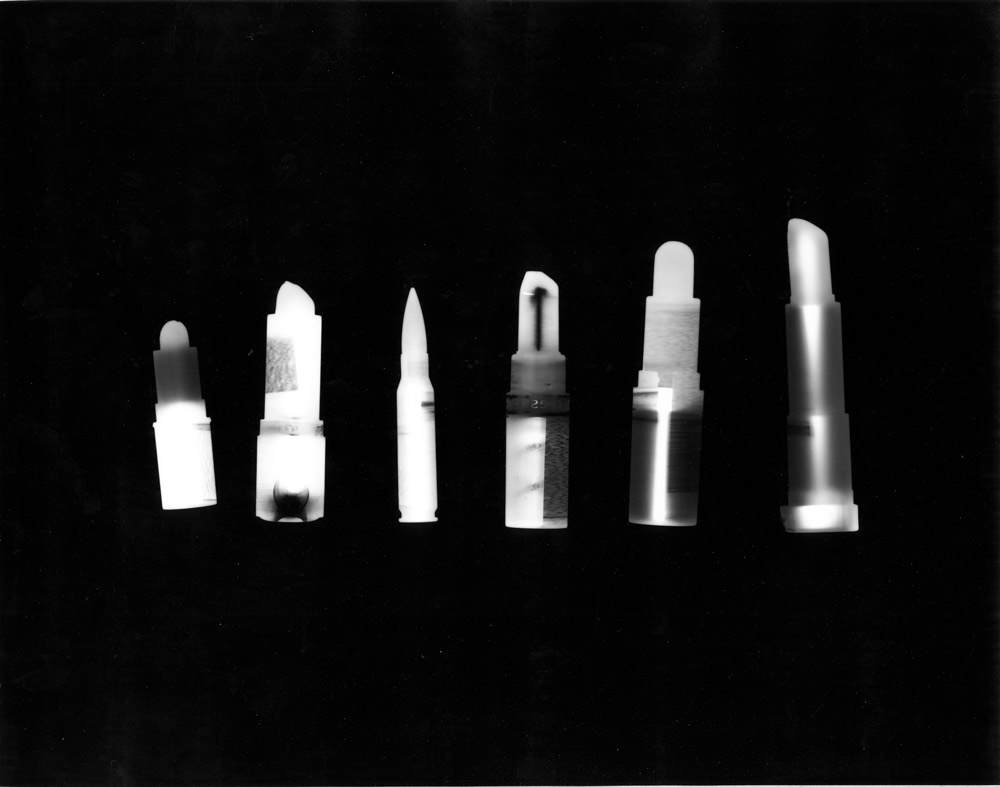 This is a photogram for the human rights topic.
And finally some of the medium format stuff. Cut-up portraits arranged back together as a new image.
Oh, here come the first frames from the new Rolleiflex. Uncle getting some presents. Film was TMY in Xtol.
My sister.
Getting used to TLR again. I really really would like to try a prism finder on this, but they are ridiculously expensive.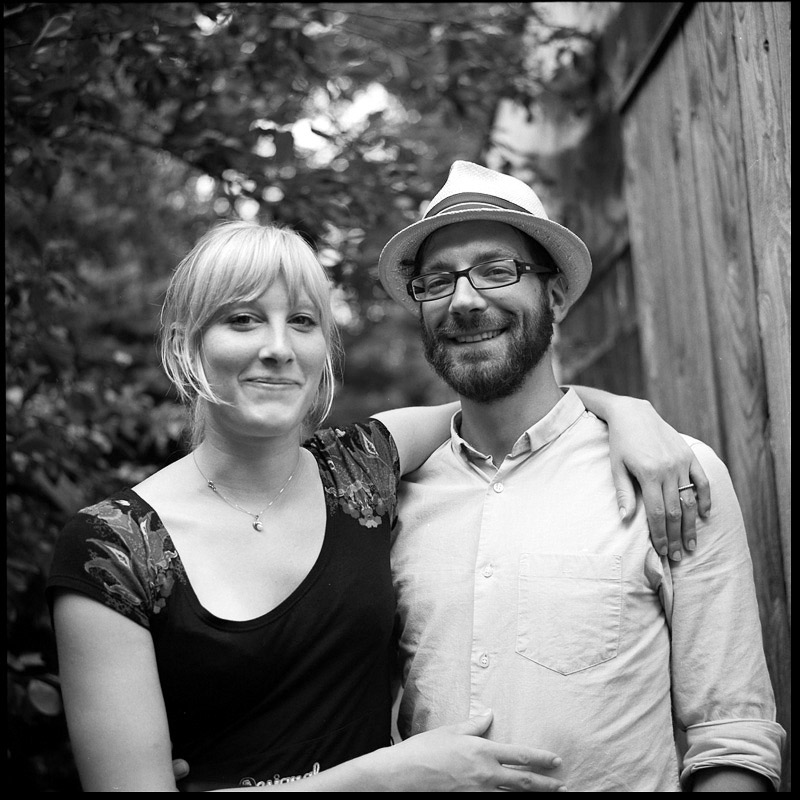 Andrea, my other sister, and Boerge. They just got engaged.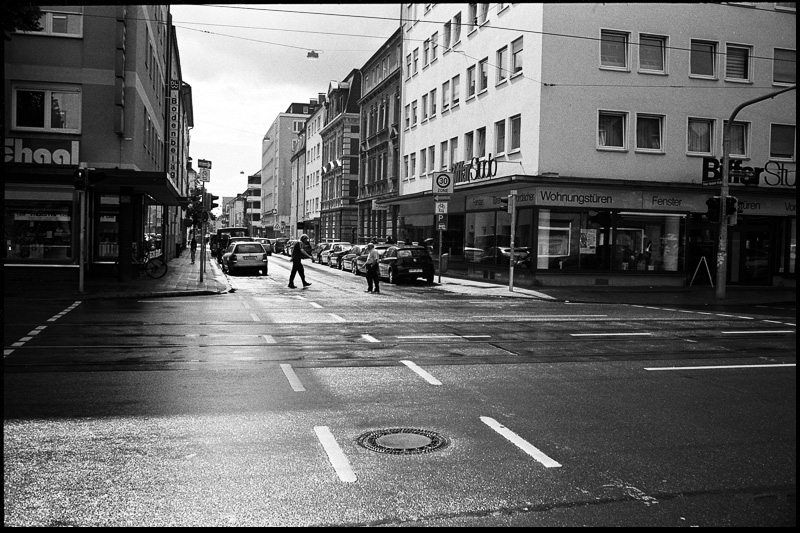 Streets.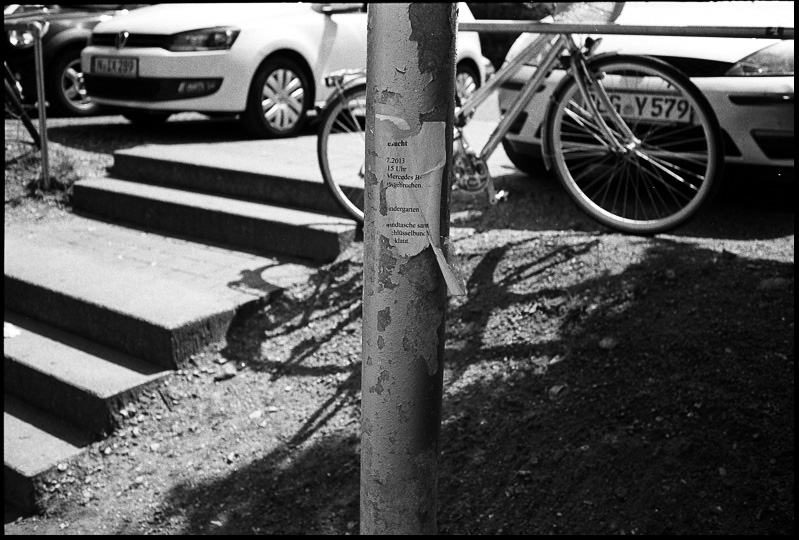 Erosion. I put some cheap APX 100 in the Hexar AF. I was not sure whether its and old or new version of the film. Old one is said to be better. So actually, the new one alway has "New Emulsion" printed on the carton and the back says "Made in E.U", whereas the old on says "Made in Germany". Also, the font on the film itself is serif on the old film vs. sans-serif on the new version. Just so you know. Anyway, i developed this in Rodinal 1+25. I find that lower dilutions show more grain but also more tonality. And hey, grain is not a real problem with most ISO 100 films.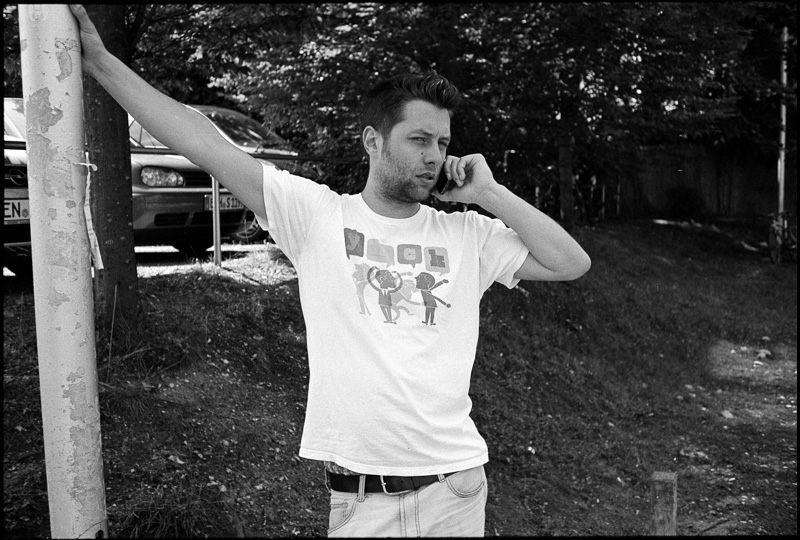 Lenny on the phone. We prepared another barbecue at campus. Tones are sick in these frames, almost like al Delta 100.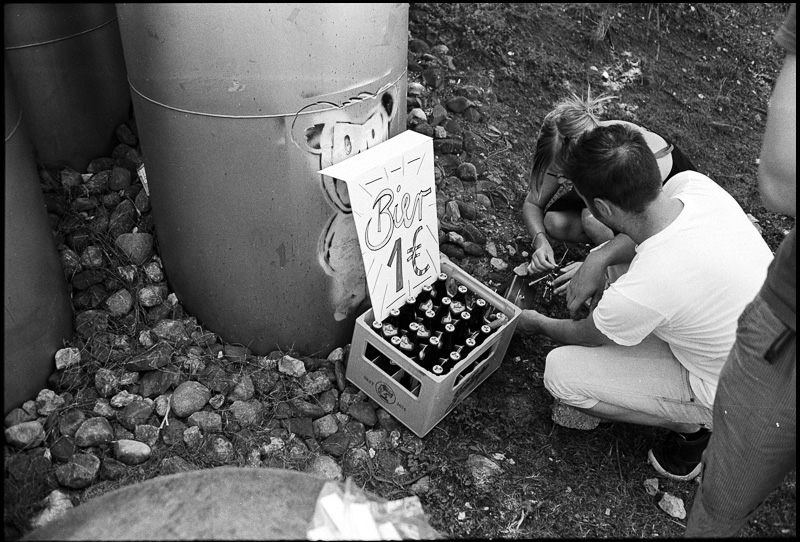 Teamin up.
Had some initial troubles with the veggie grill (we ran out of charcoal).
Student council bosses supervising the event. Faggets 🙂
Sonja with nice glasses.
He preferred fish.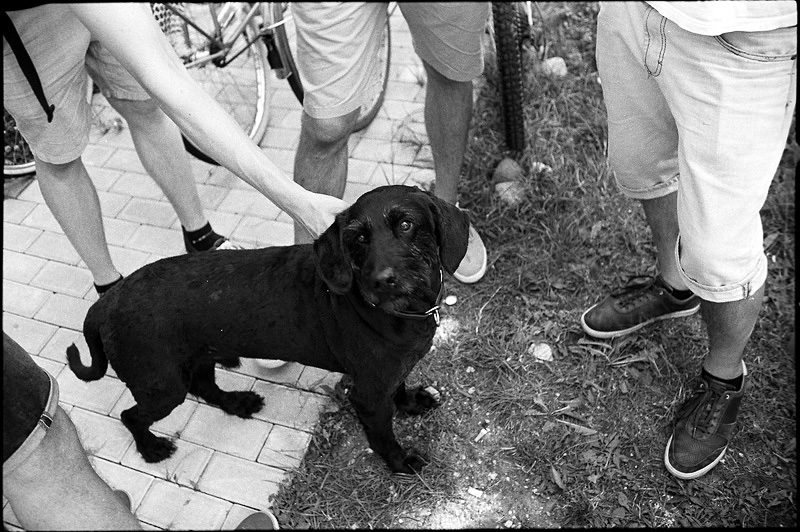 Then this dog joined us. I guess he belongs to a student but i was never really sure. Nice fellow though.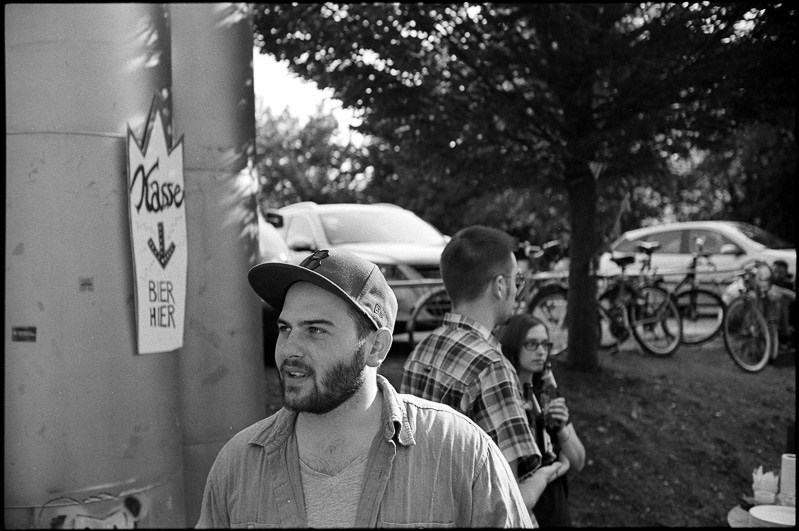 Beppo in all his beauty.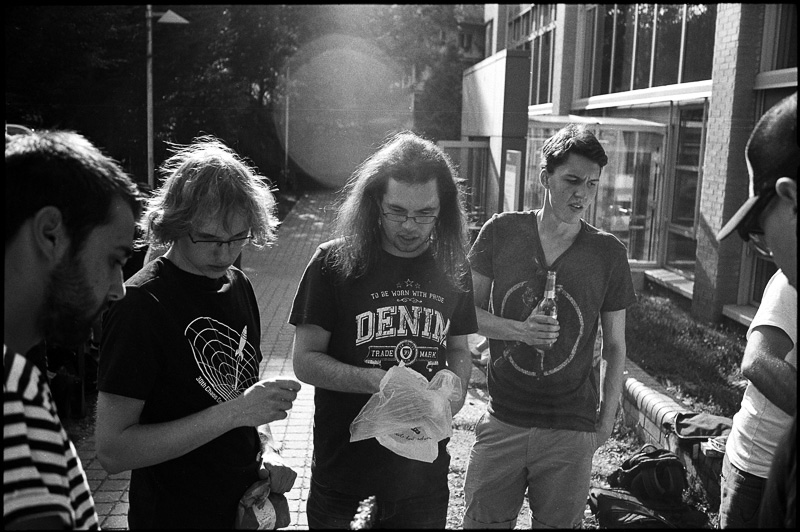 Hair and flare.
Michi and his nice Rollei 35. Out of nowhere, the meter started working again. Michi was happy like a little child and started taking frames. But then the meter was dead again. Sucks. Contact wires i guess.
Enjoying some grilled corn.
What is left from the Type2 exhibition.
Dang, i ran out of Xtol. So i went through my photo stuff drawer which holds all kinds of spare parts, accessoires and other crap and found a pack of Ilford ID-11 which basically is Kodak D76. Yay! Oh yeah, and some Agfa Isopan from the 40s O_o
Empty tuna can on the street.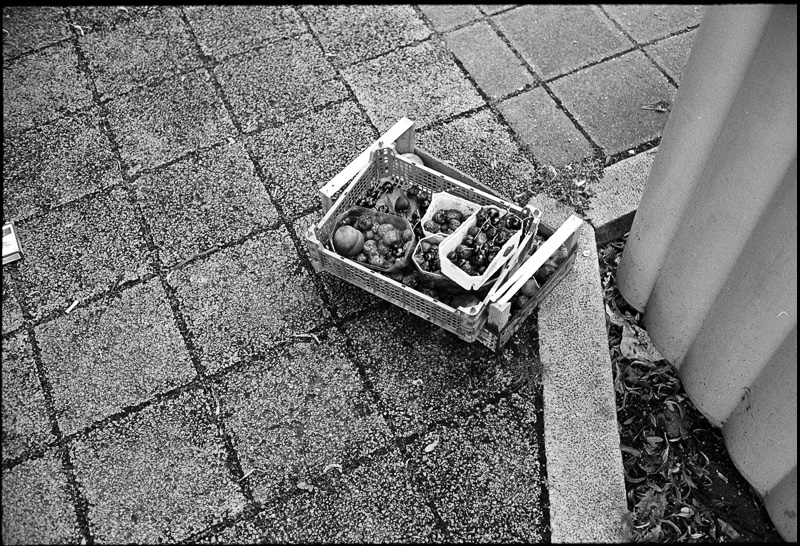 Somebody threw away a box full of fruits. Wtf.
Lucky charm on a car window.
Religion stuff.
A random still.
Somethings not right with that Porsche.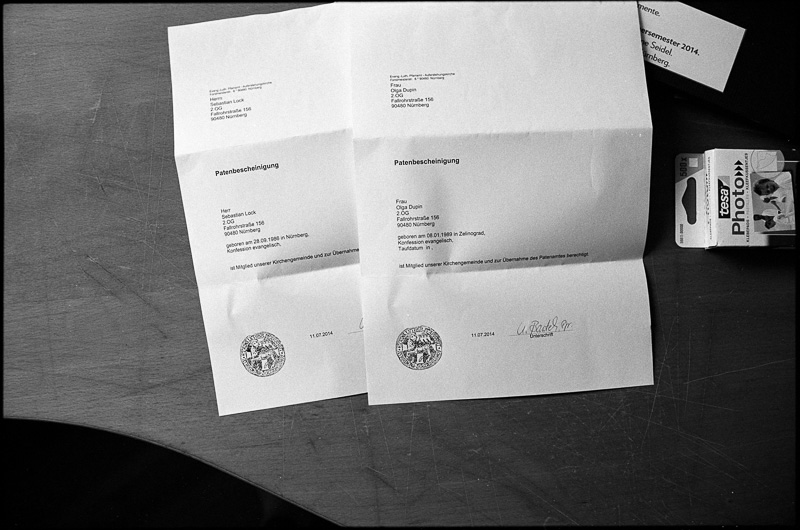 Our godparent certifications for little Mikes baptism. We had to get them from our local church to be able to become godparents. Yep, thats Germany. Thanks for looking!