Hello folks. Time flies and so this post is about both some older stuff from summer and some recent things from the current semester. Hannover, District Ride, family time, new friends, workshop, some sunny days on Island Rügen, artsy fartsy designers stuff. Have fun looking through this one!
Side note: Although the comments section does not give it away, i keep getting more and more feedback on the blog. Not only from photo people but also from friends and strangers i did not think would be interested in this kind of photography. This makes me very proud and encouraged about the whole "project". I sure do all that for myself to a large part, but its cool that actually other people are interested in this too.
Its a lot of work from shooting to publishing a finished blog post: about 10-12 rolls of film to develop (which makes about 20-30 pics per roll that are published here), 400 frames to scan and catalogue, tag and post process, about 200 to upload, import in the blog and about 150 captions to write. Since im kind of diligently about this stuff, it takes about 1-2 months for me to complete a post (shooting the actual images – the most important part of course – not included). So if there are at least a few others besides me who like this stuff, than it makes this all feel worth it. Thanks a lot for that.
[audiotube id="7peYopadvoA" time="no"]
Olga "copying" some pages.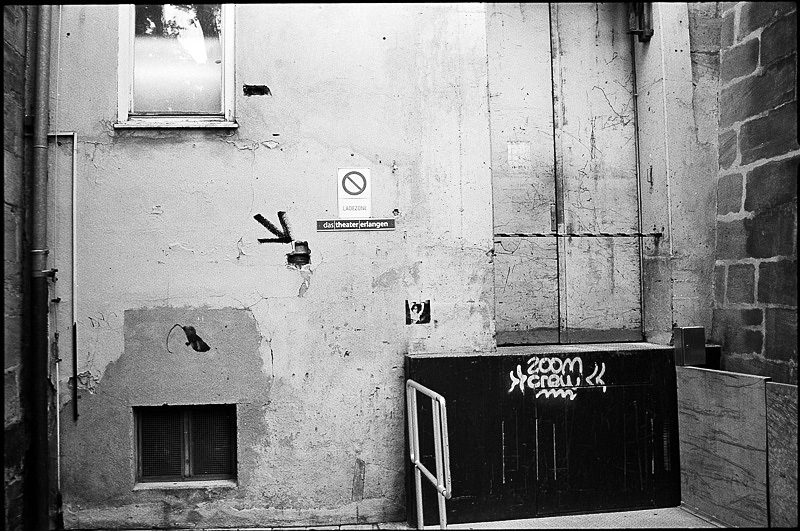 Erlangen, Orangerie hall, that grand piano makes a nice still.
Gettin some vitamins!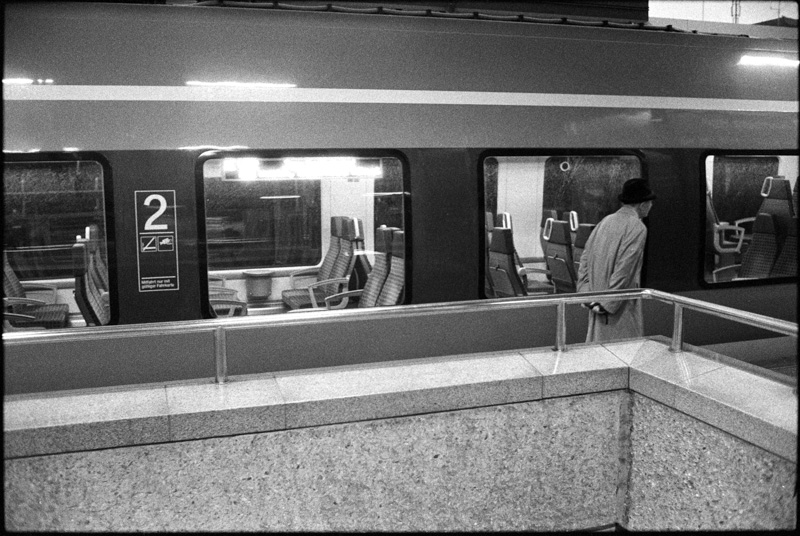 Next (early) morning, around 6am at the train station. Stephan and i drove up to Hannover to check out the department for Photojournalism. The department hosts a portfolio review meet once a month so we thought why not get some fresh air? Oh and dont wonder, i shot some trix with the hexar (above) and some Ilford Delta 3200 with the Leica M6 (these three frames).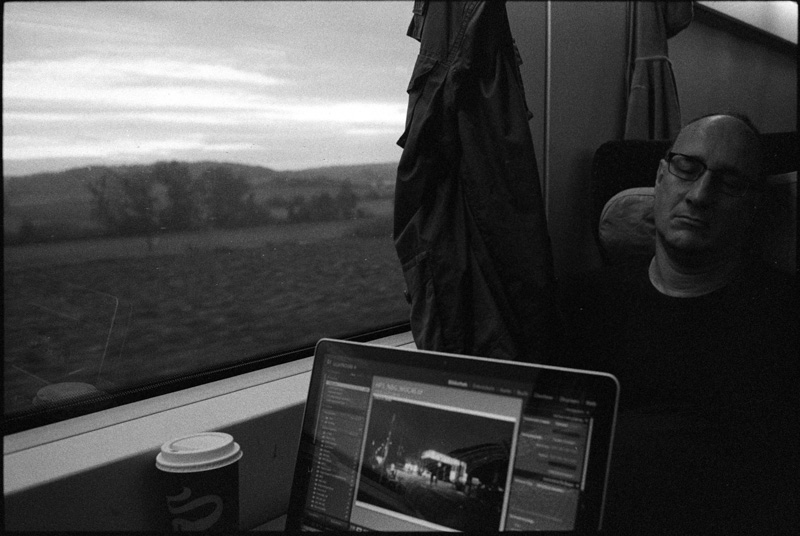 Early morning in the ICE, talking photo stuff and arranging series of pics to show at the meeting.
Beautiful middle Germany. You dont usually get so see such landscapes when going by car or bus.
Welcome to Hannover.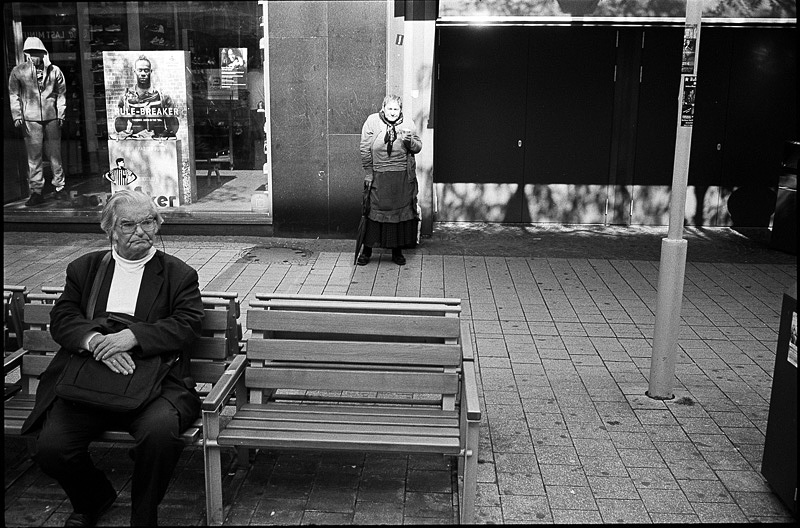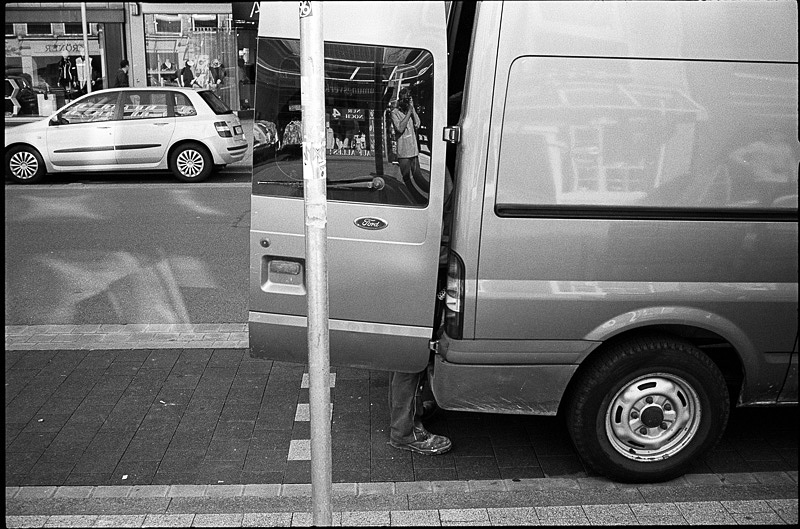 Found some nice stores.
Fuck the police!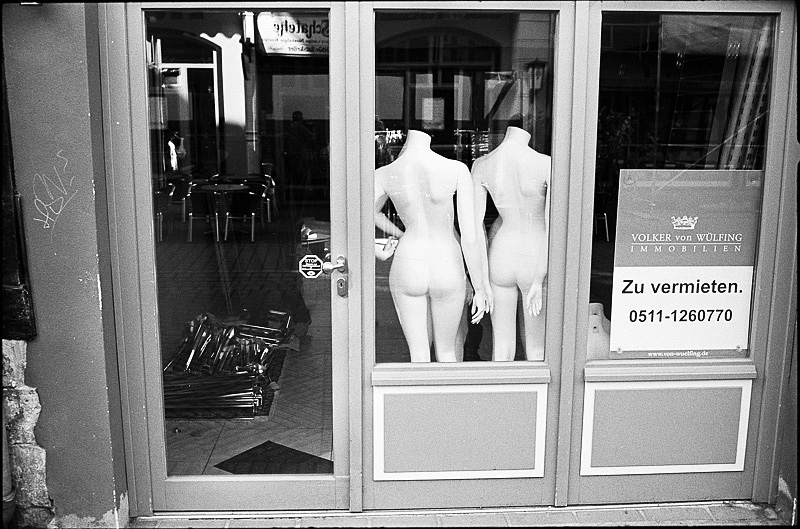 A store getting redecorated.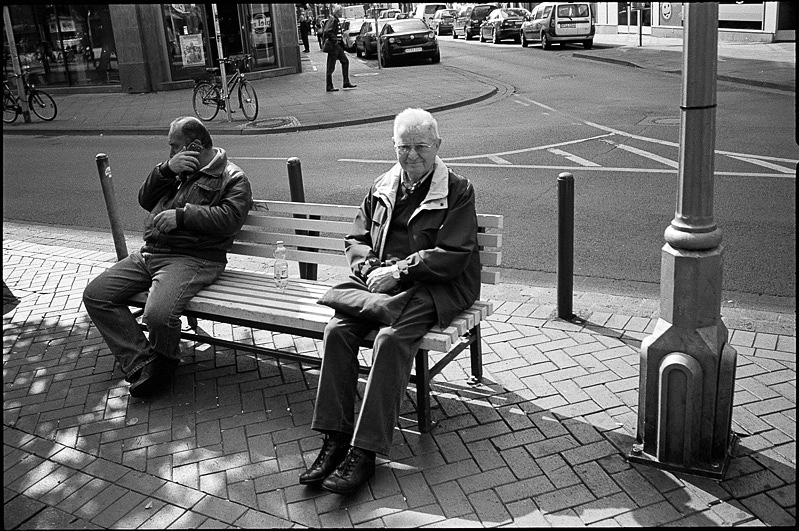 Looking right…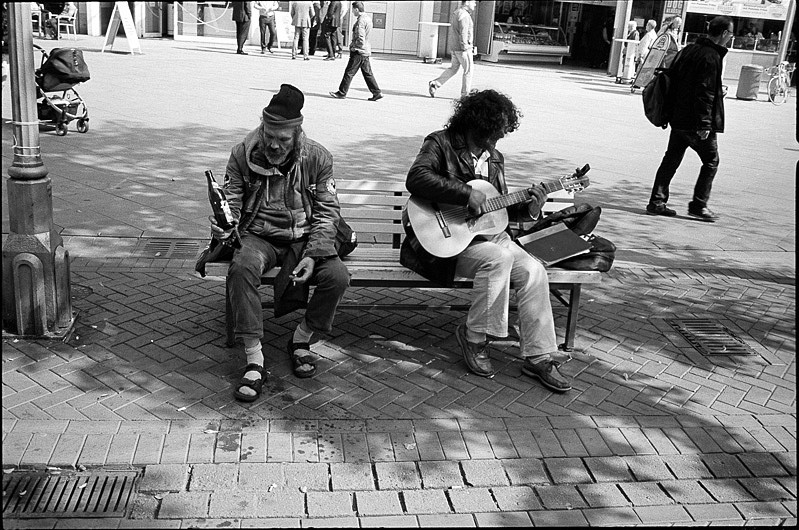 …looking left.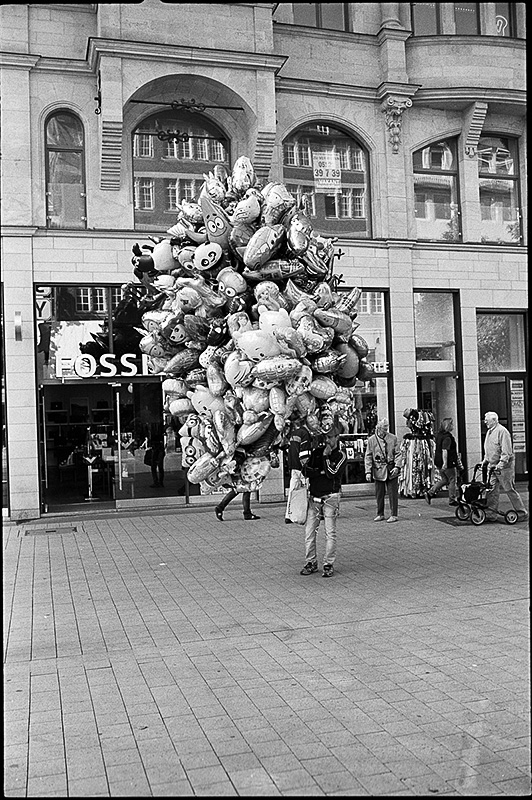 Some nice architecture too.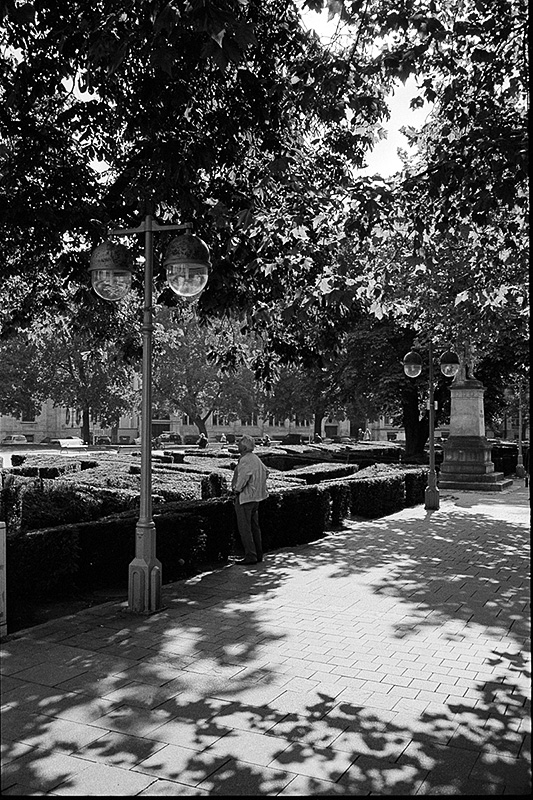 And parks and stuff.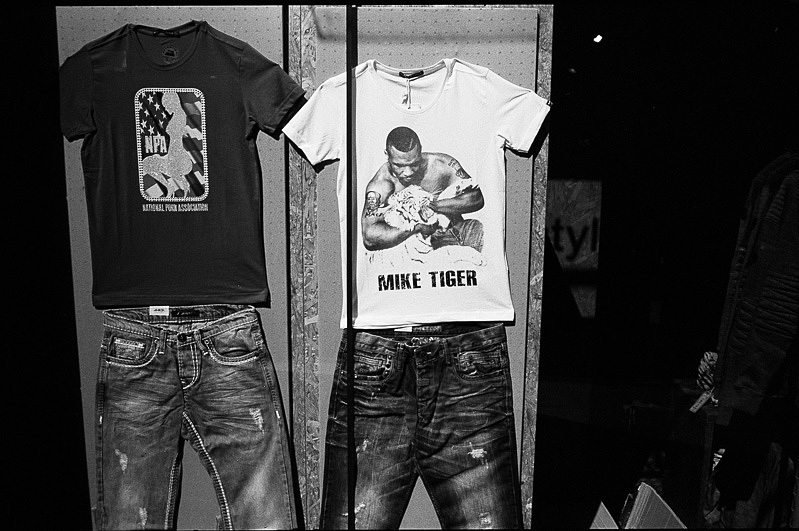 I couldnt decide which one of those shirts to get.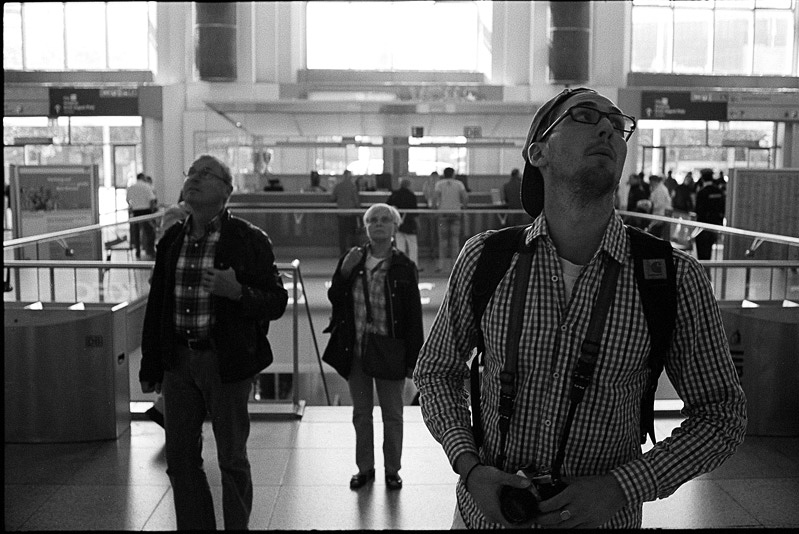 Back at the train station.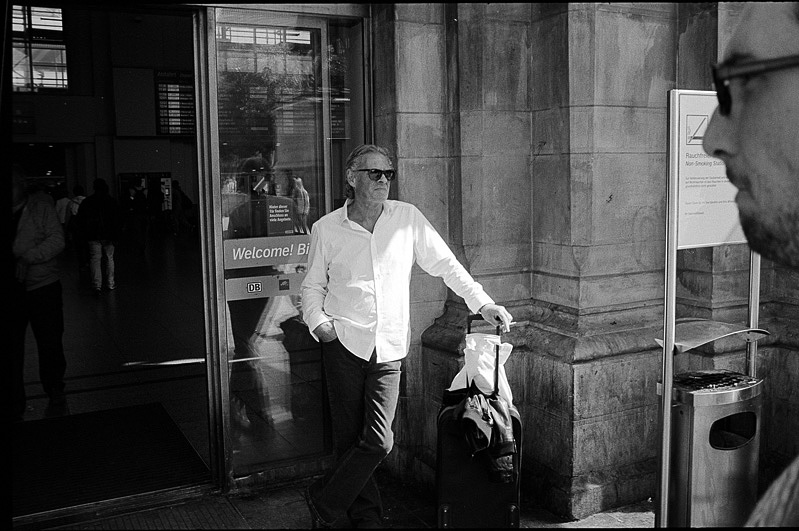 Funny dog in the metro to the Expo area where the University is located.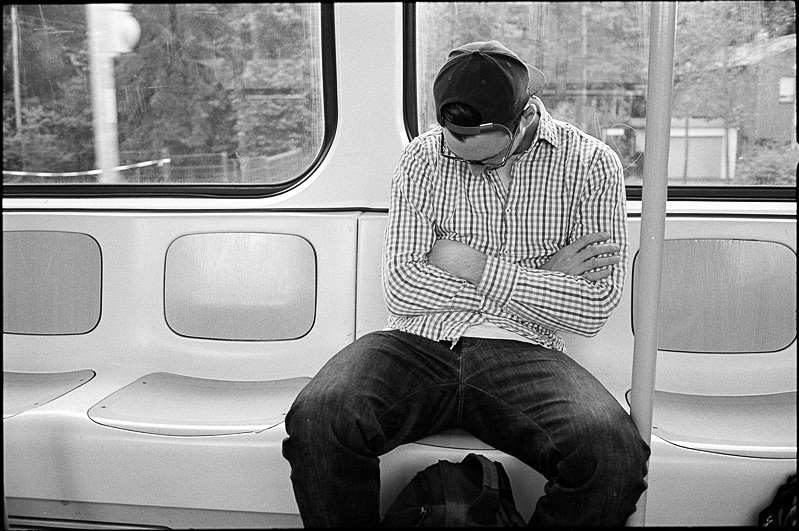 Power nap! Well its a 20 minute ride…
Next roll of trix. So this is the Expo district, pretty surreal.
What a building.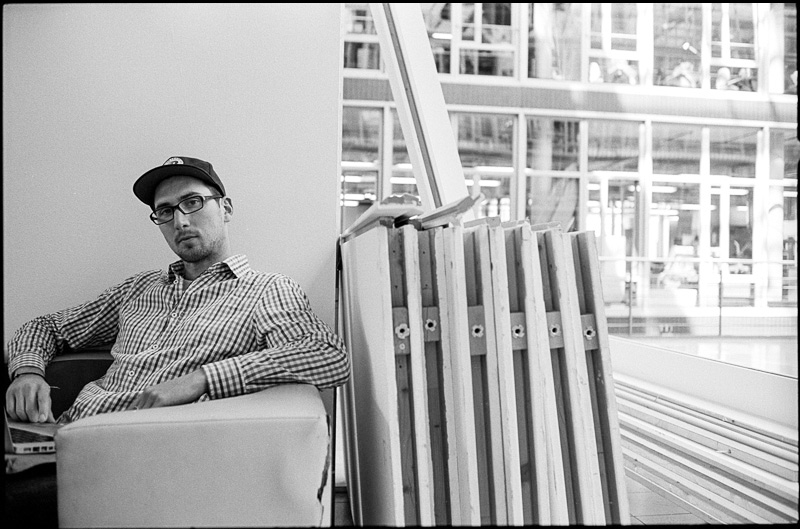 Checking the portfolio last minute.
So about 12 attendants came to get an insight on the course of studies and to get their portfolio reviewed by one of the professors.
I think it is actually quite a big step to "present" your work to other people and to pros in a discreet surrounding like this. Its one thing to just hang some prints on the wall for an exhibition and then walk away, but a totally different thing to actually "show" your personal work to a small group of people and to speak freely about your intention. We saw some really interesting stuff and got great feedback from prof. Bauernschmitt about our own works.
Sometimes you just push the shutter.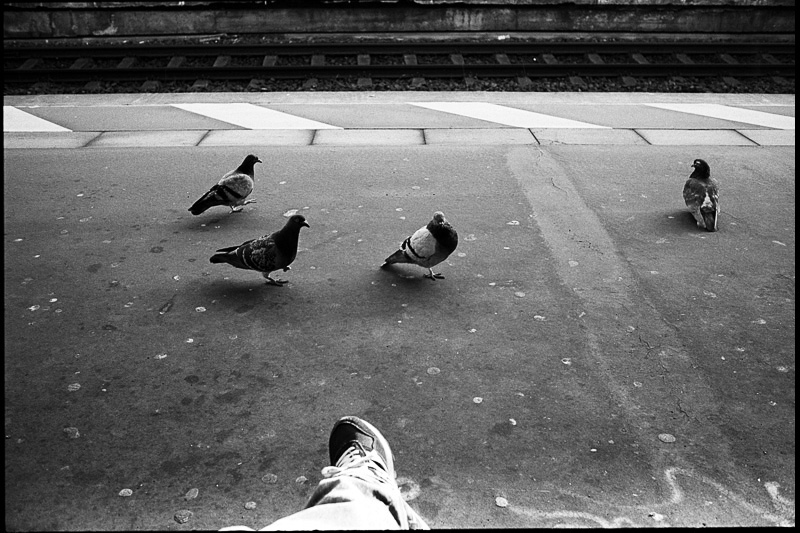 Waiting for the train back home.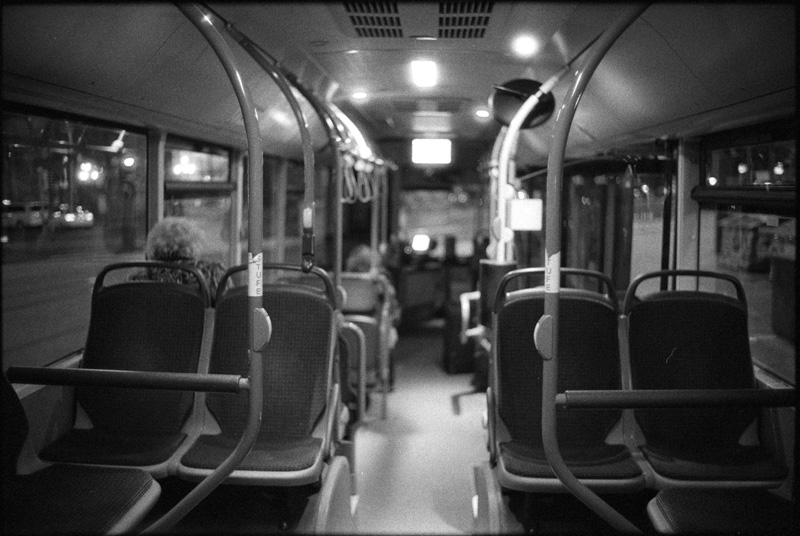 I took the bus back home at 11pm. That was one long day…
Back home at work. Not mine, phew.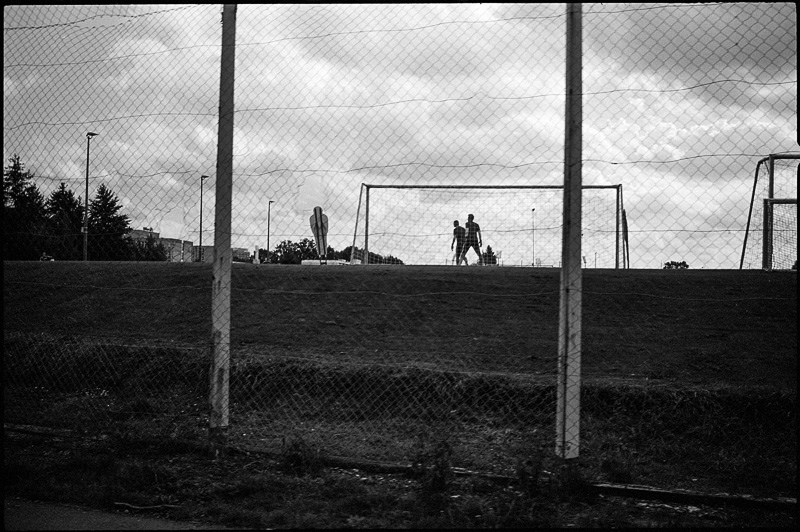 Came across this scene on my bike, saw the soccer players and took a shot. Looking at the scan neg now i like the position of the hole and the graphical shapes of the players. But theres no deeper meaning or something, at least not intended.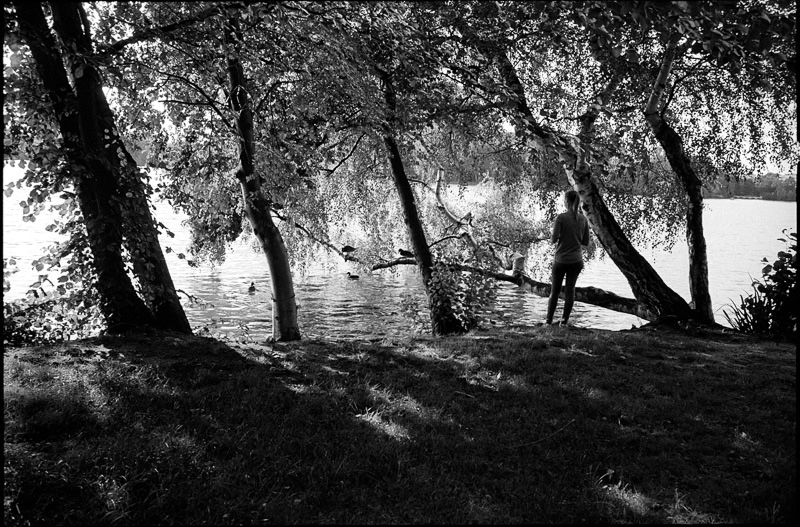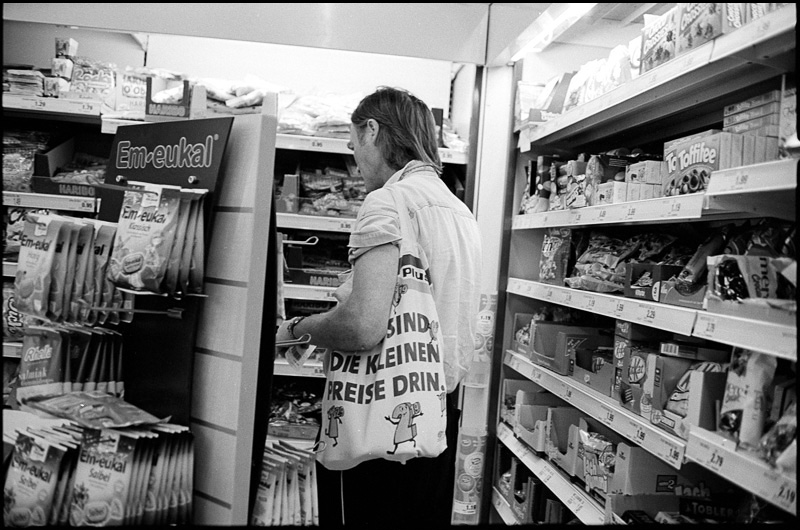 Guy with a nice bag.
Ok, Hannover. Photojournalism and documentary photography studies at the probably highest level in Germany. Great people, very very professional atmosphere, its pure gold and the place to be if you want to pursuit "pure" photojournalism. But no artsy stuff, no conceptual stuff. Hum. Maybe i will send in an application portfolio. We'll see. But it feels like we will visit Berlin in the next months or maybe next year, so, yeah, we'll see.
Shooting some apx in the city. Red Bull district ride 2014 coming up. They finished working on the course on friday which leads from the castl right through the old town down to the marketplace.
He obviously didnt give a crap. Pretty drunk more likely.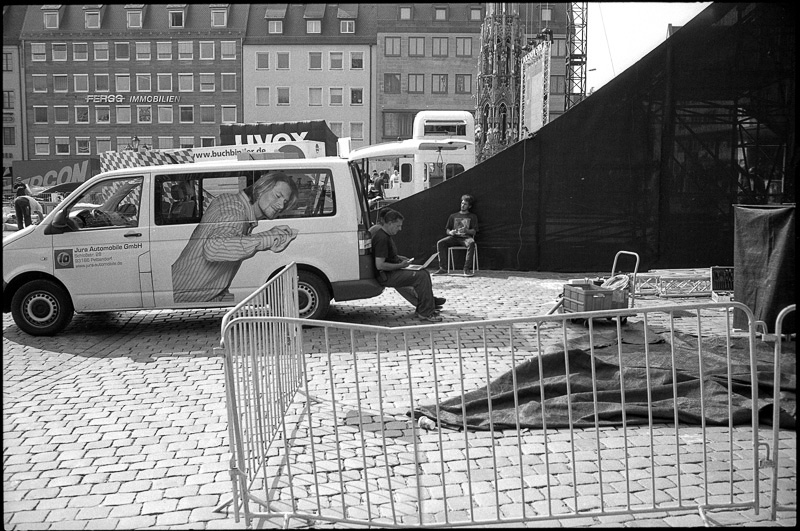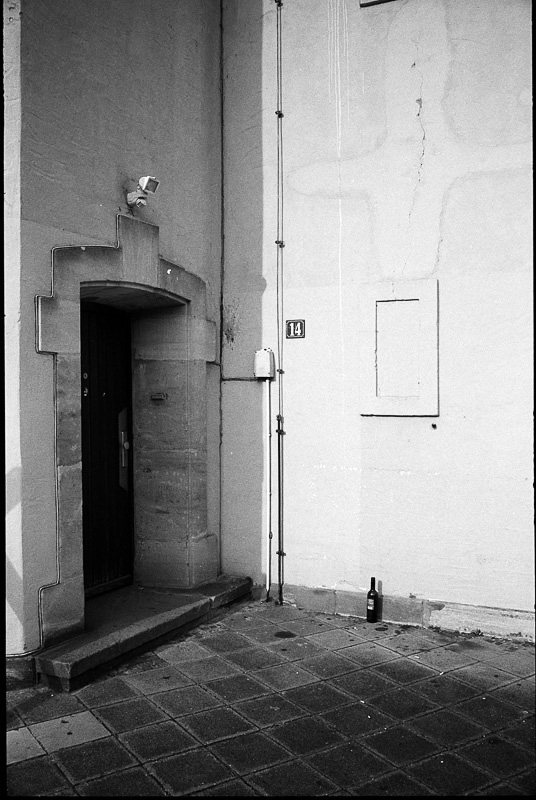 A lonely wine bottle.
The next day during some qualifying heat. Amateur and pro capturing the run.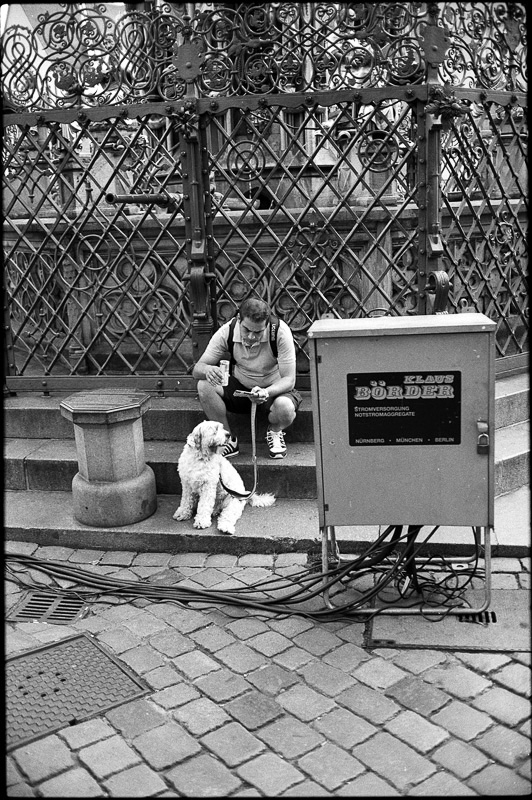 The place was actually crowded to the max with crazy riders dropping insane 20m jumps across the marketplace when this crew guy was more like "eh…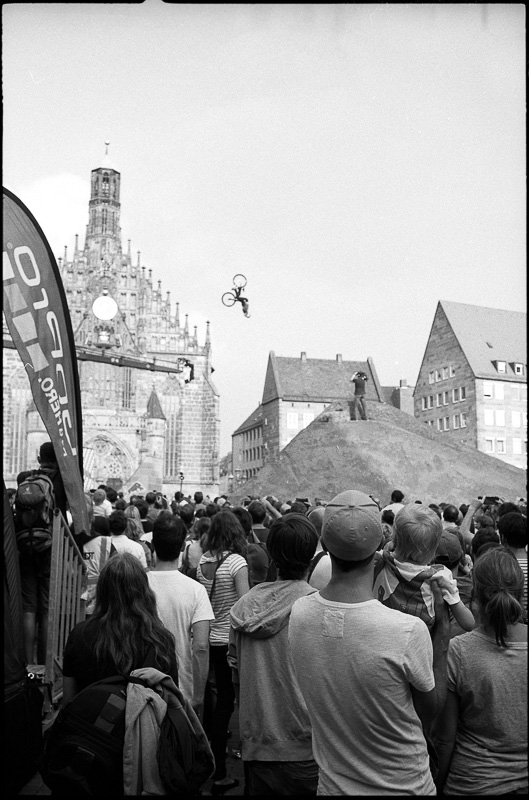 Father and son watching the show.
People everywhere.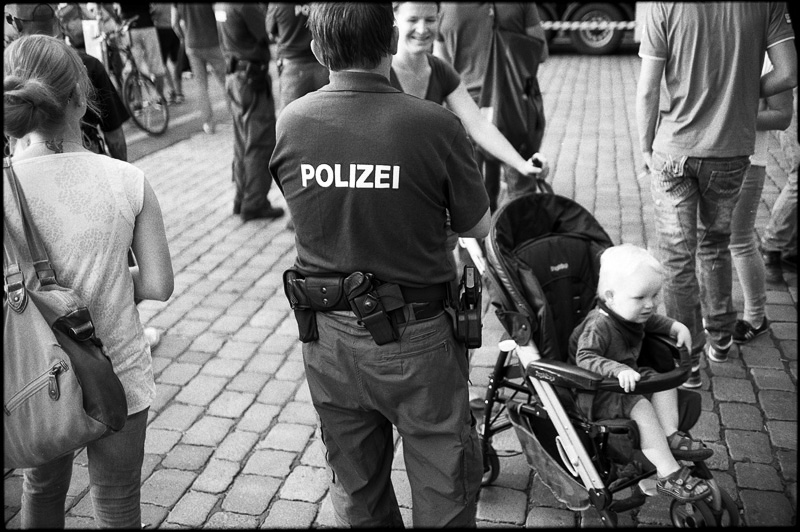 And of course police.
yeah…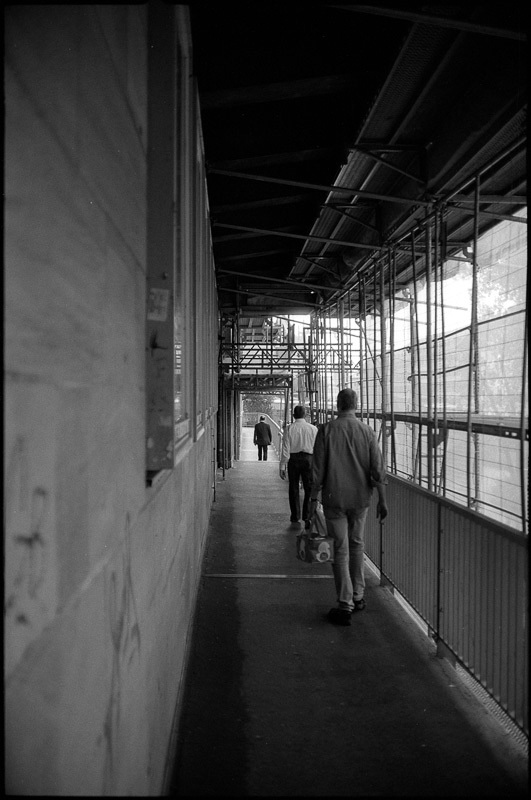 I got bored and decided to leave the center area and walked around. Those 3 random guys crossed my way. I turned around since the scene is very nice with all the construction framworks and took a shot. Could have turned out better, but also worse.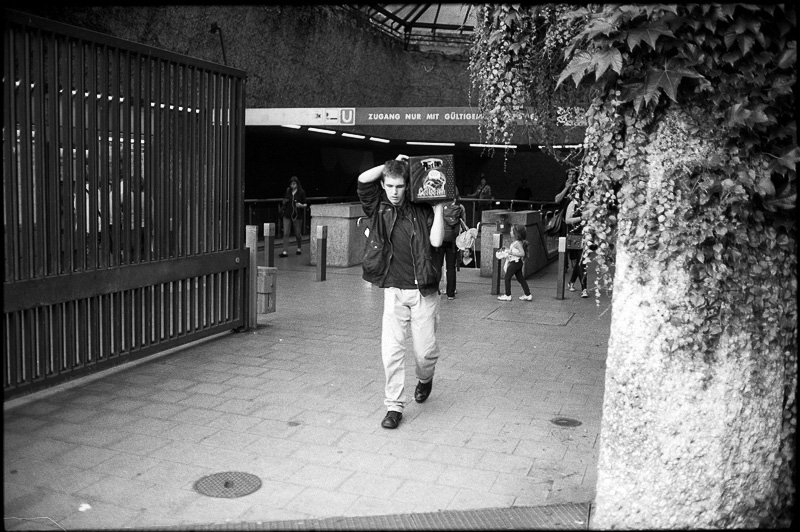 Some guys from a big band. This is a roll of Kodak Tri-X, developed in Caffenol stand dev for about an hour. Added some agitation since i used to have problems with uneven development some time before.
Paramedics taking a break.
Met Chris inside another crowd.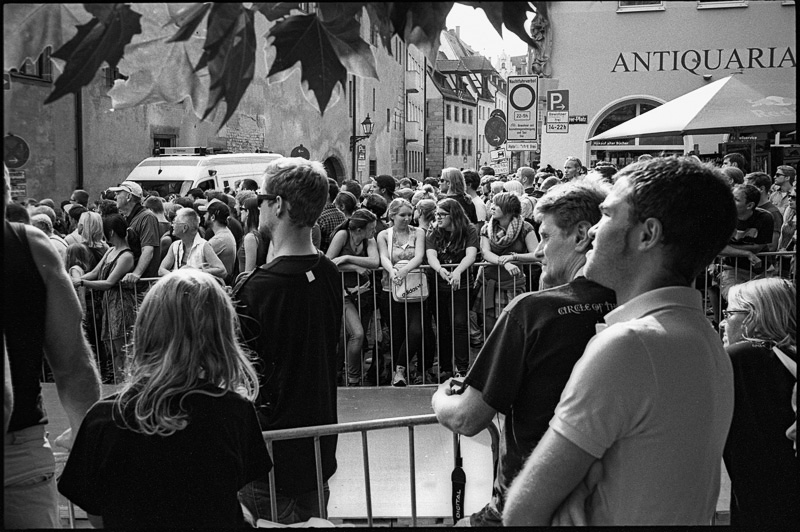 Front row.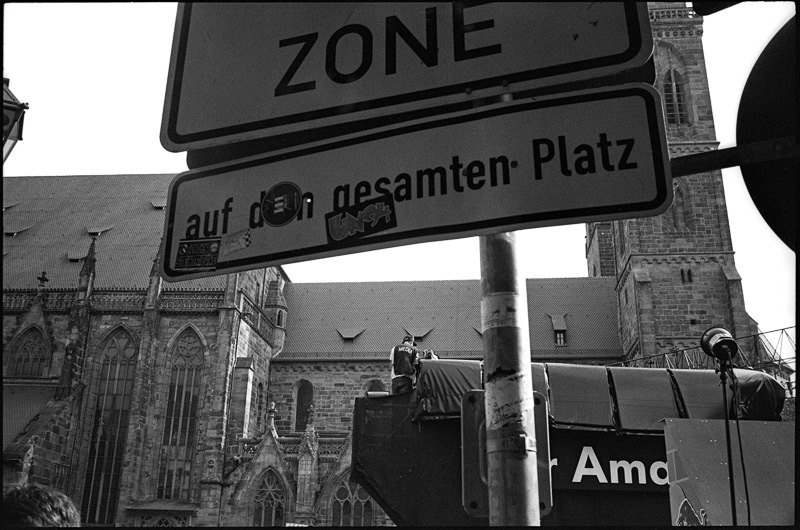 Somebody lost their sunglasses
Future Bayern München star.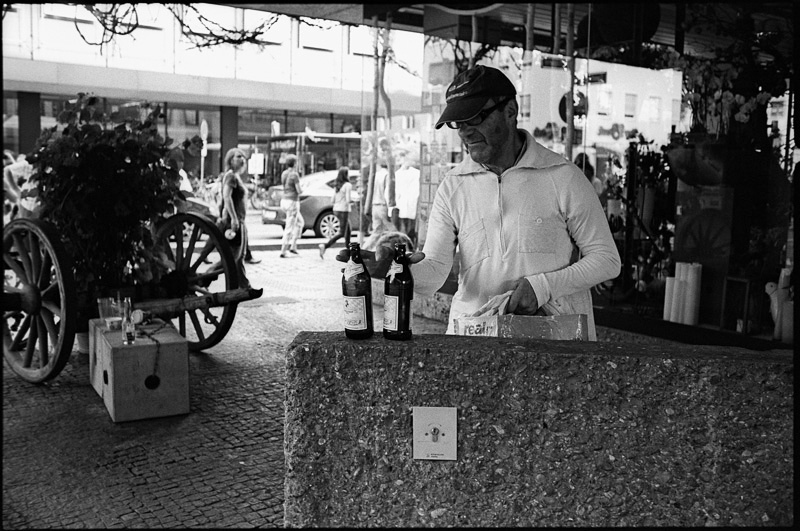 This was planned as a still when the guy just hopped into the frame and grabbed the bottles. This weekend must have been a paradise for bottle pickers.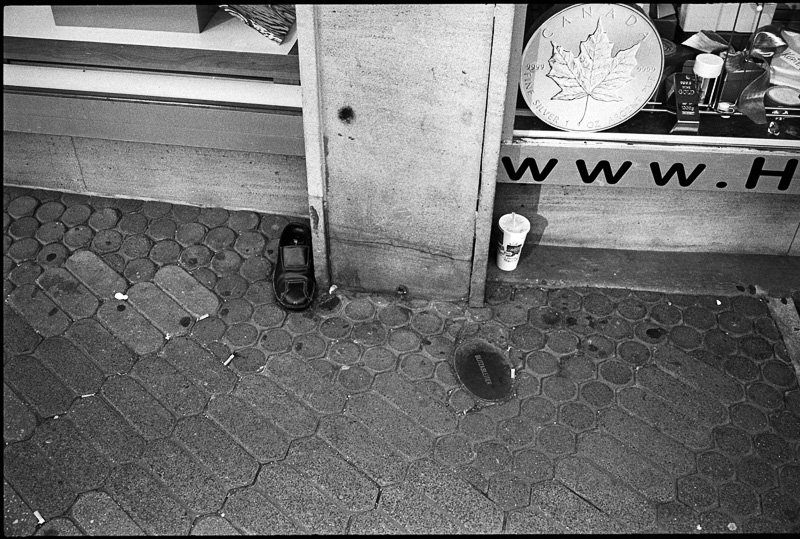 I wonder how that happened.
Getting a better view.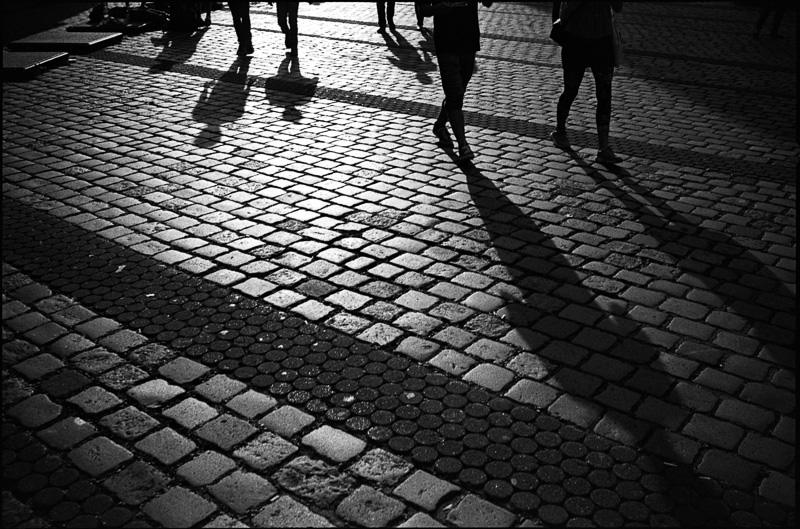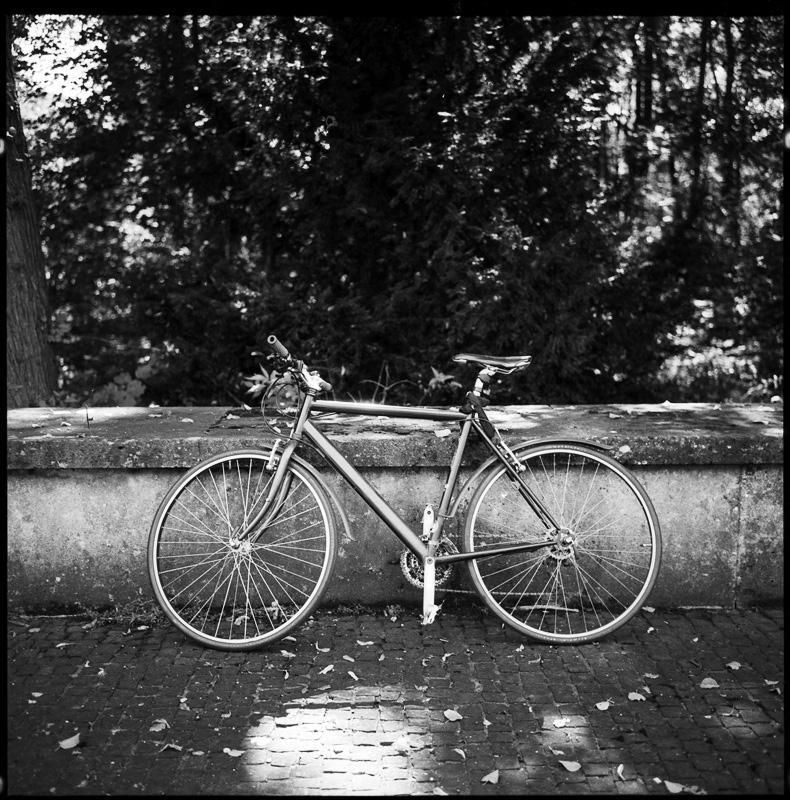 Beautiful weather, perfect for riding the bike. Shot some random stuff with the Rolleiflex 3.5F, a roll of beautiful Efke 25. It has been discontinued some time ago, so maybe this was my very last roll of it? Kinda sad.
Bus stop at the tech college.
Catching the last warm sunrays of the day.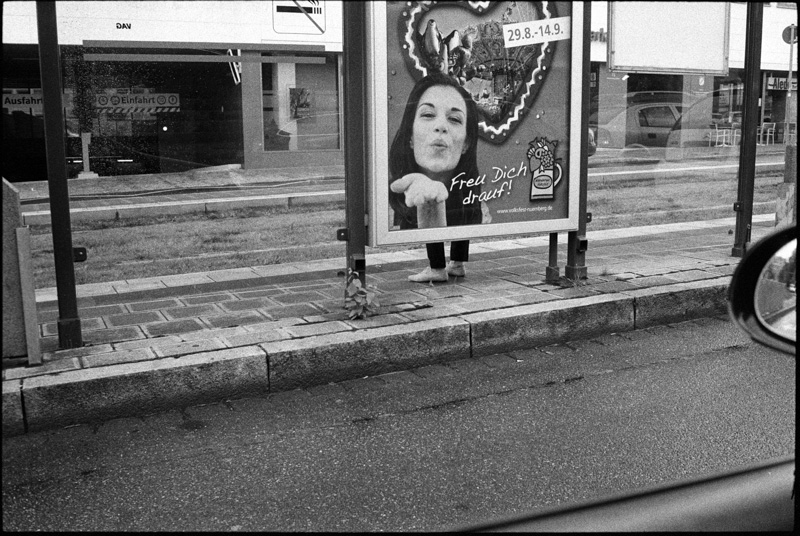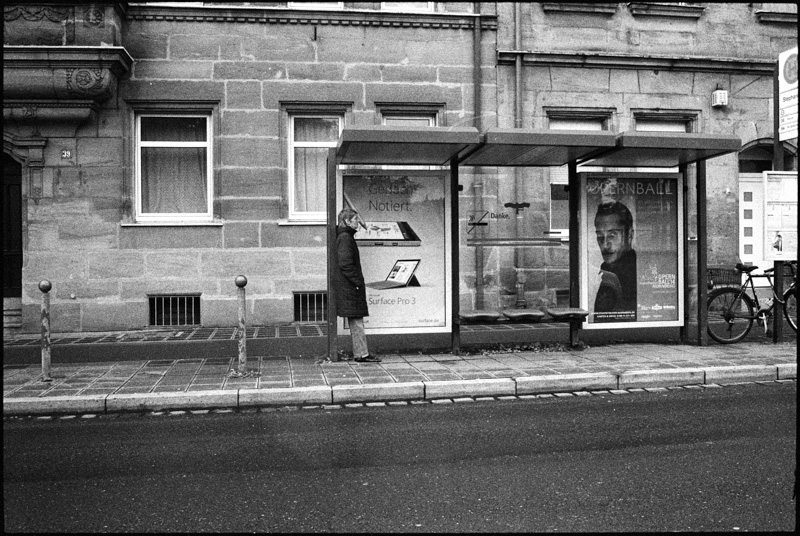 From the car.
Family lunch.
The Delta 3200 looks really good here. Also printed wonderfully on 24×30.
Fabis place.
Lots of remains from former generations. Mostly non-photogenic stuff but this little detail i had to capture.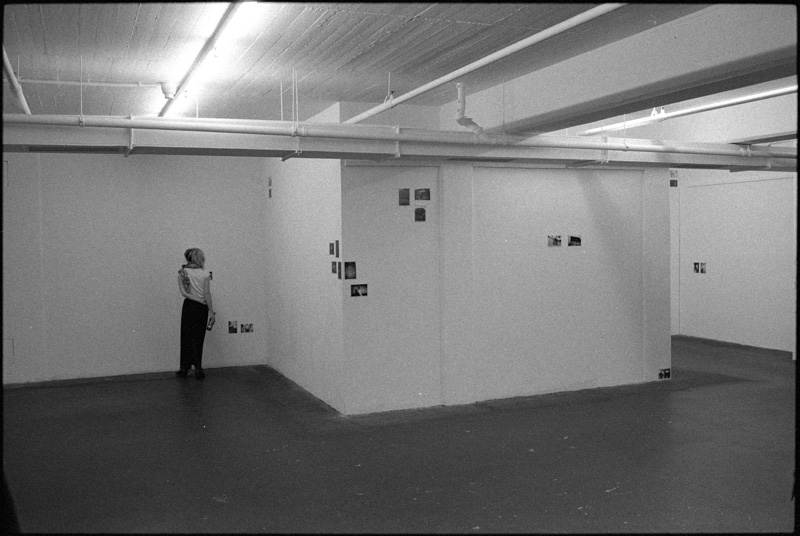 At the Vernissage of Kathas + 2 friends of hers exhibition. Interesting arrangement.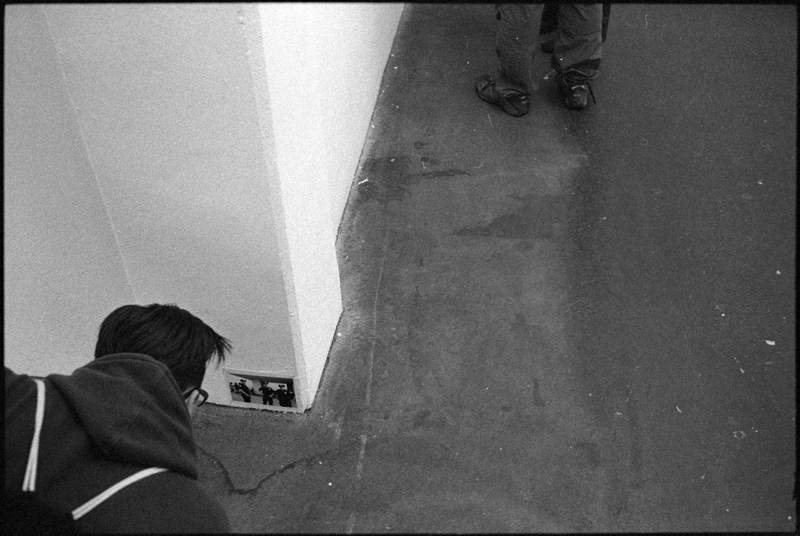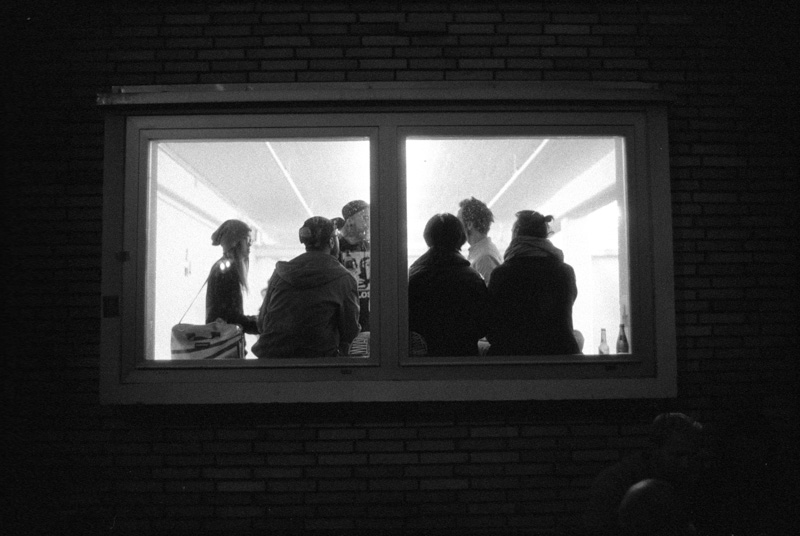 View from outside. End of roll. My opinion on the Delta 3200: Great for some special frames where you want that kind of "mood" or "character". Other than that, its an ass-ugly film. Correctly pushed Tri-X beats it hands-down.
Two frames from a random roll of tri.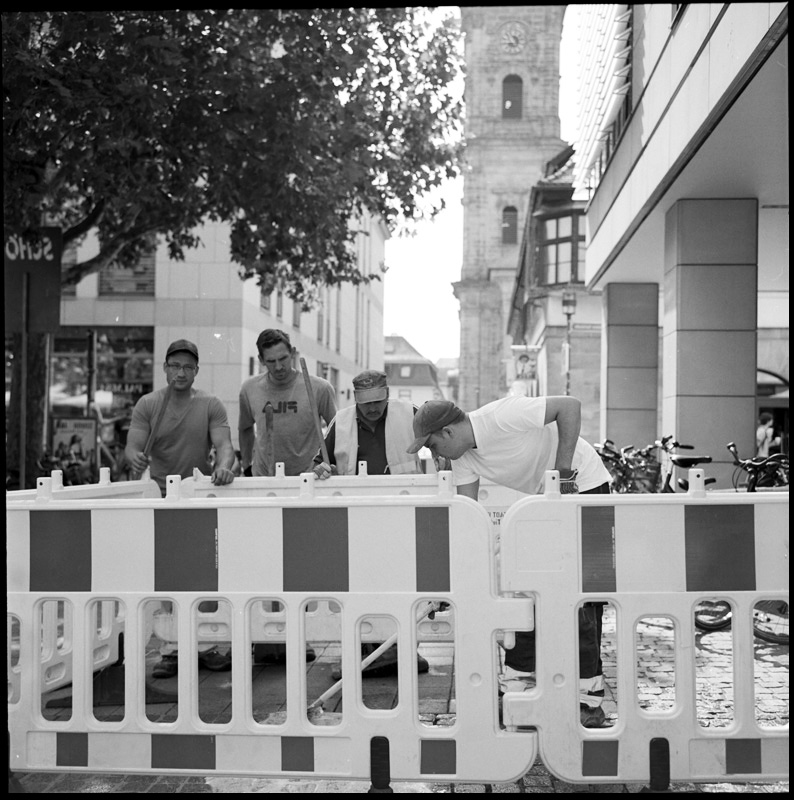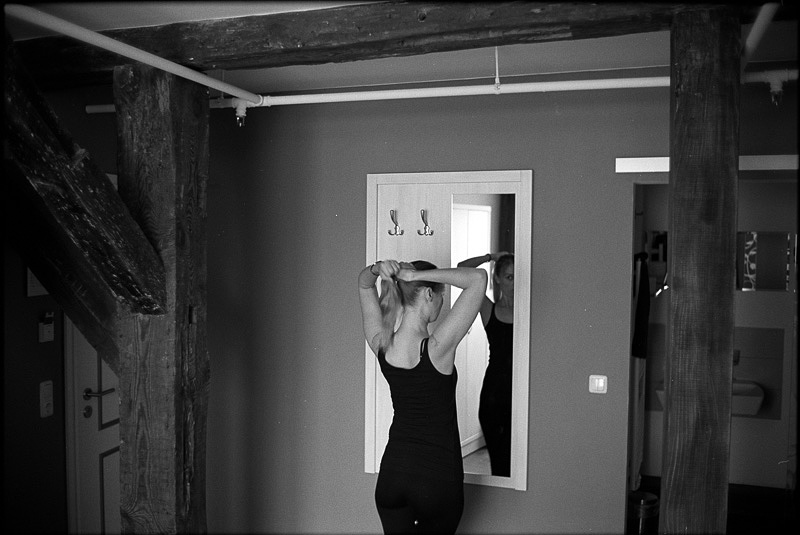 Yeah, we've not been travelling much this year, so we decided to spend at least one weekend at some place nice. We drove all the way up to the island of Rügen.
Walking around, shooting some TMax 400.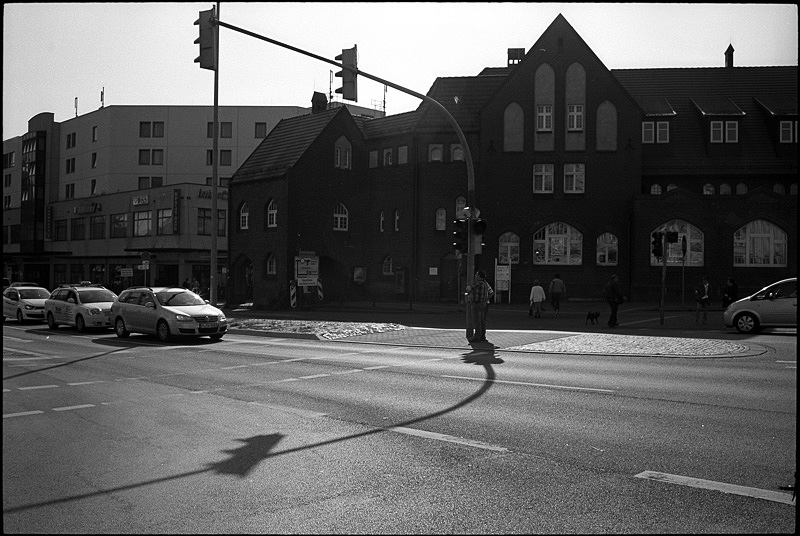 Visiting the sea museum. Nice light in this one. The museum is set inside an old church. Beautiful idea.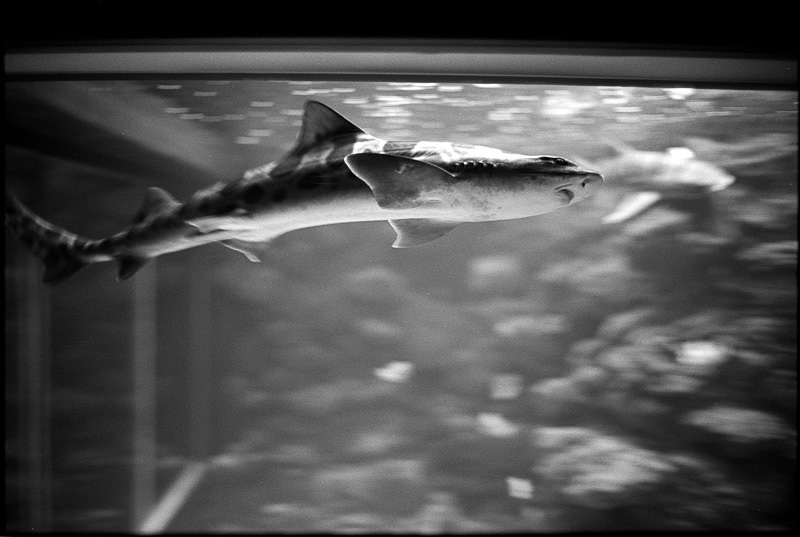 I know. Boring. But how often do you pan a shark?
Walking towards the harbour area museum.
Oh yeah, the museums were in Stralsund actually. In the very back you can see the long bridge to the Island.
silhouettes in the dark. Like 1/8th dark.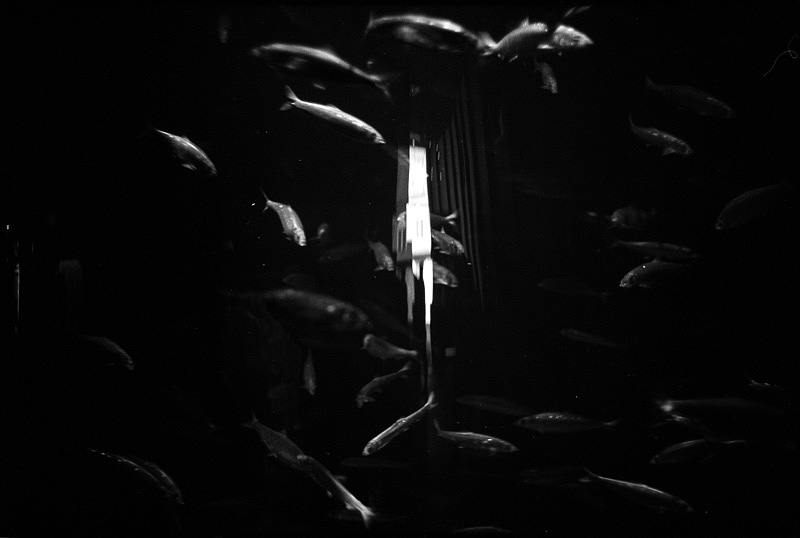 Dunno, some fishy thing.
Kids watching a diver feeding a little shark.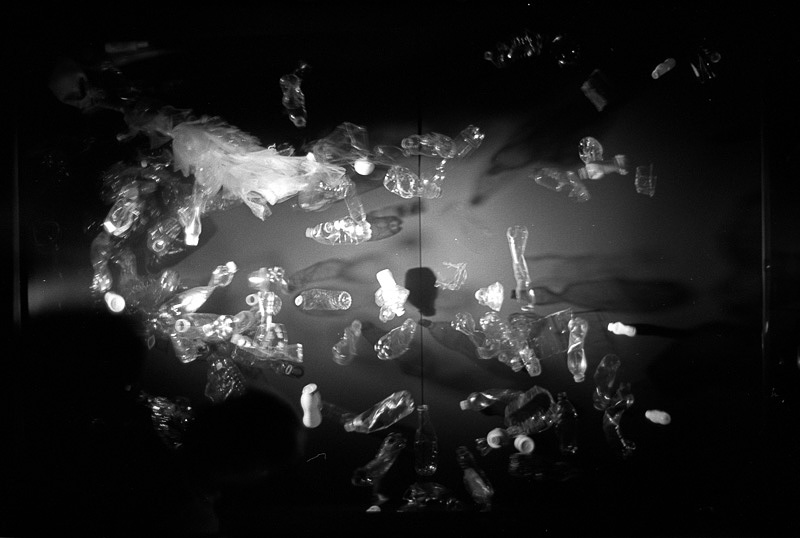 marine pollution awareness installation. Very nice.
Architecture is not my cup of tea actually, but this one i like. Actually i like the people in front more 🙂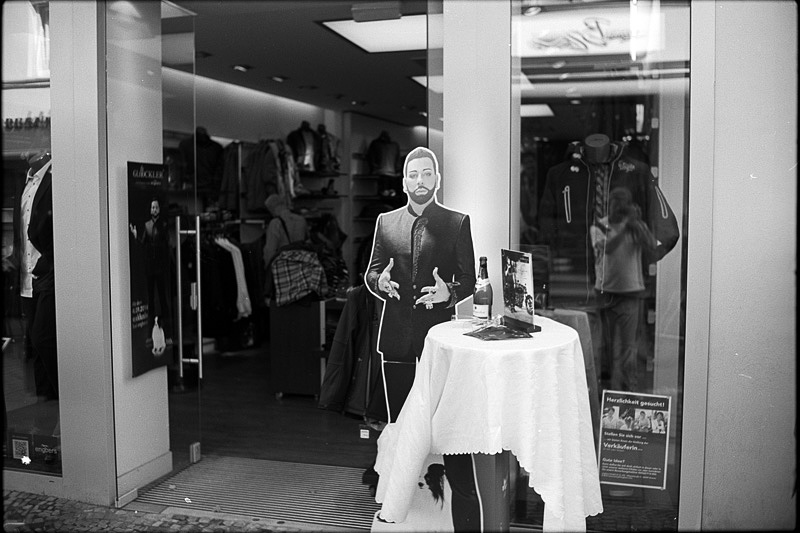 Visiting Sellin. This man just sat there, probably thinking about something nice or tragic, we will never know. But the scene was perfect and i felt i had to capture this moment. Back home, i did a print of this that turned our perfect (to my darkroom-noob taste) without any manipulations. Gave it to Lilit as a present, now i have to do another one. Maybe in 30x40cm?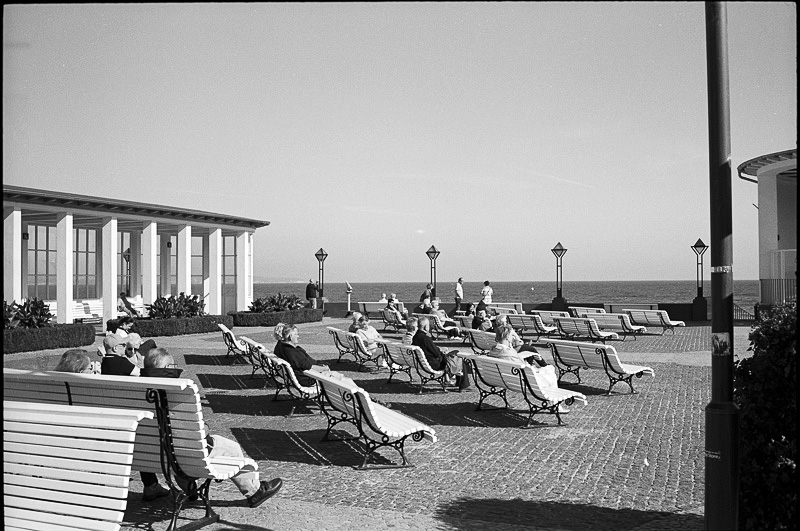 Perfect spot for a Kaffeefahrt.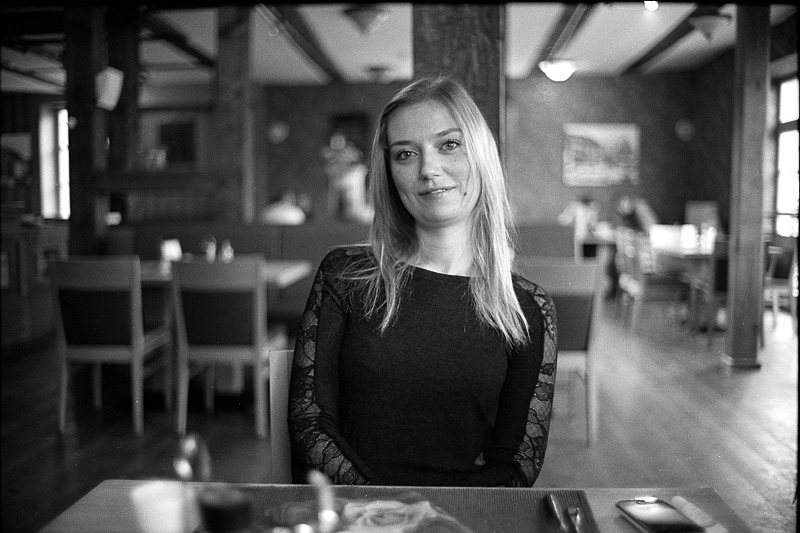 Olga looking beautiful at dinner.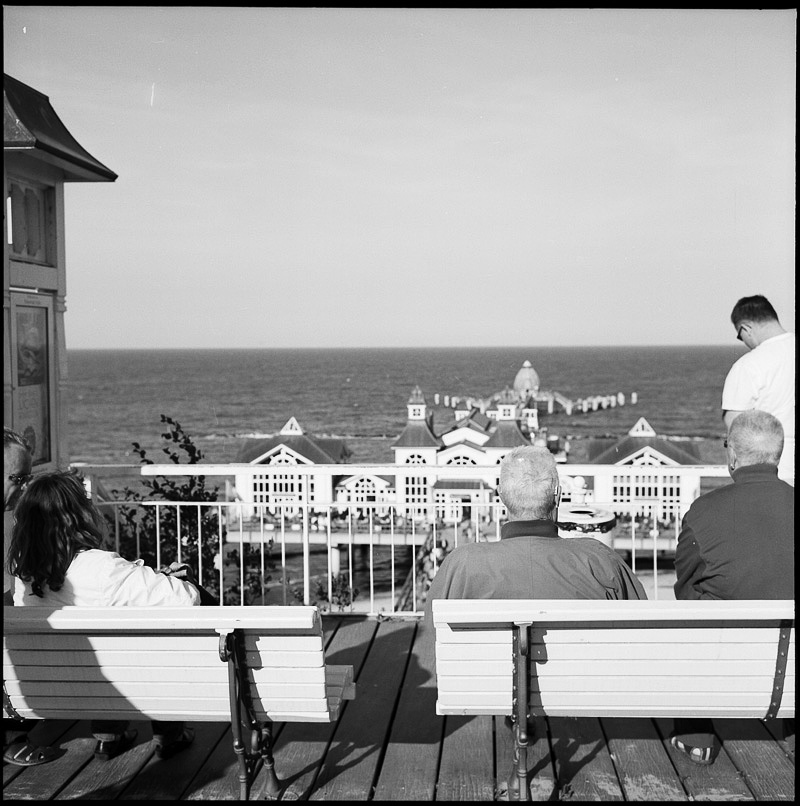 Back at the Sellin shore, i shot some TMY with the rolleiflex (xtol 1+1). Mostly old people there.
What a nice place. This shot has been taken thousands of times before probably.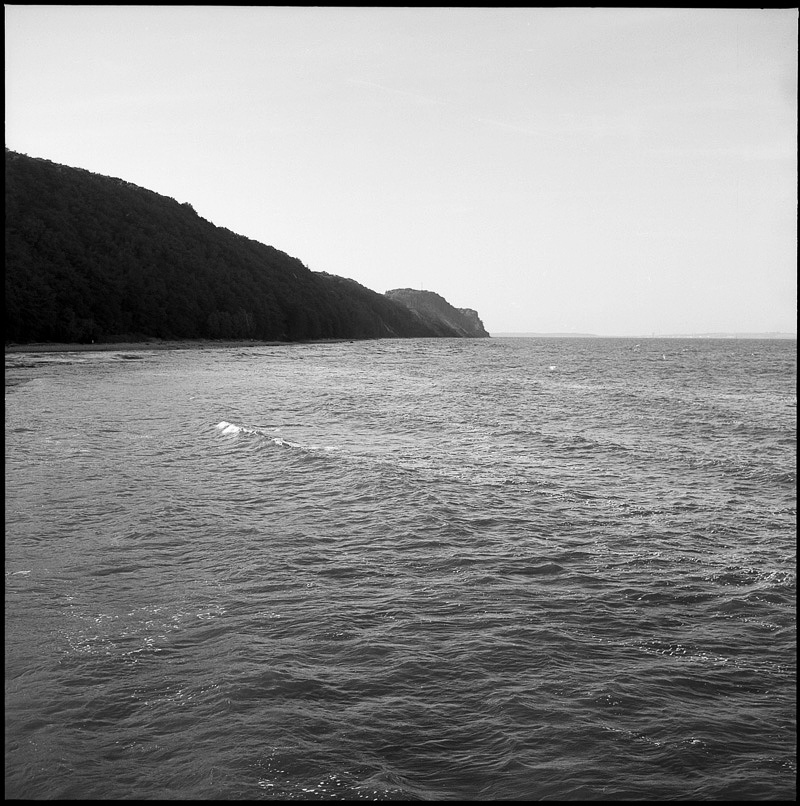 So has this.
In the very front of the pier.
And underneath.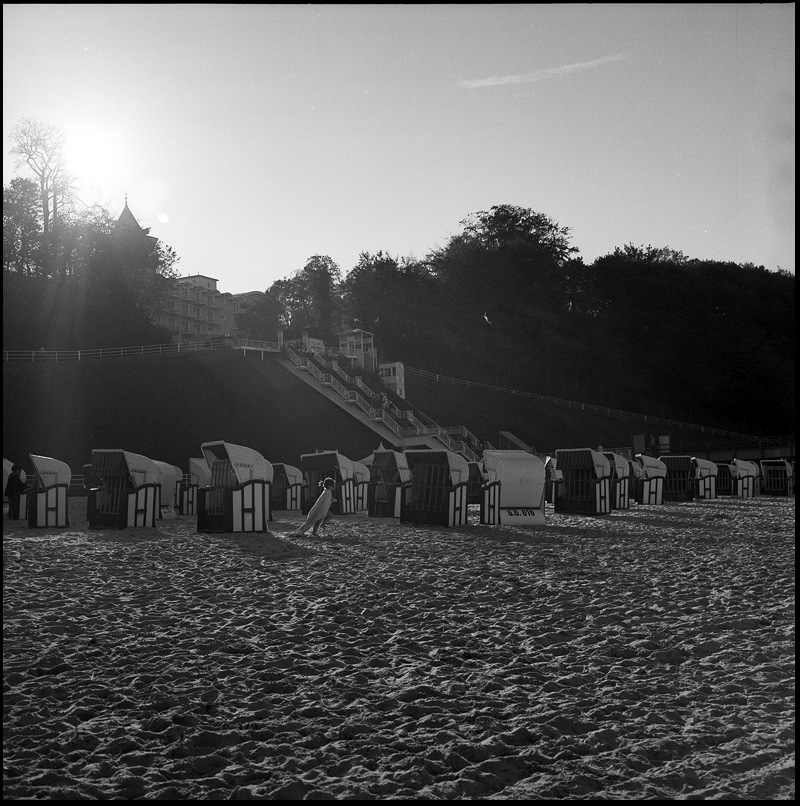 Kiddo running through the sand. Sun + sand + bw film = awesomeness.
But its nasty in you shoes, ha.
[audiotube id="qKqzL6tYGjw" time="no"]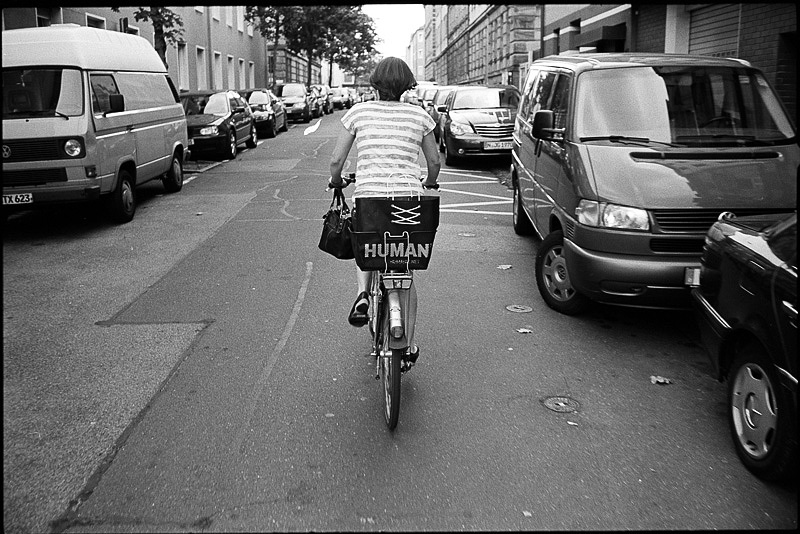 Good old Nürnberg. Konica Hexar + Trix + Xtol, keepin it simple. I had to catch up to her on my bike for the shot.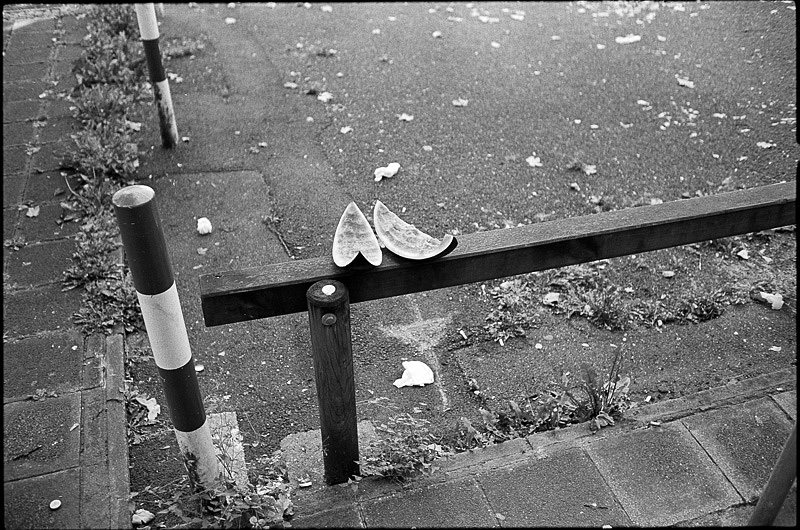 Somebody had a lot of watermelon.
Volksfest season taking over. High class activities for high class people.
"You can still pay usind Deutsche Mark here." Weird.
Nice lunch with my dad, talking about a lot of stuff.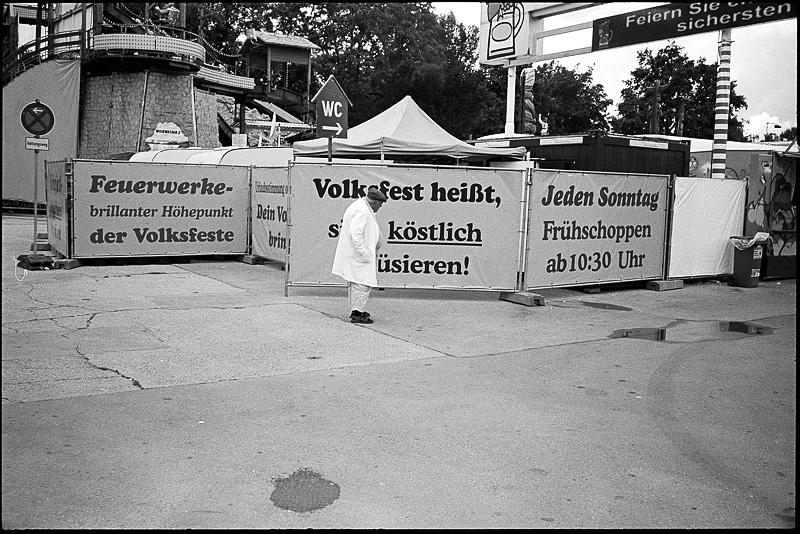 Not so much going on that day.
How i spent that saturday.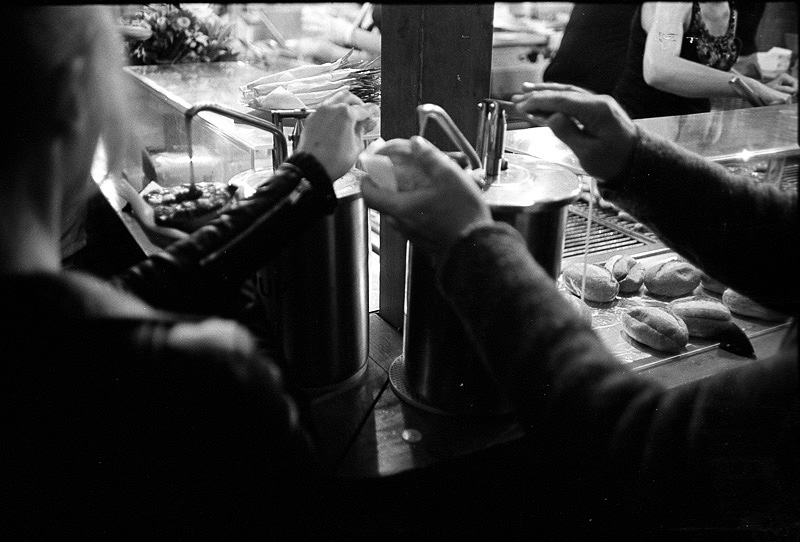 Getting some Steaksemmel at the old town festival. Always use a shitload of ketchup or mayo!
Most Wanted Man.
Basti, Stephan and i went to the AEG Werkschau and open house weekend. Exhibition of the Jürgen Teller photoclass of the academy of fine arts here.
Next stop: f/stop leipzig inside another hall. More to my taste, but thats just me. Awesome documentary and abstract stuff.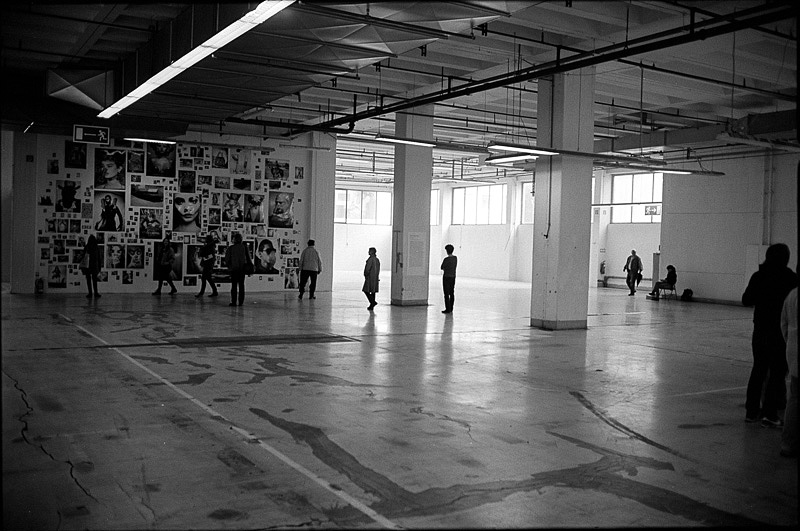 Next hall, big Werkschau of some artists that live and work around the place.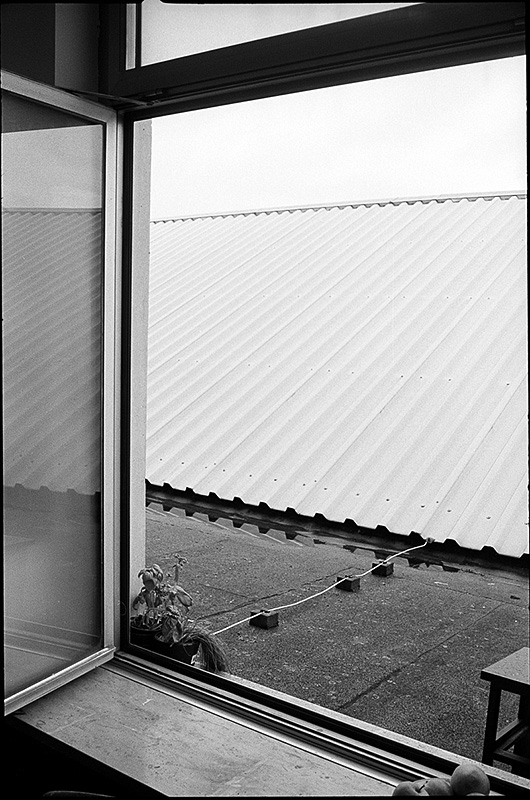 Sneaked a peek in some of the ateliers. This is the view out of one of them.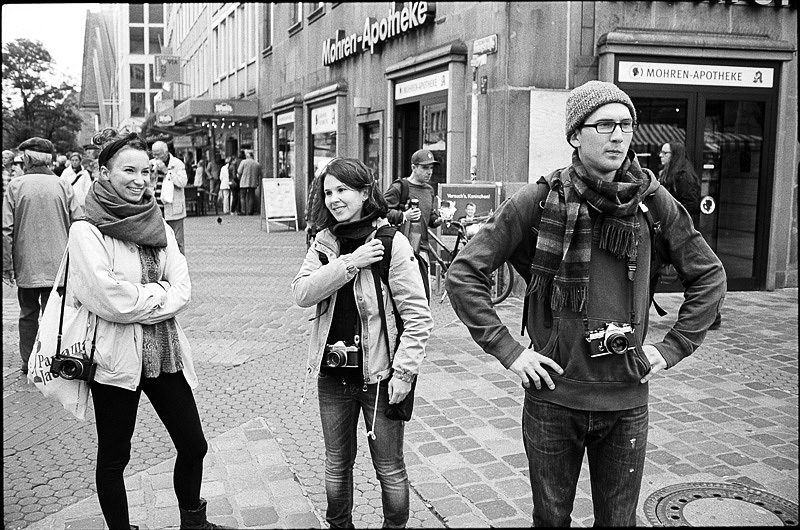 Ok, workshop week! the week before the semester began we organised some workshops, i hosted one about Caffenol development. And since its most fun when you do EVERYTHING yourself, we teamed up to shoot some films to develop.
Those guys asked for some change. We talked a bit and they asekd for a photo when they saw my camera. "Look man, thats a REAL camera with REAL film!" Told them ill make a print a give it to them next time. I knew it! Film kicks your bias in the balls!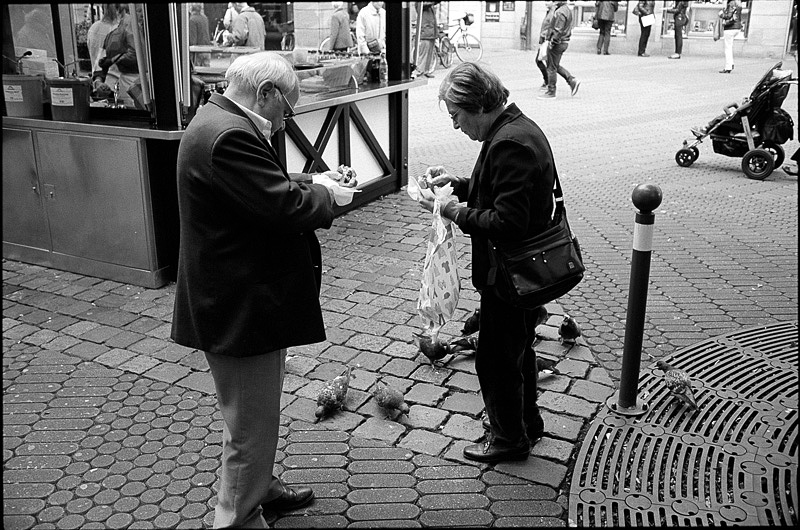 One for you…
…one for me.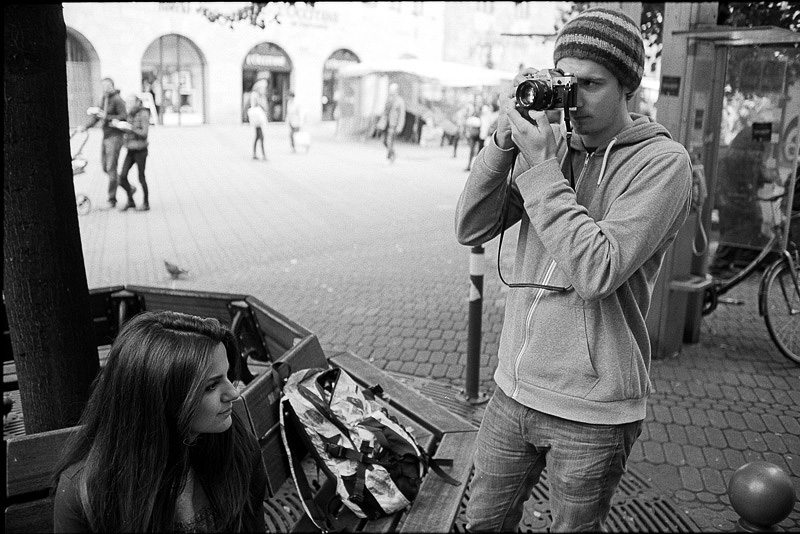 So we just walked around to find some nice scenes to shoot. I found it quite nice that they all fancied the idea of shooting some decicive street stuff. And its funny: The results were so various, motif-wise, though we all walked the same route together.
Plus when in a group of two or more people, you get actually recognized as photographers, not as that spying perv. Germany is a bit "exhausting" for street photography.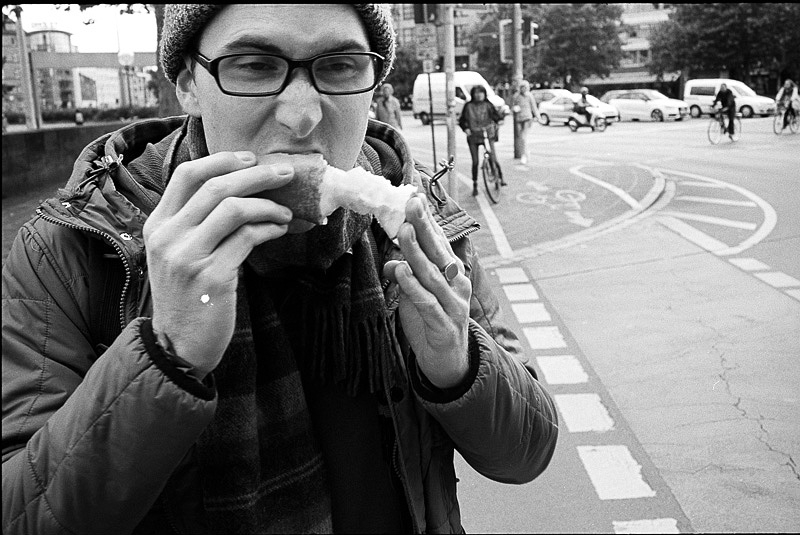 Power bite!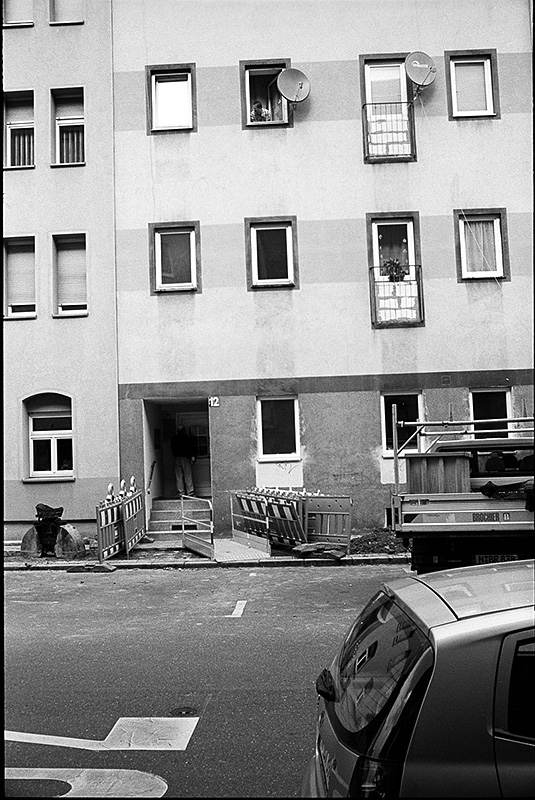 Hölli and a bubble gum machine, two classics in one frame!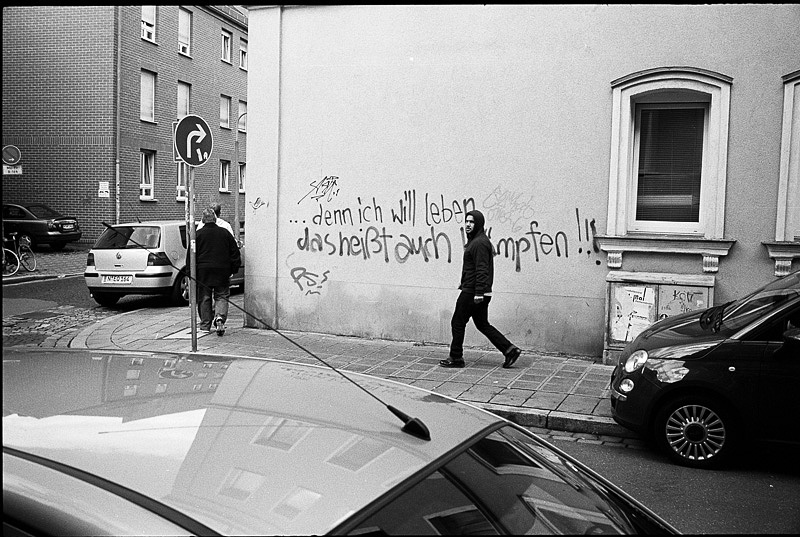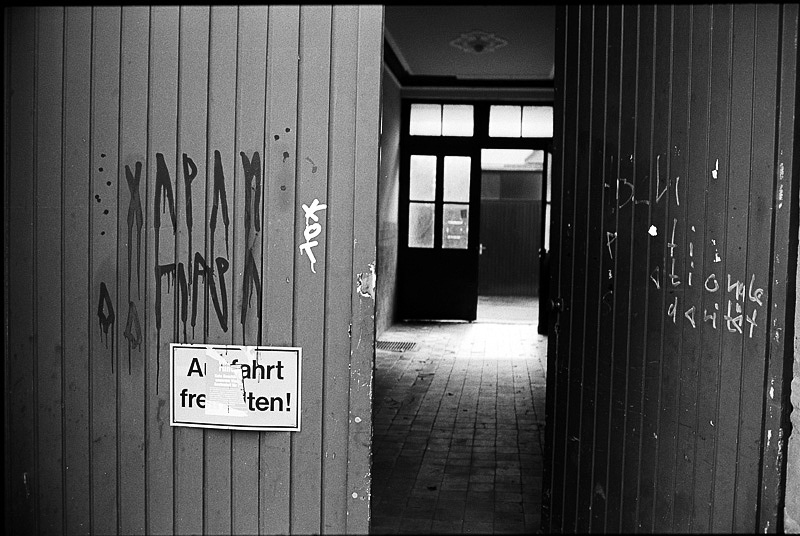 Some still i found nice.
So we walked through Gostenhof and felt like having some coffee and cake since the sun came out.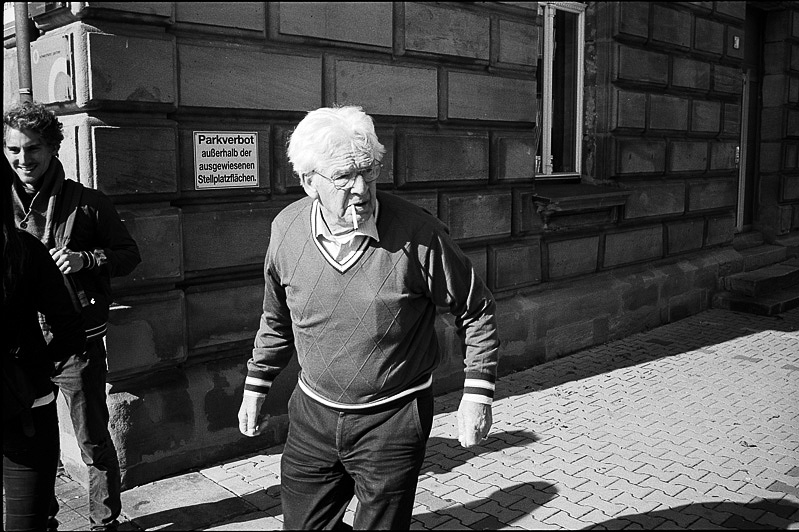 After our session i went back to the train station. Finished the roll.
"i don care about your memorial nonsense my little wauzi has to do his business."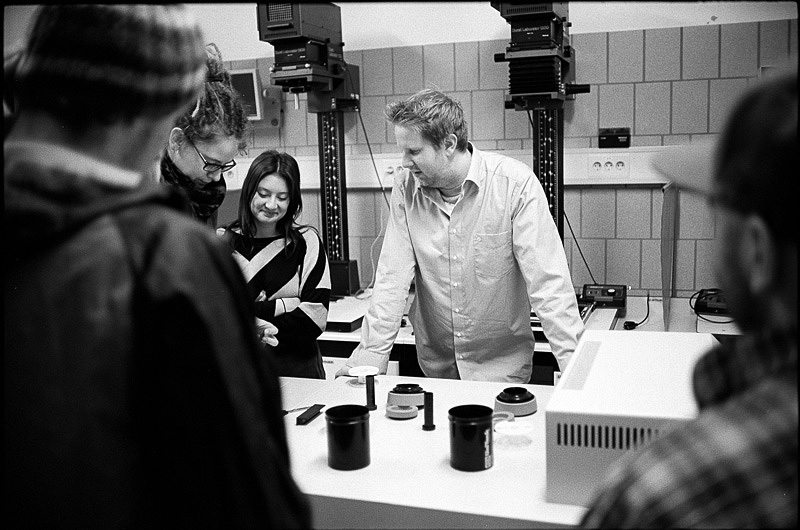 The next day, more serious business! After some trials with a roll of empty film we turned off the lights and everybody tried to load their film into the tanks. Im actually proud of them because they all managed to do it correctly (with a little help here and there). I remember my first try back then, oh man, like watching a monkey fitting those geometric forms in a template. So, good job!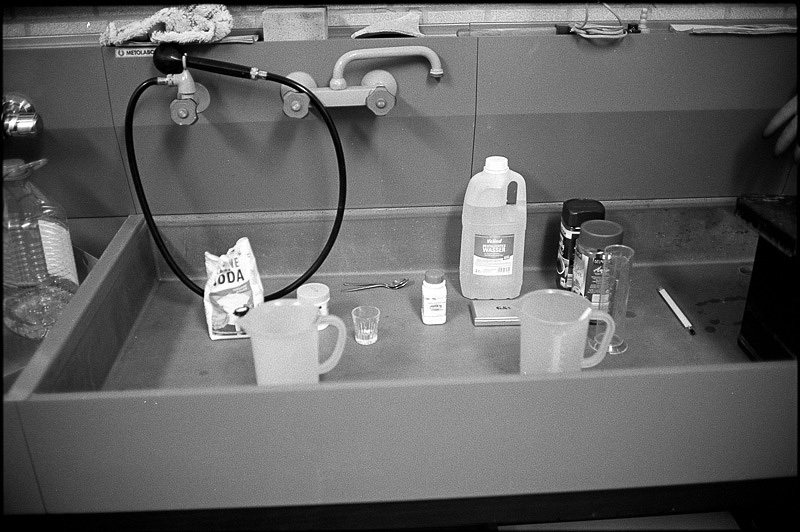 Next on: Mixing come Caffenol. We actually worked with the classic C-C-L dilution for stand dev (we went 60min 20°C with agitation every 10mins) and also with the C-C-M recipe at higher temperature (11min 24°C worked out excellent)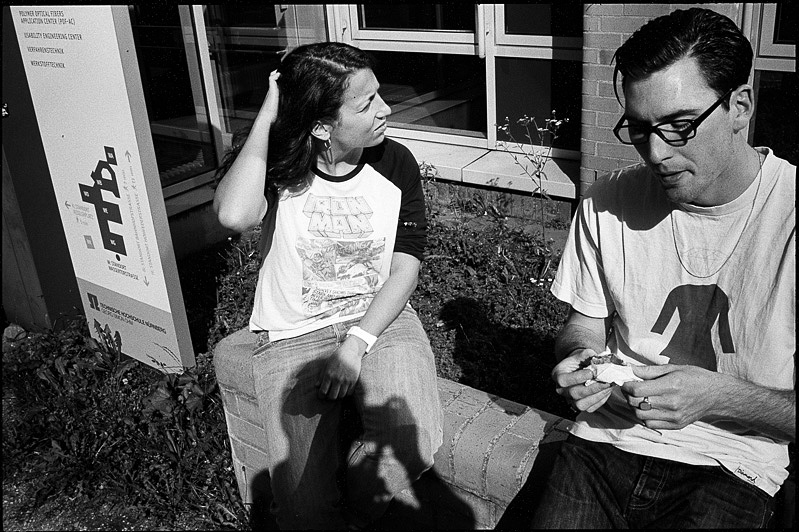 break(fast)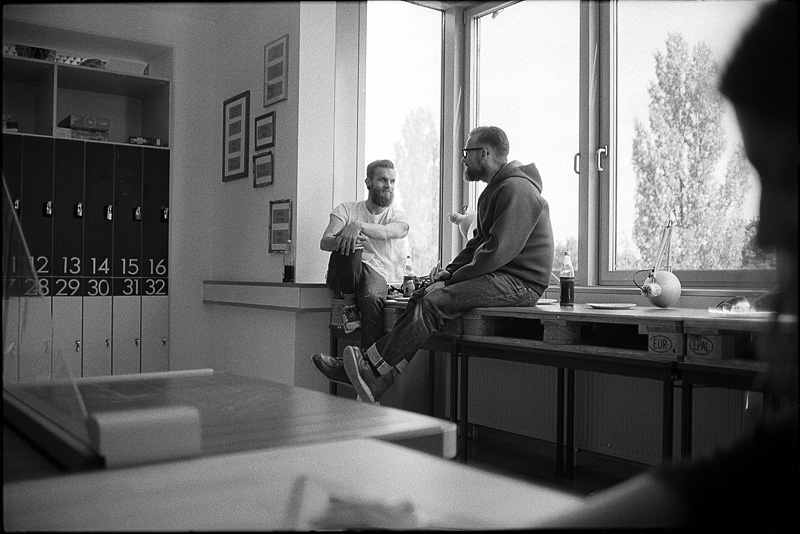 Later, all workshop people met on the top floor to have a nice lunch together (about 60 people in total). Tobi and Darius talking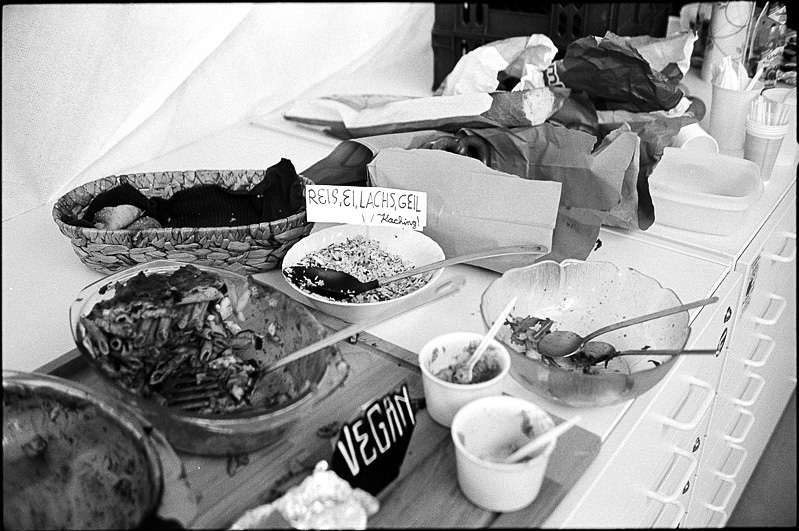 Rice, eggs, salmon, awesome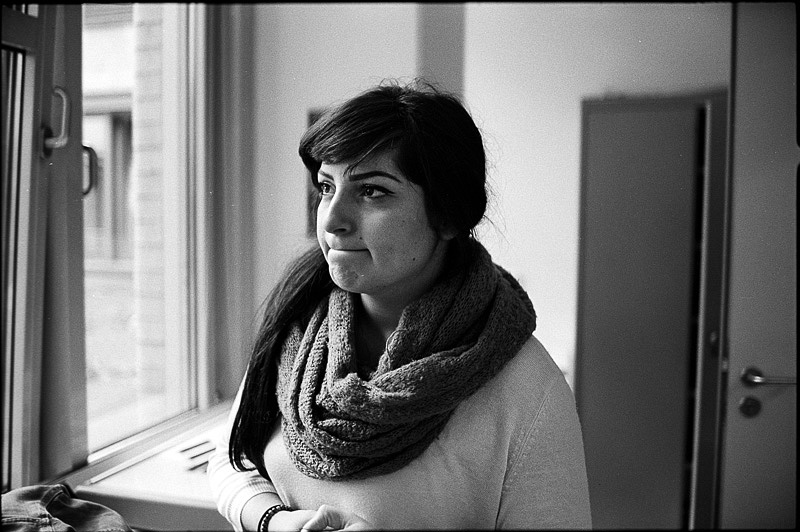 Thats right, after the lunch things got exciting! Films had dryed, time for contact prints.
Ida and Emma looking at their contacts. So, what to print? We bought 4 packs of Adox PE 18x24cm, 50 sheets each, so about 2-3 solid prints for everyone. Most of them had never printed before so of course we used a lot of paper for contacts and testing. But fuck, its about the fun!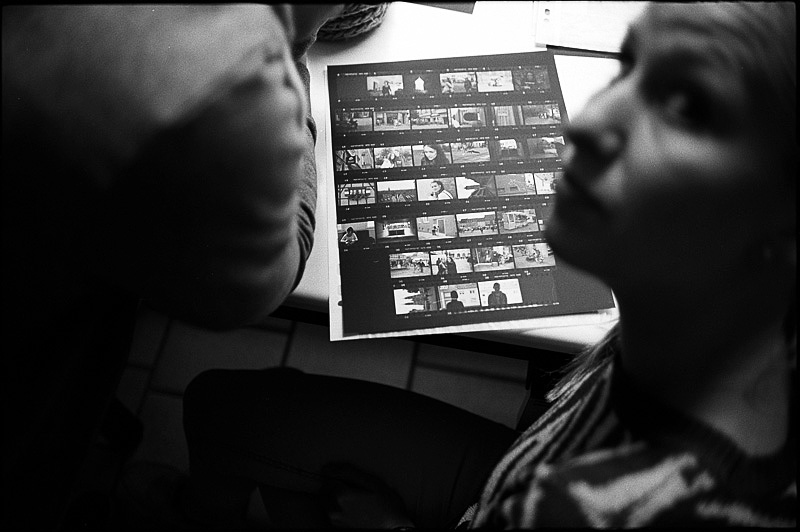 Yeah, every film came out at least ok for scanning and printing, no total failure! Its always a matter of luck since those who dont own a working film camera lent some from their grandmas, and you know that possibly means foggy lens, long shutter, broken transport. I was more than happy to see that most films turned out as perfect as this one. I felt really happy for them, it was a very good start to dig into film photography.
Im afraid i dont have more pics of us printing since i was helping out non stop. Ill show some pics from the exhibition in the next blog! Also, i few days later i stumbled across some people offering a film development workshop for beginners for hundreds of euros. Hah! Maybe i should do that on the side.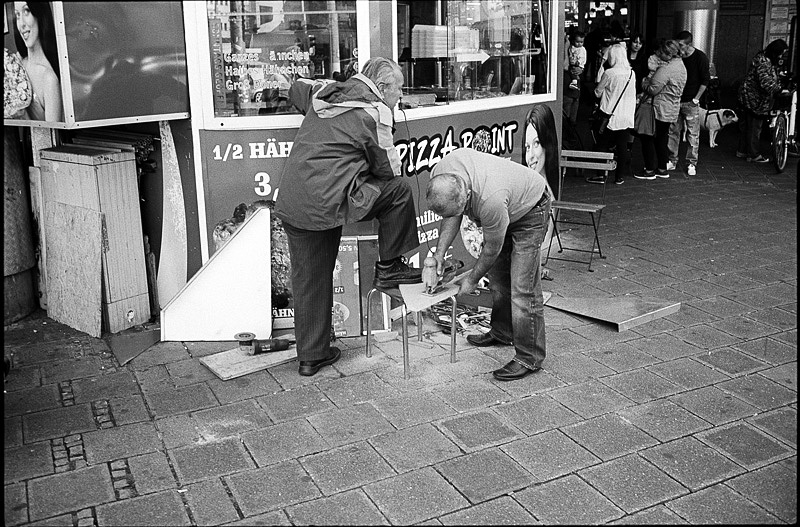 Streets of Nürnberg, i shot this one…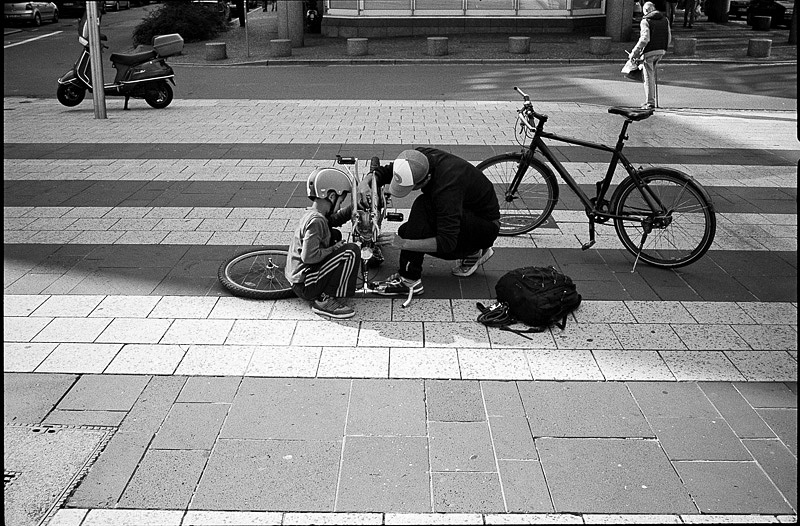 …and this one a few minutes later.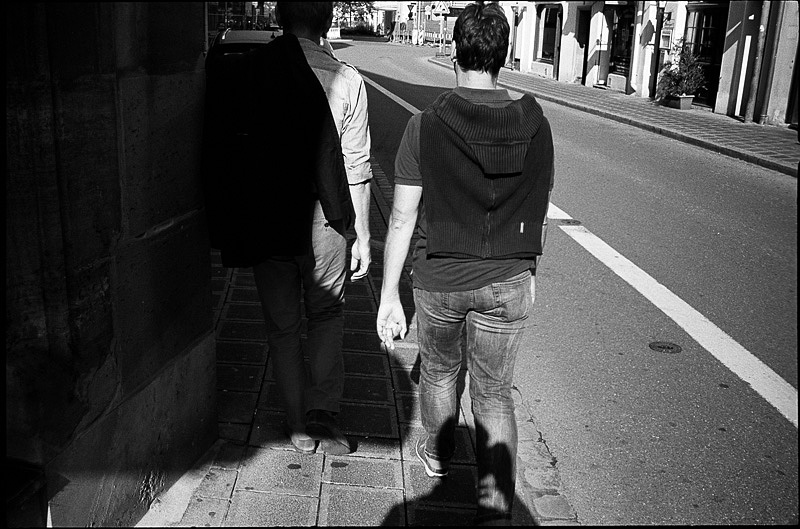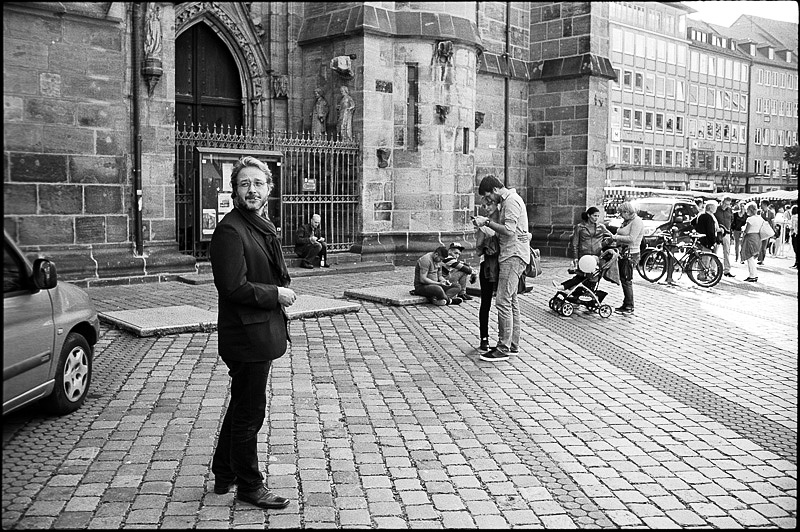 Came across this demo against animal abuse.
The tourist area was so perfect for this, i felt like in a bad movie.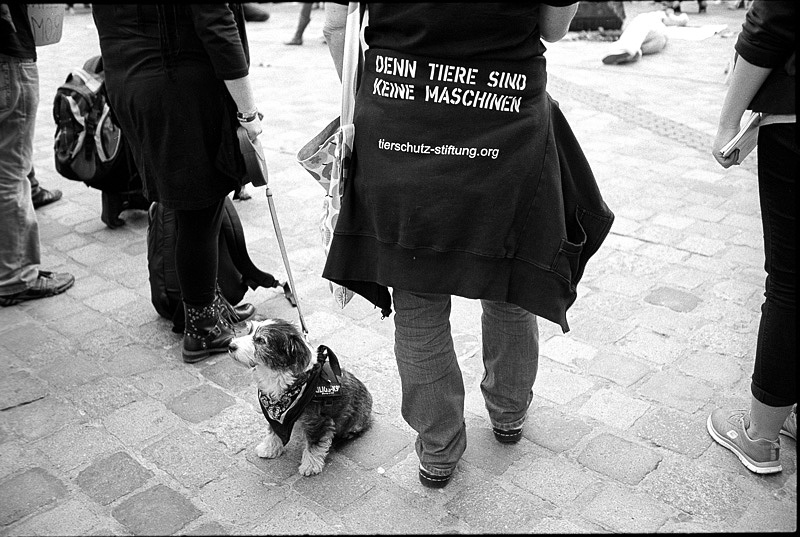 "Animals are not machines!" Thats right! Just fluffy puffy thingys for our amusement, right?
Some more trix + xtol but in the Rolleiflex. One of those perfect sunsets were your bw film is so the wrong thing to shoot. Anyways, this is from the attic window.
Lilit told me she got this camera from her grandma. I have stopped counting how often people tell me the "have this great, precious old camera from grandma" when i tell them i shoot film with mine. So i assumed it must be a top notch Porstreflex or a Agfa something something, yawn. Turns out its a fucking Rolleiflex 3.5 with a Planar lens, similar to mine. Hers even got coupled aperture and shutter speed and is in perfect mint condition. Like, seriously, this is the best condition flex ive ever seen. So we checked out the camera and loaded some film. I wonder if she finished the roll yet, its time for a TLR-walk Lilit! (And Stephan with the Yashi too!)
Hanging out in the sun. What a beautiful afternoon.
Camera obscura installation in front of the Museum Industriekultur, part of the "Ein Gramm Licht" exhibition about old photographic techniques and methods featuring some stunning wet plates, salt prints, ambrotypes on much more. Arranged and curated by some of our professors. An excellent exhibition i have to say.
Abandoned station.
Finished the roll with a portrait of Basti who just got rid of some redundant hair. Thats all.