Hi folks. I have been pretty busy with the semester projects (see type magazine layouts and Frisches Design documentation) and with exhibitions, portfolio updating, relauching the website and arranging some nice series (check out here), doing some research about other photography and fine art schools and also some agencies and photographers that may be in for an internship. I also had some commissions and some personal stuff to deal with. So here's a belated 2015 warm-up featuring some pictures and stories from last fall until now.
Starting off, some impressions from the "Frisches Design 2014" exhibition/conference. This was some night before the start when we set up the big plastic donuts
Mario, head of team Plastic Fantastique that created the inflatable plastic spaces, was rather busy watching the Champions League match of FC Bayern.
Poster of a Gerhard Richter exhibition.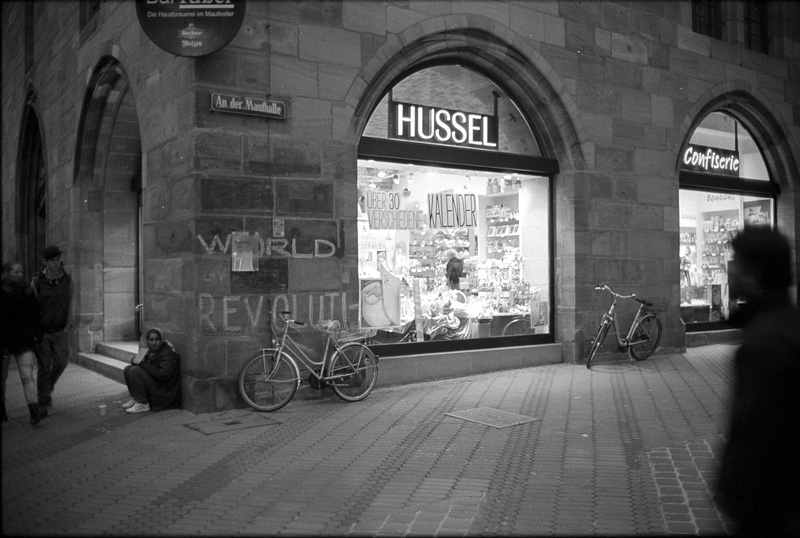 Evening came.
Just some random trainstation frames. I like the simplicity in these.
This was 1/2s I guess.
HZ
So back in November, I shot the wedding of Michael and Larissa, some good friends, in Neustadt.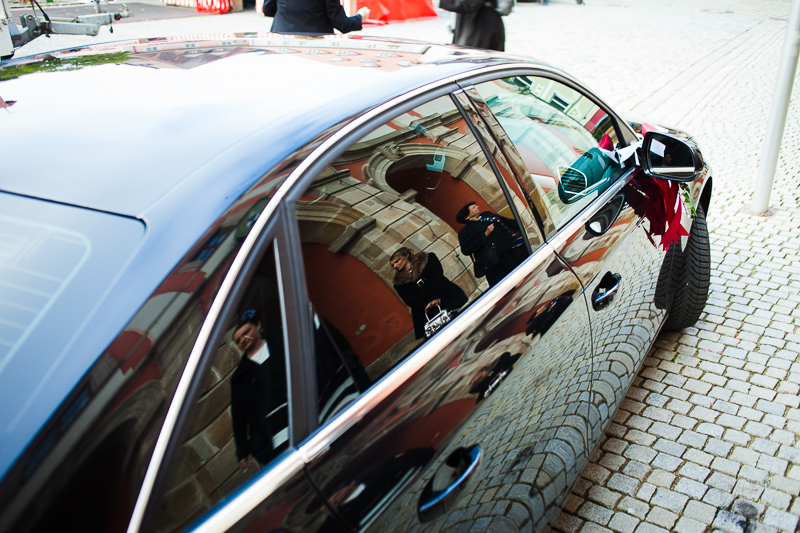 Of course we did all those classic wedding motives you can show to your grandma and put in a nice photo book, but that's not the stuff for this blog. So here are just some snapshots that I personally like.
We were pretty lucky with the weather and so I also could shoot some rolls of 120 film.
Rule #3: Your're only one of many.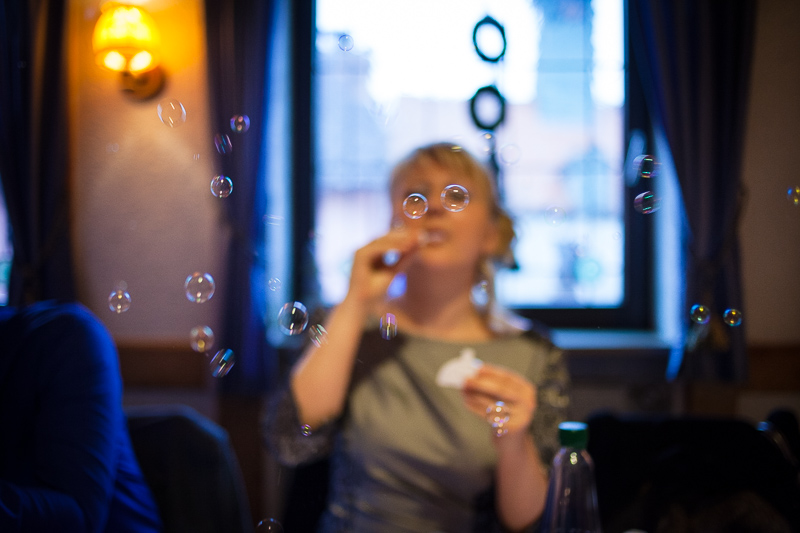 Best man Marco explaining stuff.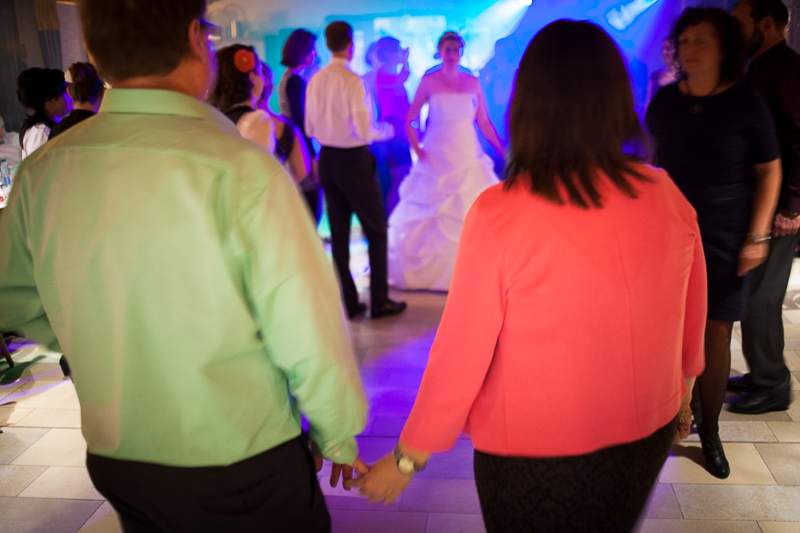 I like this
yeah I'll shoot your wedding, send in your inquiries haha! But better be prepared for stuff like this 🙂
yum
Ok, at least one classic frame, but only because it's a beautiful BW one. I also did some prints of this (and others) that look great. Again, decent light makes decent pictures.
So after that, we went to Altdorf to visit their nice flea market. Some shots with the M2 and Jupiter (hard contrasts + lots of flare).
Oh look, its Anselm!
Back in the hood, I went to a photo lecture night at the academy of fine arts (that's hood because i live like 200m from there). Guess who was the lecturer, Barbara Klemm! What a very nice person and impressive photojournalist work.
No that's not at my aunts place but at the dept.
In a bar.
Turn left for order!
I asked her if I may take a shot of one of the nice little store windows. She didn't get why I preferred this dirty one though.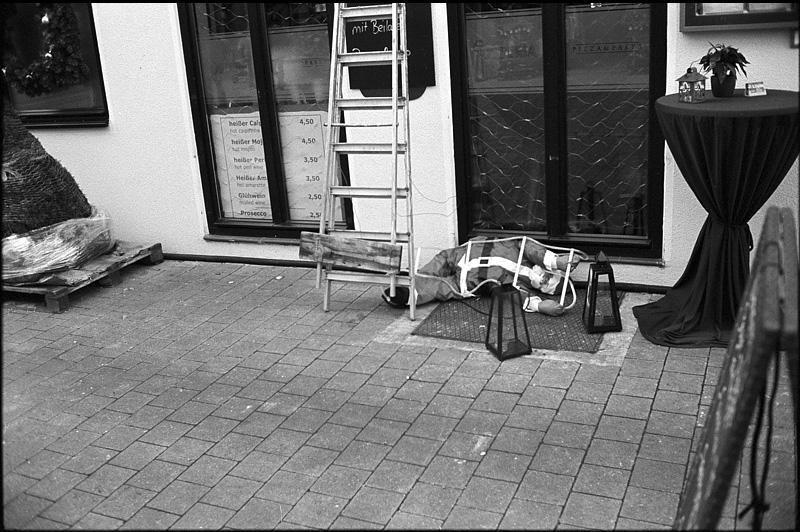 Trapped santa.
I recently shot a semester photo task with this professional setup in my professional white cube (also check out the high-end reflector). And the images also got exhibited a few weeks ago, thats what i call efficiency lol.
End of M2 frames.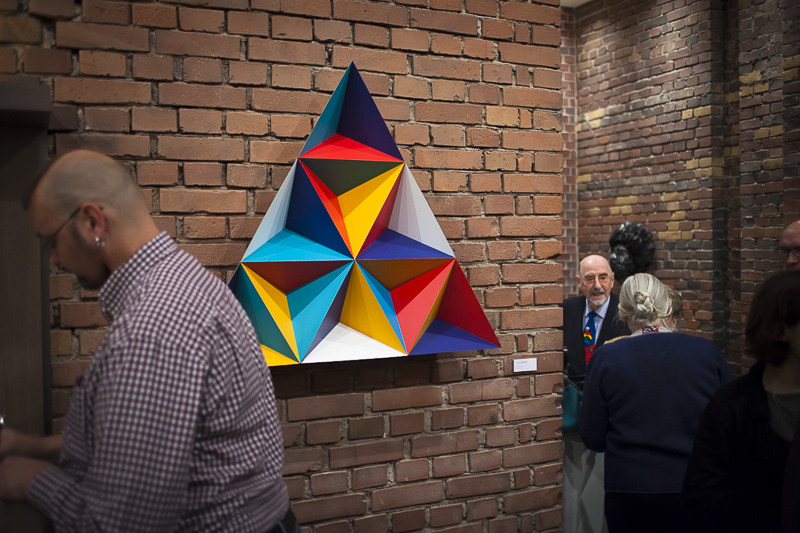 The other day i was commissioned to shoot a vernissage for Sparkasse Nürnberg. They regularily cooperate with the Academy of Fine Arts and select several pieces from students for an exhibition within an exclusive environment. This year (winter 2014 ofc) it was set inside a nice old but renovated foyer of the Nuremberg Symphony. I prefer such gatherings over concerts because you can come very close and move pretty much freely through the people, which i find perfect for documenting (with a 35mm lens). So besides some official stuff i also captured some nice details.
Symphonics in action.
Check out this location!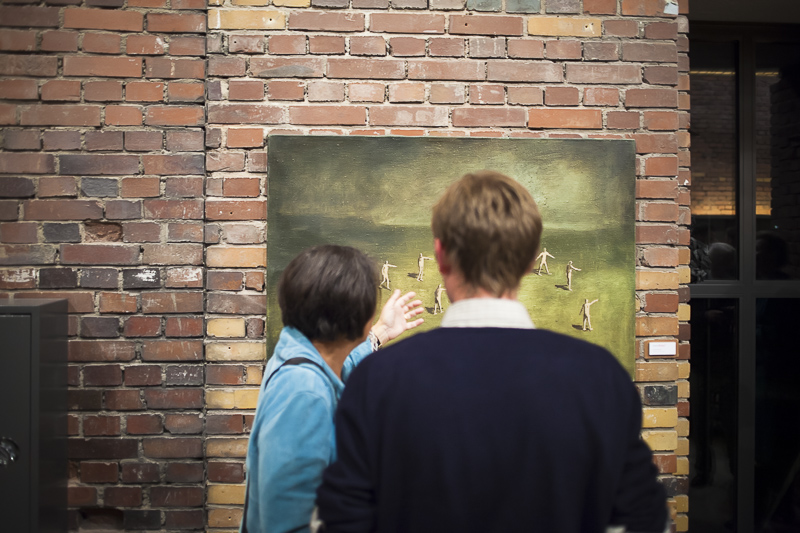 The young artists.
Very cool dude i also had a nice talk with. And yeah, without the heavy equip and the flash and all that im always quicker than the professional press photographers, ha!
Artwork by Julia Schwittai, probably my favourite piece of art that night and also my favourie shot i took.
Marianne, studying in the class of free arts.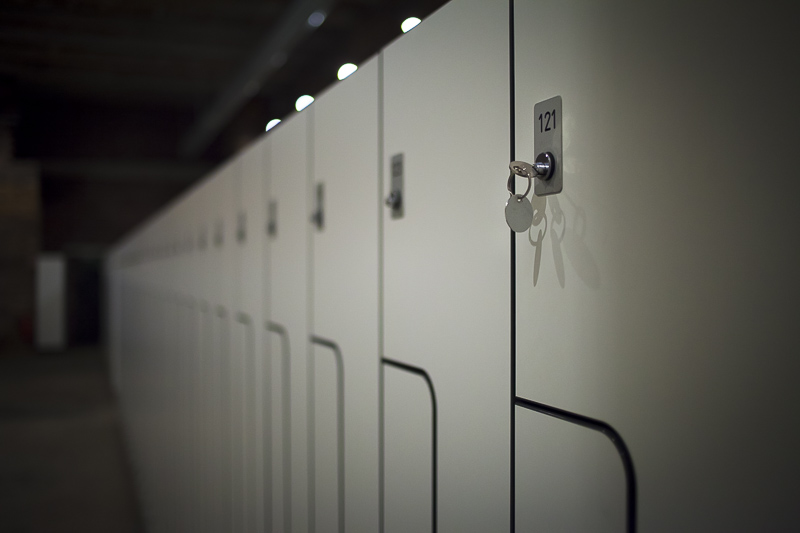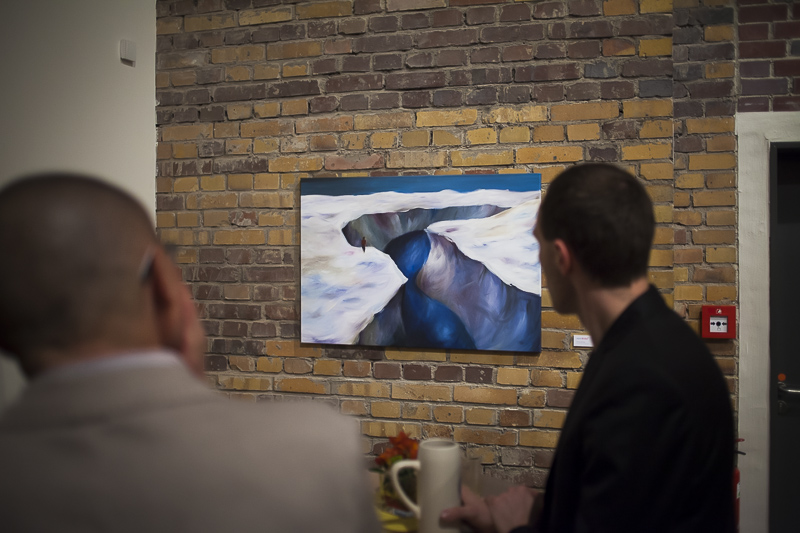 Ok back to other projects. I started working on a portait-like series for my portfolio which i hope will become somthing between portrait and documentary. Starting with my classmates (cause its easy :)) i visit artists, creative minds and designers and photogrtaph them in their personal work/living space. By now (feb 15) i already hav shot portraits of about 12 people and the project slowly grows (slowly that is, because i shoot everything with the Rolleiflex and BW or Colour film). This is the first one, visiting Julian.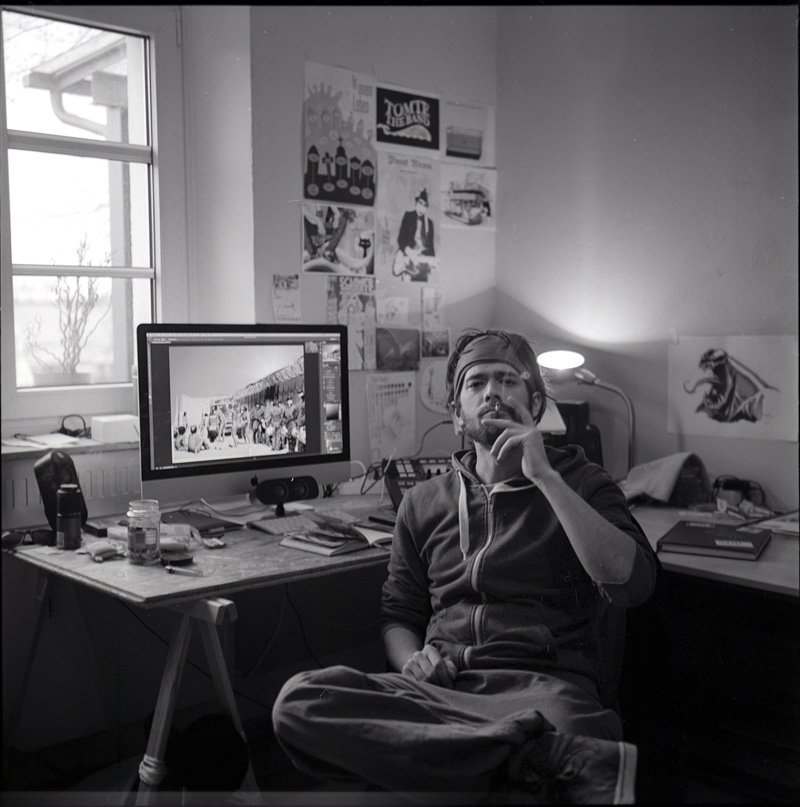 In the very beginning i also did some shots with the digital camera on the side, fearing that i might screw up that film negatives somehow during the process. I gave that up pretty soon because A its just too much work, B the images are also beautiful but do not give me the style i want to achieve and hence transport another message and C i do handle film pretty well, not need to panic myself lol.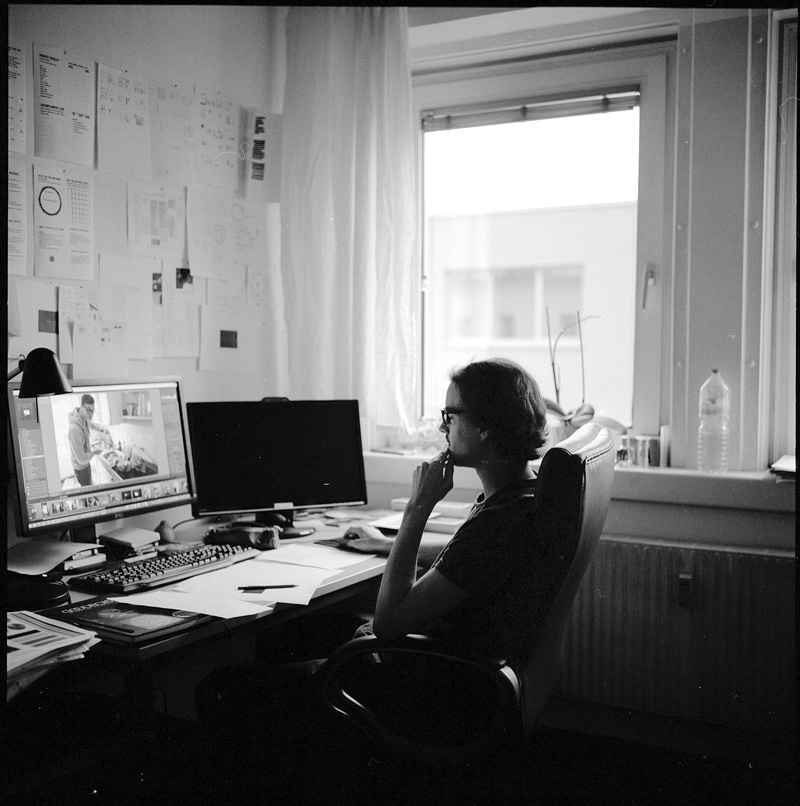 Visiting Benno, an aspiring photographer and CGI artist.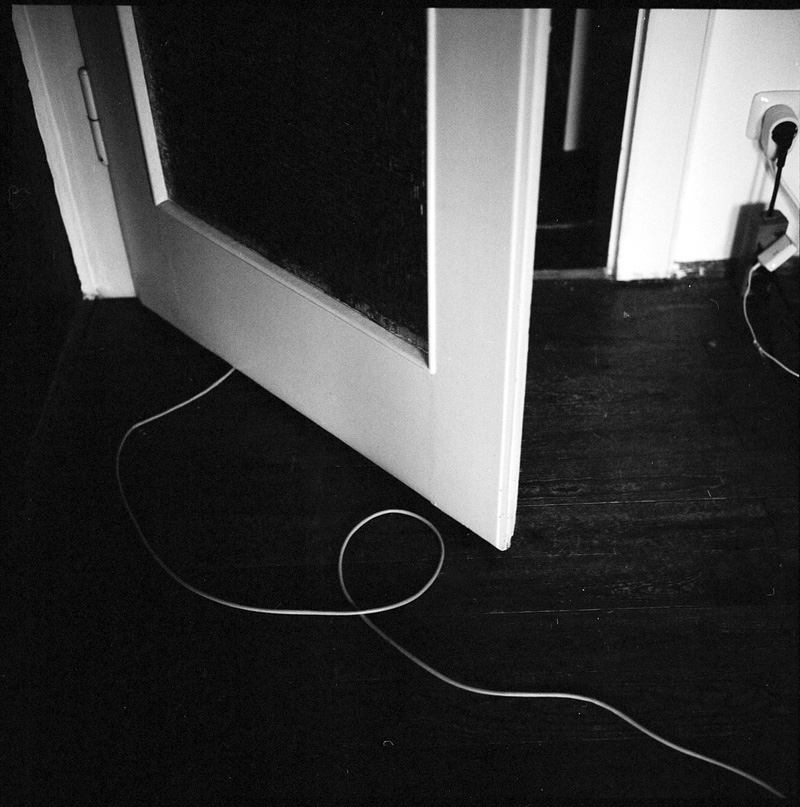 Well i dont take ONLY portraits, theres always time for silliness.
The next day, Tanja Nikki and i went to Dutzendteich near my place to take some pictures for photo class for Tanjas project (which later was exhibited with my "professionally" made images above!) So i photographed her photographing us.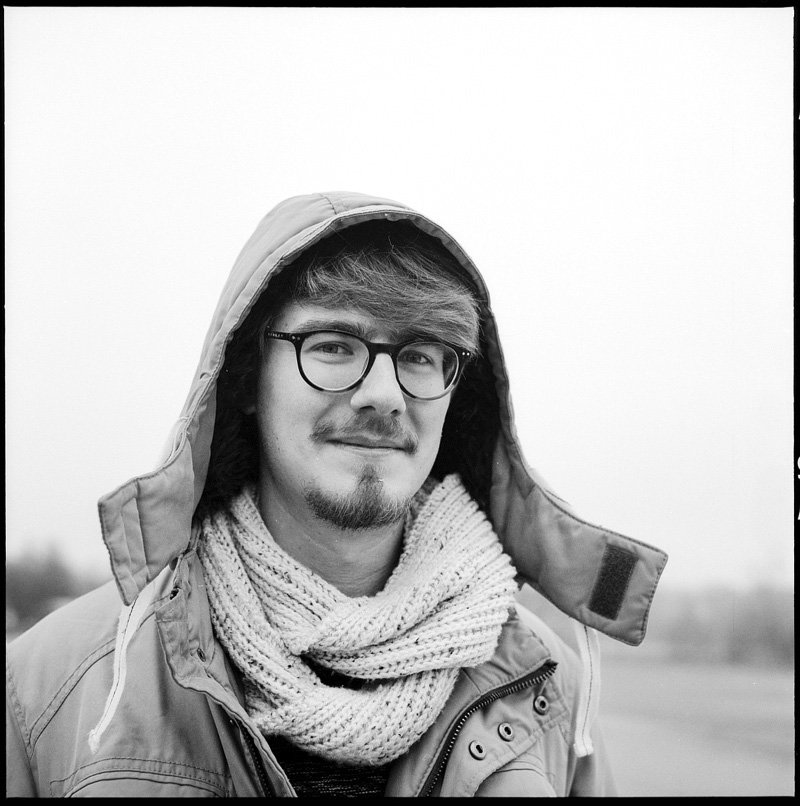 Nikki. Btw thats a roll of Tmax 400 (TMY) pushed to 1600 in XTOL.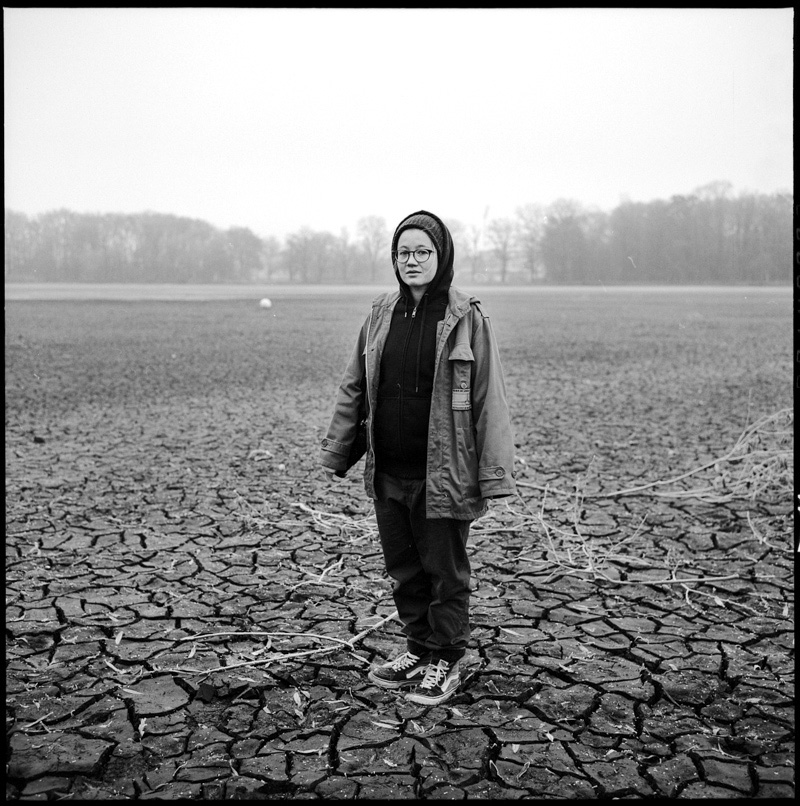 I like these. During the winter time, the lake is empty and the dryed out ground creates this mystical structure.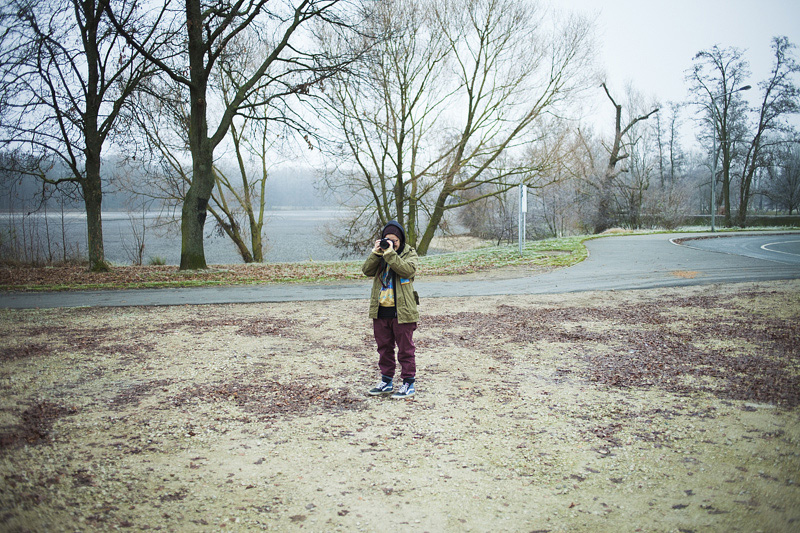 Also took some digitals for fun. Nothing special about this one but i find it funny how Tanjas clothes belnd perfectly into the scene!
Tanja
Nikki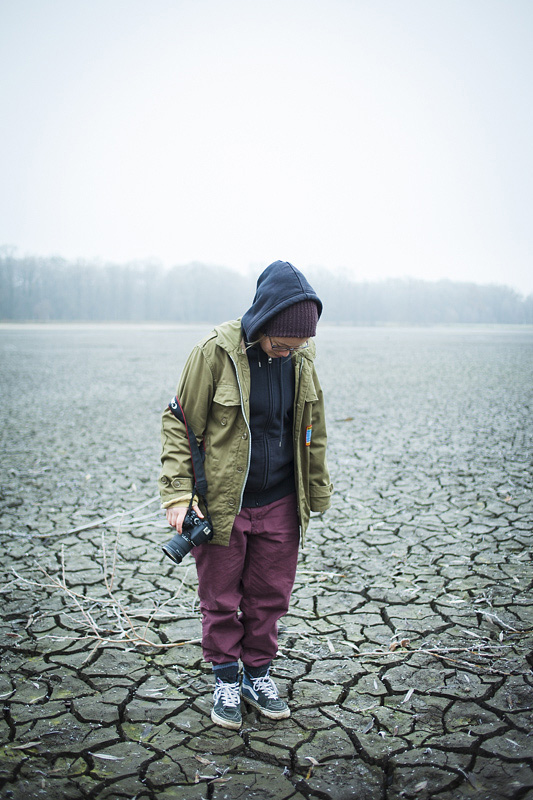 Digital color version.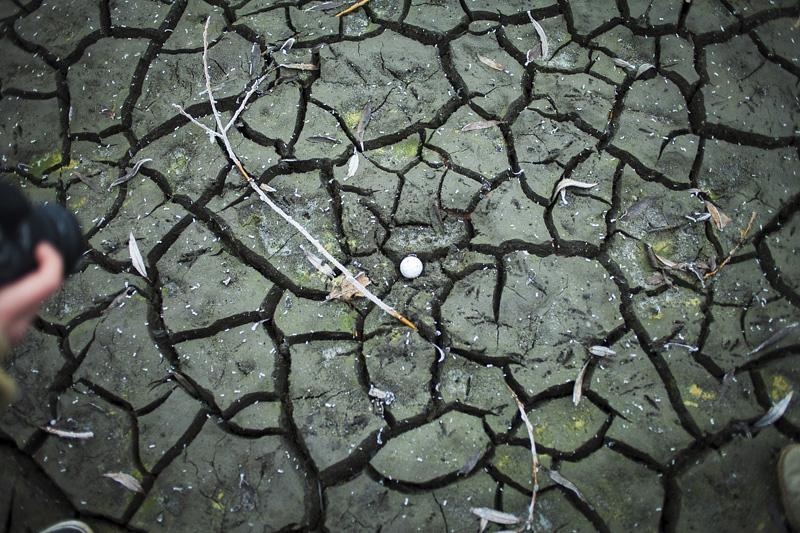 So we found this golf ball.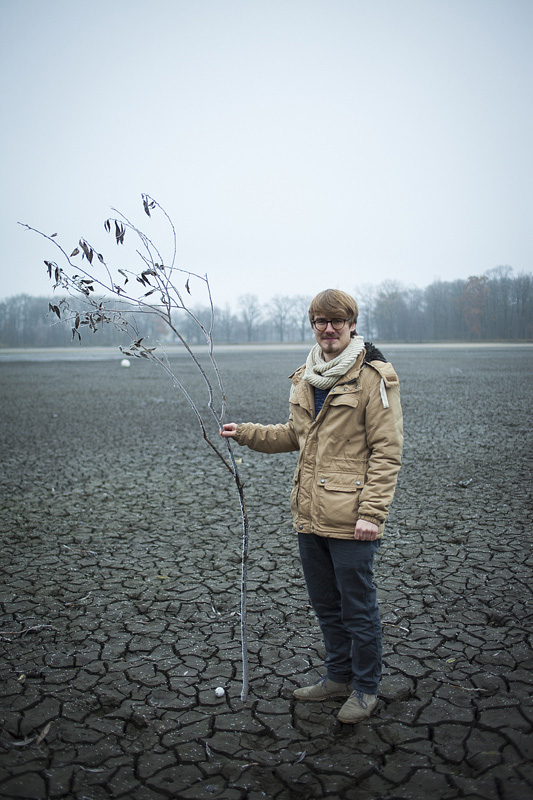 About this one: Check out the white object in the back that from this pov has the exact same size as our little golf ball!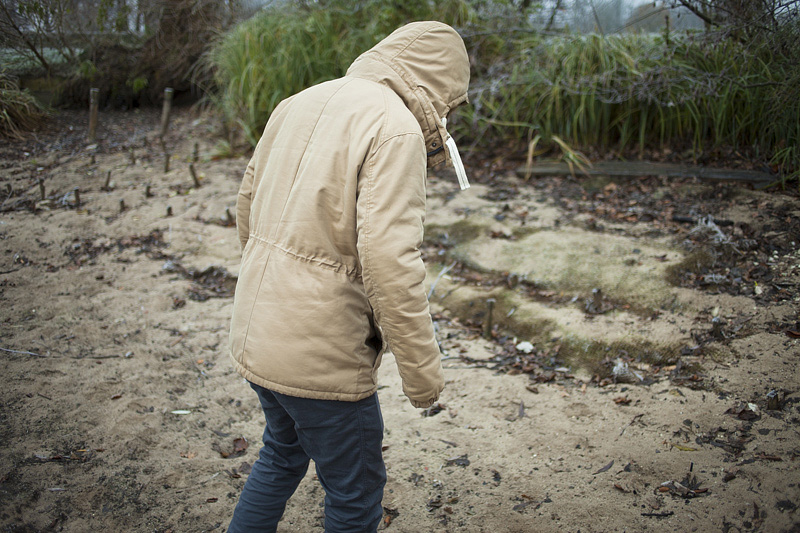 End of this story.
random uni frame.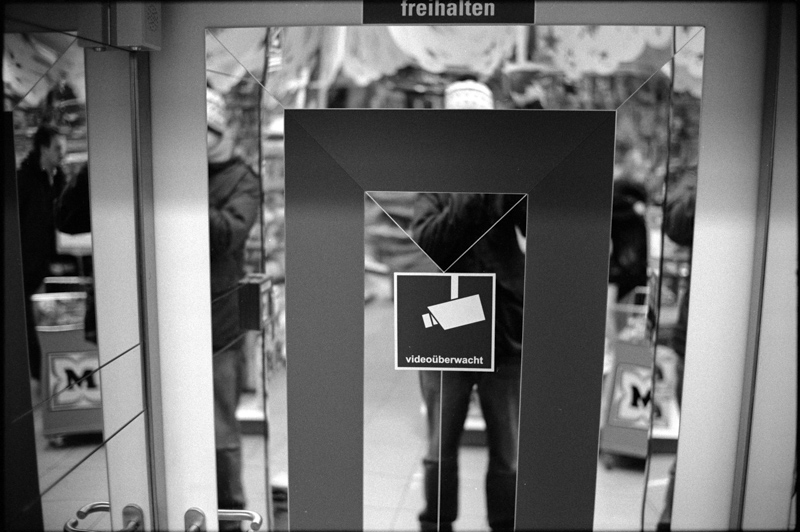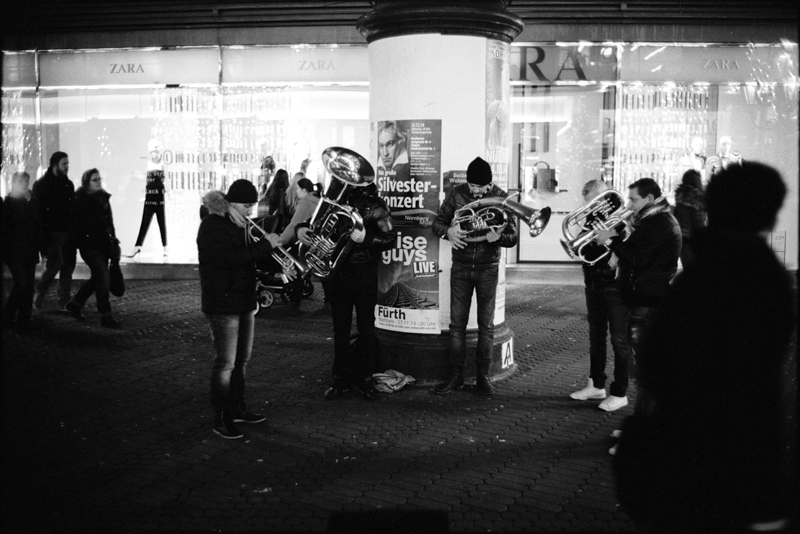 Some musicians in the cold night. TMax 400 pushed to ~ISO 2000. Trix looks better i must say but its ok.
McD stop.
Benno making tea.
One more from Julian.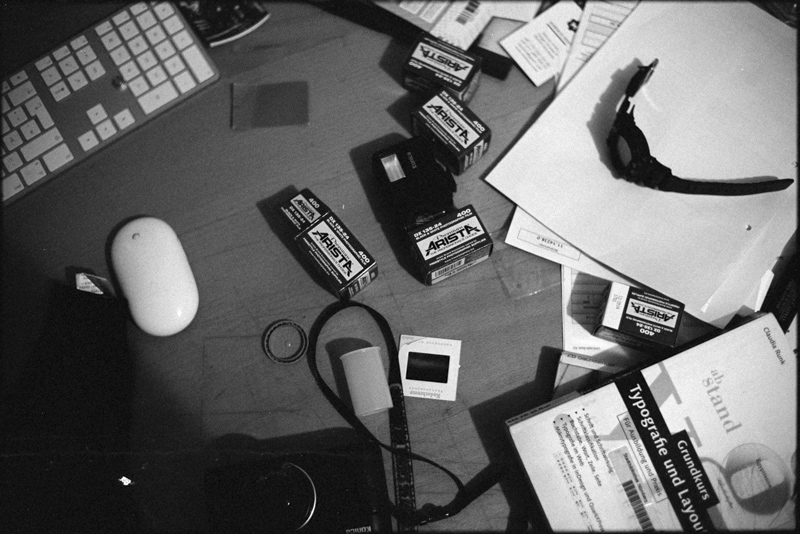 Stephan went on a road trip through the U.S. and look what he brought!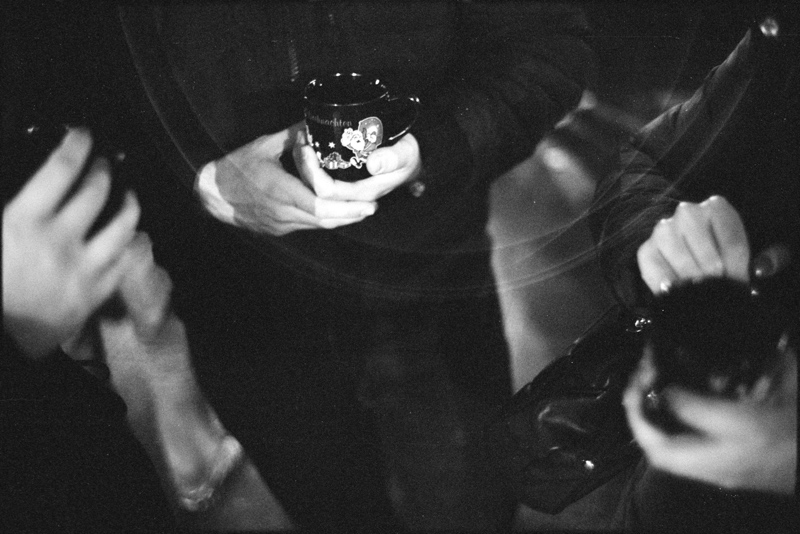 Enjoying a cup of hot Glühwein with friends. I like all those hands in the frame.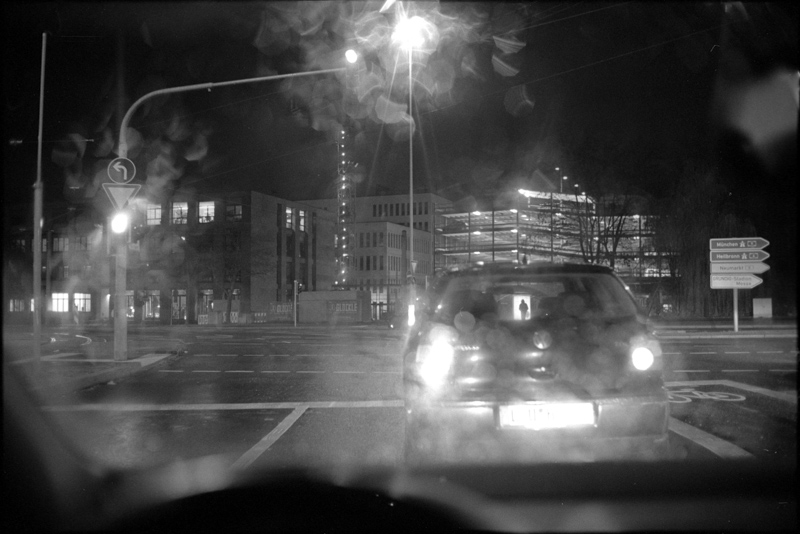 Some images just frame themselves.
Someone had died here some time ago.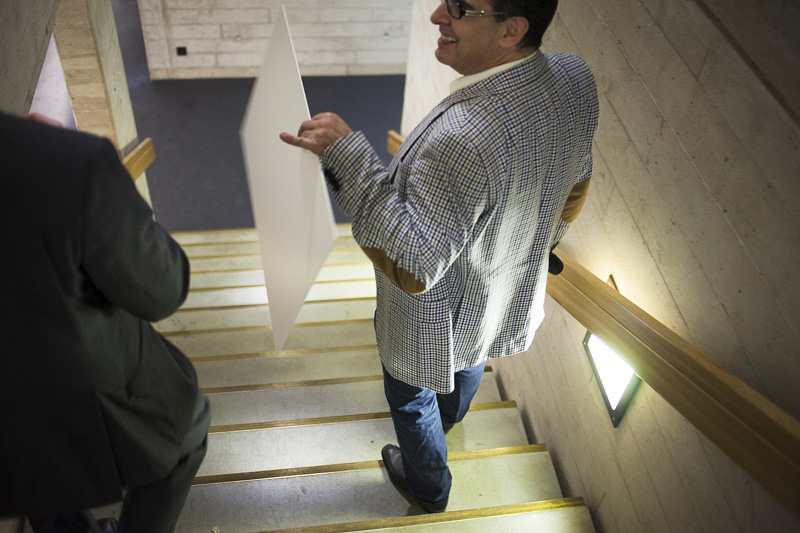 Another commission for Sparkasse, this time a sponsoring event with the regional fencing club.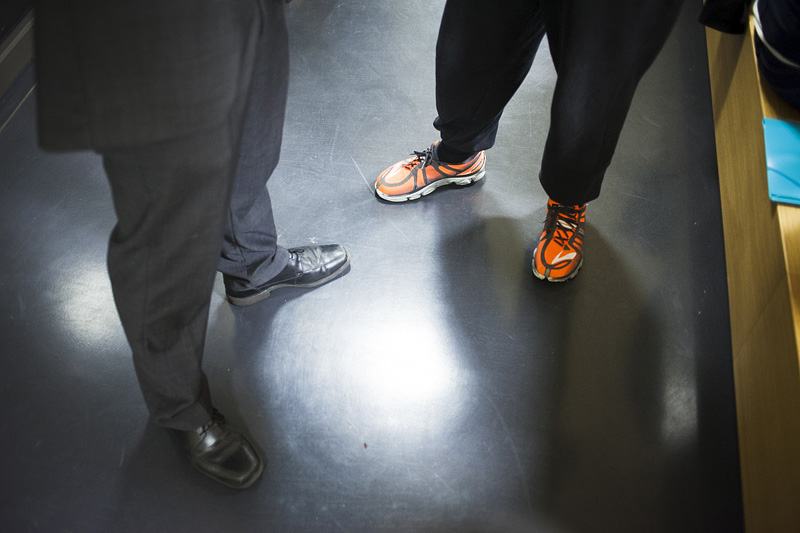 Business meets sports, it looks like this.
Some of the trainees did promotion work.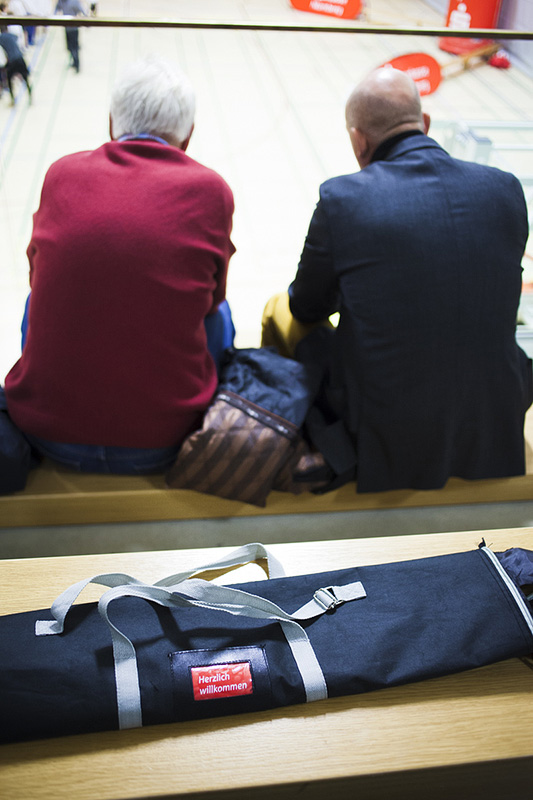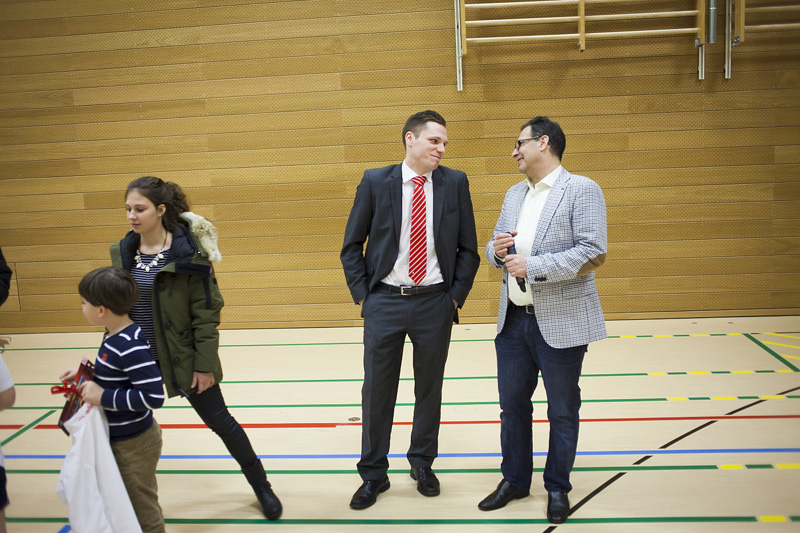 All done – everybody happy!
///
Ok, getting rid of more mixed stuff laying around in folders, on desks, in enlargers and on hard drives. An older protrait of Stephan, one of the last frames with the Fuji GSW690III back then.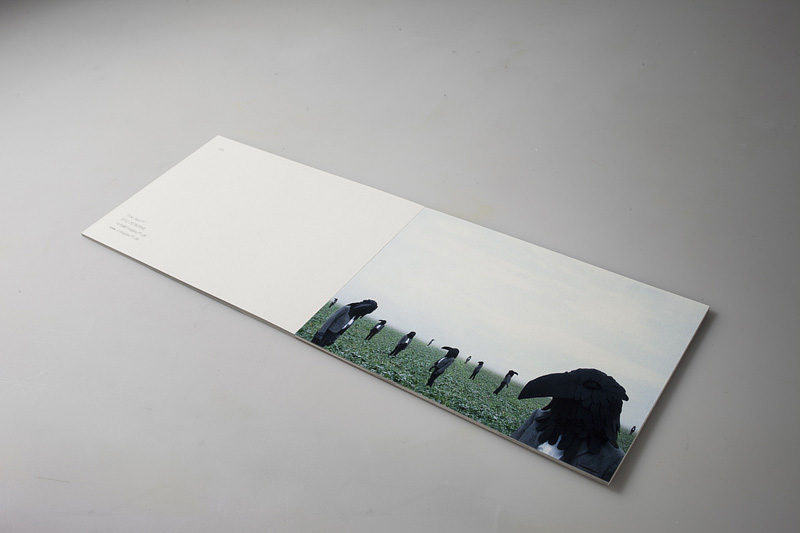 We also shot some of exhibitions catalogues, flyers, posters and other stuff that the previous photo classes made, you know, for archival use.
Work mode!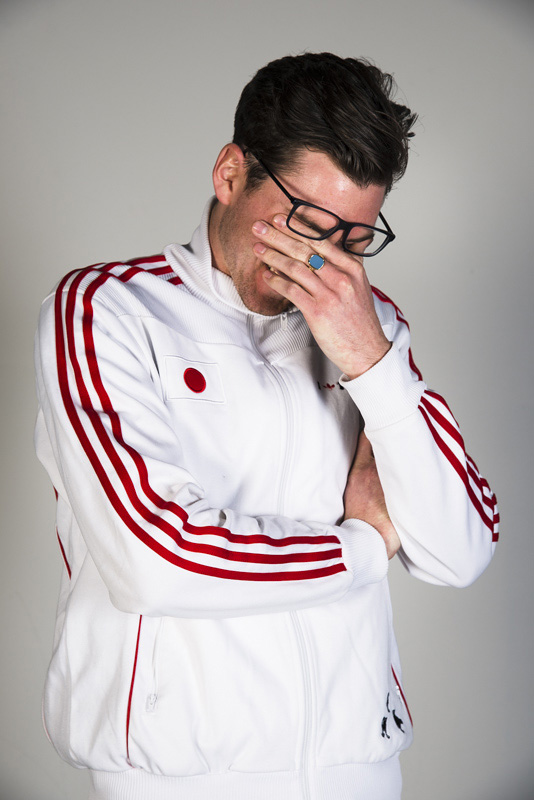 Too much work make you tired!
Bennos motif!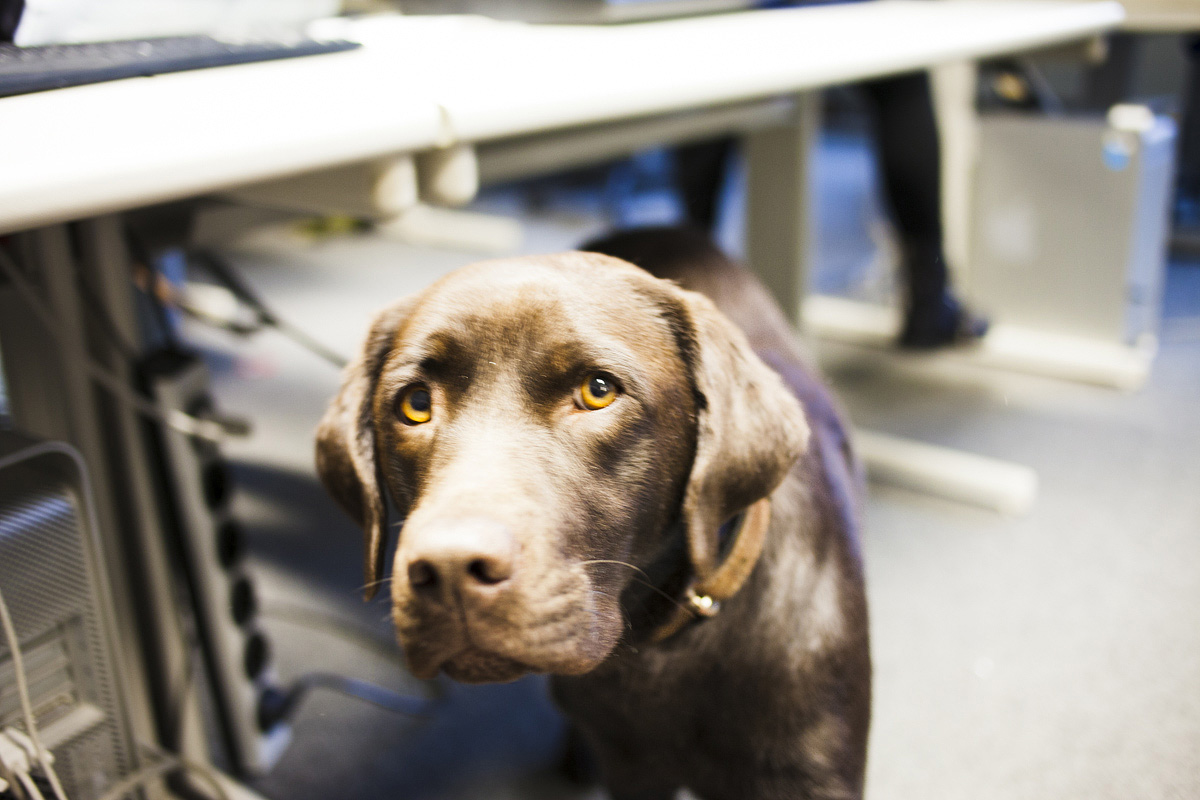 There is a dog in the lab!
Beppo overviewing the room like a boss!
still in my room.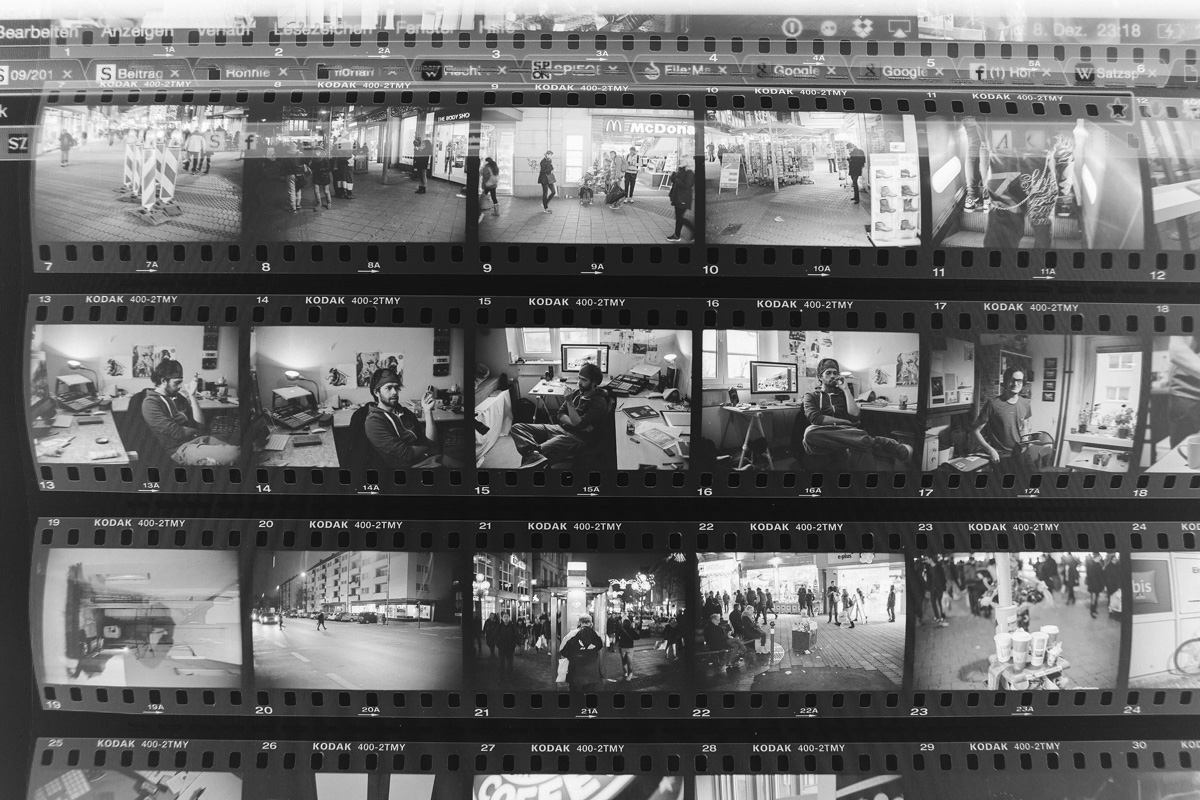 To do a quick check on fresh devd negatives i like to hang them over the white screen of my macbook. For no reason i took a pic of it and i found out that besides the pixels from the screen the dynamic range in these is actually pretty good, better than the raw output any scanning program gives me. Of course with the right scanner and program you get 16bit bw or 24/48bit colour tiffs that edit very good. But anyway, interesting to know, maybe ill build something including a repro stand and a macro lens if i find the time 🙂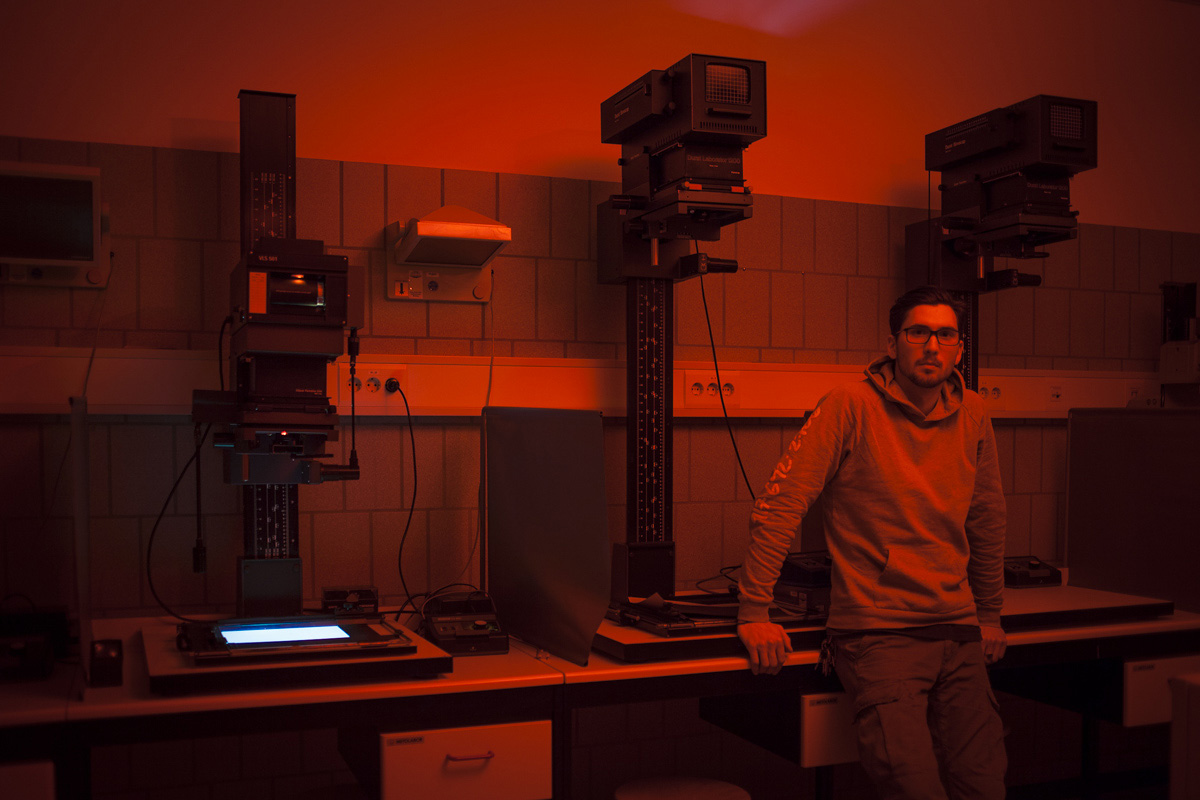 Took this protrait of Stephan in our "office" as we like to call it.
Carpet at Olgas parents place.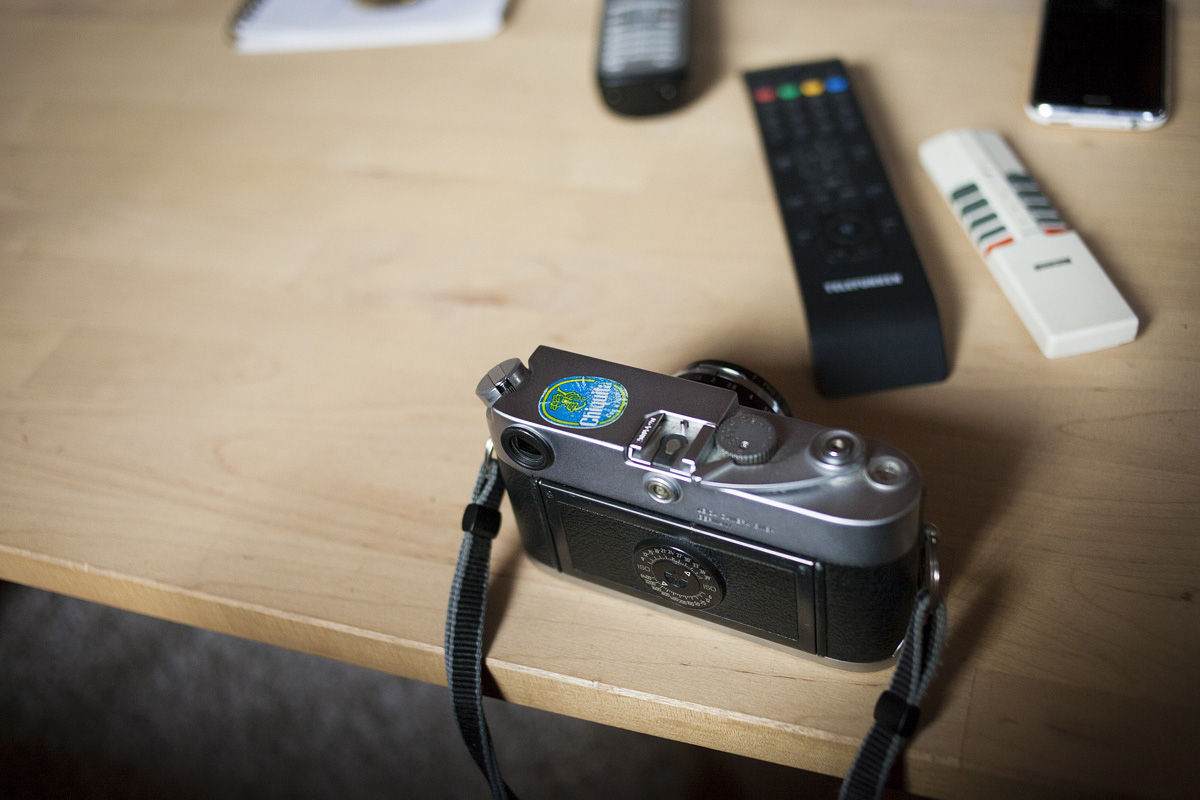 My sweet Chiquita! (UPDATE 3-2015: sold it, got a Mamiya. pow!)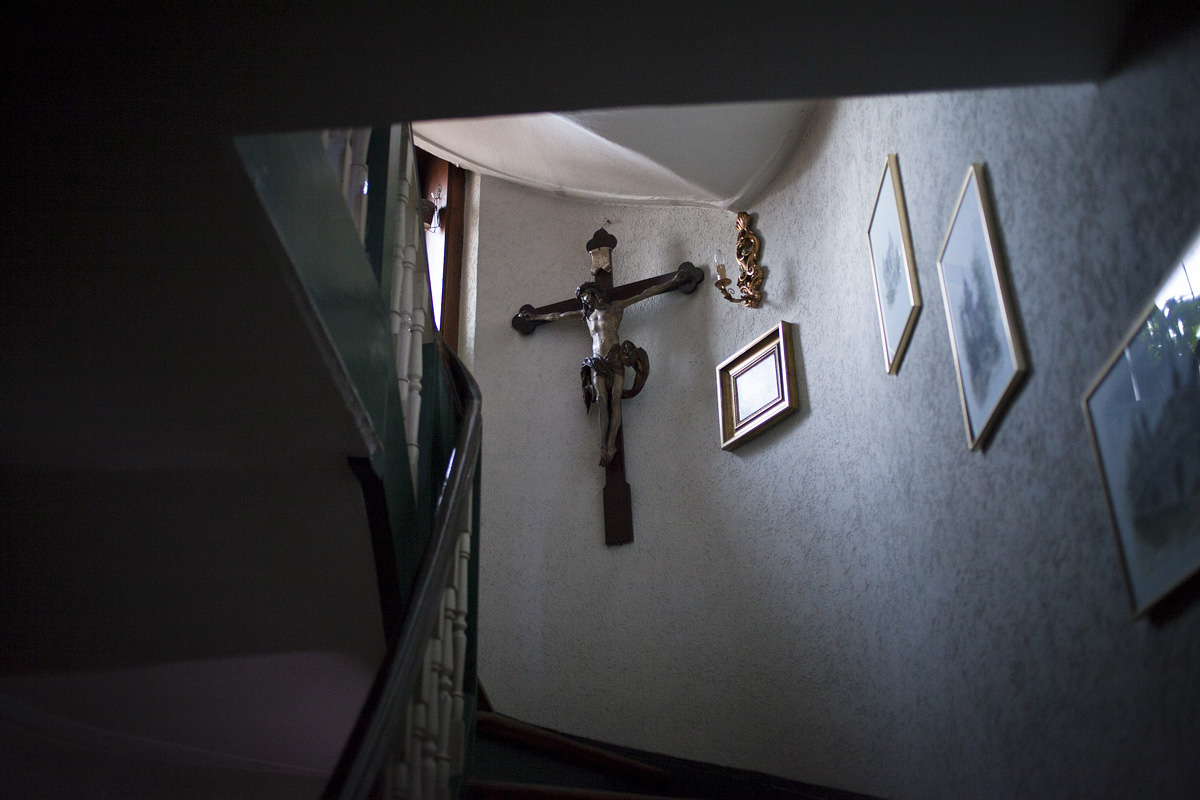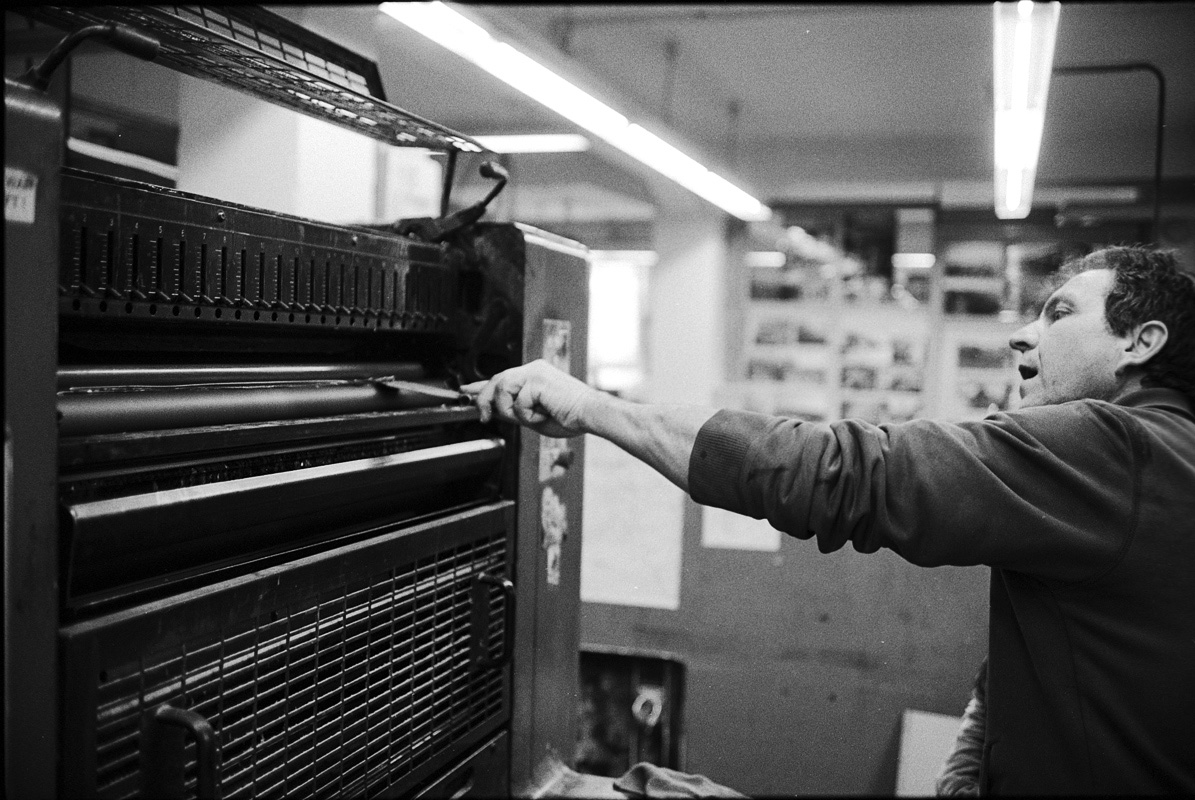 Shooting some Arista 400 (which is re-labeled Kodak Trix) in the Hexar. Dev in HC-110. Visiting a local print shop, learning some stuff about various printing techniques like offset here.
Can you guess the color? Its pure red!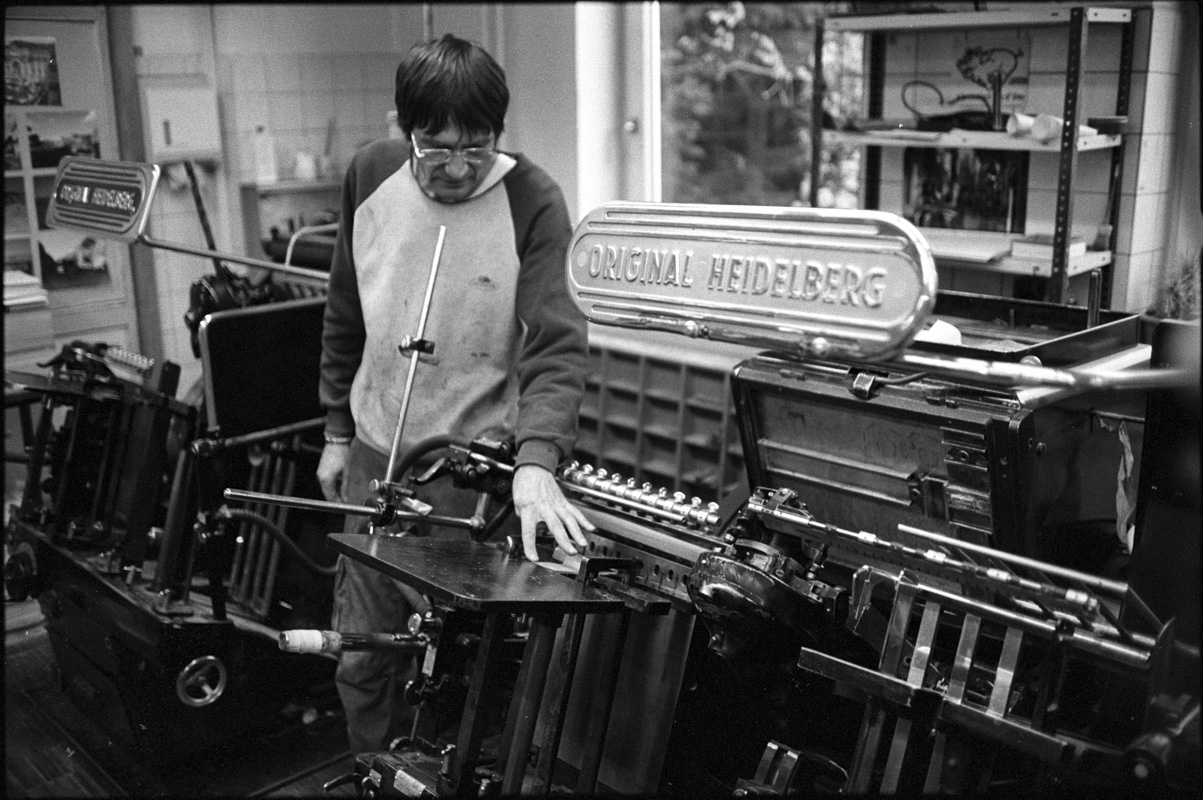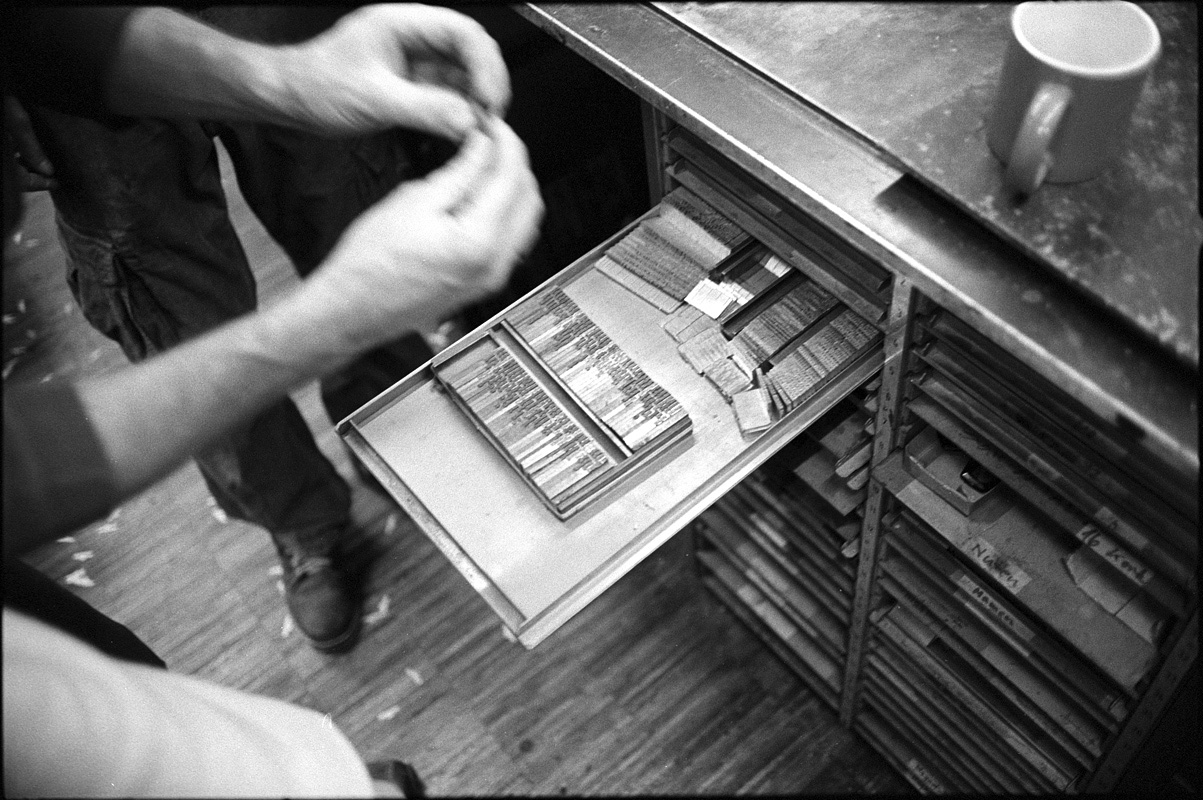 Artist Peter Thiele talking about the printing process.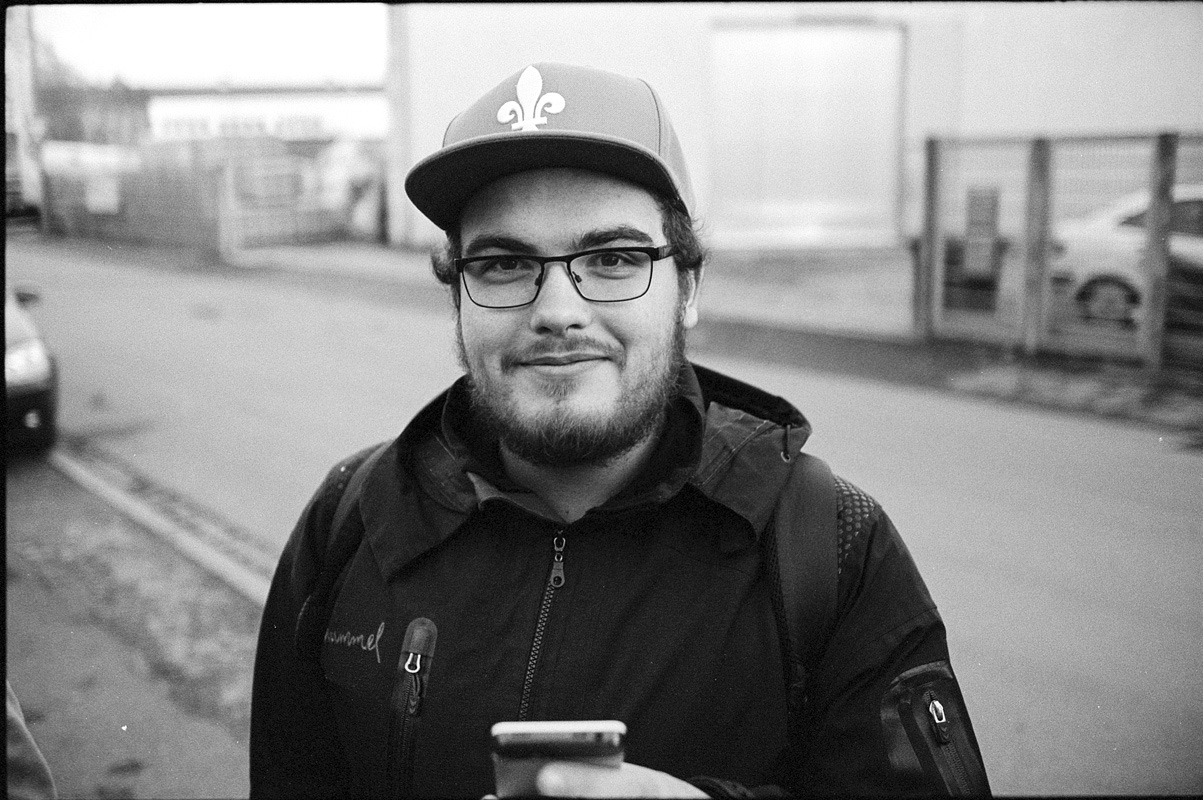 Chris got himself a Leica M6 and a v4 Summicron. Sweet!
This is i9666.jpg!
In the sound studio.
Working on my portrait series again, this time with some color film at Leas place.
I also took some more portaits of Stephan in the darkroom.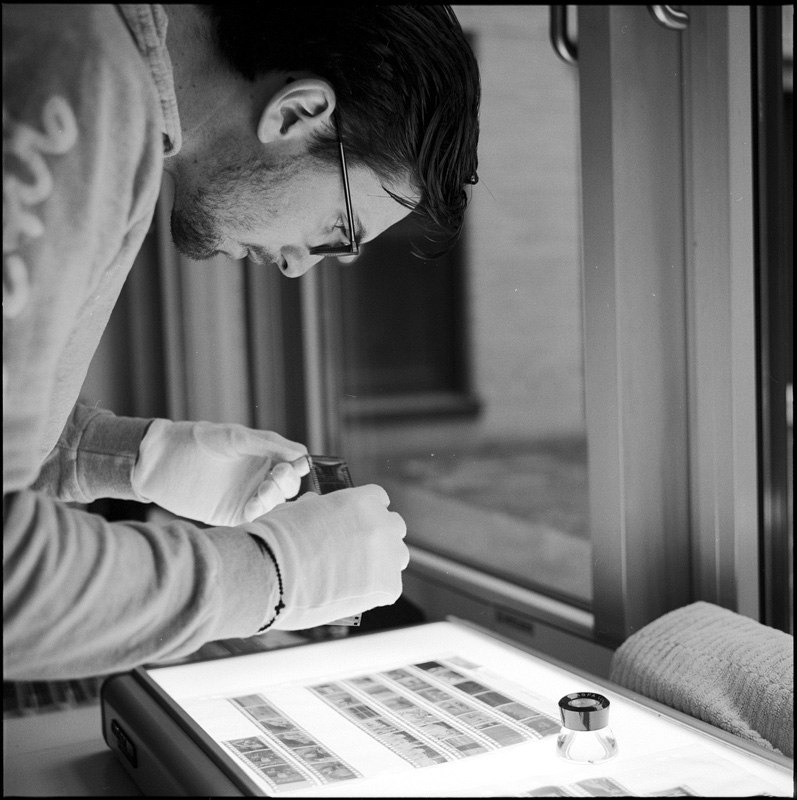 Finished the roll on a walk on the streets of Fürth after giving some rolls of C-41 film to the lab. I should do prints of those, the tones just are smooth this time of day (shortly after sundown).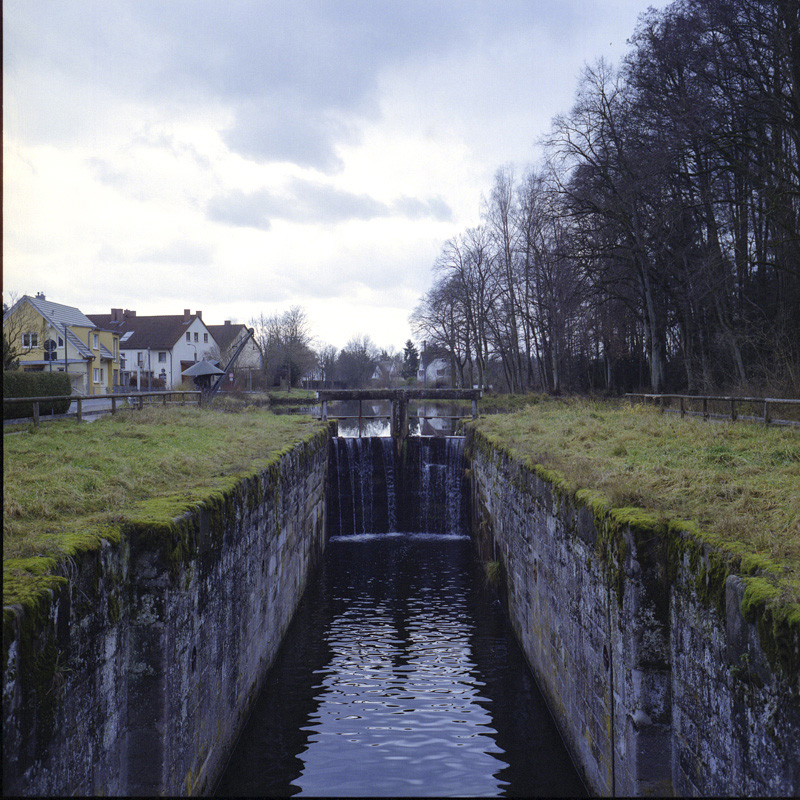 Another walk.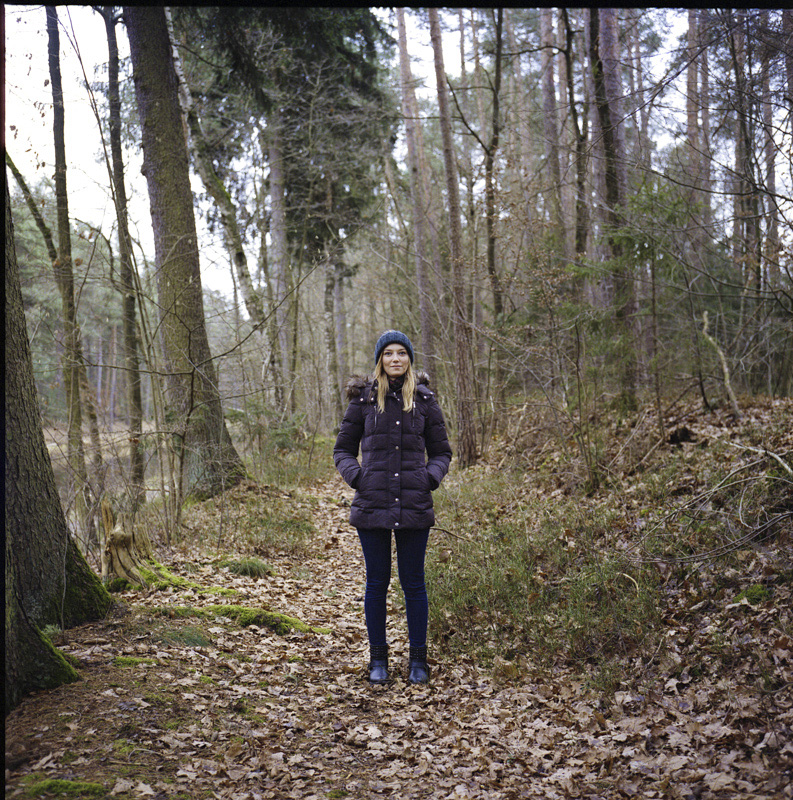 Olga in the woods.
Traditional round of christmas poker. Shot some Arista pushed to 2000.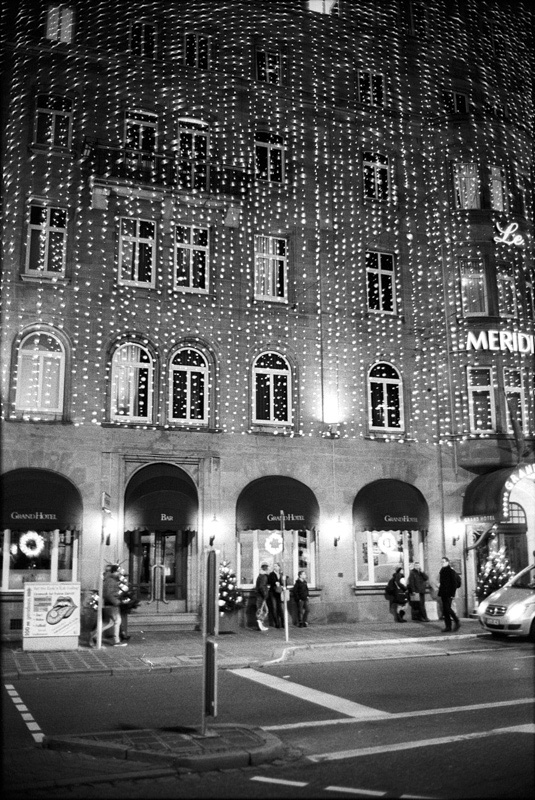 Grand Hotel Nürnberg with some nice decoration lights.
Dog and some piss.
Xmas gathering at my mothers place.
Keeping it simple in Neustadt.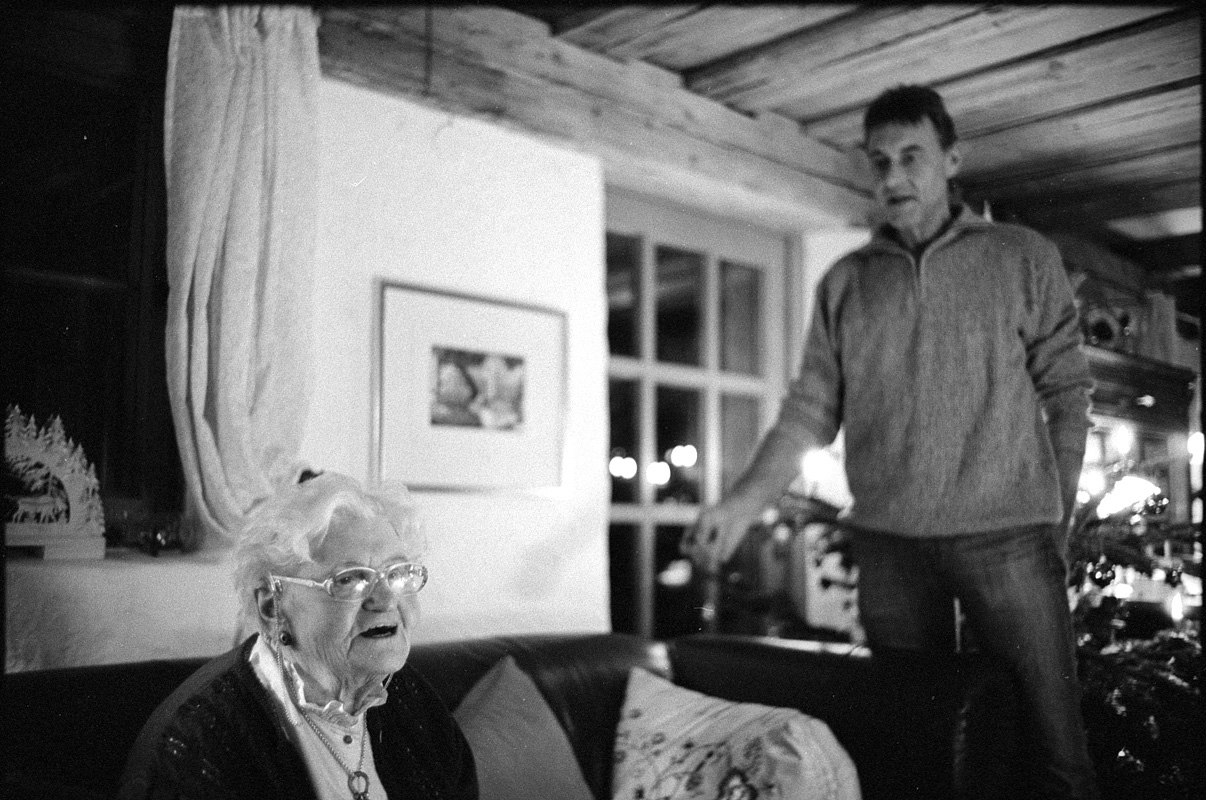 Talking about lots of stuff. I use to lean back and just listen and enjoy the warm fireplace.
Time for more stories.
Different levels at underground station.
Good night.