Constantly shooting all kinds of stuff. Here are some more frames from Summer 2014. And i also found another great piece of music for this post, the new David Guetta single. lol.
[audiotube id="ECm0AwP7YZg" time="no"]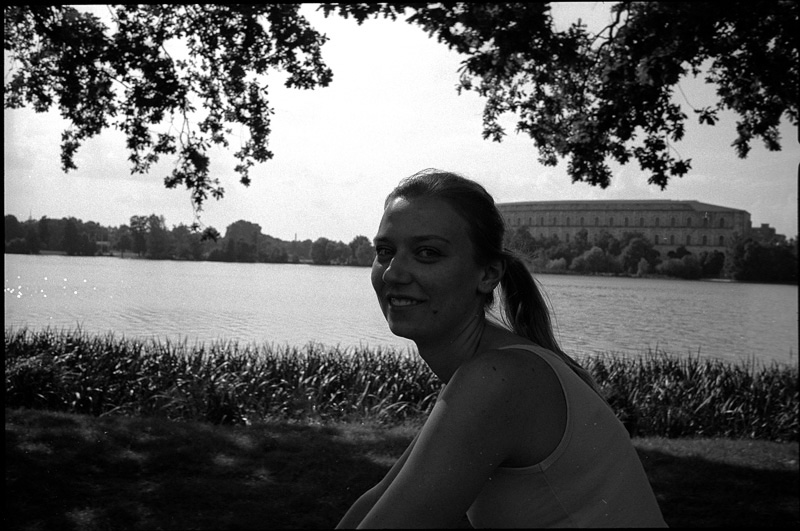 Cruisin around the Dutzendteich.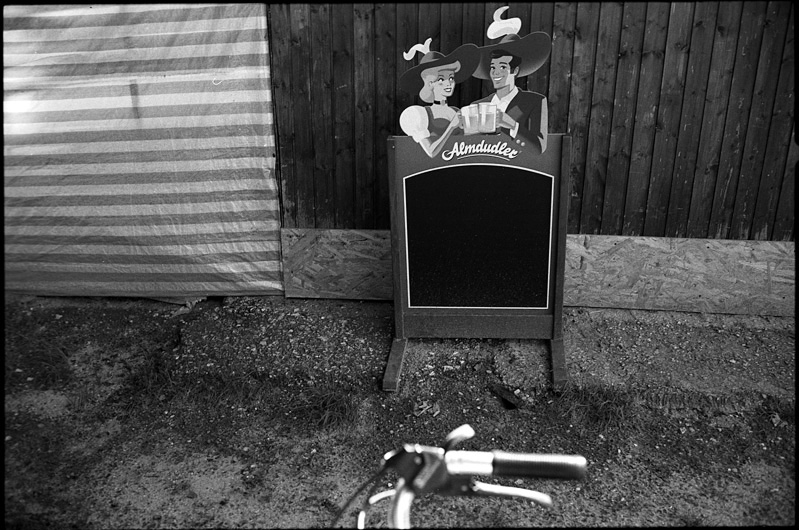 On the menue: Nothing.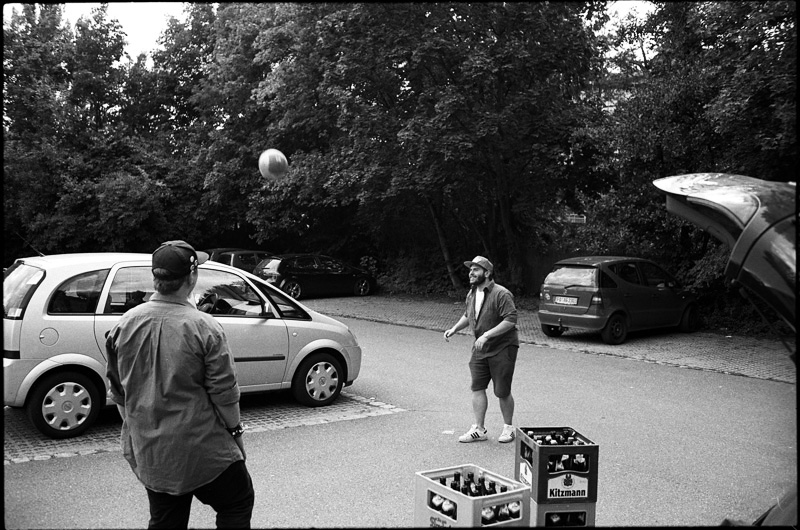 Returning empty beer cartons.
August Critical Mass Nürnberg.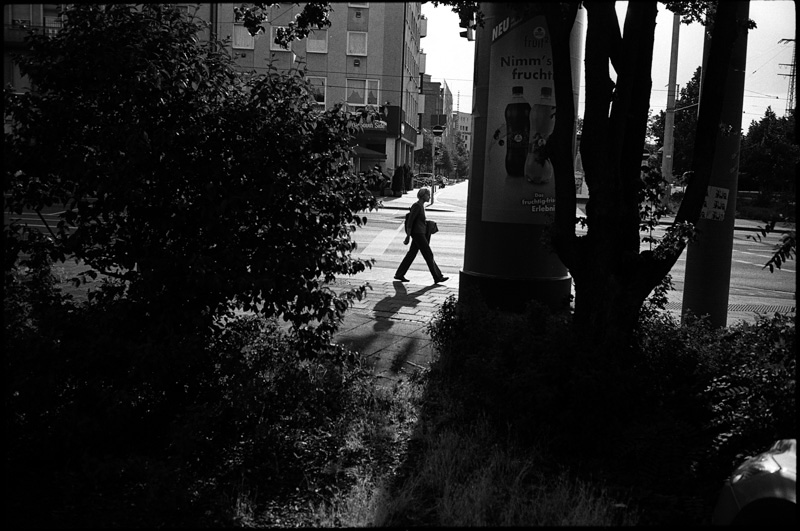 Critical Mass passing our street. The Hexar was somewhat irritated by the fly screens.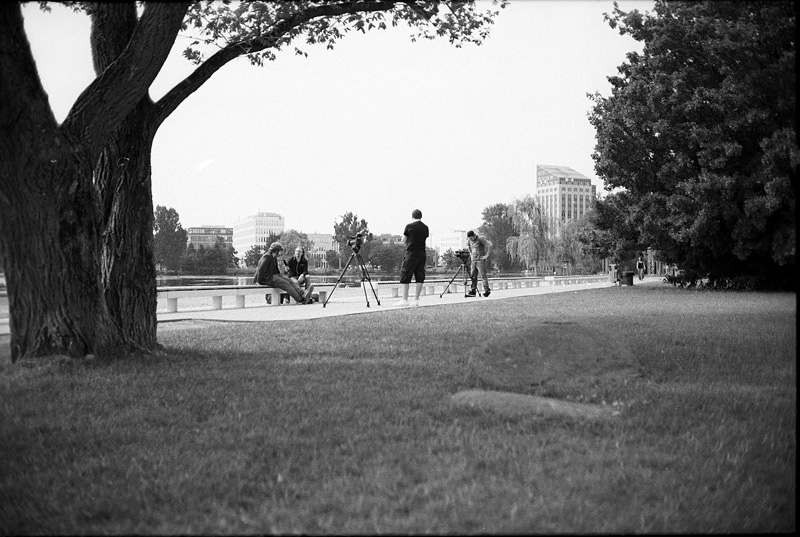 In a park. An interview of some poetry slam dude.
Got something for me?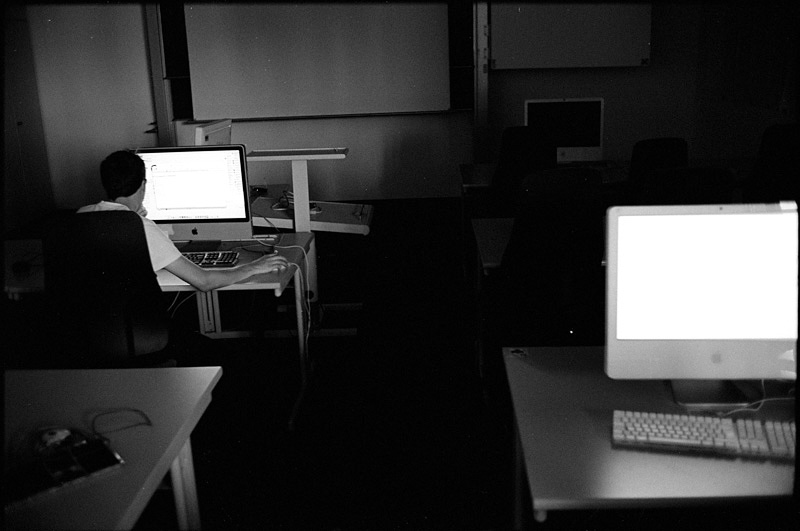 Printing some stuff at uni + shooting some Trix in the Leica M6 (ID-11 since i ran out of Xtol)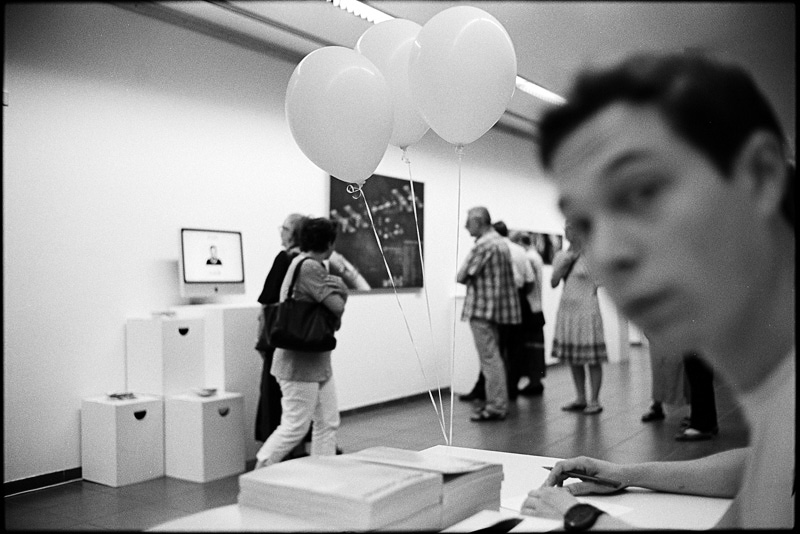 Graduation exhibition. Some of us younger students did checkout and sold tickets and exhib catalogues.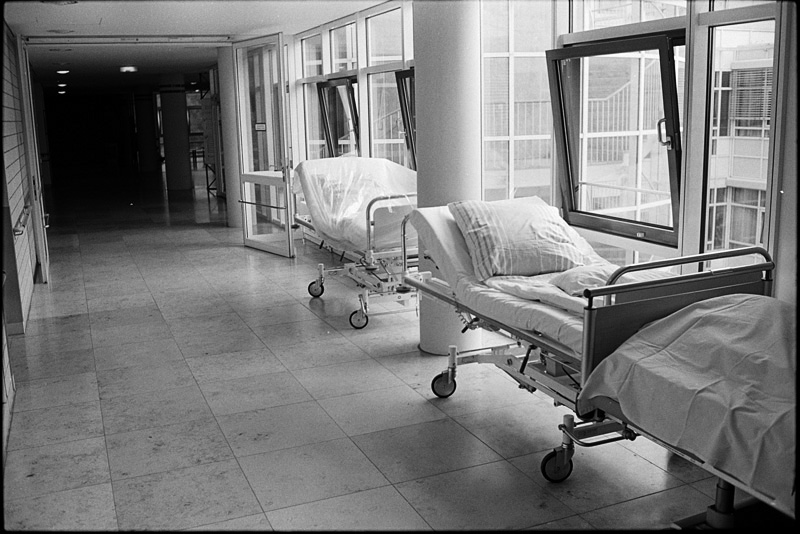 Visited my sister in the hospital (nothing serious).
Barbecue, cheap version.
One saturday noon, little Mike's baptism.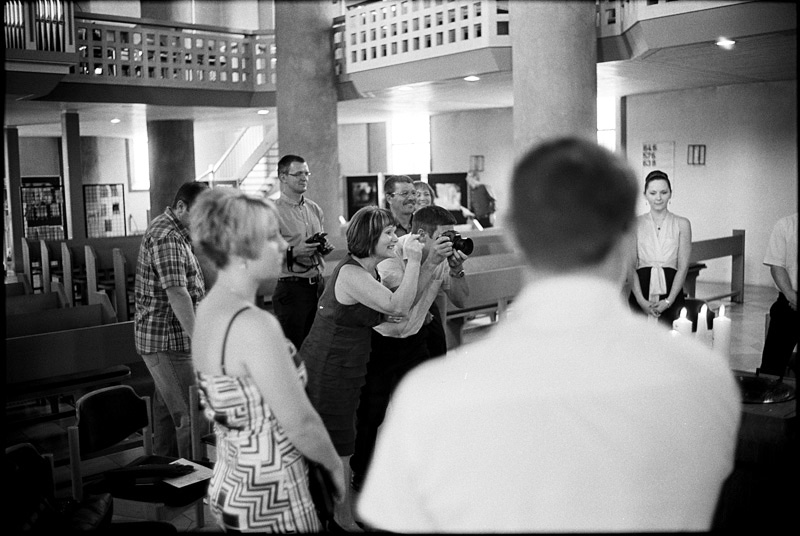 I was not the only one taking pictures, but for sure the one taking the least ones.
We had some family time including delicious dinner later.
Lili taking some family portraits with her 60D. Its always nice to see people pushing forward and really using their gear and trying to get better instead of just buying a random DSLR kit for "better" pictures and then shooting everything with P mode.
She also took this one with my 5DII. Pretty nice i think.
Next day, good weather, good company at Olgas parents place.
Before driving back home, we decided to go for another walk since the sun was still up.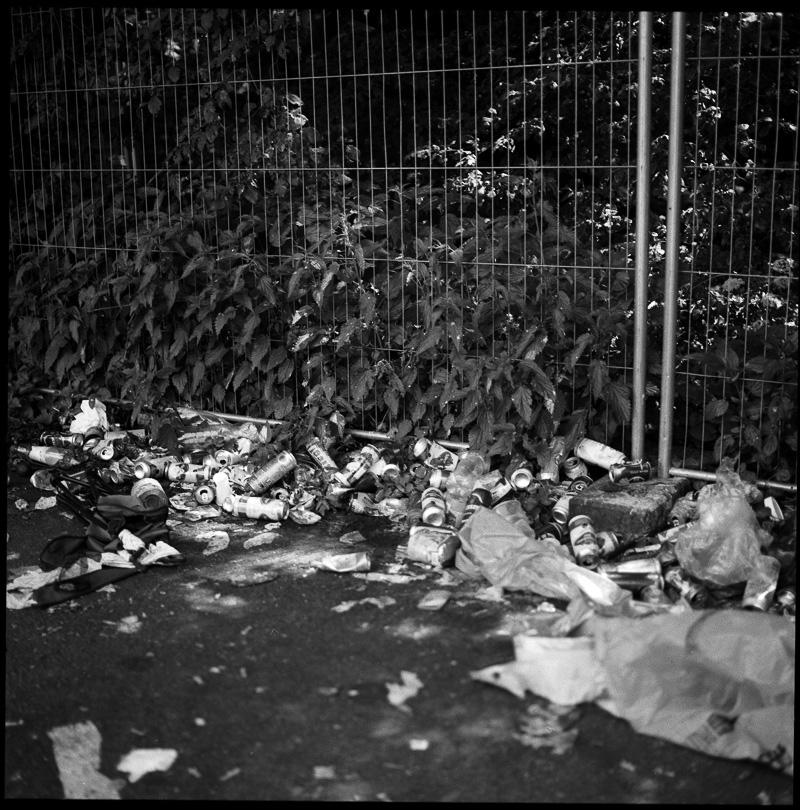 Some MF frames that i forgot in the last post. This is some more Rock im Park aftermath stuff, garbage stills. FP4+ in the Hasselblad 500CM. Also the very last frames before i sold it.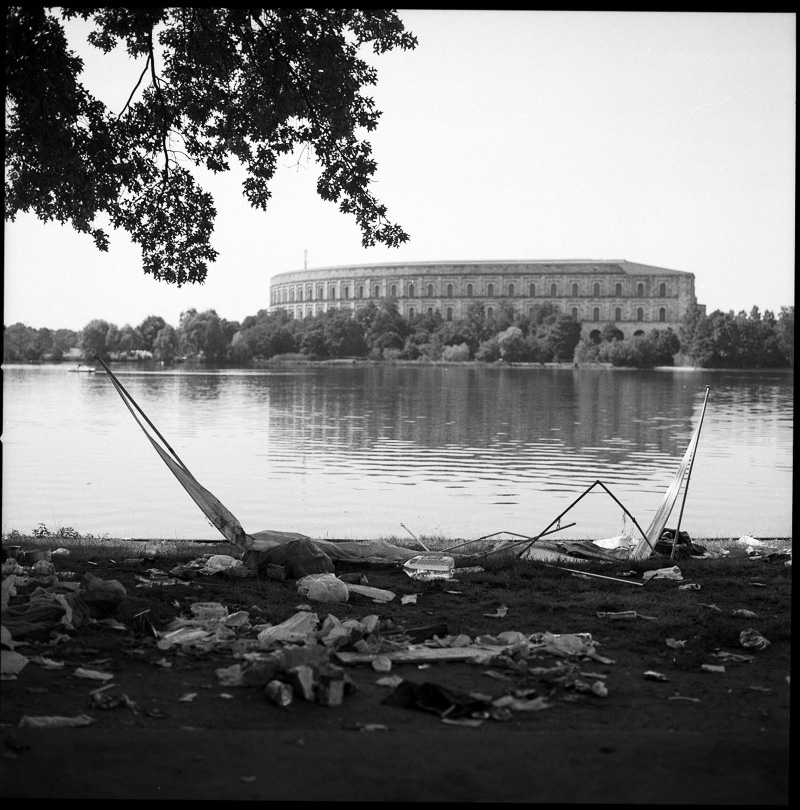 This is already on my wall as a 30x30cm print.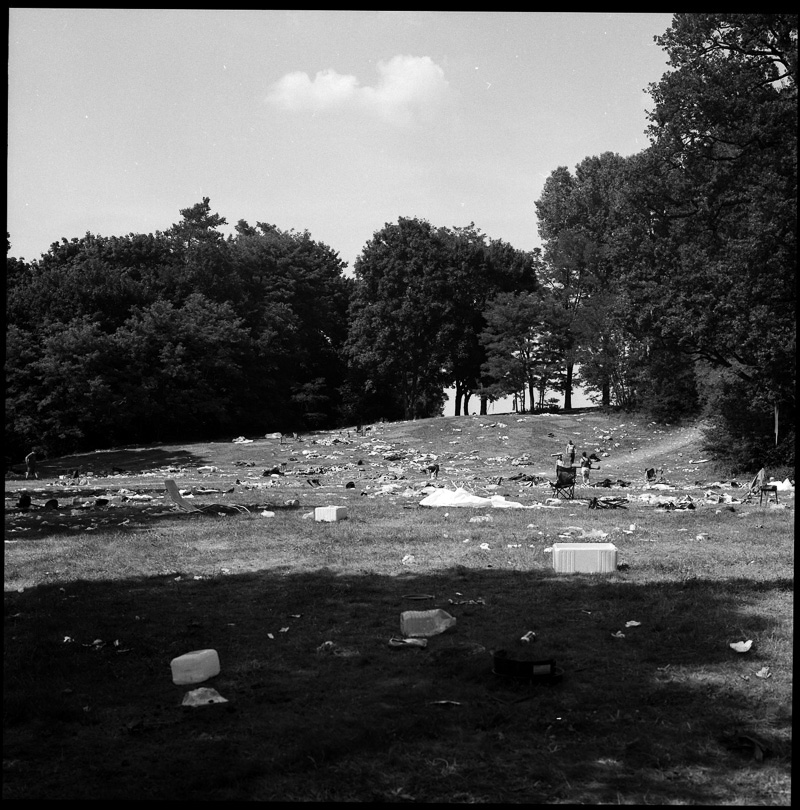 Some DTM stands
Some day later, we met with the little family in Neustadt to do a quick shooting with Mike. These are some snaps i took in between.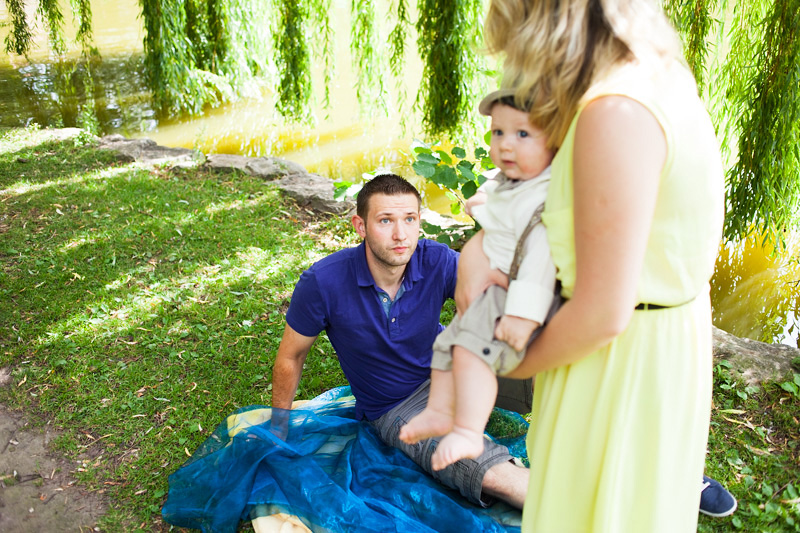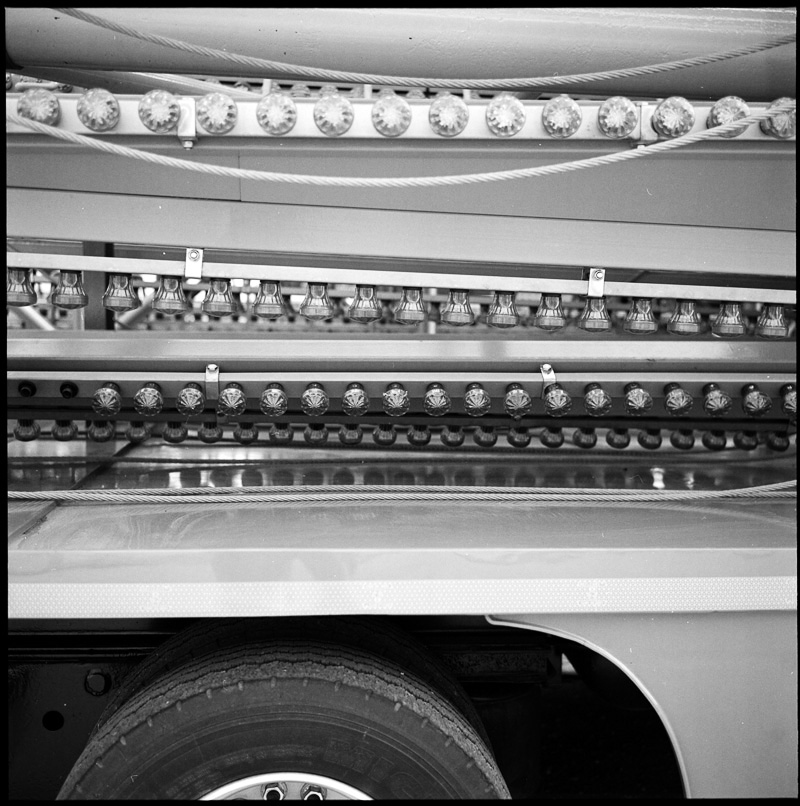 The other day i just walked around to shoot some frames with the Rolleiflex 3.5. Came across the Volksfestplatz (local fair area) wich was one big construction site since the fair was about to begin. TMY in HC-110.
Several trailers connected their waste water pipes to one sink. Kinda cute.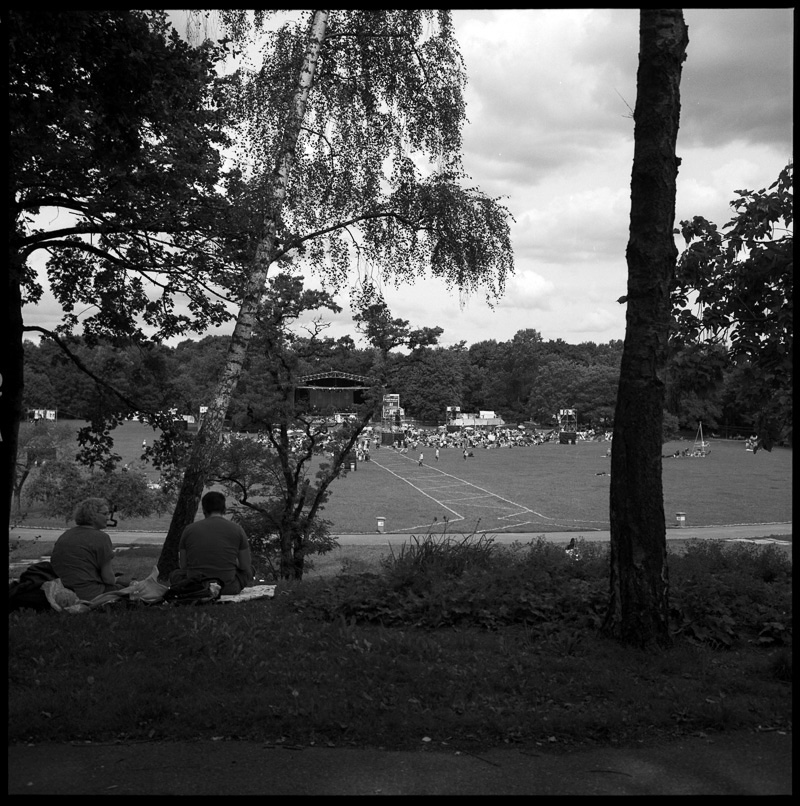 Oh and also, the Klassik Open-Air (classical music open air festival) took place that night. Some people came early to enjoy the weather and to save the best spots for later.
flex tmy id11
My dad and i took the car to Cologne for a funeral. We had a nice lunch later that day with my aunt and uncle and cousin. Since i brought the Rolleiflex with me we took some portraits at a nice little churches garden.
My cousin Jens who lives in Cologne.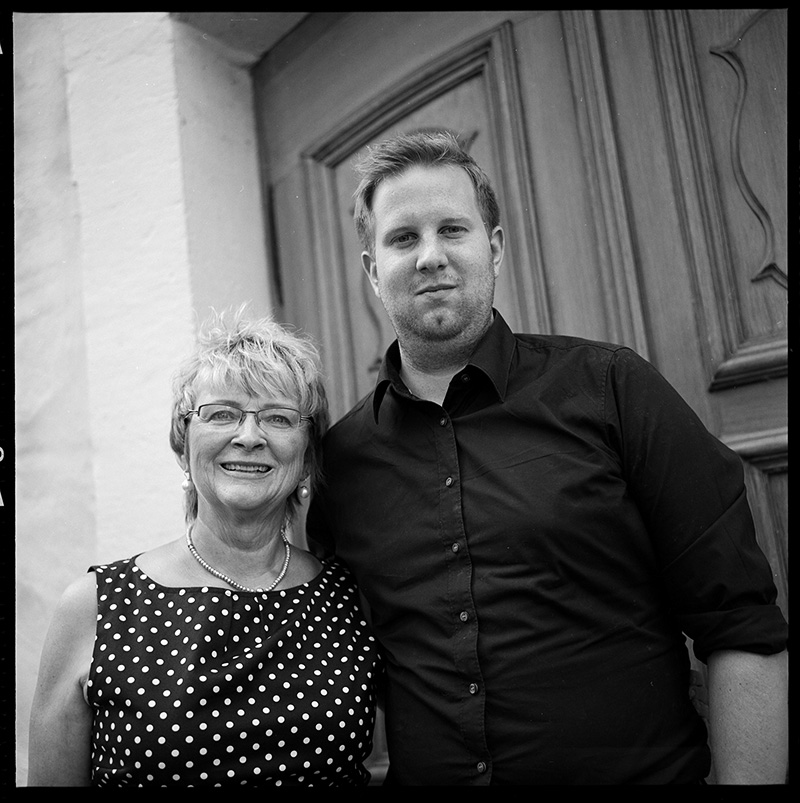 He then took this one. First time hands on a Rolleiflex, well done!
dslr scan
Something completely different. Some crap i had laying around for months. Before getting a Coolscan i was experimenting with a 5D Mark II + rings + 50mm (NON-macro) + diy light table combo. Result: MACRO definitely needed, crazy distortion with regular lenses. Besides that it works just fantastic. So if you feel like it go give it a try!
I "scanned" about 10 pics for fun. So mad distortion, only a very small area is in focus. But you get the idea, the resolution is quite good actually. 100% crop here.
So, we have this thing called Projektwoche (free project week) at uni. Sadly it got cancelled this year so the council is organising an alternative for interested students. We set up some workshops like type design, magazine layout, CGI effects and so on. I'll be hosting a Caffenol workshop in this week which basically is about developing negative film with coffee. I haven't done it in a couple of years now but it is so much fun, so i went through the process again to check if everythings working correctly.
So i went to the drugtstore and bought new coffee (regular instant coffee, "full flavor" or "strong", NOT "arabica" or "gold" or "mild" since those do not contain enough caffeic acid needed for dev), washing soda (about 70€ct for 500g, lasts like forever) and Vitamin C. In the middle with the red head is a small bottle of Kaliumbromid (KBr, potassium bromide) which is optional to reduce fog and avoid an uneven development. Only needed for some films, you can get it at any pharmacy for about 5€. Just tell them you want to do some photo stuff and not build a bomb or something if you get asked. On the very right is some regular wetting agent for final rinse.
You can check all recipes at Reinholds caffenol blog. I usually go with a stand dev version (C-C-L) which is 8g soda, 5g VitC .3g KBr and 20g Coffee diluted in 500ml tap water.
Mix up the nasty stuff, make sure everything is diluted completely. Check temp also, should be around 20°C.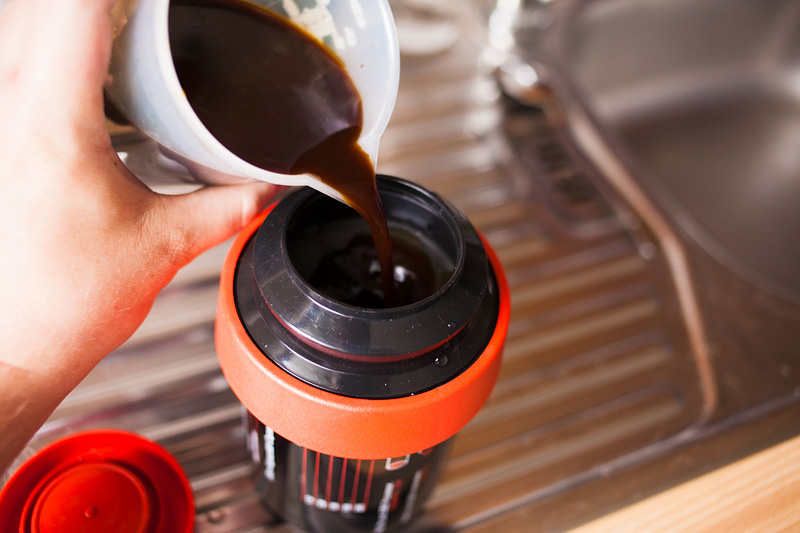 Start development. Move tank from time to time.
Pour out the soup, wash!, fix, rinse.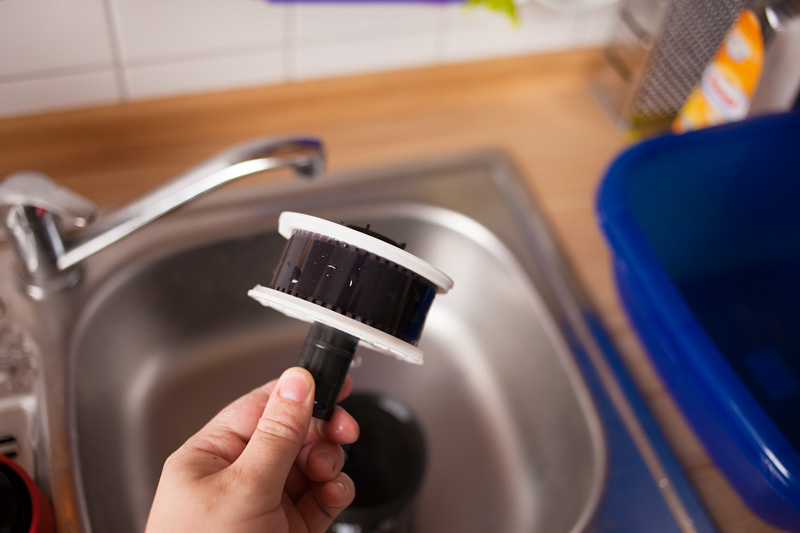 You're done.
Now hang your film and let it dry.
Here are some results from the first test roll, a leftover one from the pinhole stuff. Kodak TMX.
Since all cameras were loaded already, i shot these with some old PORSTreflex slr with a 55mm lens. Erlangen btw.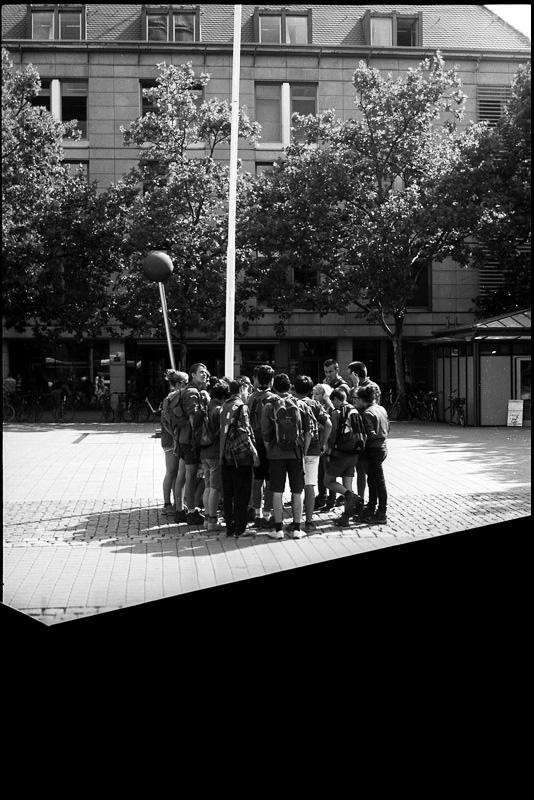 The "first" frame.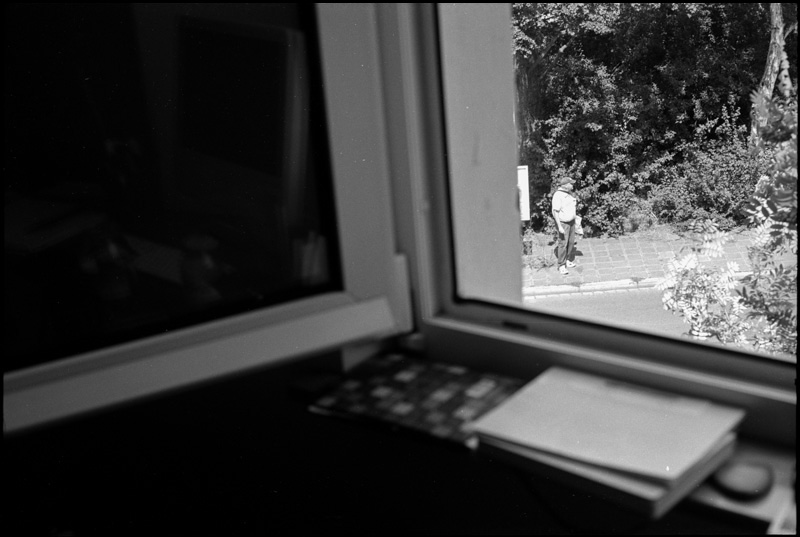 Back home. Man 55mm is one weird ass focal length.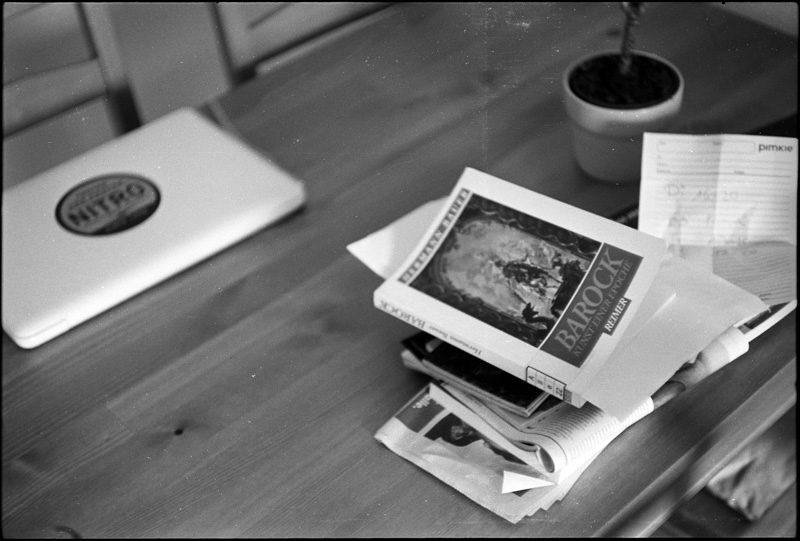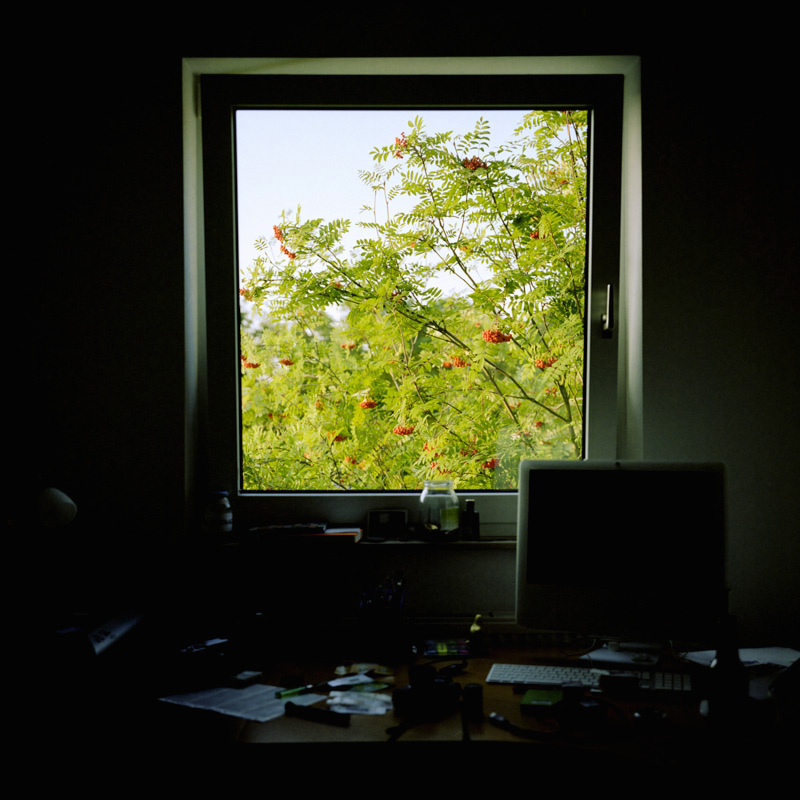 Some random colour frames with the Rolleiflex. Portra 160, home dev with the Tetenal Kit.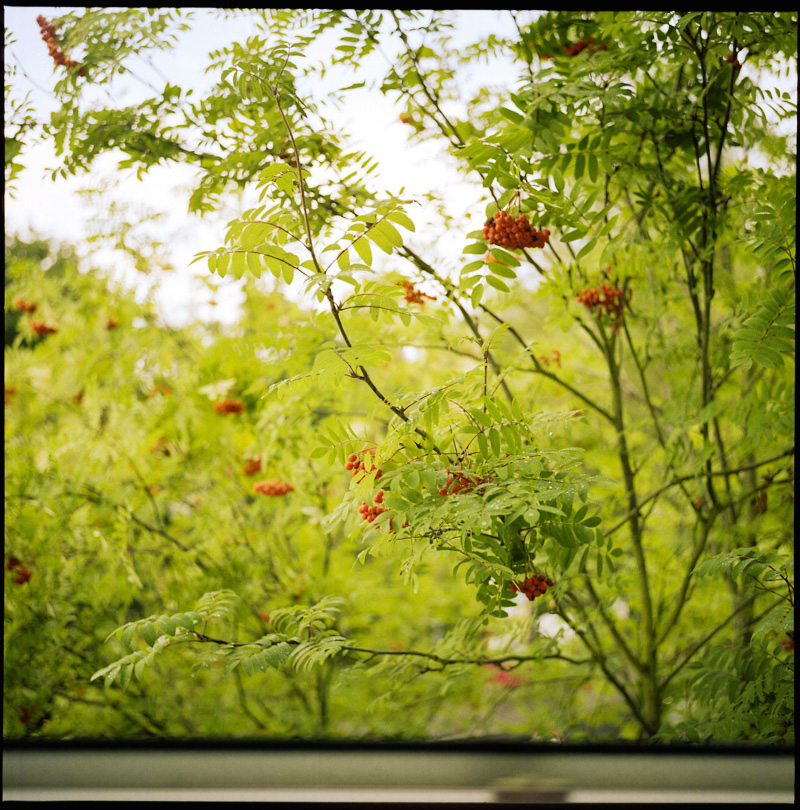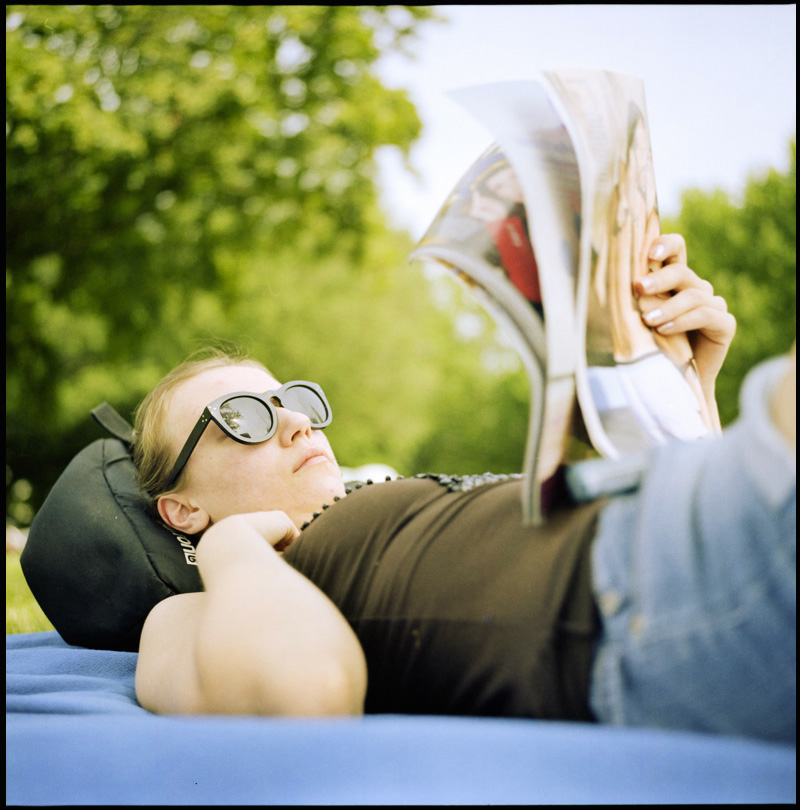 apx ccl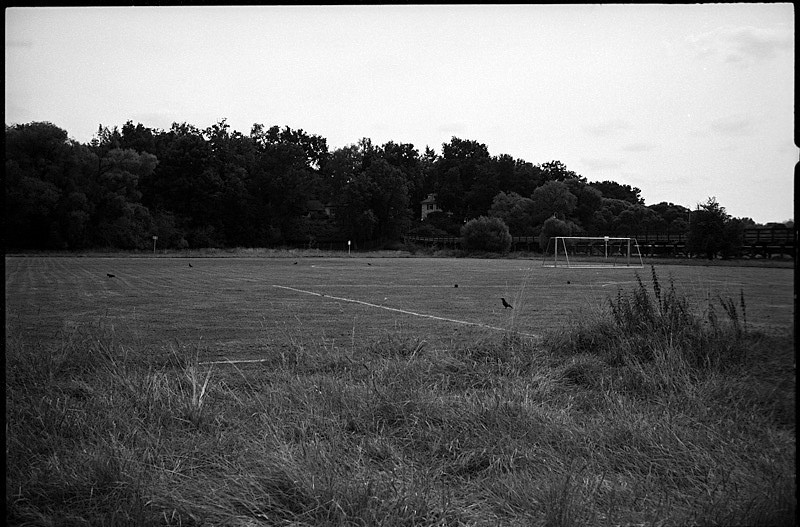 More Caffenol stuff. APX 100 this time. Feels like this was MADE for Coffee. Some crows on a field.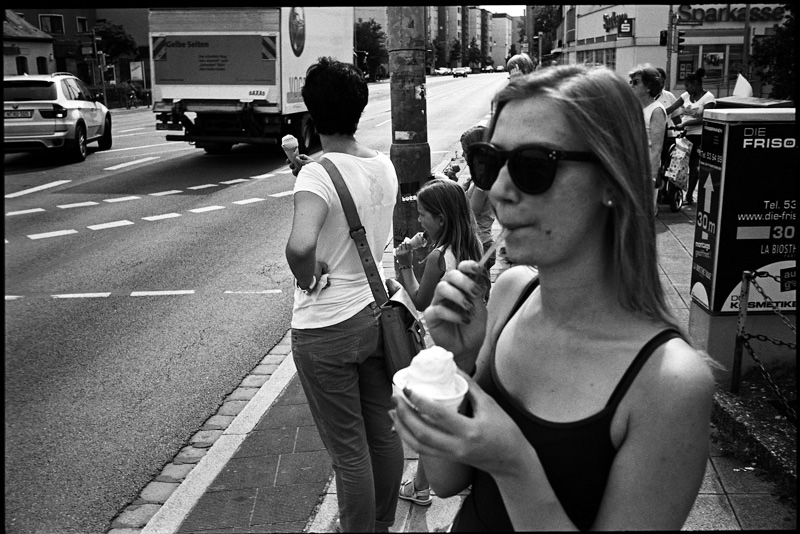 Getting some icecream.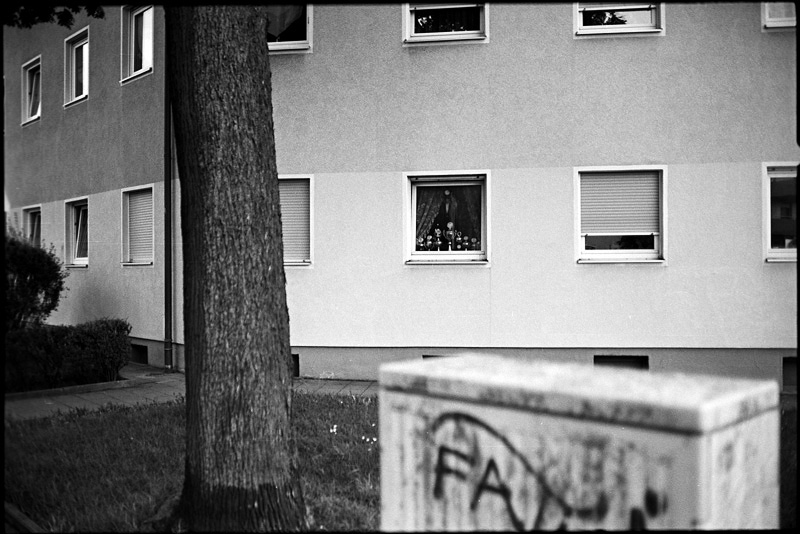 Boring quarter.
Two weeks later, next Klassik Open-Air.
Big L in my car. Michi was so kind and gave me the L O C K letters of his ROCKWALL after the exhibition. Too bad he did not have an extra C.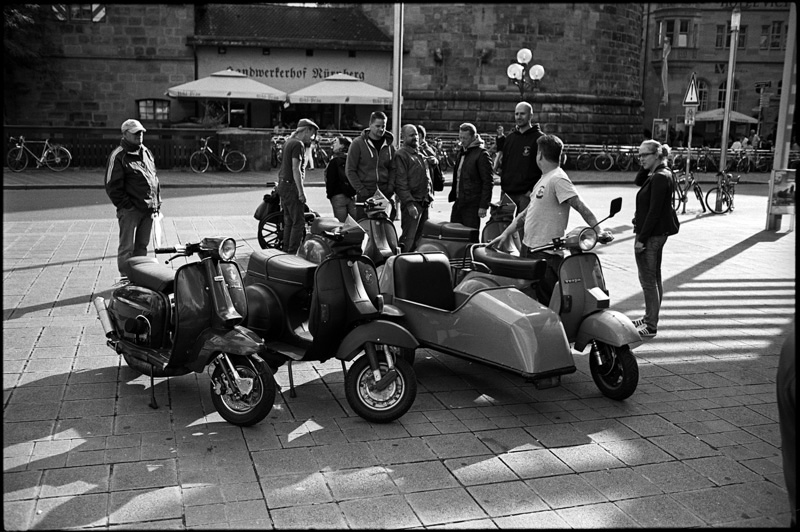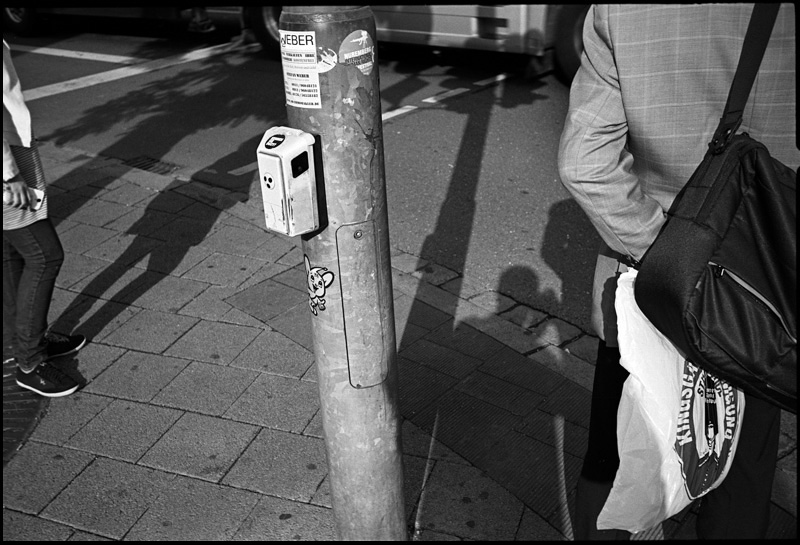 Wassup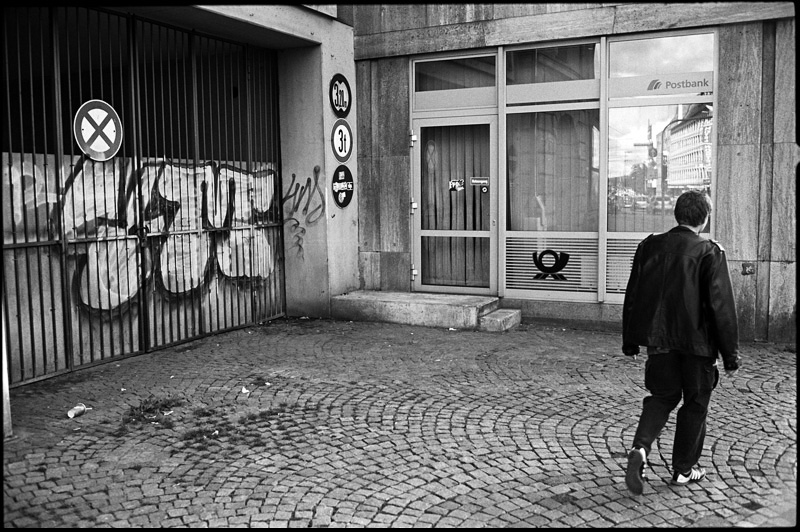 Just a nice corner.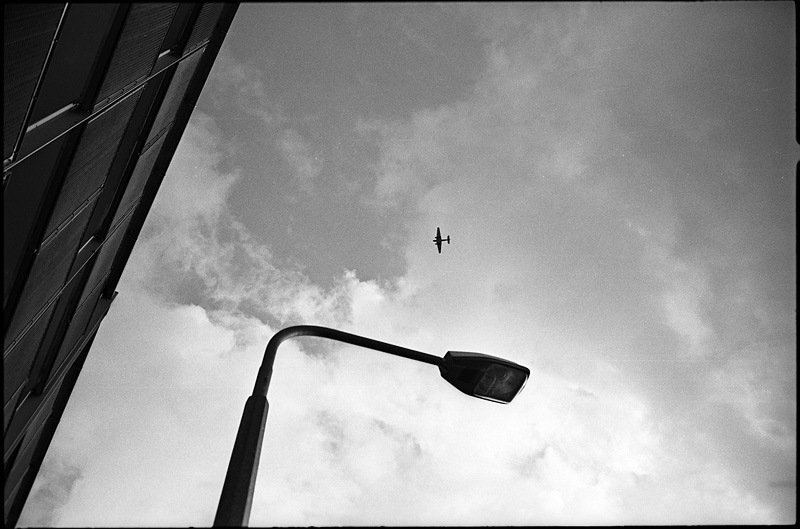 Looking up.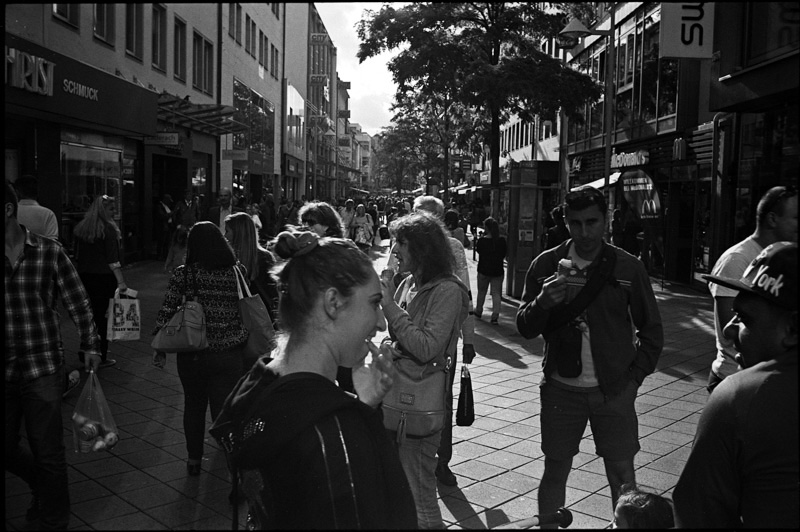 Black hat, cig, b/w shirt, black jeans, white shoes, b/w dog. This dude so owns this b/w frame.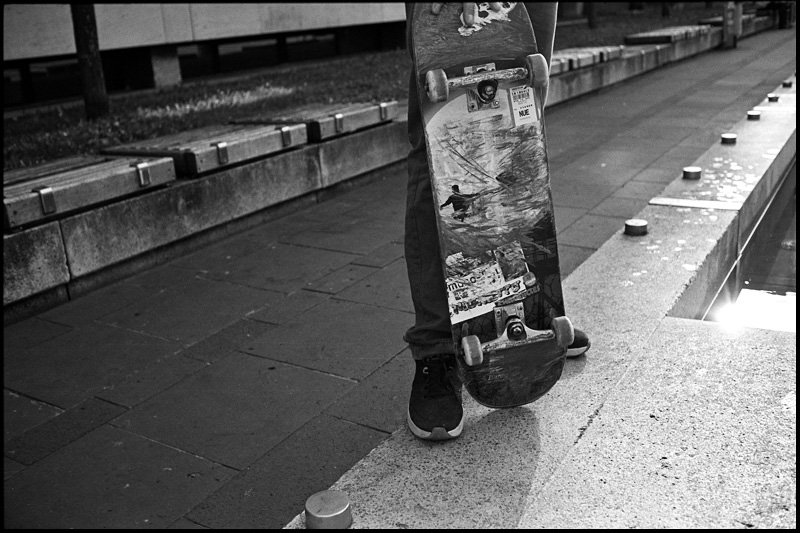 Later i ran into Stephan who was skating at the Germanic National Museum area with some friends.
He and Anselm just got back from Barcelona and he had some crazy stories to tell. Hexanon looking good here.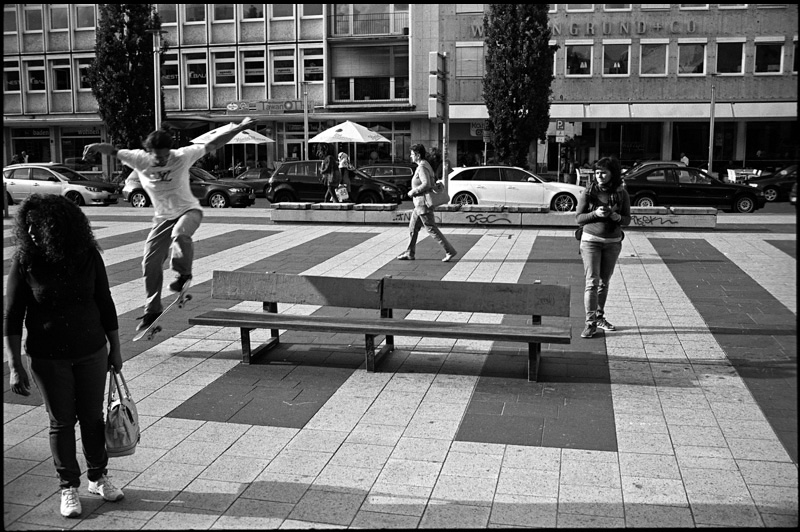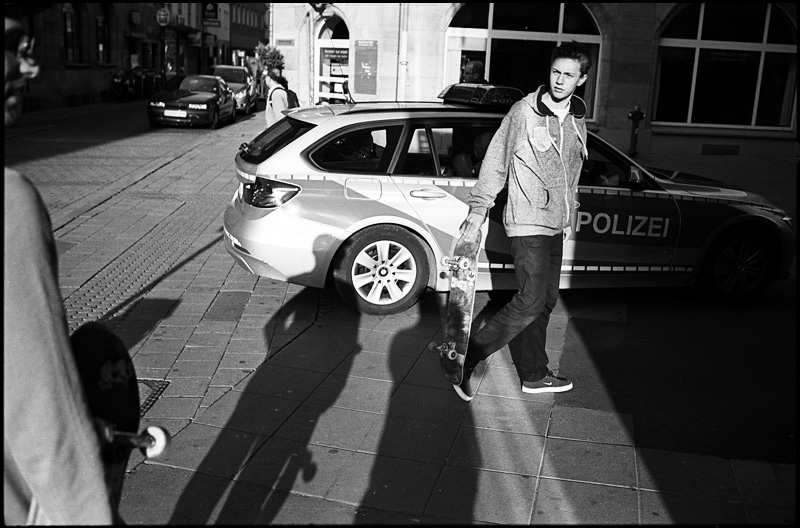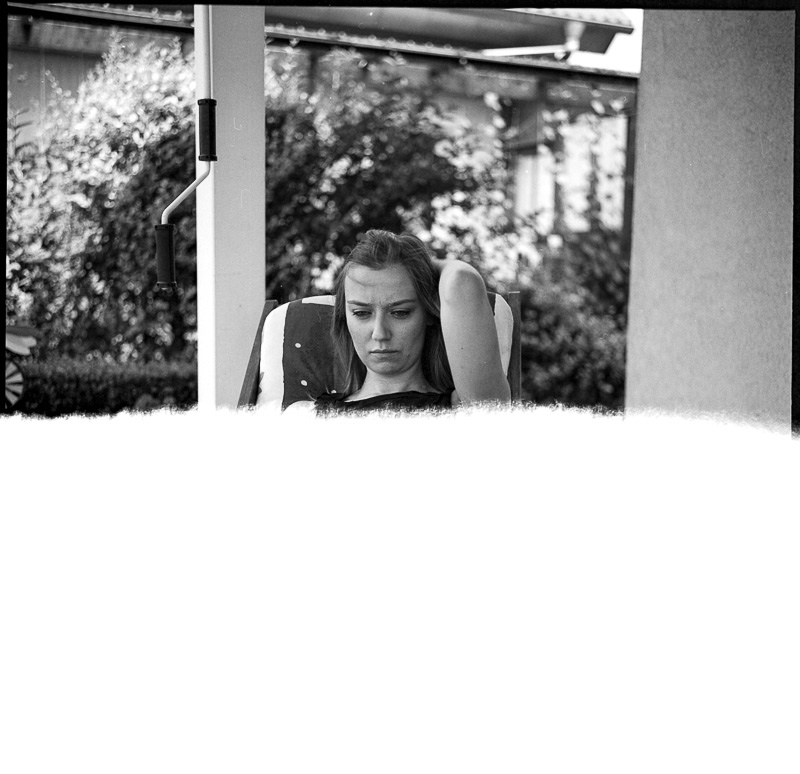 Thats what happens if you let an old roll of 120 film stand with the seal removed, it loses its tension and starts to uncurl, so light gets on the film. Lost a whole roll of good Efke 25 to this that flinged like a spring when i removed the seal and put it on the table for a sec. Sucks. This roll of Ilford Pan F+ only lost this half of a frame. Also trying Caffenol with mf again here.
[audiotube id="XXX" time="no"]
Gerhard in his atelier. Brought the wrong film though, iso 50 was impossible here. Also the roll was very old so i better should have gone for iso 12 or so which makes indoor portraits (handheld) even more a pain in the ass. This was already 1/8th of a sec wide open.
Coffee in the garden.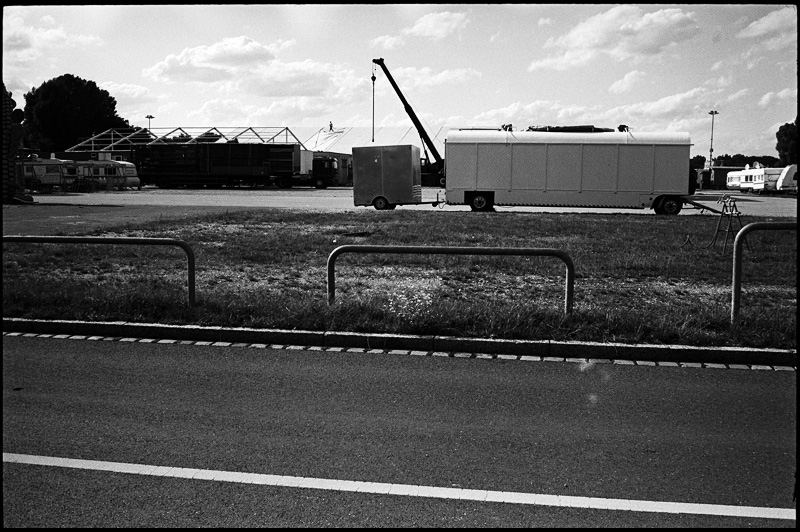 Guess what: APX and Caffenol! A man on top of a Volksfest Bierzelt.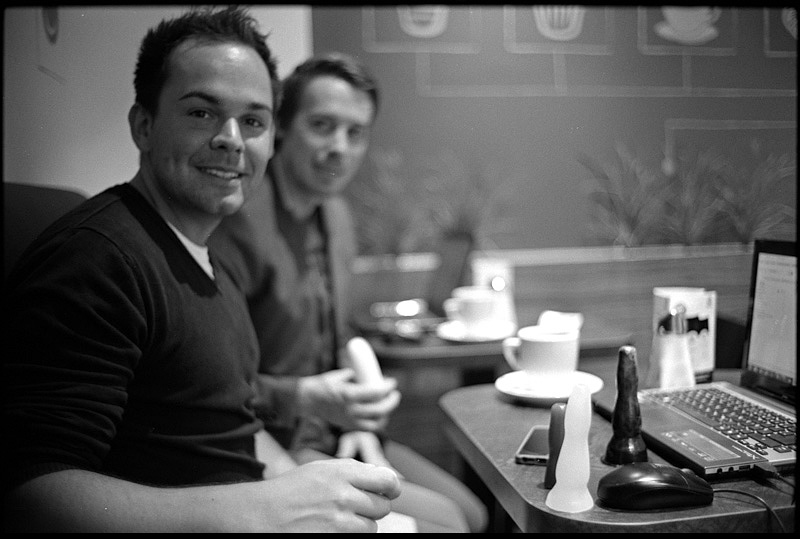 Hanging out with Darius and Niko, working on their startup. I did some logo and CI stuff, they continued creating new lines of their "products". And by "products" a mean huge silicone dildos of course.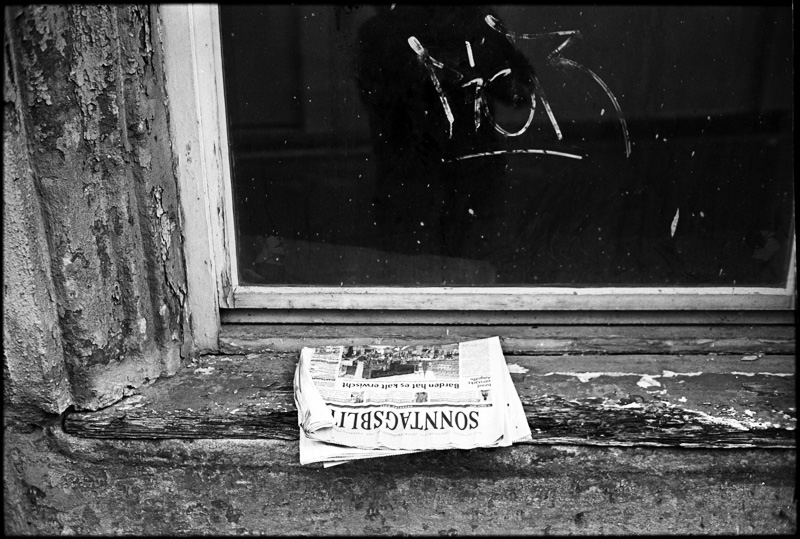 Back in the shopping area.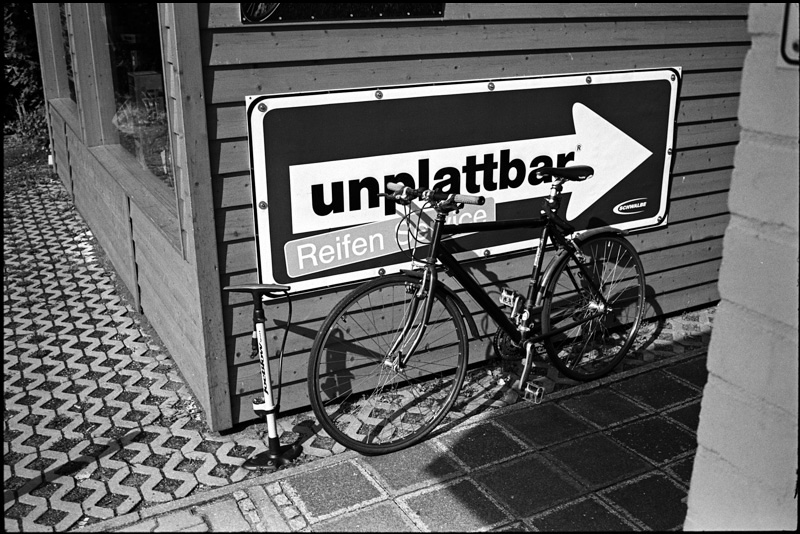 My temporary ride.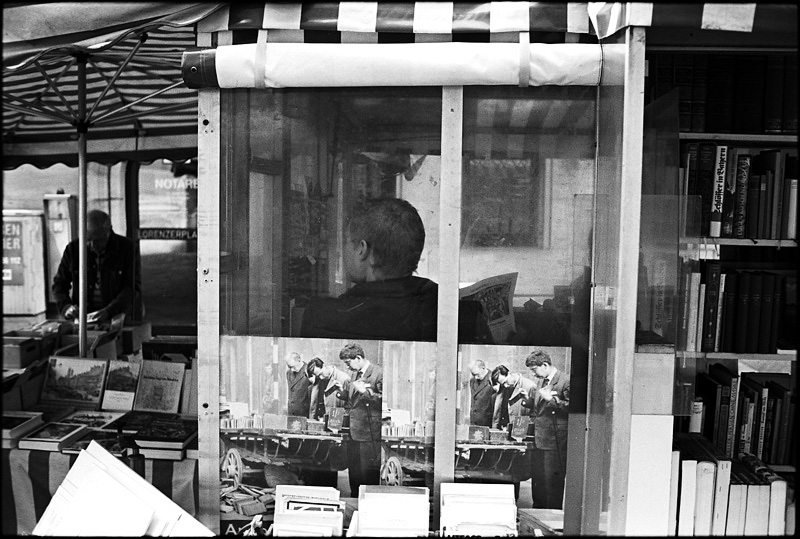 Grampa chcking out the Falafel stand.
I waited for stephan and took some stupid frames.
loading…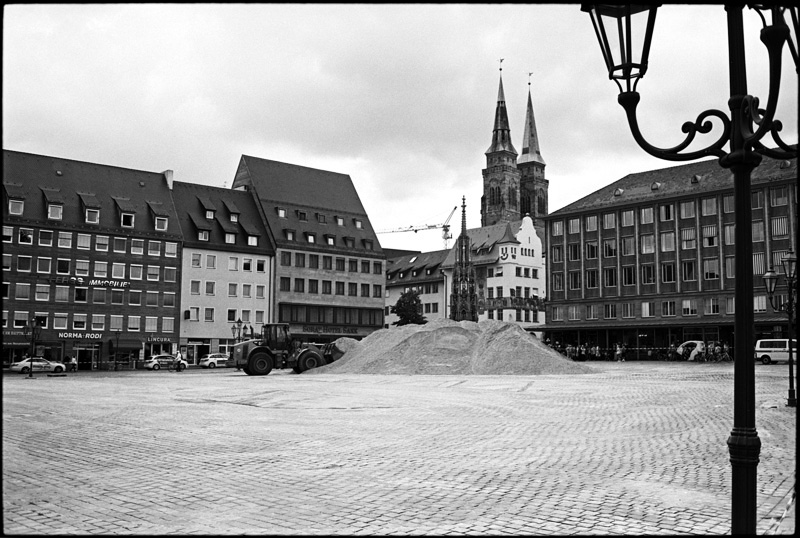 There was this big volleyball event some days before.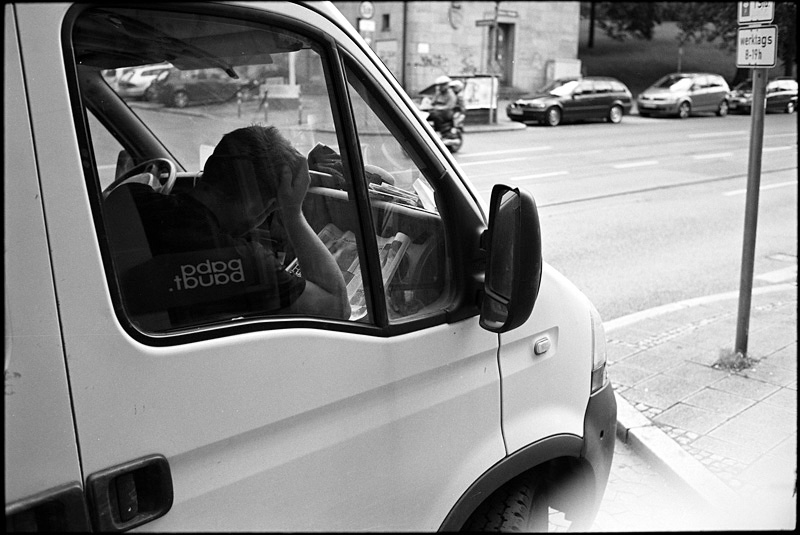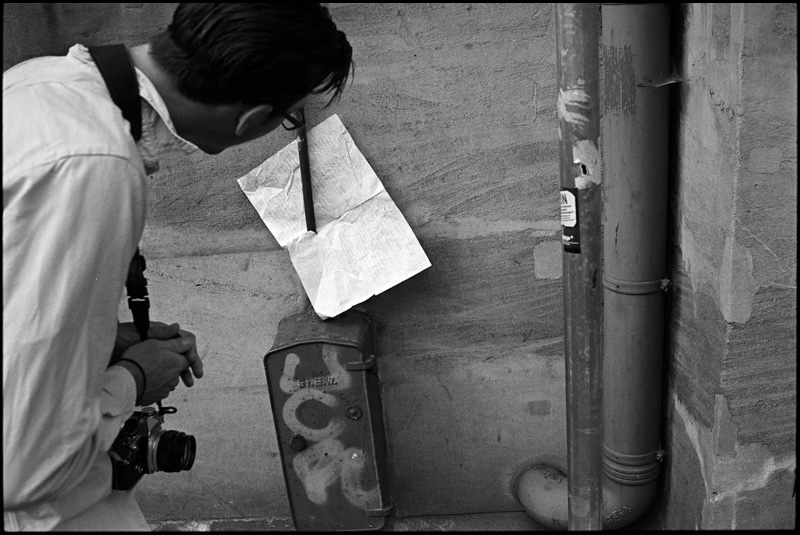 attitude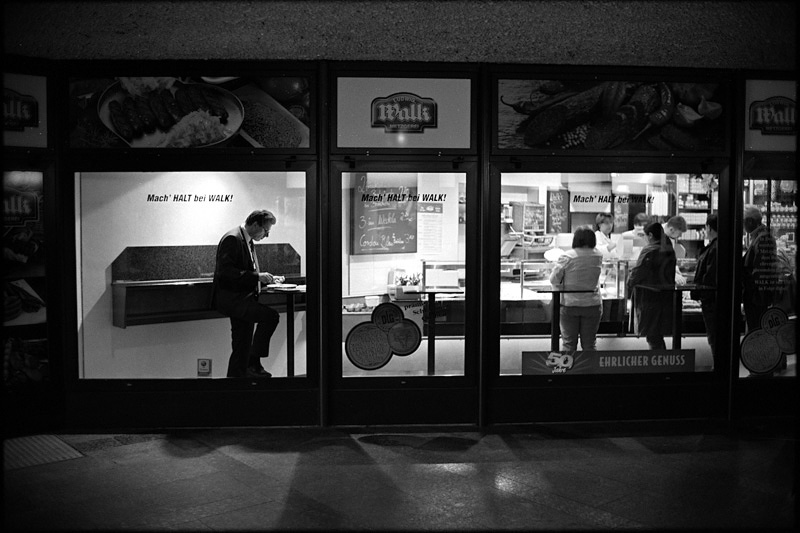 Next day, switching to the Hexar and some Ilford Delta 100.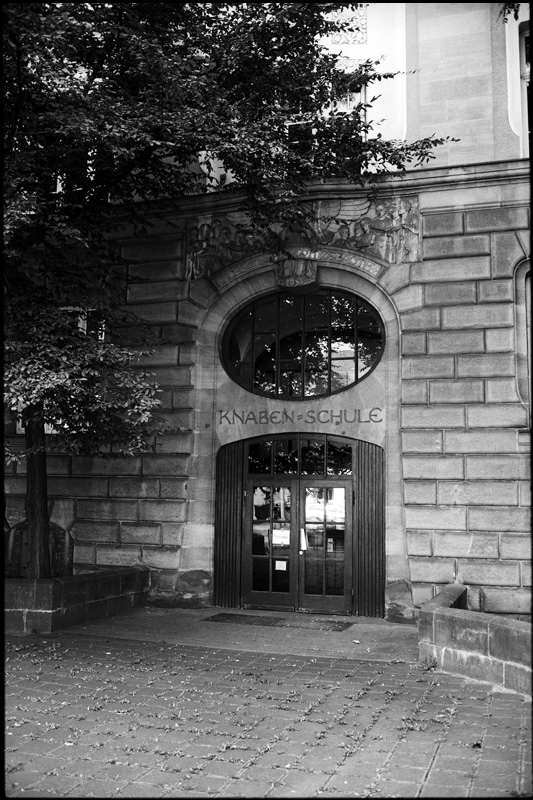 Former boy school entrance.
Came across this scene on my bike route to work. Girl painting a fence. I must say i love the Hexar for shooting on the bike.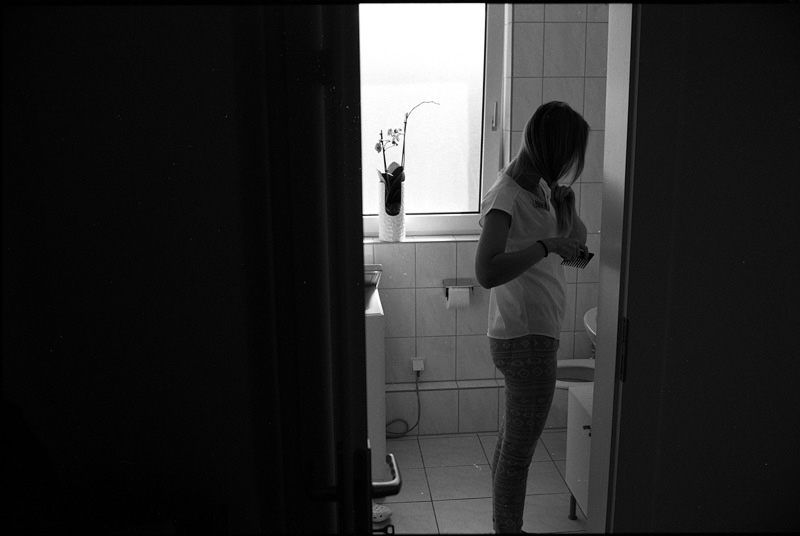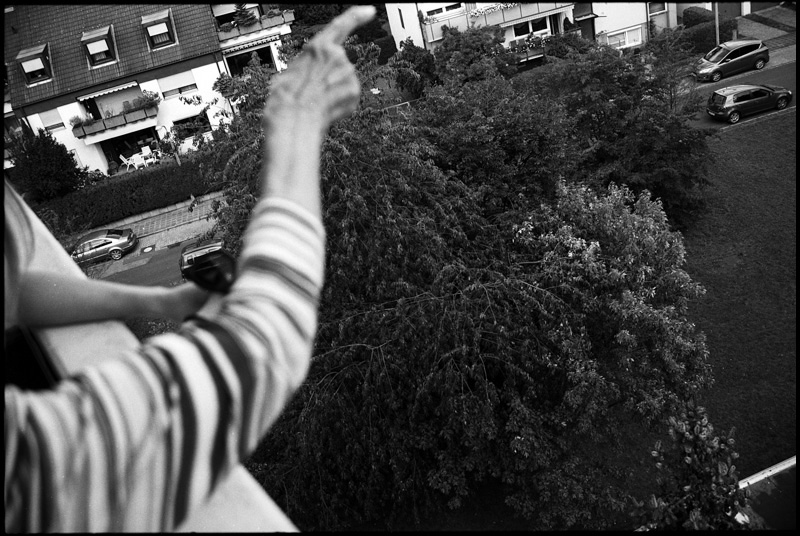 Olga and i went to ma grandmas place for some coffee and some stories.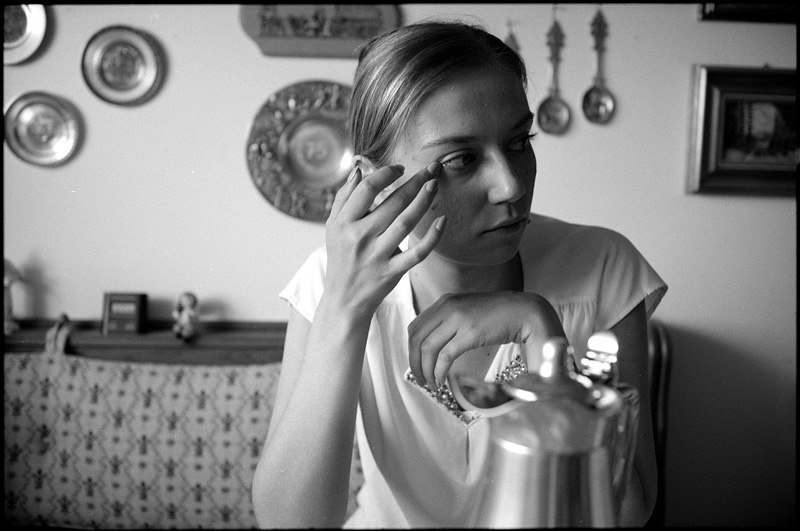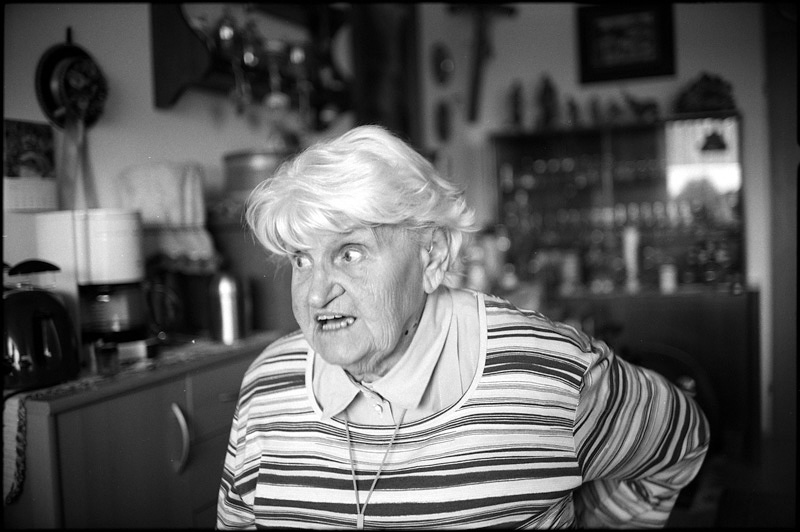 A lot to gossip about.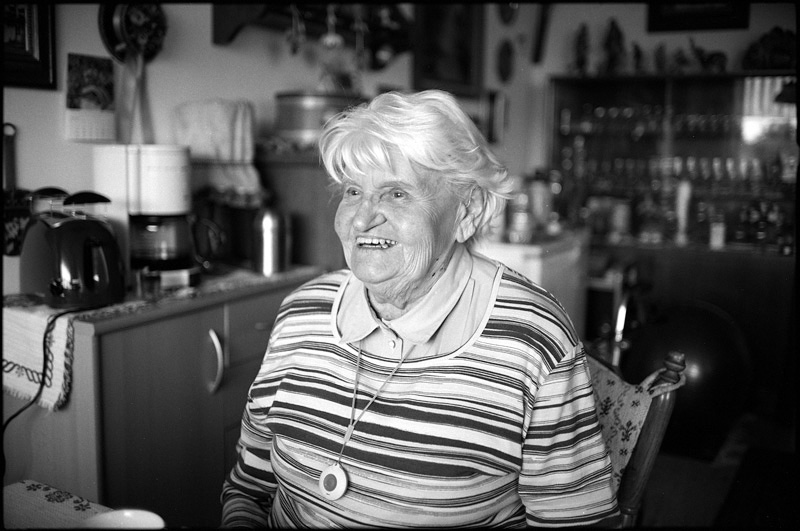 Looking for some photo albums with baby pictures.
awww
Later that day, Steffi stopped by and we completed some applications of hers.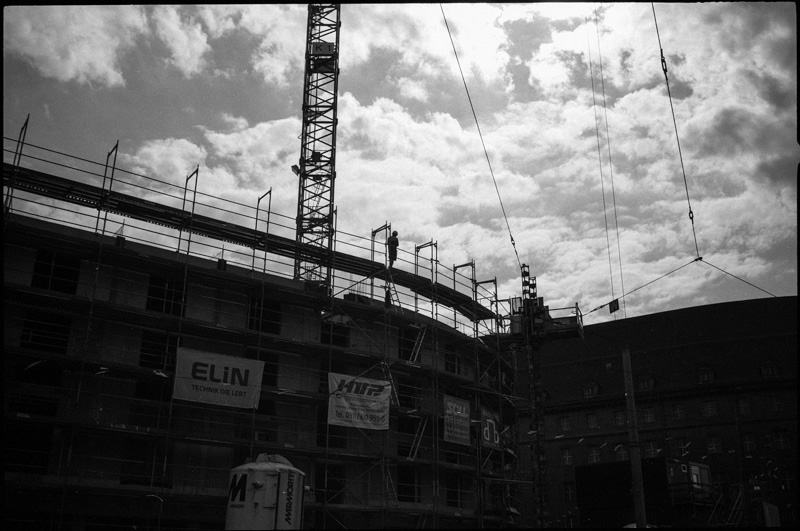 Panning this from the bike turned out so so.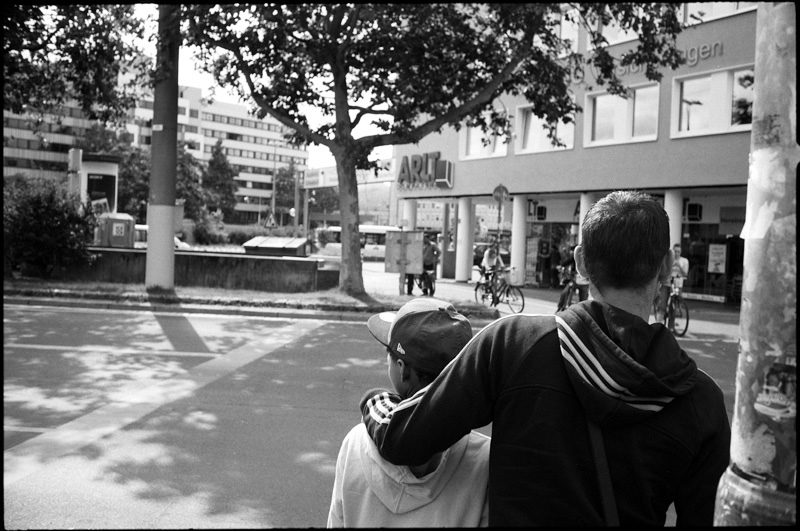 So i rode through the entire city, that is from the zoo (south-east) to the law court (west) to a small shop that sells films and stuff here to get some rolls of Trix or at least Tmax. Turned out all they got is Ilford films. Checked two other stores, also Ilford only. Sucks. At least i took some snaps on my route.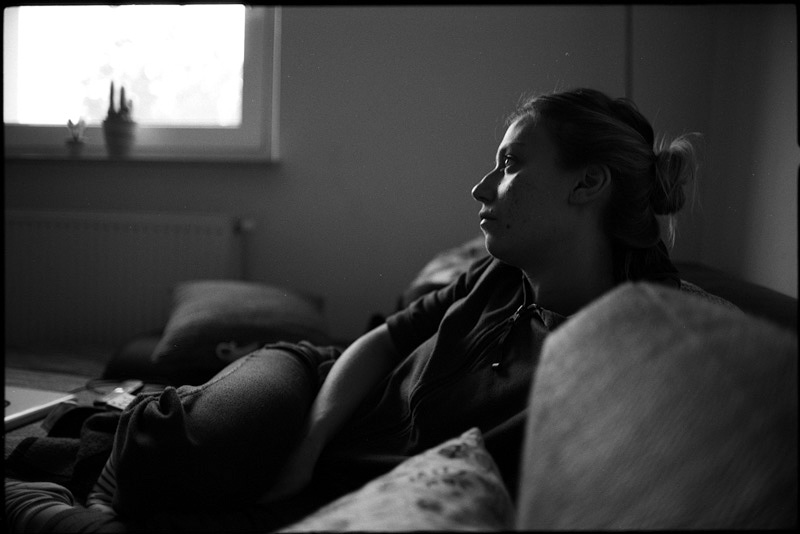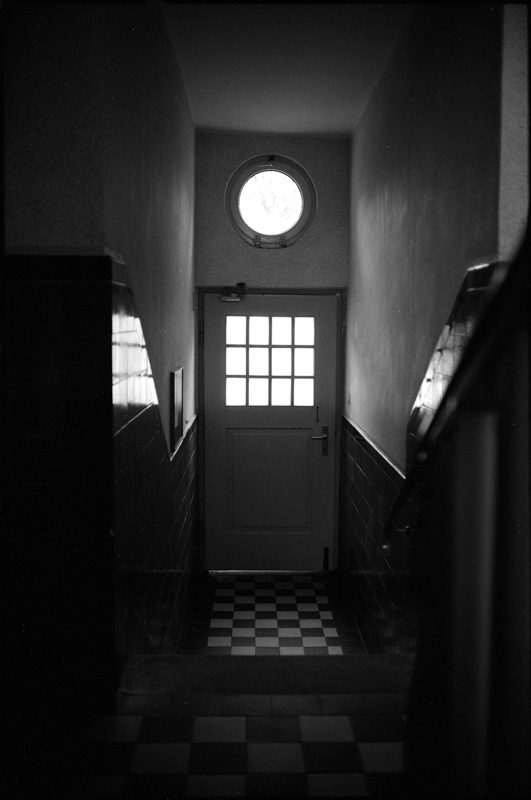 Coming home i realised i never actually took a pic of our beautiful house entrance. Well, at least on b/w film its beautiful.
So i heard you need a new wallpaper?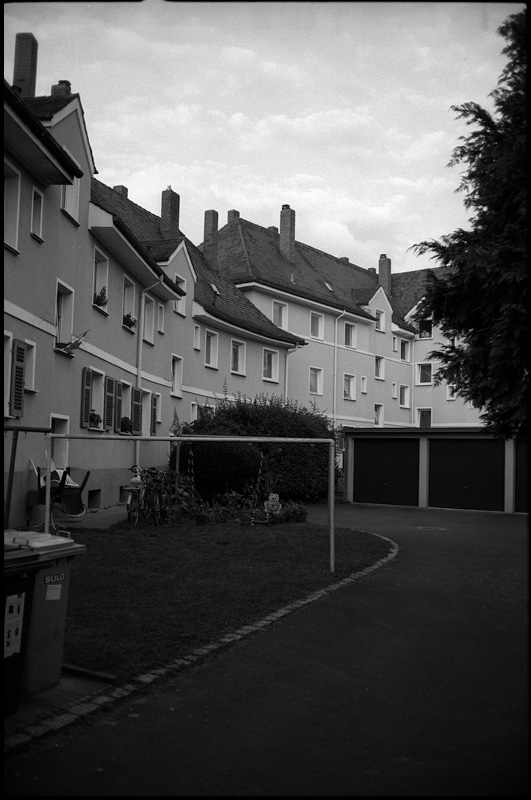 Finishing the roll. Our neighbour Jörg in the top right corner. Very cool dude.
So i had no choice and bought a "cheap" roll of HP5+ (not stored cool ofc, would be too professional i guess…) and loaded the Hexar again. Olga ironing a shirt on the table. Because.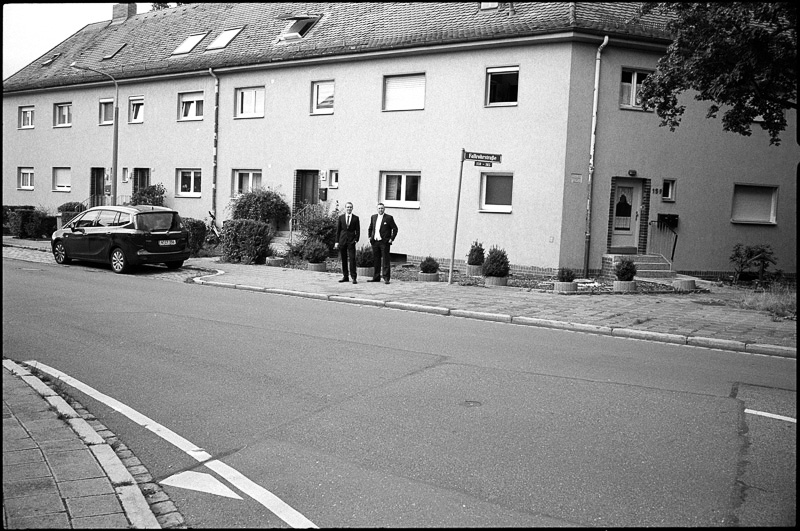 We went to the inner district later. Stepping outside i saw these two good-lookin fellas right across the street and just had to take a pic. Waiting for a wedding i guess.
Subway station.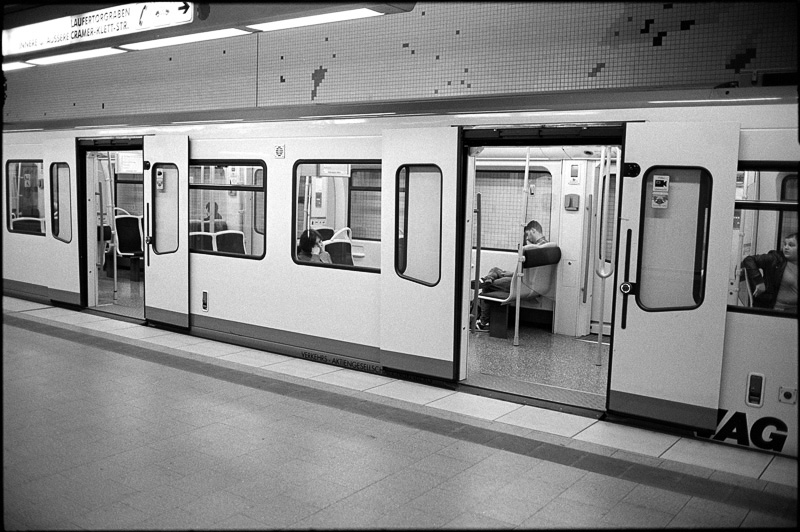 Went to the library to get some more books for Olgas graduation paper. I got some nice André Kertész photobook too, yay.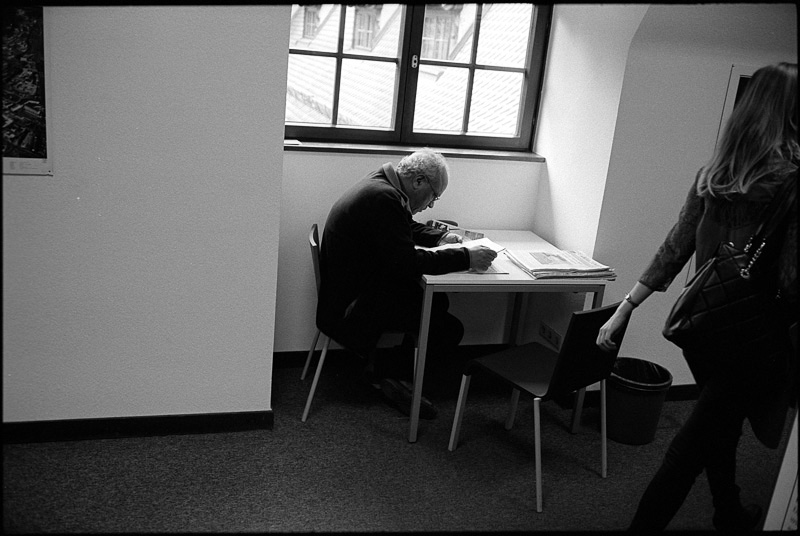 What a nice coincidence.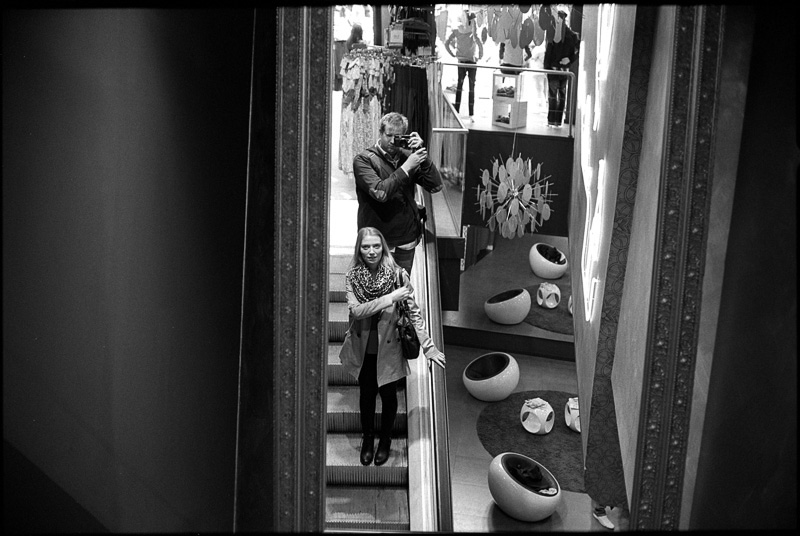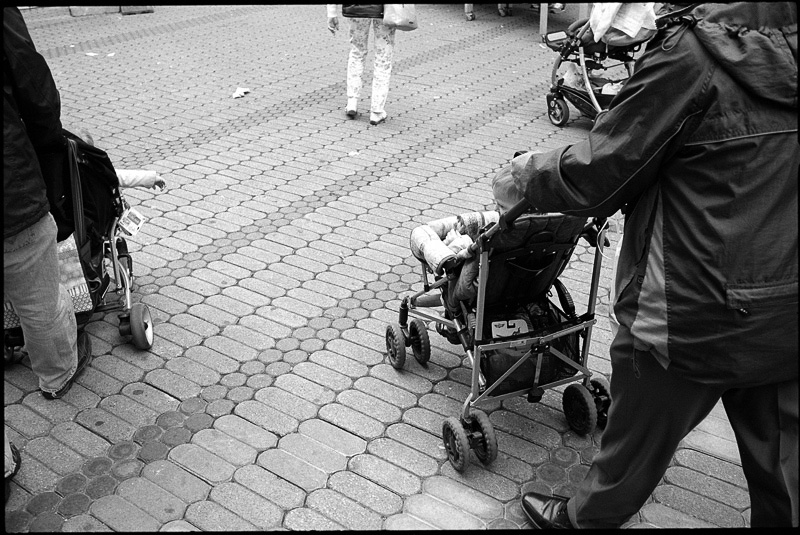 Hey man!
Now this would not have worked in landscape format.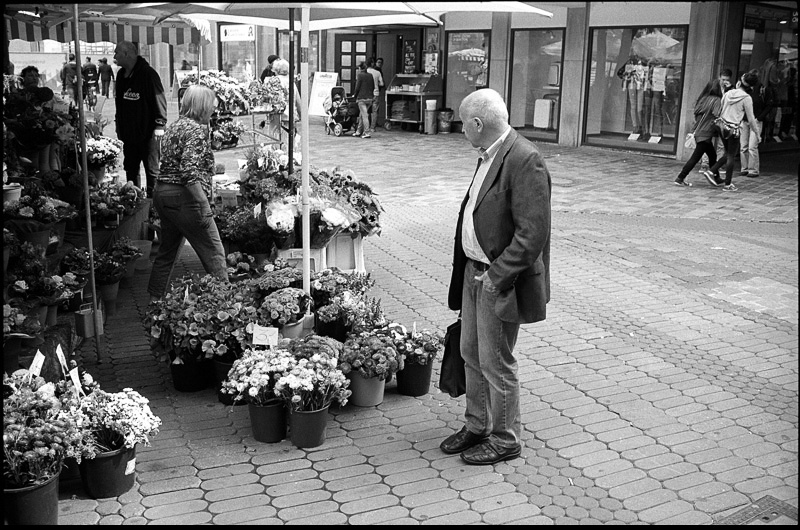 This was actually about two cigs.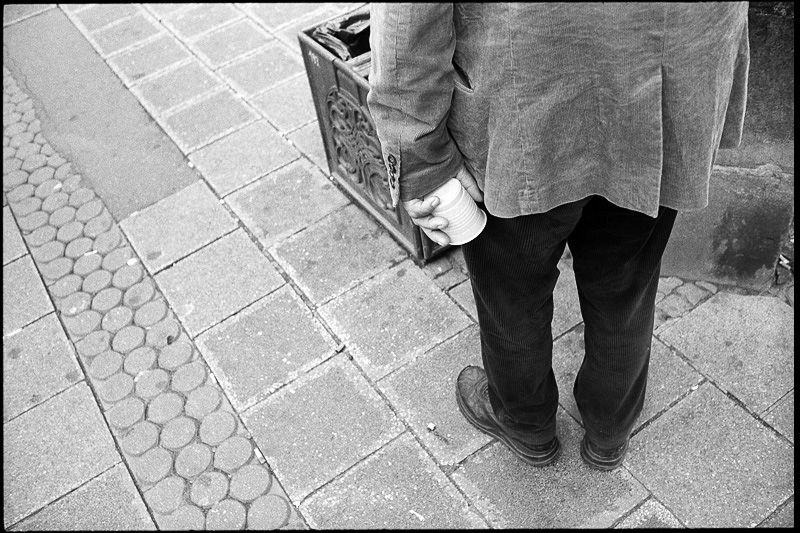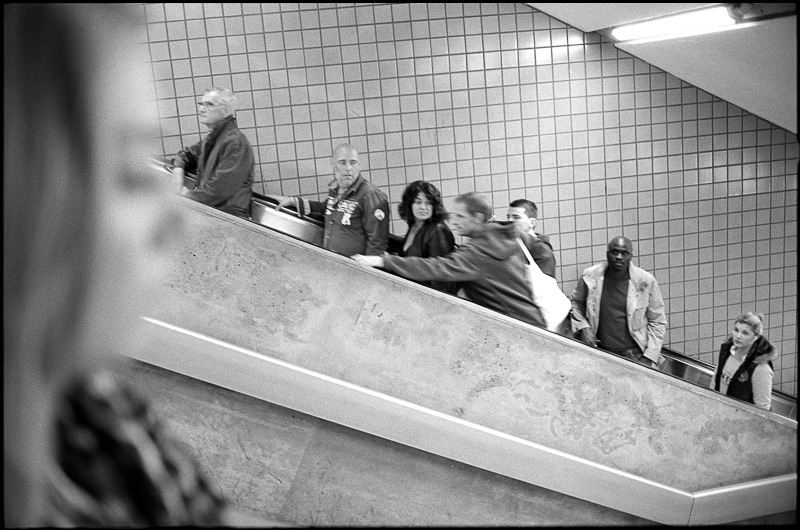 Subway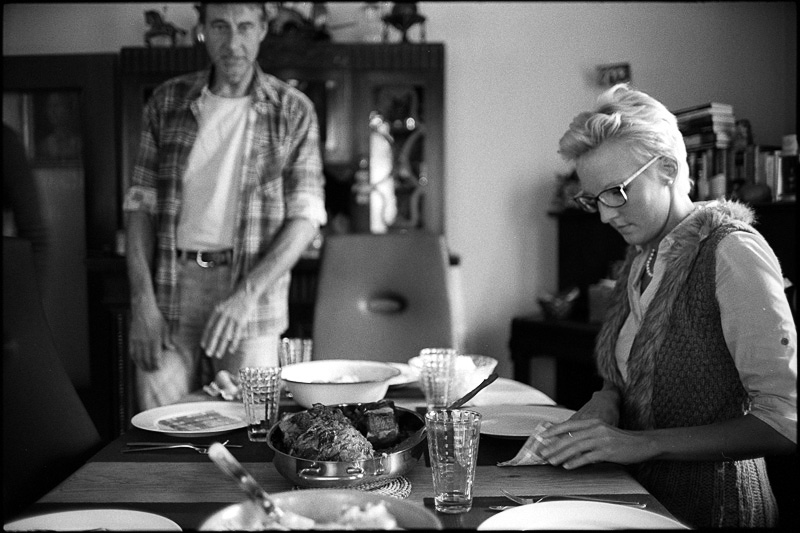 Family lunch.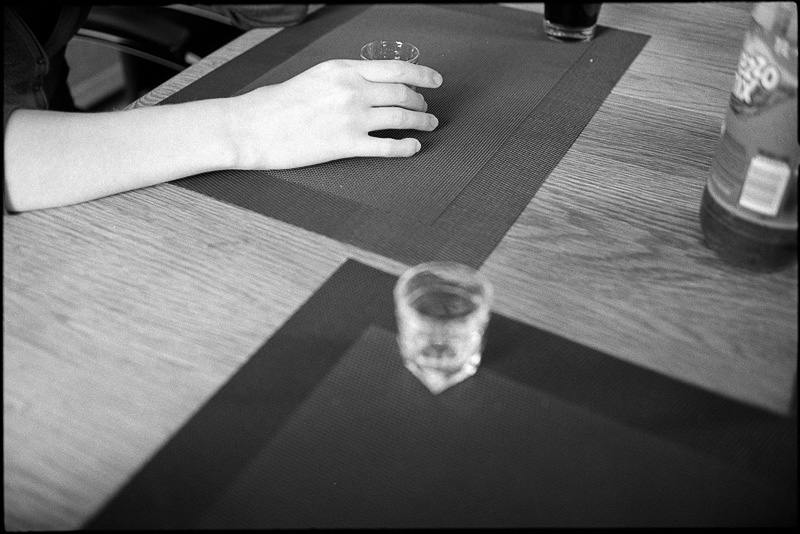 My sister telling scary work stories. Shes a nurse.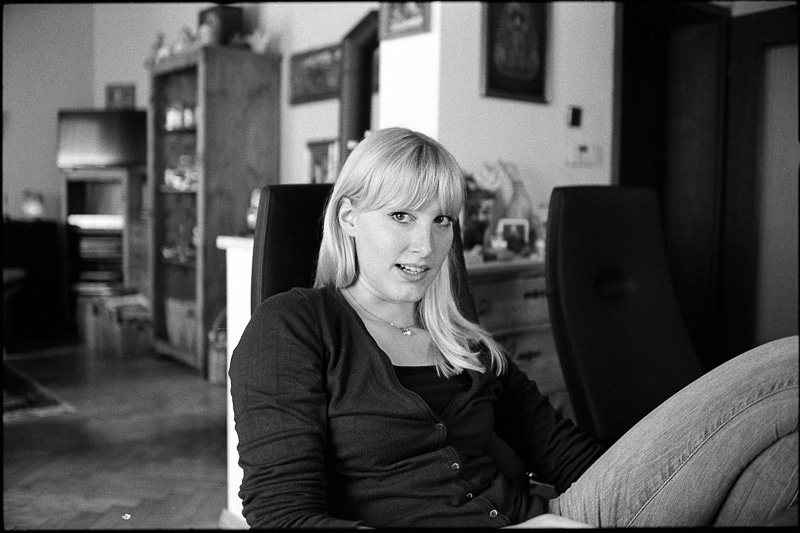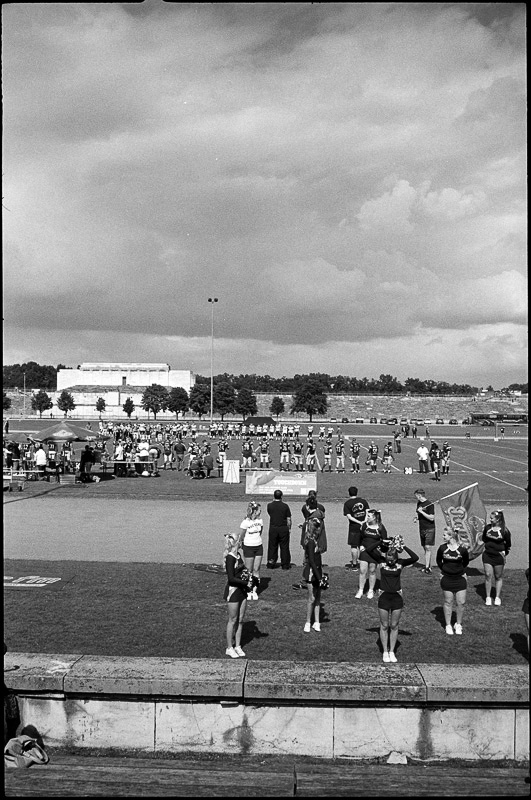 After lunch we went to a football game and met with my workmate Julia, who got us free tickets since her boyfriend is the team coach. Great afternoon.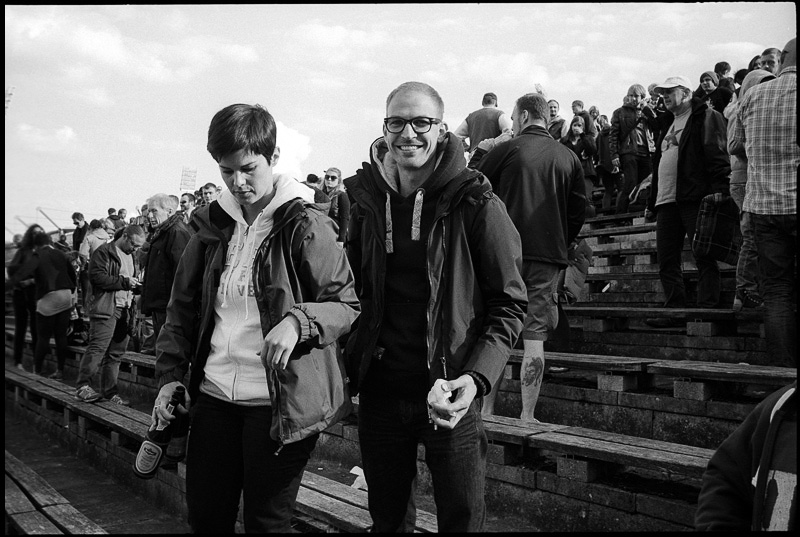 Also met Basti, super nice dude.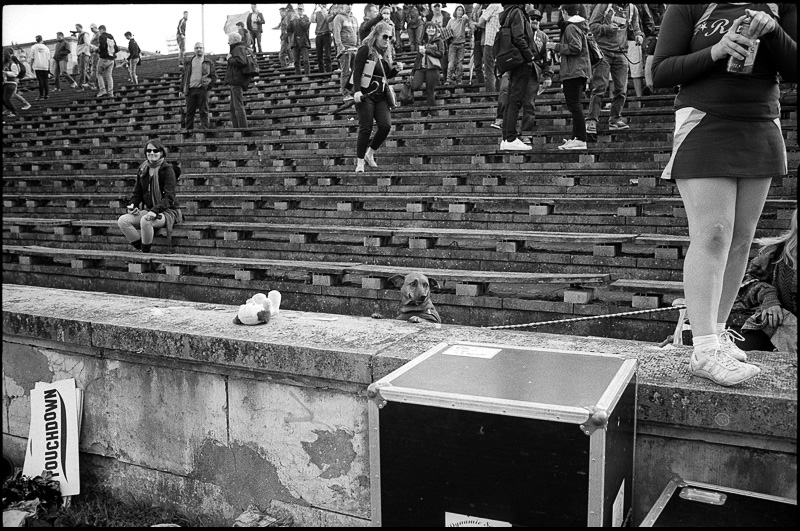 Some frames just create themselves i guess.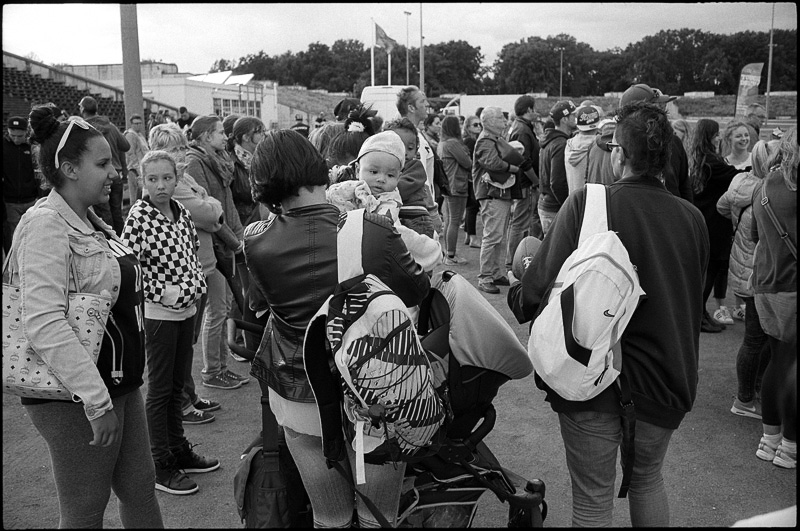 After the game.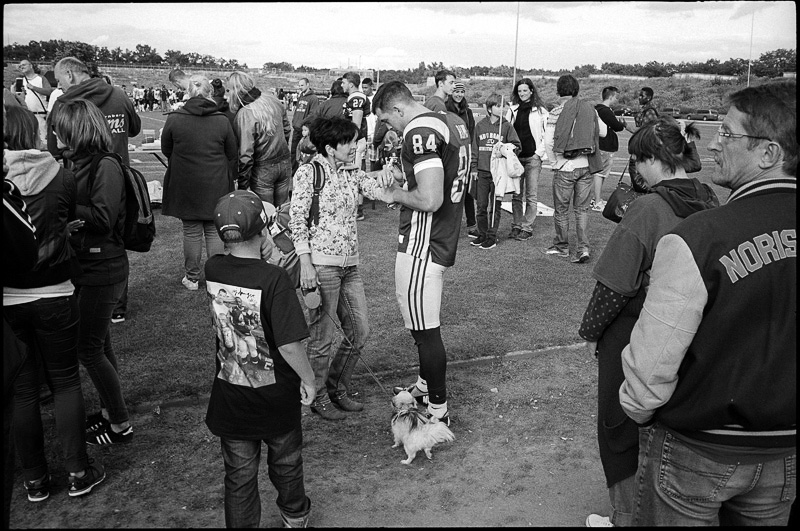 Some official photographers sneaked around with their massive tele lenses.
Looking up again. I'll end this entry here, it is getting too much stuff and i already cropped out a lot of stuff in this one. So see you next time!